Home / All Recipes / Indonesian / Acar Bawang Aceh - Acehnese Shallot Pickle
Acar Bawang Aceh - Acehnese Shallot Pickle
My Mom was born in Aceh, so I am quite familiar with Acehnese food, and among my favorites are sate godok, mie Aceh, martabak, and of course acar bawang. The best thing about acar bawang is that it is so easy to make, and the next best thing is I eat it with just about every kind of Indonesian dishes, especially for sate, nasi goreng, mie goreng, and even soto. If you get a hold of really fresh looking shallots and green Thai chilies, do give this simple pickle a try. ♥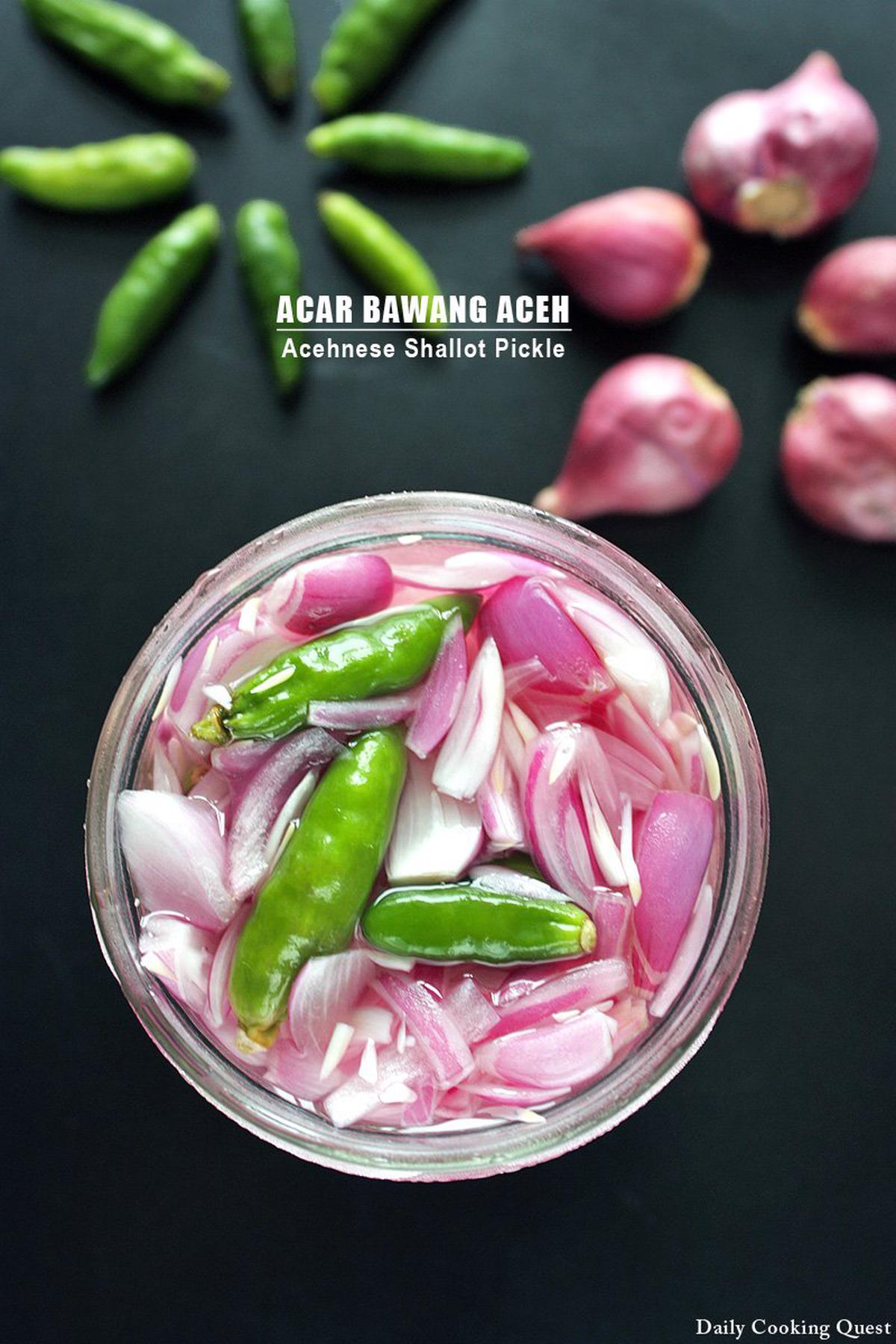 Acar Bawang Aceh - Acehnese Shallot Pickle
4.0 from 1 reviews
Ingredients
100 gram shallots (Indonesian: bawang merah)
25 gram green Thai chilies (Indonesian: cabe rawit hijau)
200 ml hot drinking water
50 gram sugar
2 teaspoon white vinegar (Indonesian: cuka putih)
1/2 teaspoon salt
Instructions
Peel the skin of shallots. Wash with cold drinking water to remove grit and dirt. Drain, then thickly slice and set aside.
Remove the stalks from the chilies. Wash with cold drinking water and drain. Set aside.
Mix together hot drinking water with sugar, vinegar, and salt. Stir until sugar has completely dissolved. This is the pickling solution. Let the solution cool slightly.
Add shallot and chili to the pickling solution and stir to mix well. Set aside until it reaches room temperature. Transfer to a clean jar and chill in the fridge for at least 2 hours, overnight is best. Consumed within 2 weeks.