Home / All Recipes / Indonesian / Agar Susu Kacang dan Cincau - Soy Milk and Grass Jelly Pudding
Agar Susu Kacang dan Cincau - Soy Milk and Grass Jelly Pudding
Merry Christmas everyone! Are you hosting your own dinner party tonight? Perhaps a bit busy and flustered with all the dishes that still need to be prepared? Don't worry, here is an easy dessert that takes less than 15 minutes to prepare and you can forget about it while it sets by itself. You will have a stunning and light dessert to end your Christmas party, and it is vegan and vegetarian to boot, so all your guests can enjoy a slice of this. ♥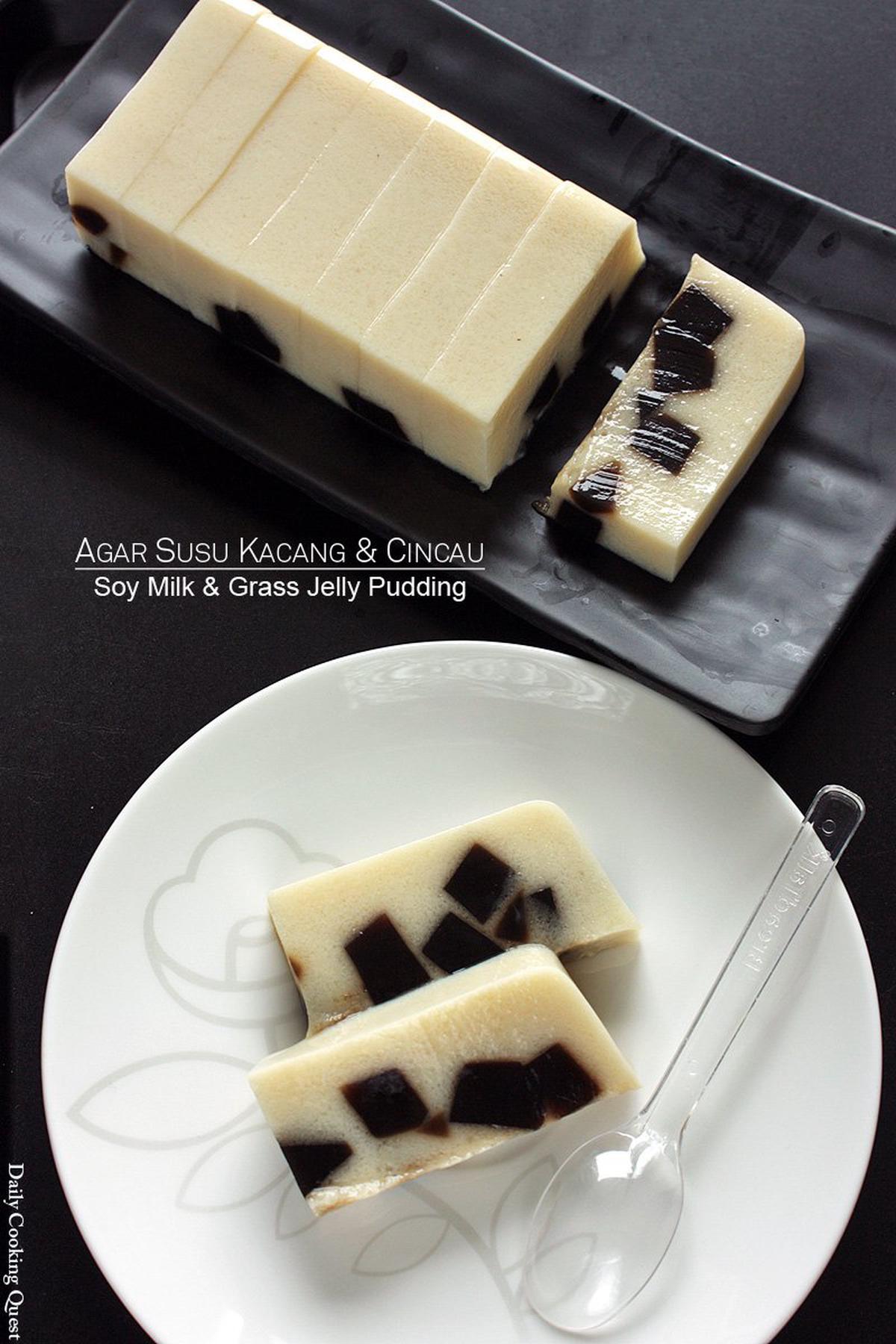 This can feed quite a lot of people. The 12 servings I put is just my guesstimate on how big a portion per person will need. For the above photo, I managed to divide this into 36 slices. So yeah, I have quite a lot of leftovers, haha. ♥
Agar Susu Kacang dan Cincau - Soy Milk and Grass Jelly Pudding
4.0 from 1 reviews
Ingredients
1 liter soy milk (Indonesian: susu kacang)
1 packet of (10 gram) of plain agar-agar and jelly powder (I use the one from Swallow Globe Brand)
200 gram grass jelly (Indonesian: cincau), cut into 1 cm cubes
Instructions
Mix soy milk and agar-agar and jelly powder in a pot. Cook until just steaming (no need to wait for a boil to prevent burnt milk) while stirring all the time.
Strain into a mold (I use a 20cm x 20cm x 5cm pan), then quickly scatter the grass jelly into the still liquid agar.
Let it cool until set. Once it sets, transfer to a fridge to chill for at least 2 hours.
To unmold, run a knife along the pan's edges, cover the pan with a cutting board/serving plate, flip, remove the pan, then cut the agar into slices.