Home / All Recipes / Chinese / Almond Bread Rolls
Soft fluffy Asian bakery style bread rolls with sweet and crunchy ground almond paste filling. Almond can be substituted with peanuts, or sesame seeds.
Bread rolls with nuts filling are one of my childhood favorite, and one you can bet any decent bakery will sell among their many types of bread. The typical choice of nuts is roasted peanuts, but here I choose roasted almonds instead. The fluffy soft Asian milk bread paired with crunchy and sweet ground almond paste filling is truly delicious. If you are nuts lover, you will want to give this recipe a try. If you are allergic to nuts, feel free to use toasted sesame seeds instead.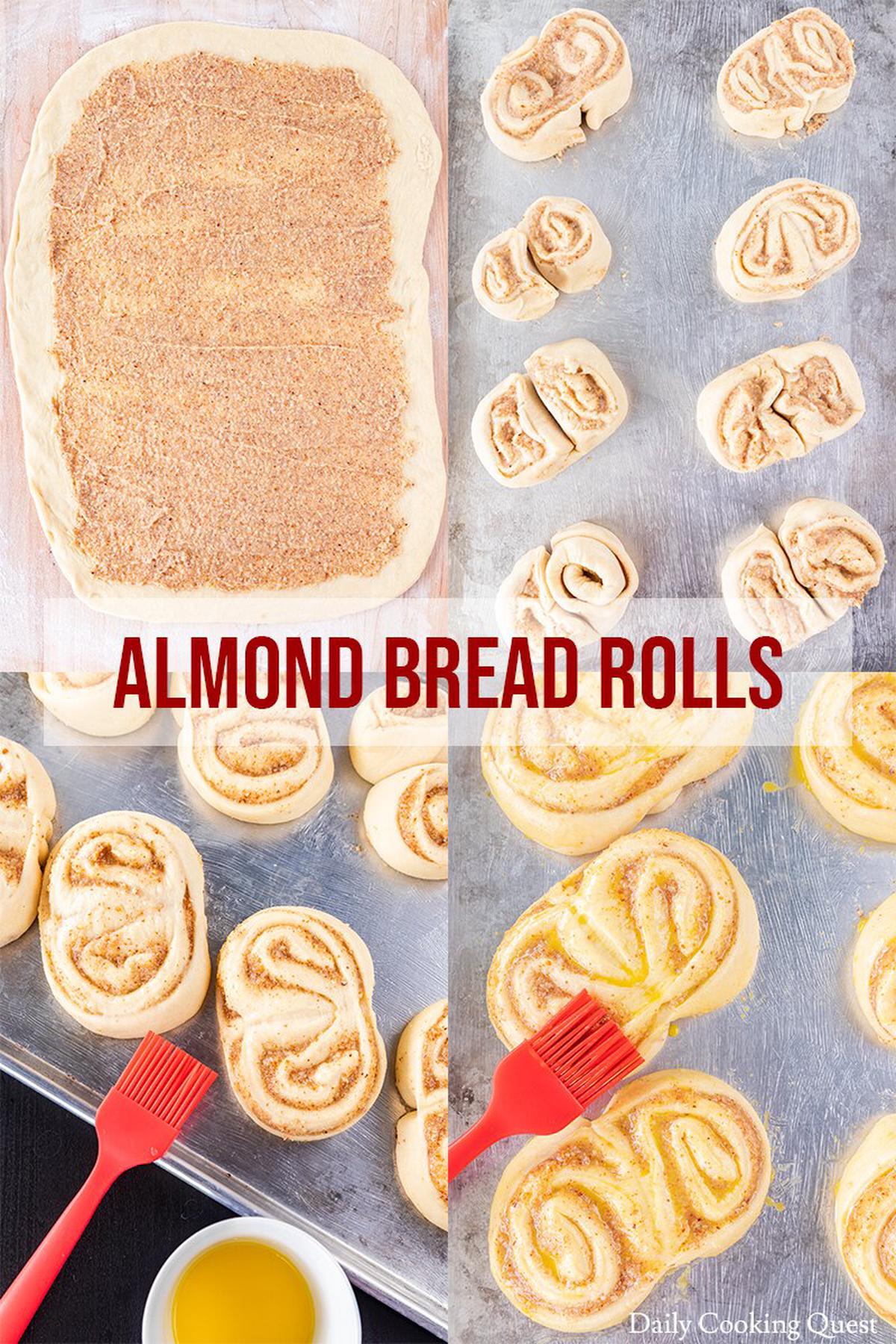 How to shape the bread rolls
Honestly, you can shape your bread into any kind of shape you wish. The simplest option is actually just to make the bread into cinnamon rolls shape, a.k.a. create a log, cut into 12 equal pieces, and place in 9"x13" baking pan, and bake as is. What I did here is very close to the steps you use when making cinnamon rolls:
Roll the dough into a rectangle of about 12"x20".
Spread the ground almond filling, leaving 1" edges clean.
Roll into a log from the long edge.
Cut into 8 equal pieces.
Cut each piece only halfway, then open it up and arrange on a well greased half-sheet pan (or line with a parchment paper).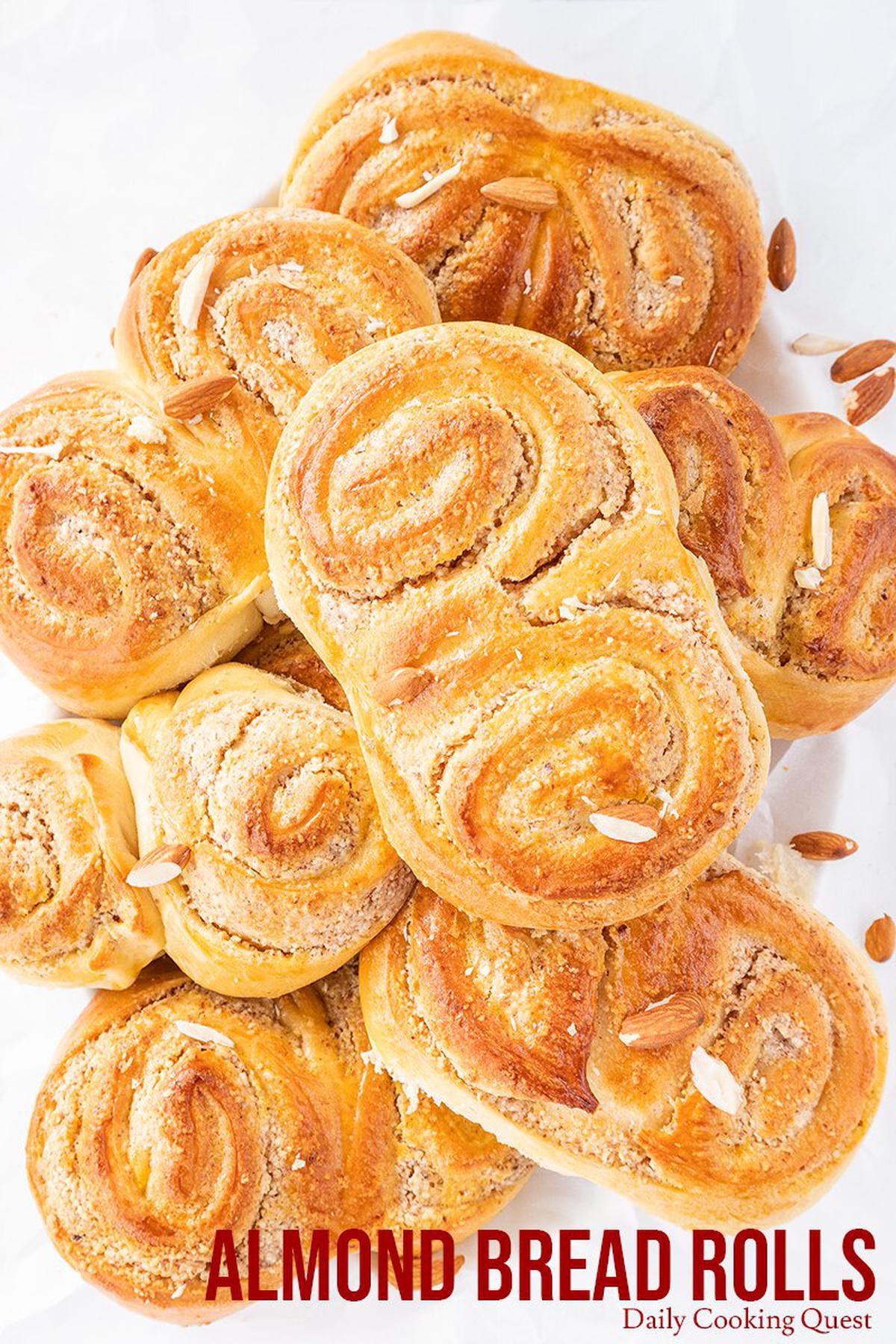 How to prepare the ground almond filling
For the ground almond filling, you will need the following ingredients:
egg white
sugar
salt
roasted whole almond, pulse in a food processor into coarse almond powder.
all-purpose flour
melted unsalted butter
almond extract
milk
Simply whisk egg whites with sugar and salt, then add ground almond and all-purpose flour, mix well. Add melted butter, almond extract, and milk. Stir this into peanut butter consistency.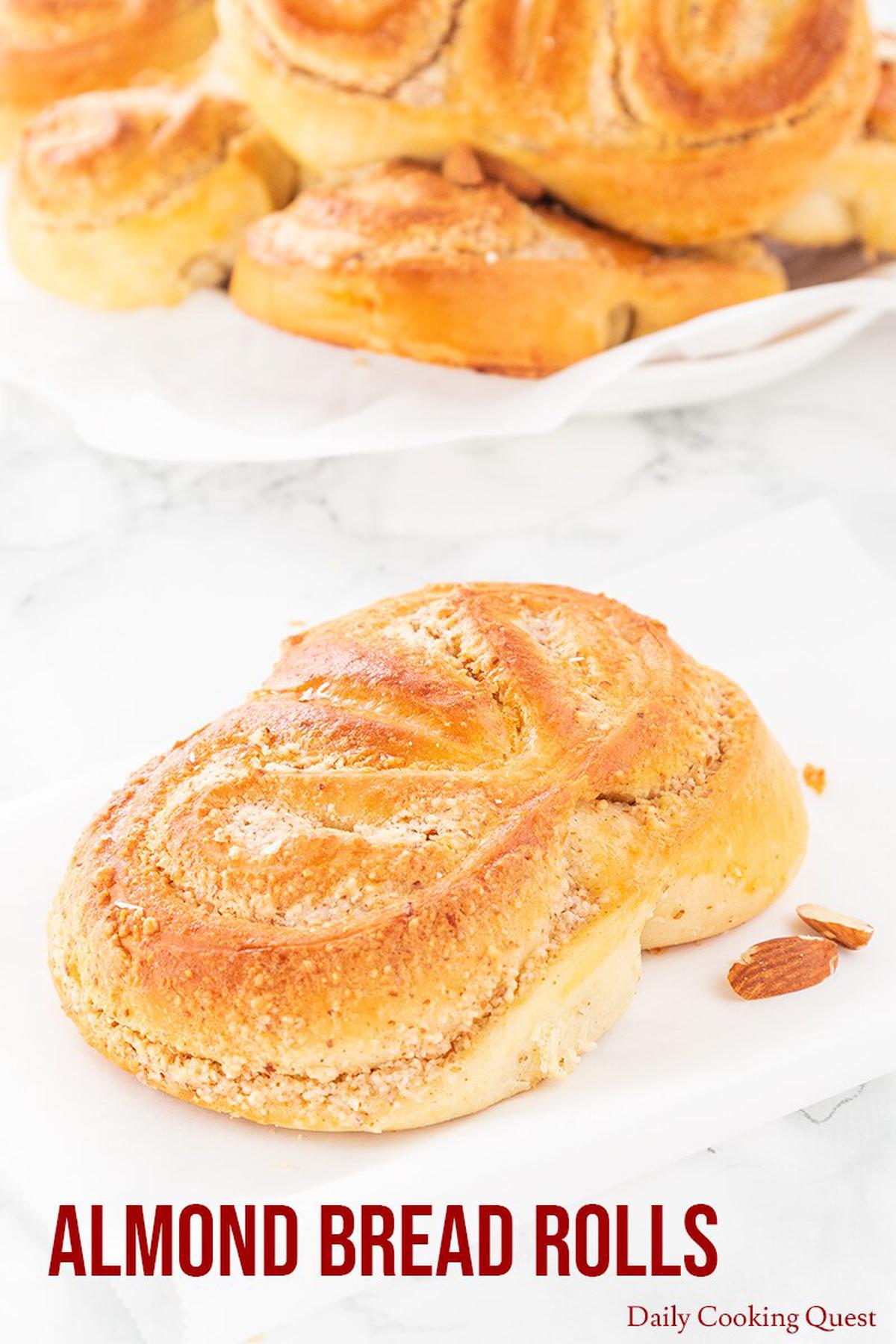 Can I use my trusted bread dough recipe
The short answer is yes. If your trusted bread dough recipe uses about 3 cups of flour (around 360-400 gram), you are most likely going to be successful. If you have your go-to recipe for either brioche bread or Asian milk bread, these should do really well. Enjoy!
Almond Bread Rolls
5.0 from 5 reviews
Ingredients
Bread dough
2 tablespoon unsalted butter
50 gram (1/4 cup) sugar
1/2 teaspoon salt
3/4 cup milk
7 gram (1 packet, or 2 1/4 teaspoon) active dry yeast
1 egg
360 gram (3 cups) all-purpose flour
Almond filling
1 egg white
75 gram (~ 6 tablespoon) sugar
1/4 teaspoon salt
120 gram roasted almond, ground into coarse powder (~ 1 1/2 cup powder)
10 gram (4 teaspoon) all-purpose flour
2 tablespoon unsalted butter, melted
1/8 teaspoon almond extract
2-3 teaspoon milk
Egg wash
1 egg yolk
2 teaspoon water
Instructions
For the bread dough: Place butter, salt, and sugar in a mixing bowl. Simmer milk in stovetop or microwave, then pour over the ingredients in the bowl. Wait until cool (~ 38 Celsius/100 Fahrenheit), then stir in yeast and egg. Add all purpose flour, mix, and knead for about 10 minutes by hand (~ 7 minutes with an electric mixer). Cover the bowl with a wet kitchen towel/saran plastic and set aside until the volume is doubled, about 1 hour.
For the almond filling: Whisk together egg white, sugar, and salt. Add ground almond and all-purpose flour, mix well. Add melted butter, almond extract, and milk. Stir into peanut butter consistency, add a bit more milk if the mixture is too thick. Set aside.
To assemble: Roll the dough on a well-floured surface into a 20"x12" rectangle. Spread almond filling, leaving 1" of the edges clean. Roll into a log on the long edge.
To shape the bread: Cut the log into 8 equal pieces. Take each piece, cut into two but not all the way through, and spread it open. Arrange on a well greased (or lined with a parchment paper) half-sheet pan. Cover and let the bread rise for a second time until puffy, about 45 minutes.
To bake: Preheat oven to 180 Celsius (350 Fahrenheit). Make egg wash by mixing together the egg yolk with the 2 teaspoon water, then brush the bread all over with the egg wash. Bake for about 20-25 minutes, or until golden brown.