Home / All Recipes / Indonesian / Ayam Bakar Solo - Solo Grilled Chicken
Ayam Bakar Solo - Solo Grilled Chicken
Here is another ayam bakar (grilled chicken) recipe, this time from the city of Solo. Solo and Yogyakarta are the two cities right at the center of Javanese culture, and you can bet that this grilled chicken is going to be on the sweet side :)
It may be really weird for those who don't live or grow up in Java to appreciate the sweetness that is supposed to be savory dishes, but I love them to death!
If you are not a fan of sweet dishes, just reduce the amount of kecap manis (Indonesian sweet soy sauce) used in the recipe (and maybe even skip the palm sugar while you are at it), but perhaps follow the recipe as is and give it a try first before making adjustment for the future.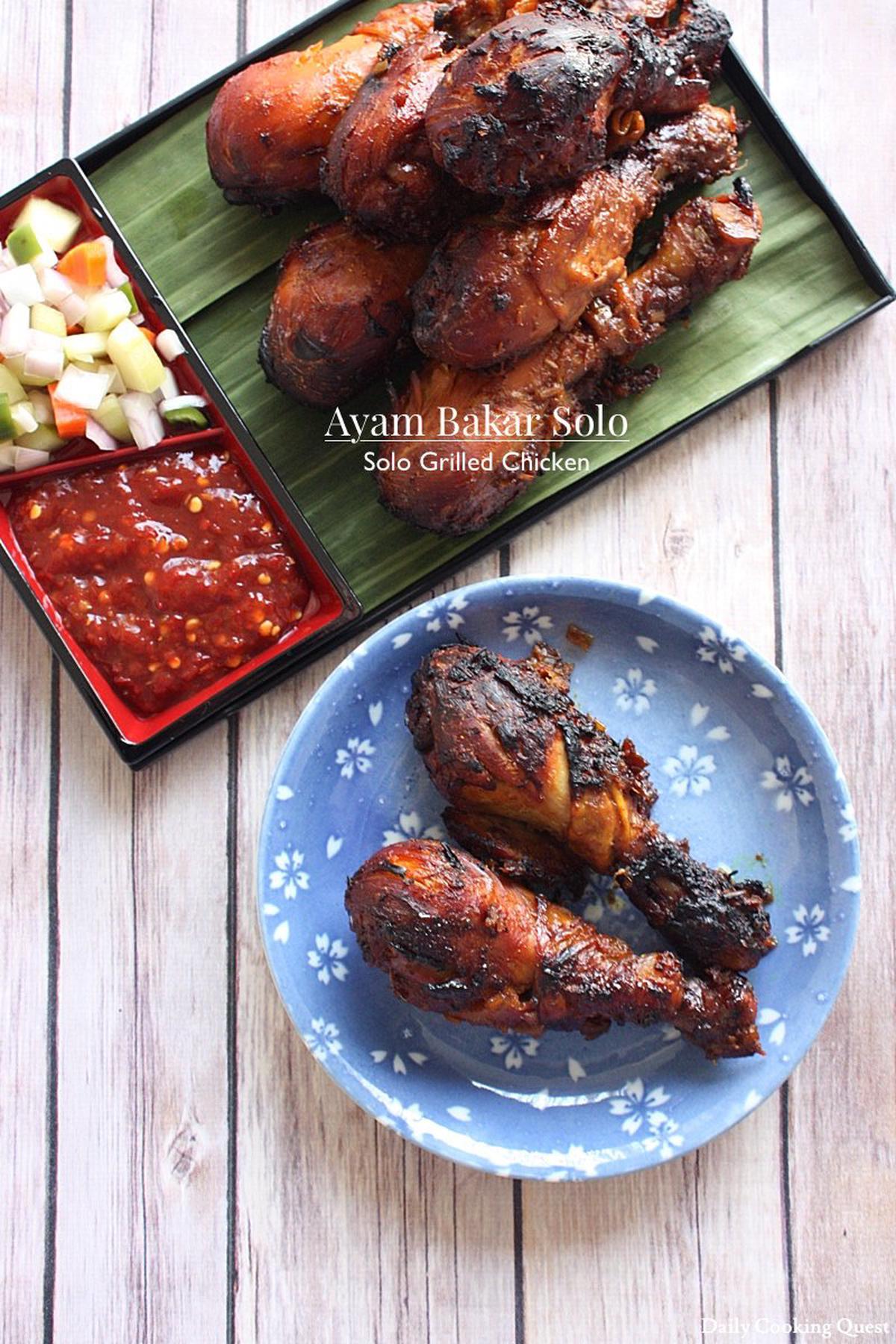 Ayam Bakar Solo - Solo Grilled Chicken
5.0 from 3 reviews
Ingredients
2 tablespoon oil
4 Indonesian bay leaves (Indonesian: daun salam)
1 tablespoon palm sugar (Indonesian: gula Jawa), or use brown sugar
1 chicken, cut to 8 pieces (or use all drumsticks)
4 tablespoon sweet soy sauce (Indonesian: kecap manis)
800 ml coconut water (or water is okay)
Grind the following into spice paste
75 gram shallot (Indonesian: bawang merah)
6 cloves garlic (Indonesian: bawang putih)
2 inch ginger (Indonesian: jahe)
2 inch galangal (Indonesian: lengkuas)
2 lemongrass (Indonesian: sereh), white part only
6 candlenuts (Indonesian: kemiri)
2 teaspoon coriander powder
1/2 teaspoon turmeric powder
1/2 teaspoon ground white pepper
1/4 teaspoon cumin powder
Instructions
Heat oil in a wok/frying pan on a medium high heat and sauté spice paste and bay leaves until fragrant, about 5 minutes.
Add chicken and stir until the sauces coats the chicken pieces and the color of the chicken starts to change.
Add sweet soy sauce and coconut water. Mix well, and bring to a boil.
Reduce heat to a simmer, and cover the wok/frying pan partially. Cook until the sauce has reduced, thickened, and coats the chicken. About 45 minutes.
Prepare a grill/broiler. Grill/broil the chicken until slightly charred. Serve hot with sambal (chili sauce) of your choice.