Home / All Recipes / Indonesian / Ayam Bakar Sunda - Sundanese Grilled Chicken
Ayam Bakar Sunda - Sundanese Grilled Chicken
Most people have a misconception that all Javanese dishes are invariably sweet, but the island of Java is home to many different ethnic groups and hence different cooking style, point in case, this grilled chicken from Sunda in West Java. I can guarantee that you won't get that overt sweetness impression when you bite into the chicken, perfect for those who get sick from the cloying sweetness of Central Javanese dishes.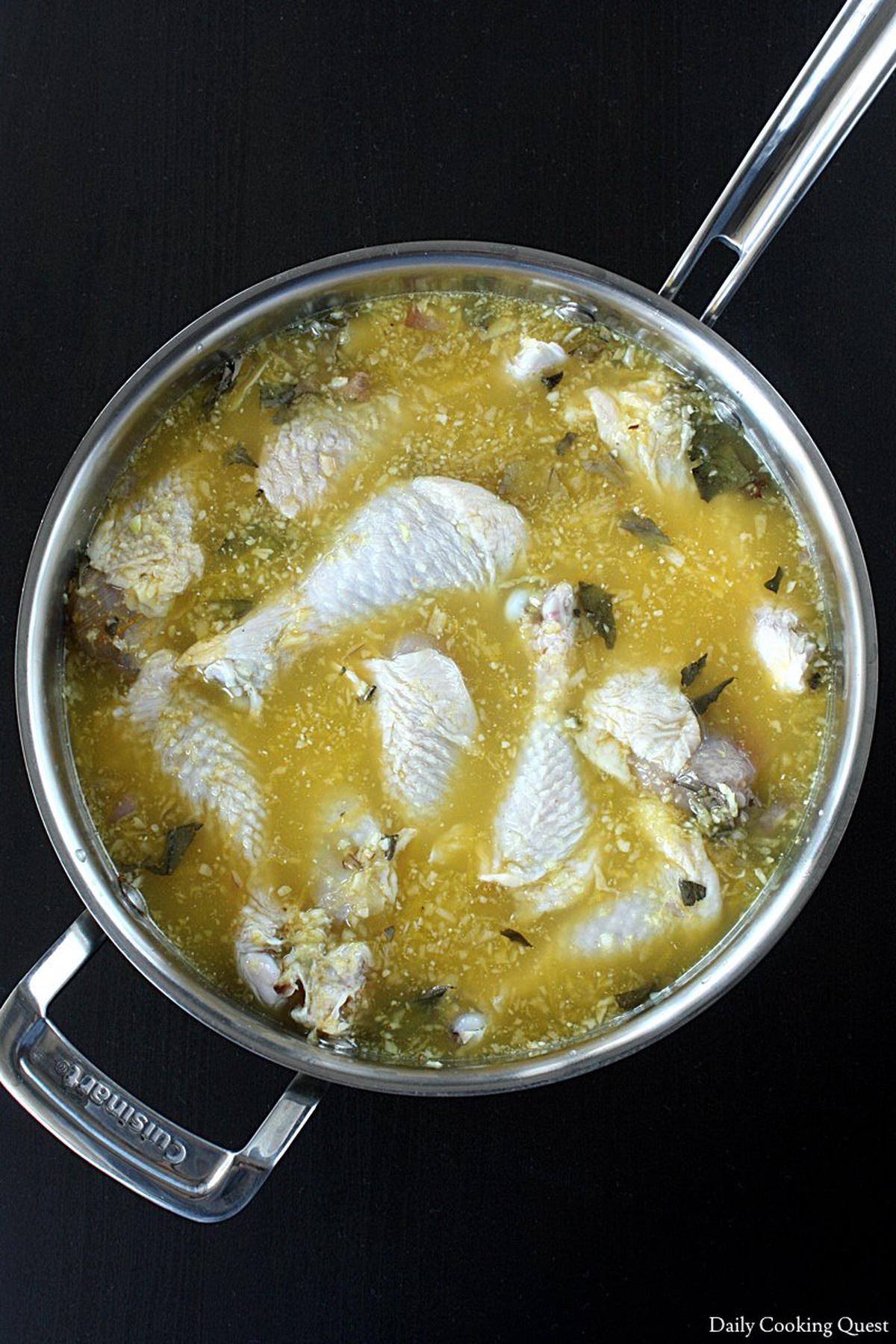 Almost all traditional Indonesian grilled/fried chicken dishes is a two-step cooking process, braising (we call this ungkep) with a very low heat, and followed by quick grilling/frying. The two-step process may sound like a hassle, but in reality, this is a very smart way of preparing a large batch of chicken to last for many days. Once the chickens are braised, you can store them in fridge/freezer, and when you want to have some grilled/fried chicken, take out some from the fridge/freezer and return them to room temperature, then give them a quick fry/grill to heat the chickens and also to give a nice char.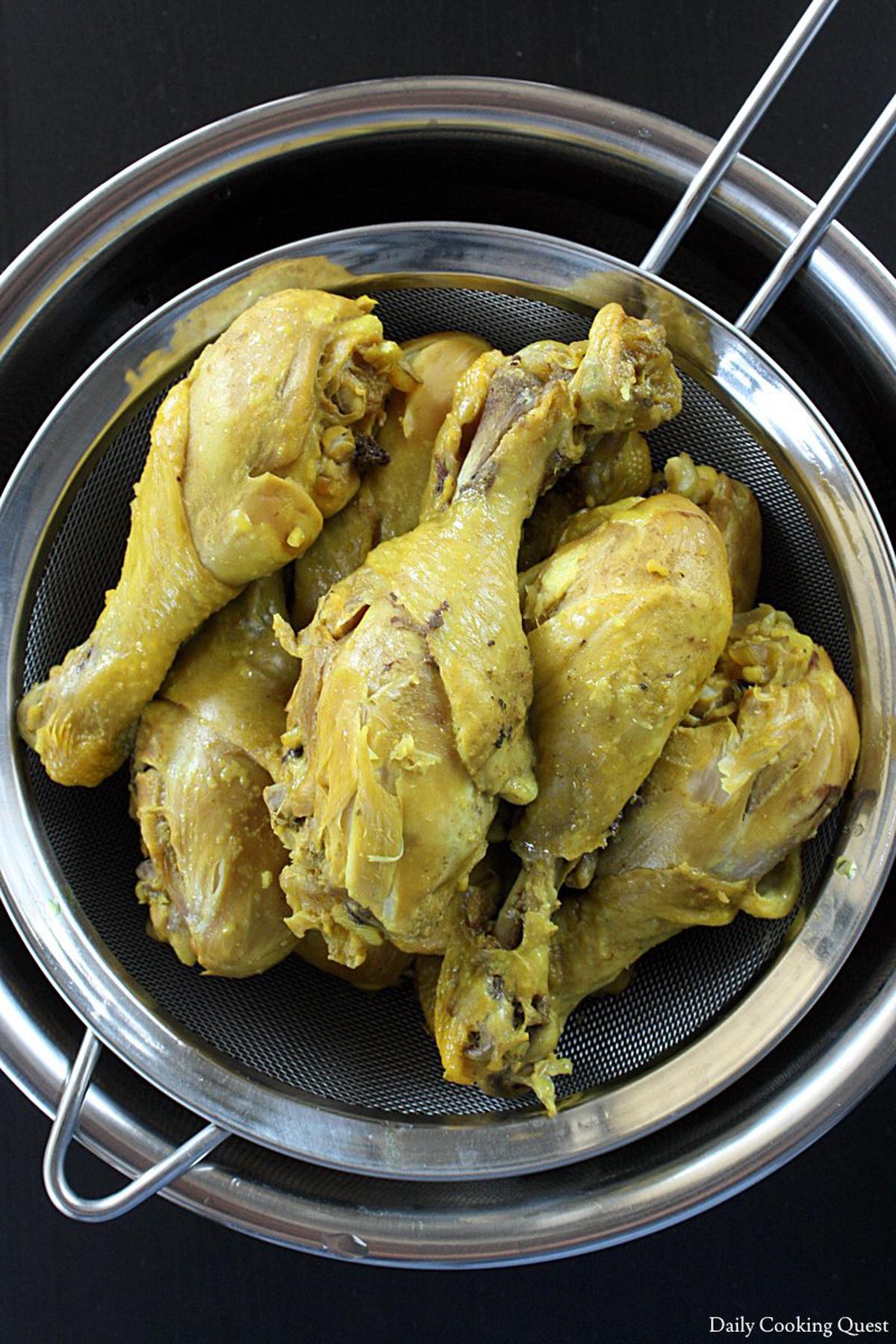 I have found that one batch of the spice broth can be used to braise two batches of 10 chicken drumsticks, for a total of 20 chicken drumsticks. Most similar recipes always state to braise until the broth is all used up with the lid close. From my experience, it will take a really long braising time to use up all the liquid, and it is totally unnecessary, since at 1 hour, the chickens are already super tender and ready to fall off the bones. So what I usually do is to braise 10 drumsticks in my skillet for 1 hour, take those out, and then braise another 10 drumsticks for 1 hour for a total of 20 drumsticks.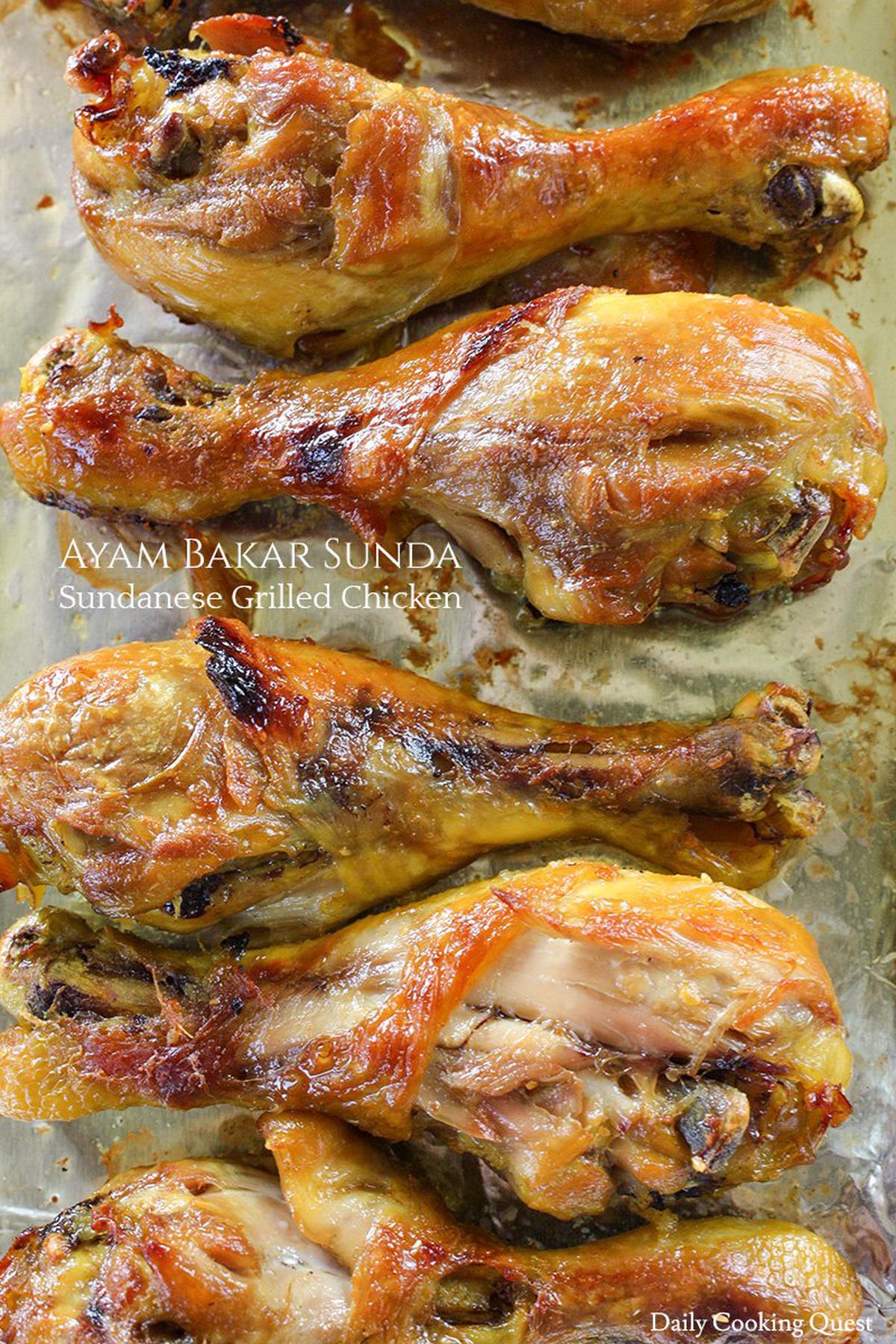 Place the braised chicken in a colander/strainer to make sure the chickens are completely dry prior to frying/grilling, especially for frying if you don't want to end up with crazy splatter all over your kitchen. If I am making a large batch like this, I usually end up broiling the chickens in my oven. First, line a baking tray with aluminum foil, brush each chicken generously with coconut oil (you can use any oil or even butter if you wish), then broil until the surface is charred, brushing more coconut oil as needed. If you are having a BBQ party in the near future, I am sure this is going to be a hit with your guests, and they don't need to take a lot of time in the grill either, just enough to give some char.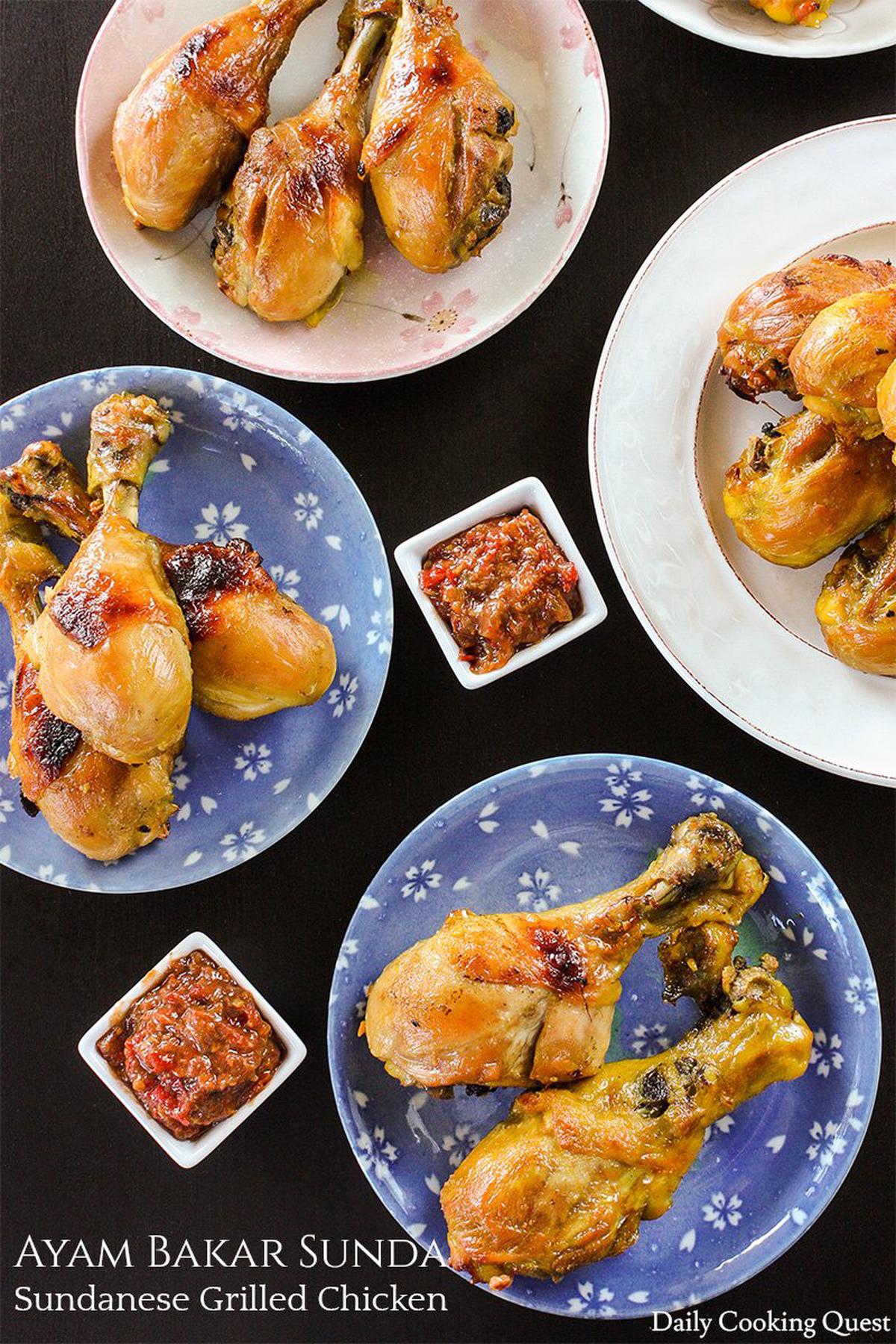 You can eat the chicken as is, but I highly recommend making some sambal terasi or sambal bajak. A side of lalapan, or even some sliced cucumber, sliced tomato, and shredded cabbage/lettuce will be perfect to go along with the chicken.
Ayam Bakar Sunda - Sundanese Grilled Chicken
5.0 from 3 reviews
Ingredients
20 chicken drumsticks
3 cups (750 ml) water
2 lemongrass (Indonesian: sereh), bruised and knotted
2 Indonesian bay leaves (Indonesian: daun salam)
1/2 tablespoon salt
1/2 teaspoon ground white pepper
1 teaspoon sugar
1 teaspoon turmeric powder (Indonesian: bubuk kunyit)
Spice paste (grind the following)
75 gram shallot (Indonesian: bawang merah)
3 cloves garlic (Indonesian: bawang putih)
4 candlenuts (Indonesian: kemiri)
1 inch ginger (Indonesian: jahe)
1/2 inch galangal (Indonesian: lengkuas)
Instructions
Place 10 drumsticks (set aside the other 10 for second batch), spice paste, water, lemongrass, bay leaves, salt, ground white pepper, sugar, and turmeric powder in a skillet/wok. Bring to a boil, then reduce heat to lowest setting, cover the skillet/wok with a lid, and simmer for 1 hour.
Remove the 10 cooked drumsticks from the skillet/wok and place in a colander/strainer.
Add the 10 uncooked drumsticks into the skillet/wok. Return to a boil, then reduce heat to lowest setting, cover the skillet/wok with a lid, and simmer for 1 hour.
Again, remove the 10 cooked drumsticks from the skillet/wok and place in a colander/strainer.
Preheat broiler. Line a baking tray with aluminum foil.
Brush each drumstick with coconut oil/any oil/melted butter, place in the prepared tray.
Broil until the chicken surface is charred, brushing more oil/butter as needed. Serve immediately.