Home / All Recipes / Indonesian / Ayam Bakar Taliwang - Lombok Grilled Chicken
Ayam Bakar Taliwang - Lombok Grilled Chicken
There are many varieties of ayam bakar (grilled chicken) throughout Indonesia. Though they all have "grilled" in the name, the main cooking method is more cooking in spice broth until the chicken is tender and fully cooked and all the flavor has been absorbed by the chicken, and then just prior to serving, they are given a quick cooking in the griller/broiler to char the chicken. As you can imagine, this cooking method is really popular with restaurants where batches and batches of the chicken can be prepared in advanced and will only be grilled once again after the customers have placed an order. Of course, home cooks can take advantage of this as well since we can cook multiple batches of the recipe, then store the excess in the freezer, and only cook (i.e. grill/broil) the ones that we want to have for a meal.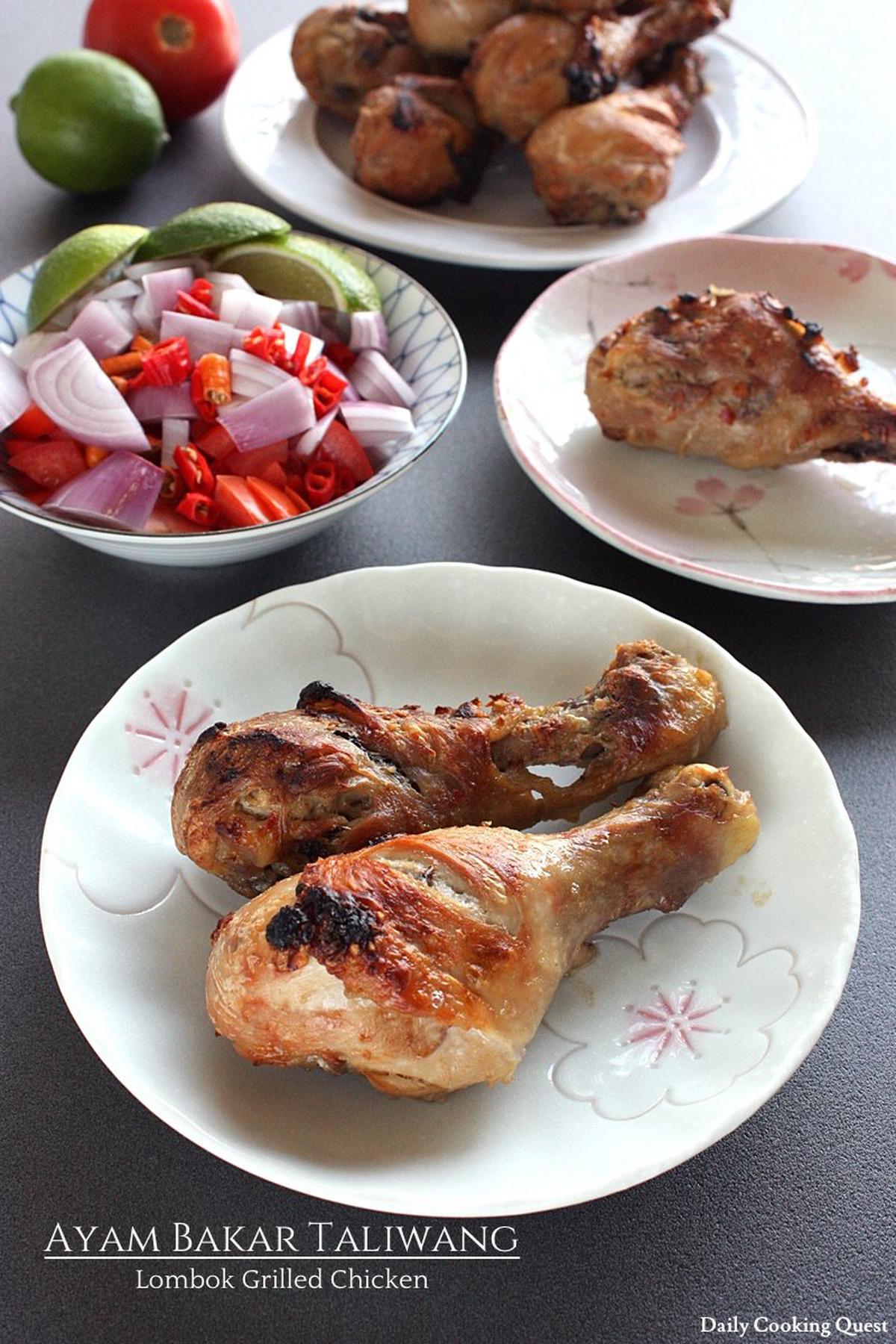 Ayam bakar taliwang hails from Lombok, a tiny island to the east of Bali. Most of the dishes from this island is characterized by its heavy use of chili, so be warned that this grilled chicken can be a bit on the spicy side. Feel free to reduce the amount of chili to suit your taste :)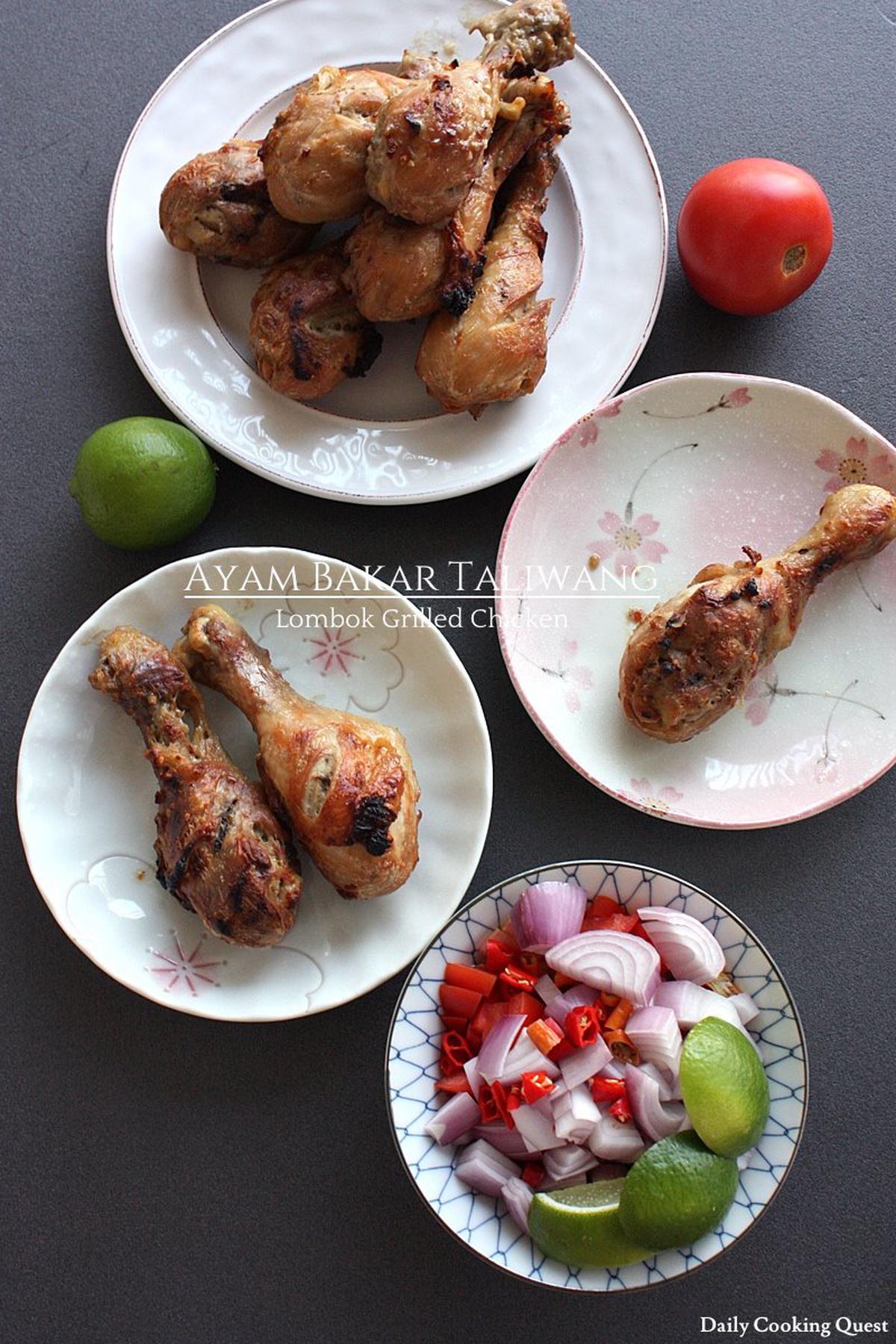 Ayam Bakar Taliwang - Lombok Grilled Chicken
4.7 from 3 reviews
Ingredients
1 kilogram bone-in chicken parts (I use all drumstick)
juice of 1 lime
3 tablespoon oil
1 tablespoon palm sugar (Indonesian: gula Jawa) (*)
1 1/2 teaspoon salt
400 ml coconut milk (from 1 can of coconut milk)
400 ml water
Spice paste
15 red cayenne chilies
100 gram shallot (Indonesian: bawang merah)
10 cloves garlic
5 candlenuts (Indonesian: kemiri) (**)
1 tablespoon toasted shrimp paste (Indonesian: terasi bakar) (***)
Instructions
Mix together chicken and lime juice, set aside for 30 minutes in the fridge.
Heat oil in a wok/large frying pan on medium-high. Sauté spice paste until fragrant, about 5 minutes. Add chicken, palm sugar and salt, mix well. Cook until chicken is no longer pink.
Add coconut milk and water, mix well. Bring to a boil, then lower the heat to a simmer, cook until the sauce has reduced and the chicken is fully cooked and tender, about 45 minutes.
Set the cooked chicken aside. (If you want to store some of the chicken, store them at this stage)
Preheat boiler, and line a baking tray with aluminum foil.
Transfer the chicken to the prepared tray, broil until slightly charred, about 5-8 minutes. Serve hot.
Notes
(*) Can be substituted with brown sugar.
(**) Can be substituted with macadamia nut.
(***) Can be substituted with fish sauce, about 2-3 tablespoon.