Home / All Recipes / Chinese / Ayam Goreng Kiam Boi - Fried Chicken with Fruit Seasoning
Ayam Goreng Kiam Boi - Fried Chicken with Fruit Seasoning
There are a couple of Chinese restaurants near my parents home serving ayam goreng kiam boi. I find them delicious and it seems to be pretty popular with their customers as well. Since it is highly unlikely for the restaurants owners to divulge their secret recipe to me, I have to experiment and come up with my own ayam goreng kiam boi recipe, hehe. As for the result, here is our conversation while gobbling this down.
Piti: The skin is very delicious, can you do just the skin next time? Me: Um… no. Piti: Someone needs to just sell the chicken skin, like a sheet of nori, that would be a big hit! Me: Great idea! Piti: It is probably impossible. But anyway, the chicken is really tasty, especially the skin.
I guess I can safely conclude that the recipe is a success. ♥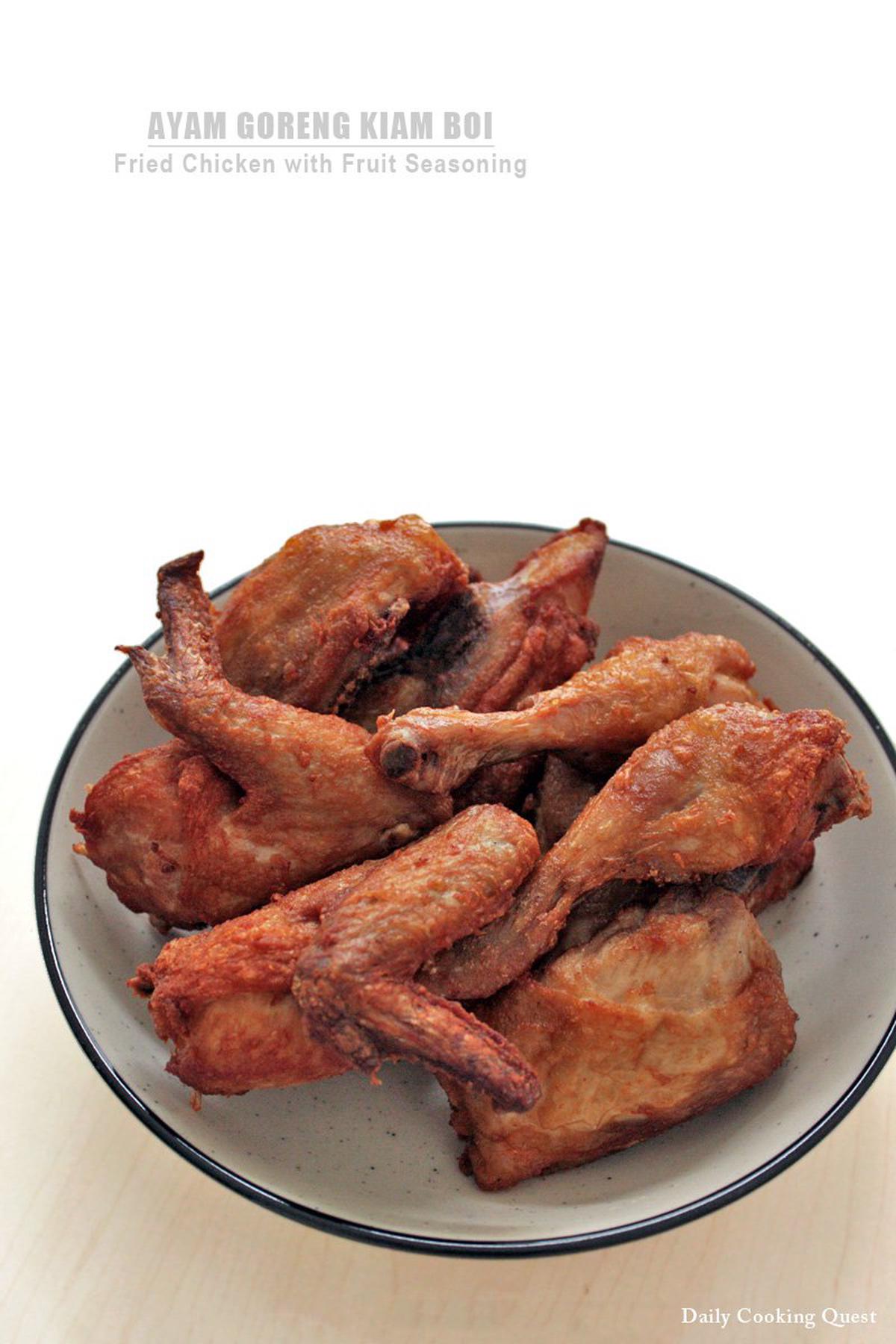 Ayam Goreng Kiam Boi - Fried Chicken with Fruit Seasoning
Ingredients
1 chicken (about 800 gram), cut into 8 pieces
40 gram fried chicken powder
1 tablespoon fruit seasoning (Indonesian: garam buah)
80 ml water
oil for deep frying
Instructions
Combine fried chicken powder, fruit salt seasoning, and water in a mixing bowl. Add chicken pieces to the batter to fully coat and let marinate for 4 hours in the fridge.
Heat enough oil in a wok for deep frying. Fry chicken pieces until golden brown and crispy and fully cooked, about 8 minutes per batch.
Drain chicken on paper towel and serve immediately.