Home / All Recipes / Indonesian / Ayam Madu Kecap Limo - Soy Sauce and Lime Honey Chicken
Ayam Madu Kecap Limo - Soy Sauce and Lime Honey Chicken
Not having enough time to make complicated dishes seems like the norm and I can totally relate to that. Ever since grad school (gosh, which was like years and years ago), I have been trying to come up with ways to prepare food in advance and still have something healthy and easy come meal time. One of my trick is to buy chicken thighs (or breasts), portion them out in ziploc bags, pour some marinating sauce and let them marinate in the fridge. Then when I come home and start letting the rice cooking away in the rice cooker, I will just heat up my frying pan and fry these chicken and they will be done at about the same time as the rice. Easy right? The combination of soy sauce, honey, and lime is always lovely. I love how the chicken will be sweet, salty, and sour (in a fresh limey kind of sour). I have never tried grilling them, though I suspect this will make a great barbeque dish for a picnic, don't you think? ♥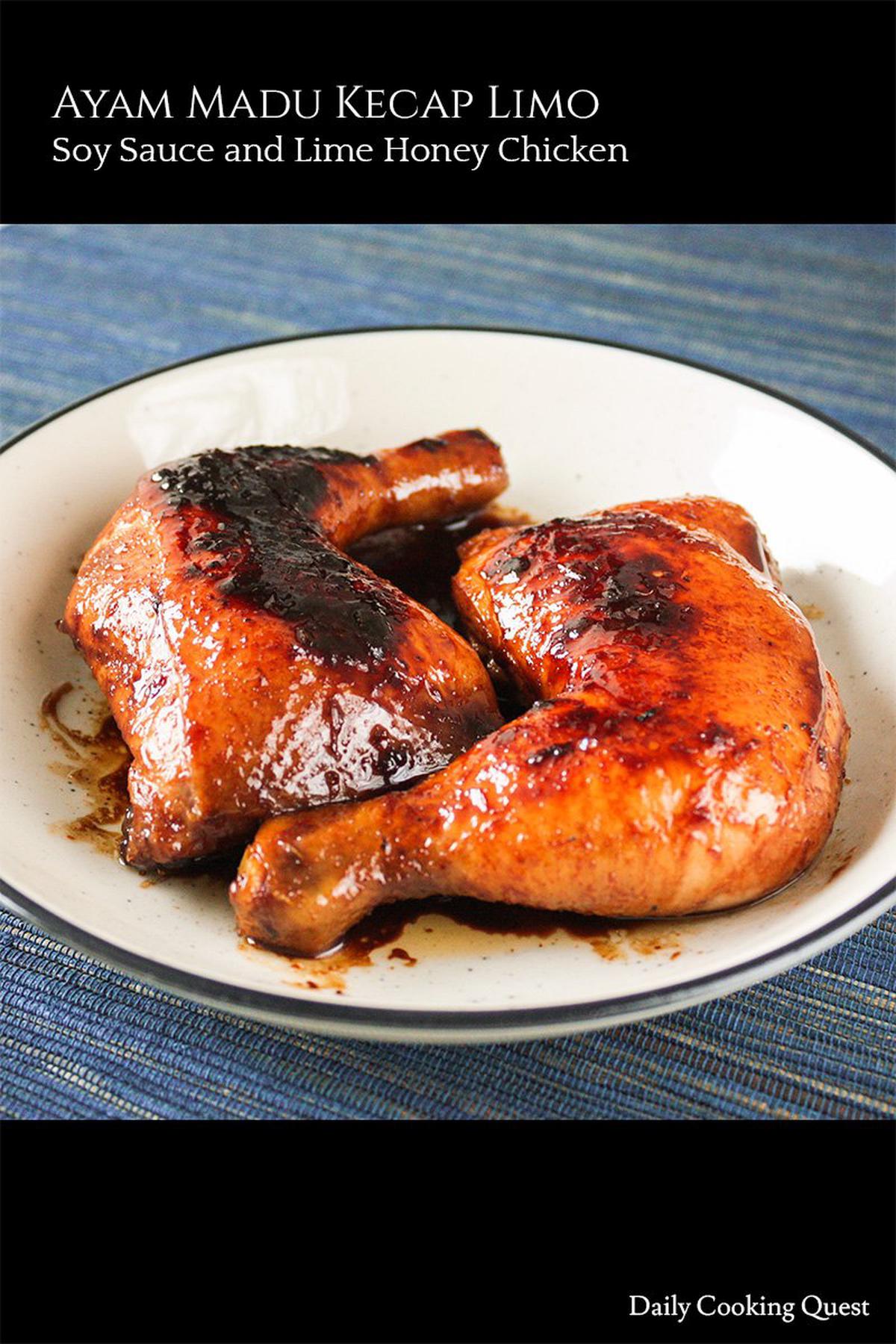 Ayam Madu Kecap Limo - Soy Sauce and Lime Honey Chicken
Ingredients
4 chicken thighs (Indonesian: paha ayam utuh)
2 tablespoon oil
Marinating sauce
3 tablespoon soy sauce (Indonesian: kecap asin)
3 tablespoon honey (Indonesian: madu)
3 tablespoon lime juice (Indonesian: air jeruk nipis)
1 teaspoon ground chili (Indonesian: bubuk cabe)
Instructions
Place chicken thighs in a mixing bowl with the marinating sauce. Cover and refrigerate for 2 hours. Stir every so often.
Heat oil in a frying pan on medium high. Cook each side of the thigh for 7 to 8 minutes. Keep basting with the marinating sauce every 2 minutes. Set the chicken thighs on a serving plate.
Pour the remaining marinating sauce into the pan and bring to a boil. When the sauce thickens and turns to a glace, pour it on top of the chicken thighs. Serve immediately with steamed white rice.