Home / All Recipes / Indonesian / Ayam Nasu Palekko - Makassar Spicy Chicken
Ayam Nasu Palekko - Makassar Spicy Chicken
When you need a quick chicken dish, this ayam nasu palekko - Makassar spicy chicken dish, might just be your answer. It is very fragrant and very citrusy from lemongrass and kaffir lime leaves. It is also savory, sweet, spicy, and tangy. Basically it has everything, and I am sure the umami is built in somewhere, because we sure couldn't stop eating this and it was a very very satisfying lunch :)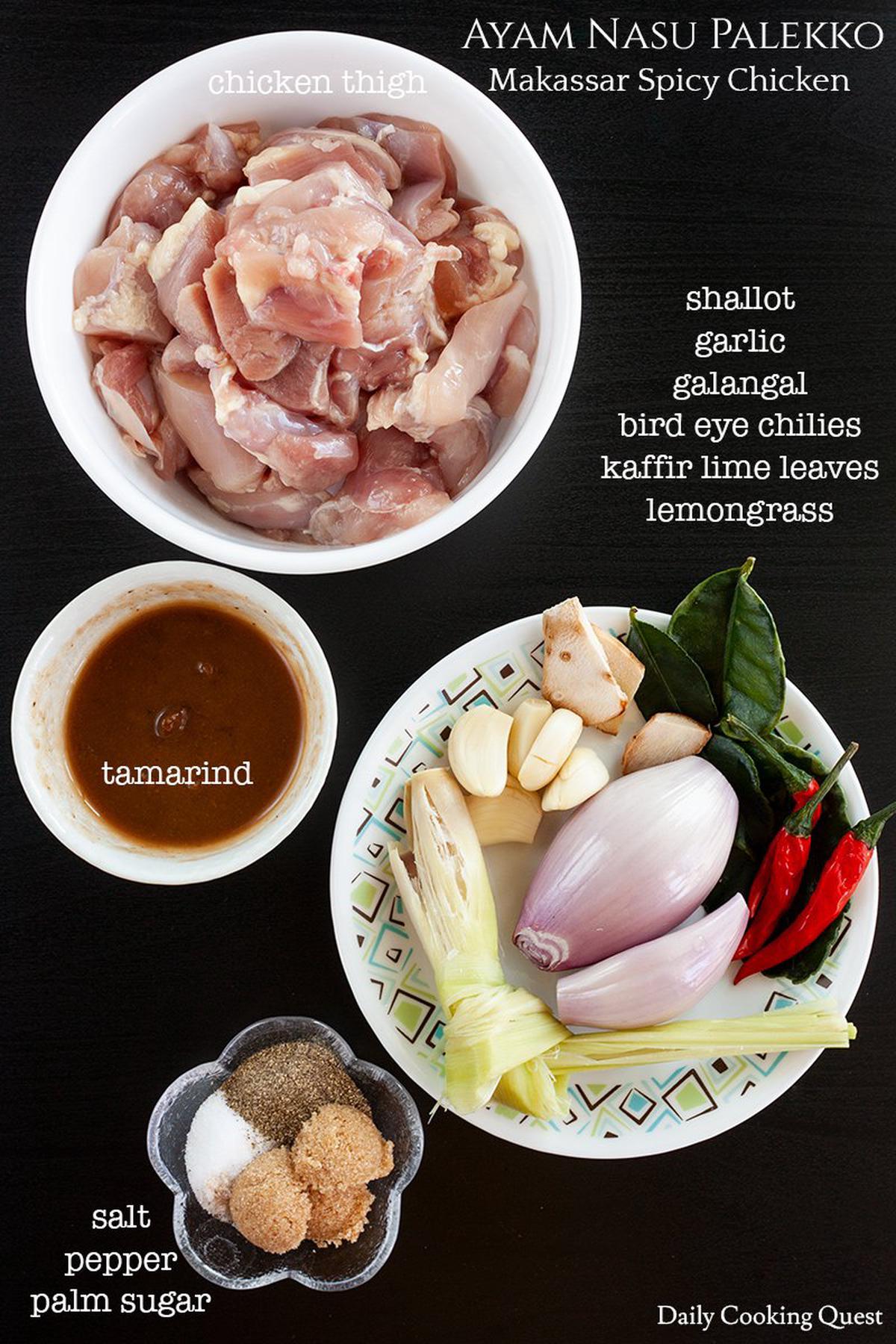 How many chilies !?!?
Confession time! The original recipe calls for 30 bird eye chilies, with all the seeds! Across so many Indonesian regional cuisines, dishes from Makassar tend to be over the top in the use of chilies. I have yet to come across even one dish with anything less than 20 bird eye chilies. Even most Indonesians that don't grow up in Makassar will invariably use less chilies. I use a grand total of 3 bird eye chilies, and even my hubby already complains that it is a bit too much, haha :D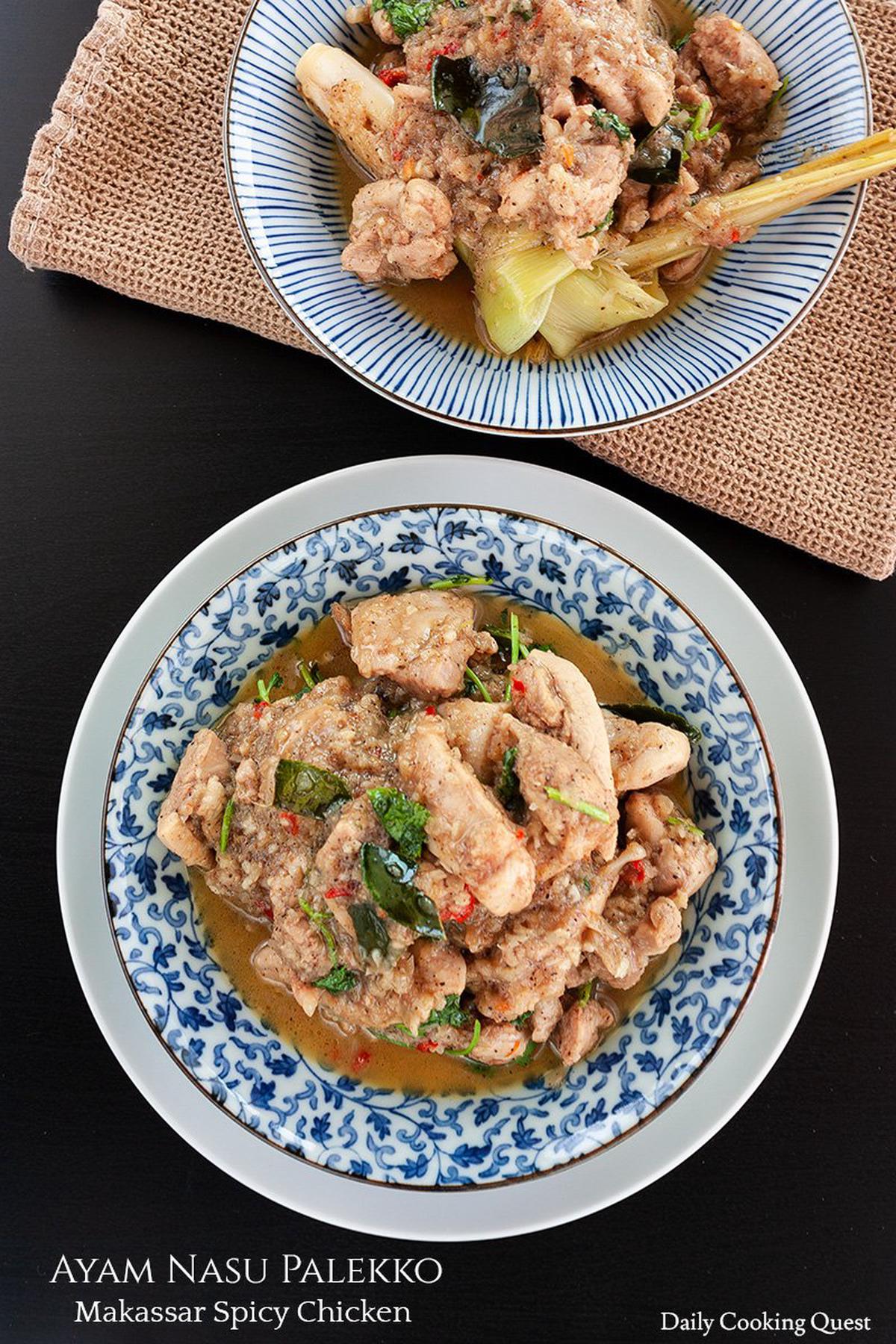 Chicken thigh vs. chicken breast
Most Asian, Indonesian included, prefer chicken thigh. Thigh meat tends to be juicier and tenderer. But if all you have is some skinless boneless chicken breast, it will work too since the cooking time for this dish is pretty quick and the breast shouldn't dry out too much. But, if you can, stick to chicken thighs :)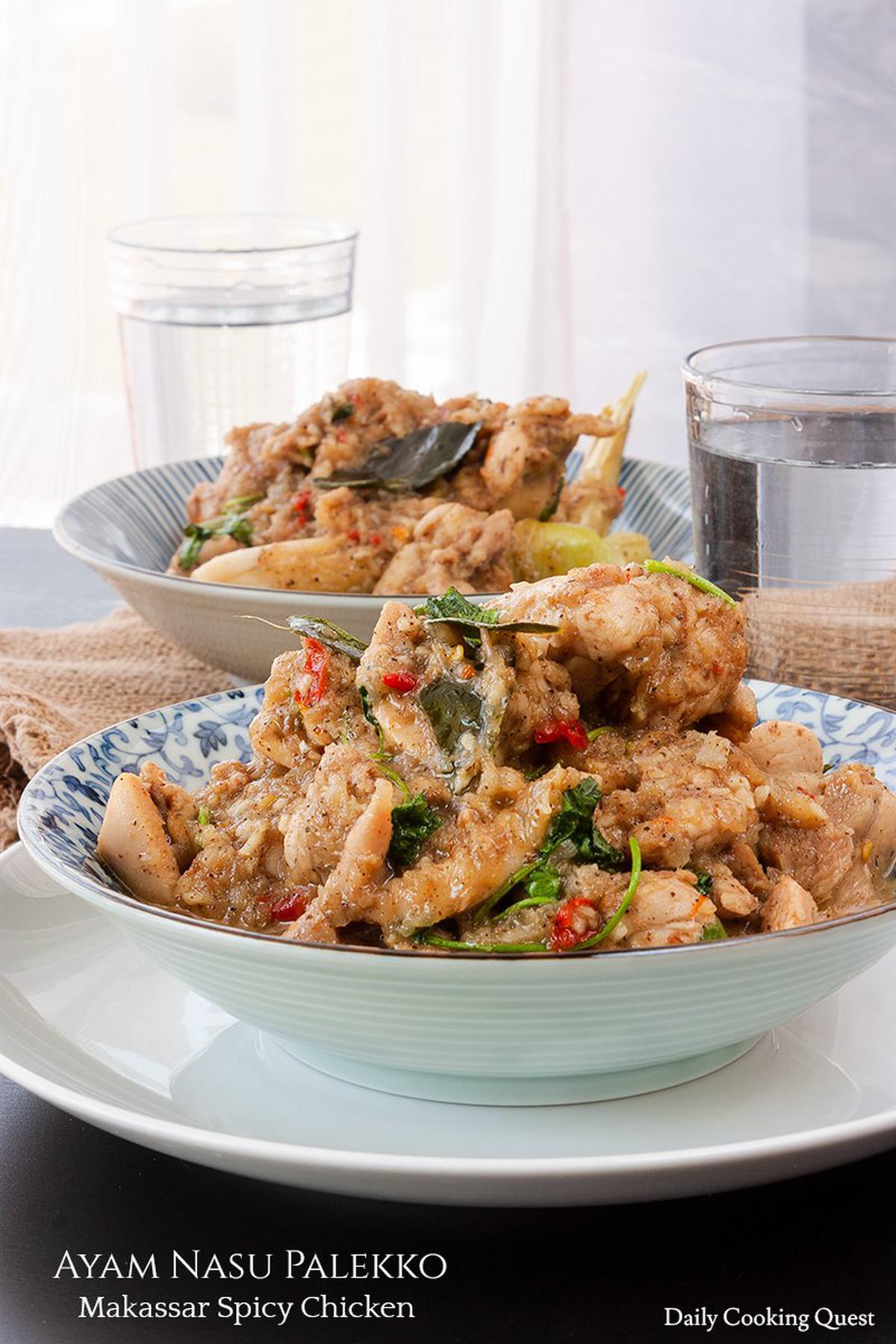 The recipe: ayam nasu palekko - Makassar spicy chicken
Ayam Nasu Palekko - Makassar Spicy Chicken
5.0 from 7 reviews
Ingredients
600-700 gram chicken thigh meat, cut into bite sizes
tamarind juice (from 1 tablespoon tamarind + 4 tablespoon water, mixed well and strained)
3 tablespoon oil
1 lemongrass, bruised and knotted
1/2 inch galangal, cut into thin slices and bruised
1 tablespoon palm sugar (or coconut sugar/brown sugar)
1/2 tablespoon salt
1 teaspoon ground pepper
3-4 kaffir lime leaves, shredded
1/4 cup cilantro leaves, roughly chopped
Spice paste (grind together the following)
100 gram shallot
5 cloves garlic
3-30 red bird eye chilies, seeded
Instructions
Massage chicken thigh with tamarind juice. Set aside for 10 minutes.
Heat oil in a frying pan over medium high heat. Sauté spice paste, lemongrass, and galangal until fragrant and the spices are cooked. About 3 minutes.
Add chicken with all the tamarind marinade to the pan, season with palm sugar, salt, and pepper. Stir, cook until chicken is fully cooked, and the sauce is reduced by half.
Turn off heat, add kaffir lime leaves and cilantro. Stir to mix evenly, then transfer to a serving platter and serve immediately.