Home / All Recipes / Indonesian / Ayam Pop Padang - Padang Fried Chicken
Ayam Pop Padang - Padang Fried Chicken
I love Padang cuisine. Among the cuisines from so many regions in Indonesia, Padang cuisine is probably the most widely available no matter where you are in Indonesia, and it is easy to see why. In Padang restaurants, dishes are usually stacked in plates, and this marvelous sight can be seen from the restaurant big glass window to entice hungry passerby into the restaurant. Rendang, gulai of various meat, myriad of balado dishes, perkedel, and the ubiquitous daun singkong (cassava leaves) are what can usually be seen among these stacks of plates. And to many uninitiated, it is quite understandable to miss on the delicious ayam pop (fried chicken that has been cooked in broth of coconut juice) since this dish is not usually being displayed, but will only be cooked and delivered straight to your table once an order has been placed. So, the next time you step in a Padang restaurant, do give it a try, and if you are a fan like me, here is a simple recipe to recreate this dish in your home :)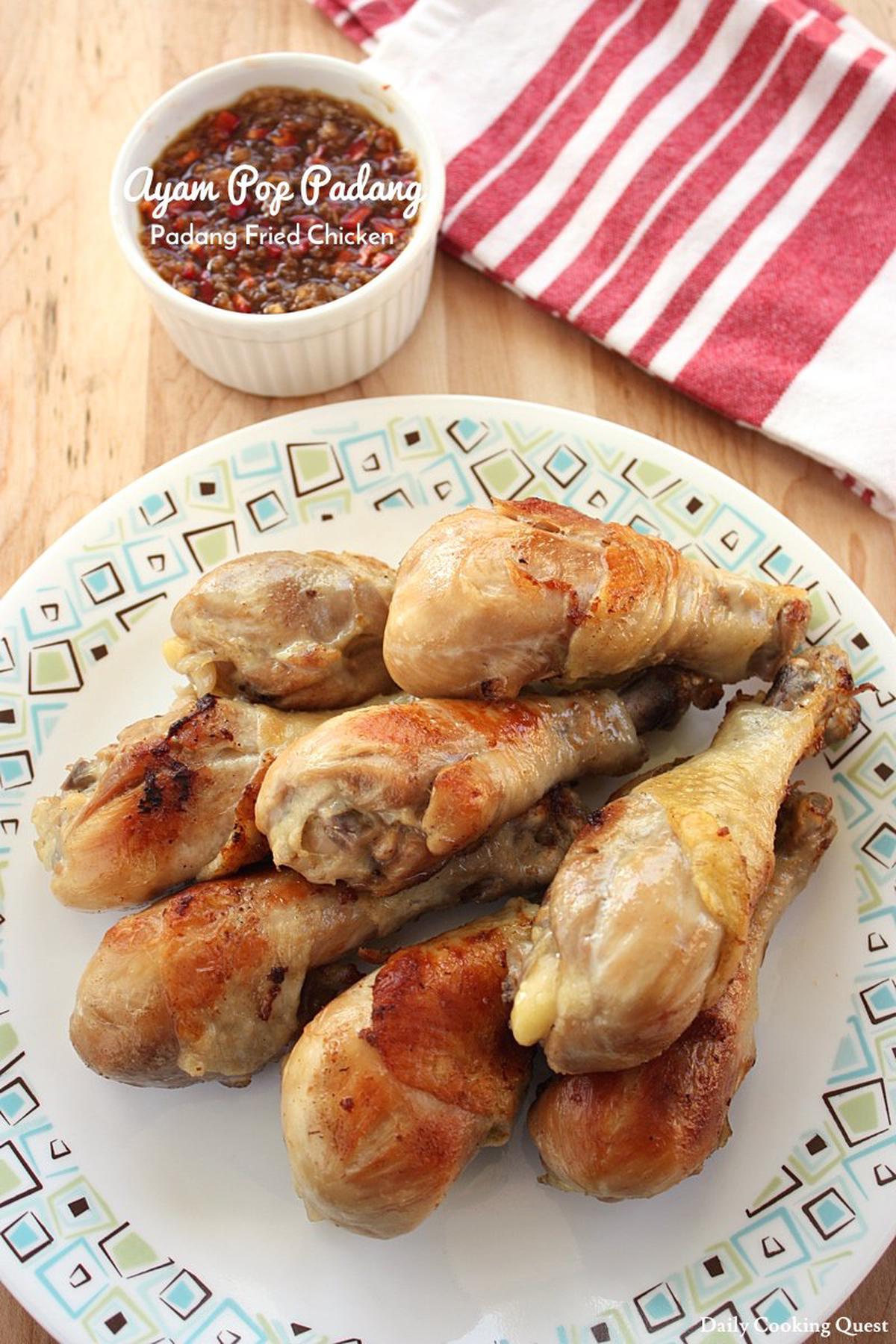 Ayam Pop Padang - Padang Fried Chicken
Ingredients
Ayam Pop
1 free range chicken (Indonesian: ayam kampung), cut into 4 pieces
2 tablespoon butter
6 garlic, minced
1 teaspoon salt
1 teaspoon pepper
1 teaspoon sugar
500 ml water
500 ml coconut juice (Indonesian: air kelapa)
oil for deep frying
Chili and Sweet Soy Sauce Sambal
6 Thai chili, seeded and chopped
2 tablespoon fried shallot (Indonesian: bawang goreng)
4 tablespoon sweet soy sauce (Indonesian: kecap manis)
1 kaffir lime
Instructions
Ayam Pop

Heat butter in a pot and stir fry the garlic until fragrant, about 2-3 minutes. Add salt, pepper, sugar, water, and coconut juice. Mix well and bring to a boil.
Add chicken pieces into the pot and cook until chicken is tender, about 20 minutes. Drain and set aside.
Heat enough oil in a pot for deep frying, fry the chicken pieces until slightly golden brown (it should still be quite whitish). Serve immediately with chili and sweet soy sauce sambal.

Chili and Sweet Soy Sauce Sambal

In a bowl, combine chili, fried shallot, sweet soy sauce and juice of kaffir lime.