Home / All Recipes / Indonesian / Ayam Suwir Saus Empal - Chicken in Spices & Coconut Milk Sauce
Ayam Suwir Saus Empal - Chicken in Spices & Coconut Milk Sauce
Empal is a very popular Javanese dish, typically made from thinly pounded beef shank, cooked in spices, and finally fried. It can be a pretty laborious dish, and Mom usually just buy them from her favorite empal specialty store.
I recreate this dish with shredded chicken thigh meat, which cuts the cooking time significantly, but the taste is pretty much there. I hope you will give this ayam suwir saus empal - chicken in spices & coconut milk sauce recipe a try.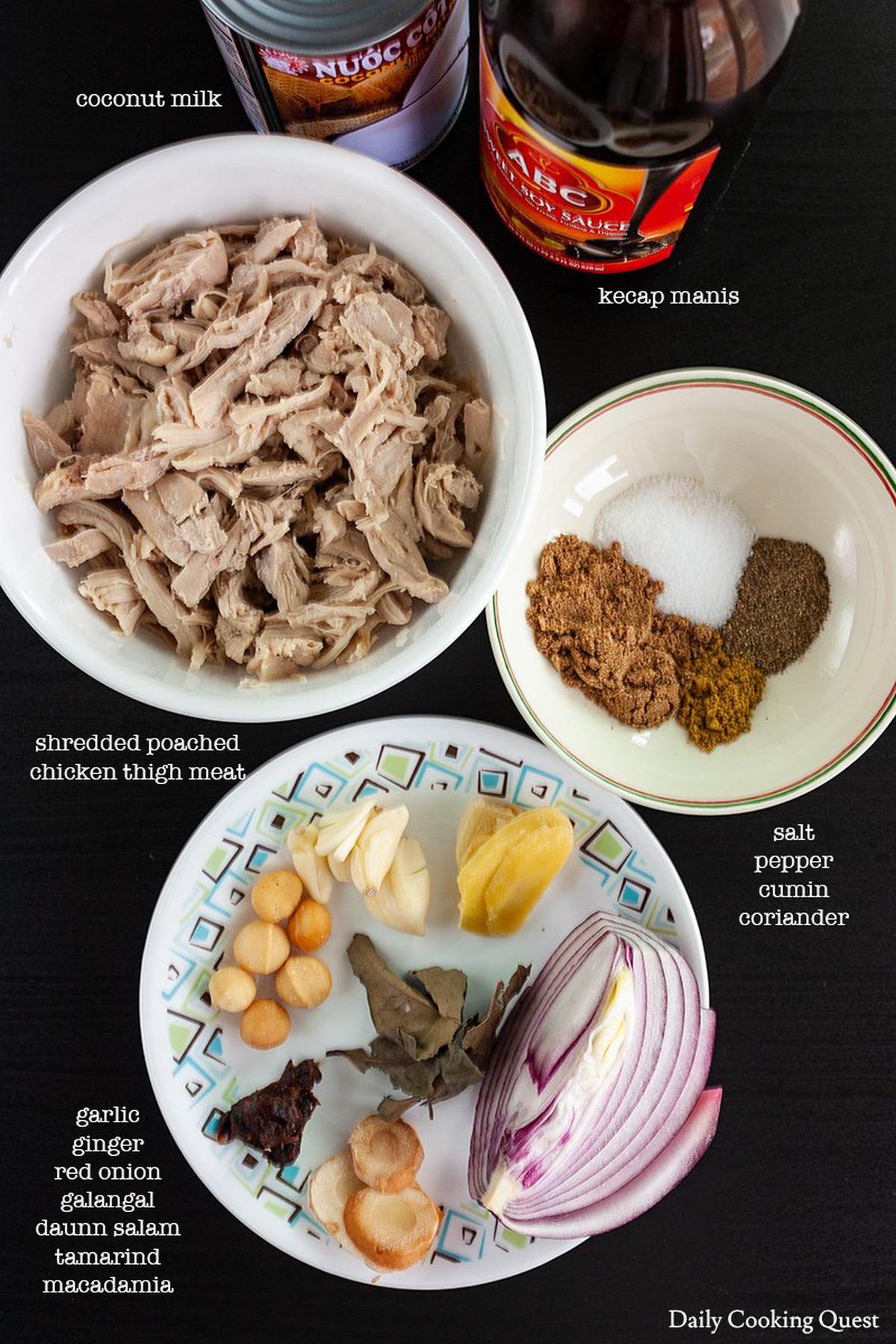 Poached chicken thigh meat
If you have any experience cooking with beef shank, you know it is a very tough cut and requires a long cooking time to make it tender.
Here I use skinless boneless chicken thigh meat, poached in boiling water for 20 minutes. So much faster, plus I get to prepare the spices while the chicken is gently poaching away.
Once done, just remove the chicken from the hot water, and shred the meat with two forks.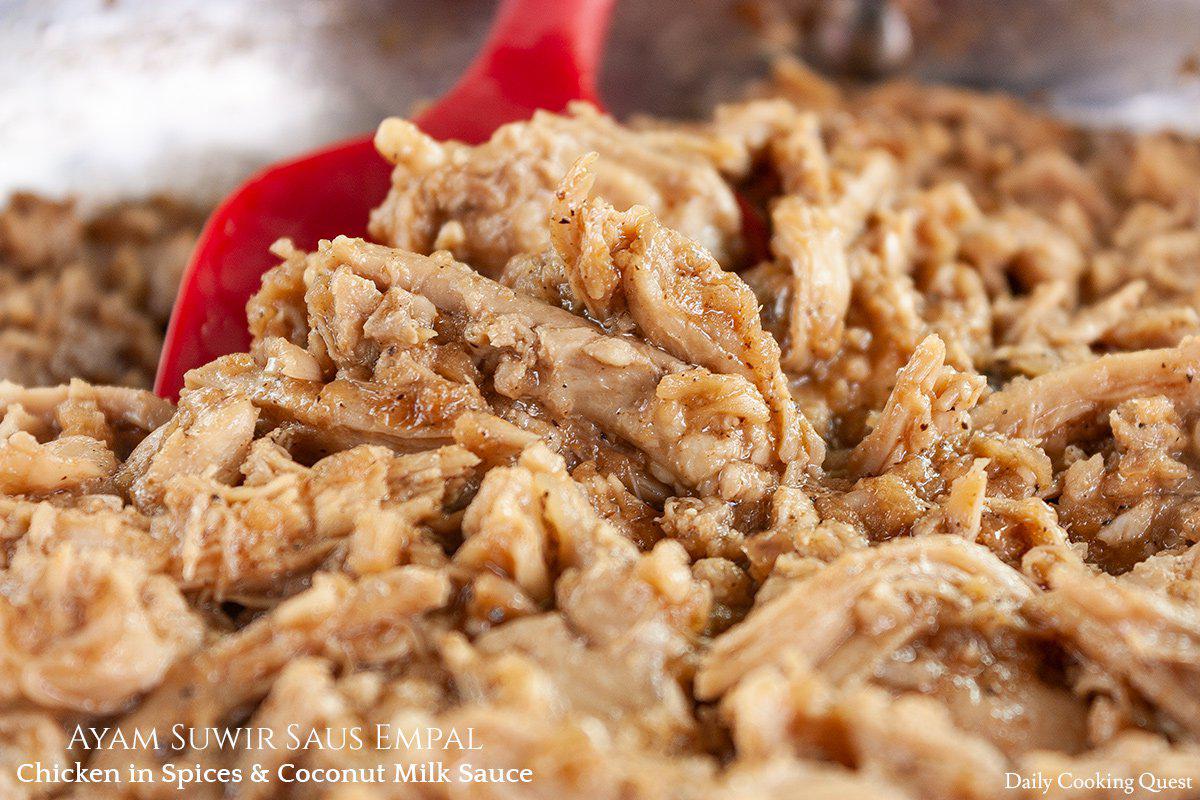 Empal spices
Once you are familiar with Indonesian dishes, you can expect a pretty long list of spices, and empal is no different. You need ginger, galangal, daun salam, tamarind, kecap manis, coconut milk, coriander, cumin, candlenuts (I use macadamia), shallot (I use red onion), and garlic.
Daun salam is usually translated into bay leaf, but I think it is more appropriate to call it Indonesian bay leaf since regular bay leaf is wildly different compared to our daun salam. If you cannot find this, it is best to omit instead of sub with regular bay leaf.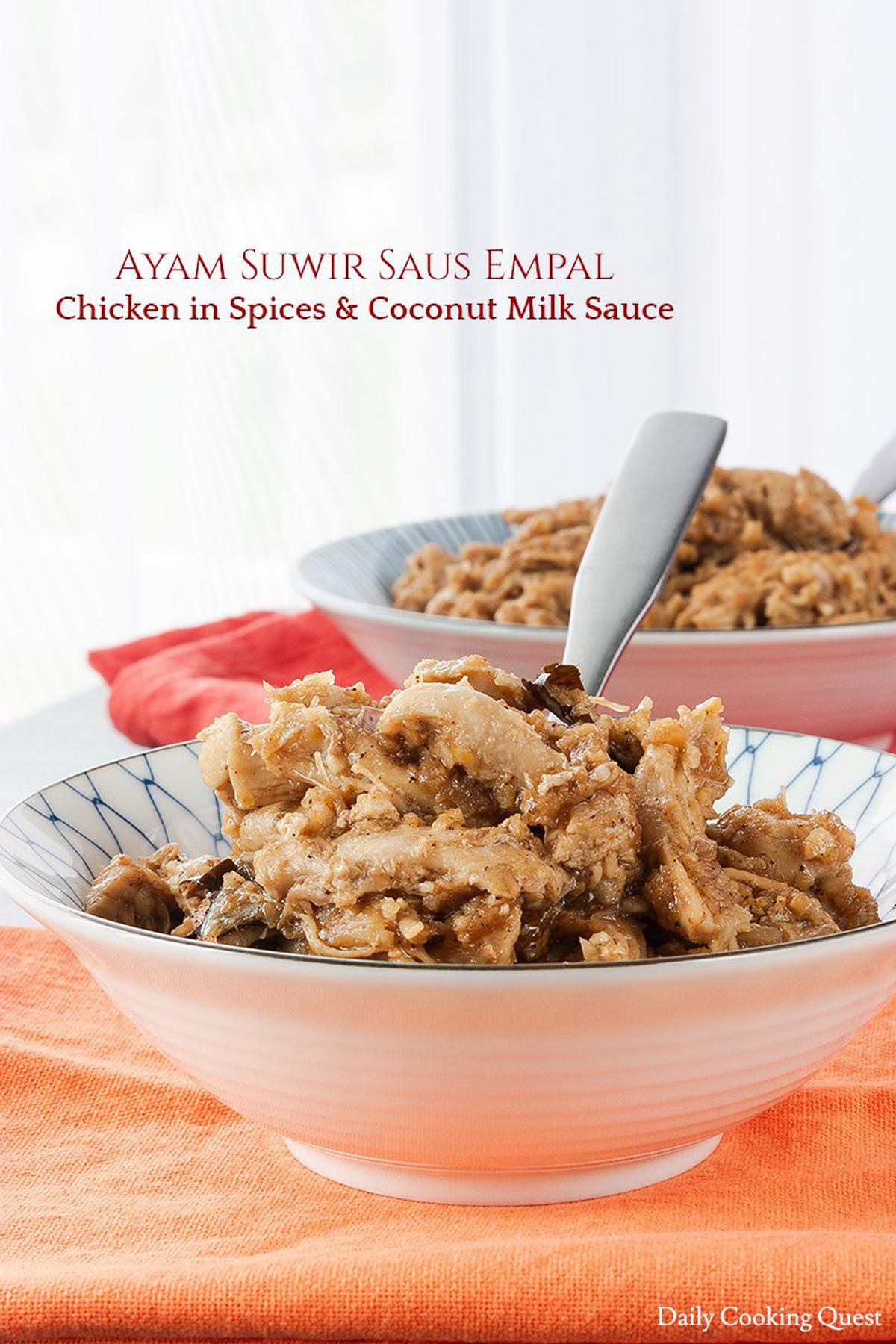 Ayam Suwir Saus Empal - Chicken in Spices & Coconut Milk Sauce
5.0 from 8 reviews
Ingredients
500 gram (~ 1 lb.) skinless boneless chicken thigh meat
3 tablespoon oil
2 daun salam (Indonesian bay leaves)
1 teaspoon salt
1/2 teaspoon ground pepper
1 tablespoon kecap manis
1 teaspoon tamarind liquid (1/2 teaspoon tamarind + 1 teaspoon water, mix, massage, and strain)
100 ml (~ 6 1/2 tablespoon) coconut milk
Spice paste (grind the following together)
1/4 red onion
4 cloves garlic
4 candlenuts (or 6-8 macadamia)
1/2 inch galangal
1 inch ginger
1/2 tablespoon coriander
1/4 teaspoon cumin
Instructions
Boil 4 cups of water in a pot, then add chicken thigh meat into the boiling water. Reduce to a simmer, and cook for 15-20 minutes, or until the meat is cooked through.
Remove cooked chicken meat from the hot water, then shred the meat with 2 forks. Set aside.
Heat oil in a large frying pan over medium high heat. Sauté spice paste and daun salam until fragrant, about 4-5 minutes.
Add shredded chicken meat to the frying pan, along with salt, ground pepper, kecap manis, tamarind liquid, and coconut milk. Stir and cook until the sauce is almost dry and chicken pieces are coated with sauce.
Turn off the heat, transfer to a serving plate, and serve with steamed white rice.