Home / All Recipes / Indonesian / Ayam Suwir Tauco Pedas - Spicy Soy Bean Shredded Chicken
Ayam Suwir Tauco Pedas - Spicy Soy Bean Shredded Chicken
Ayam suwir (shredded chicken) is one of Indonesian favorite comfort food. The idea is to poach one whole chicken, or in the US, just a pair of chicken breasts since the chicken in US is humongous compared to the one back home. Then, the chicken meat is shredded and cook further in a myriad way. Today, I am going to share this easy ayam suwir tauco pedas - spicy soy bean shredded chicken recipe with you.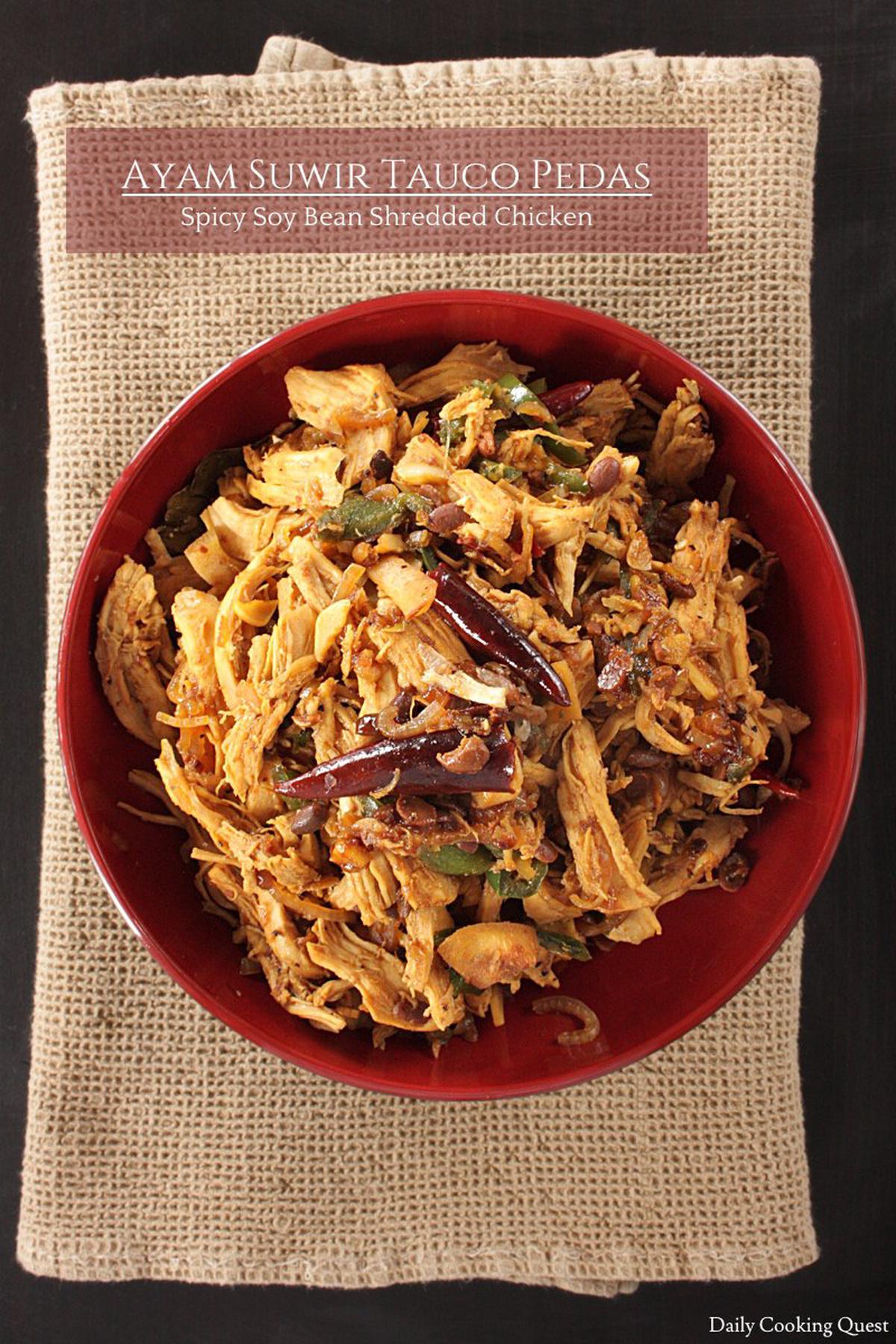 Let's Get Cooking
Once you have your poached chicken, the rest is a simple stir frying job.
First, sauté the aromatics (shallot, garlic, daun salam, and galangal) over medium high heat.
Next, add chilies, tauco, shredded chicken, all the seasonings and water/stock. Simply cook until liquid is almost dry and you have yourself an ayam suwir dish.
If you want an even easier approach, get a rotisserie chicken, and use that instead of poached chicken. The rotisserie trick makes this simple dish even simpler, and to be honest, the taste is even better.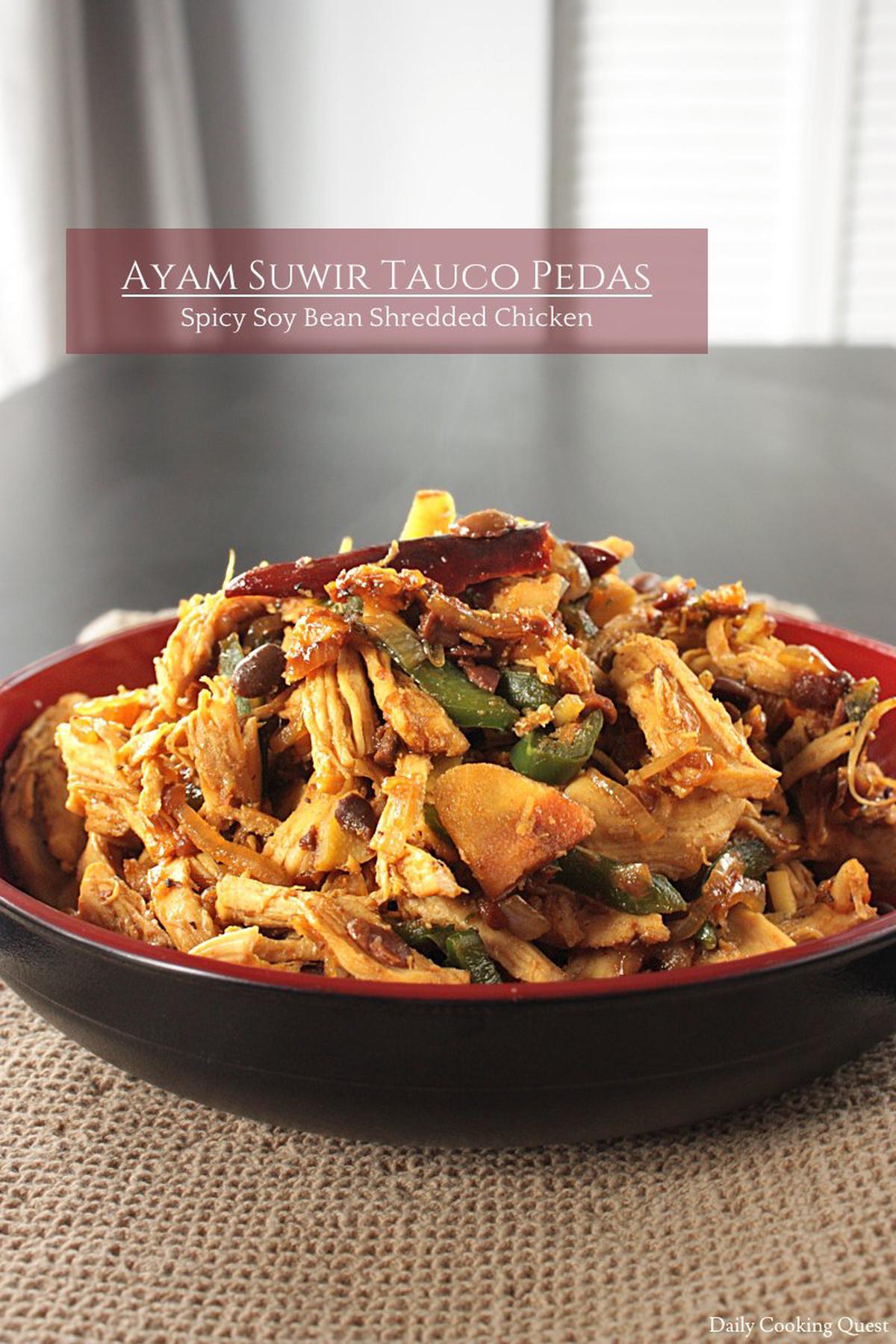 Ayam Suwir Tauco Pedas - Spicy Soy Bean Shredded Chicken
Ingredients
1 pair of skinless boneless chicken breast (~ 1 lb./450 gram)
2 tablespoon oil
100 gram shallot (Indonesian: bawang merah), thinly sliced
3 cloves garlic (Indonesian: bawang putih), thinly sliced
2 Indonesian bay leaves (Indonesian: daun salam)
1 inch galangal (Indonesian: lengkuas), bruised
1-2 jalapeno (Indonesian: cabe hijau besar), seeded and thinly sliced
3-5 Thai red bird eye chiles (Indonesian: cabe rawit merah), seeded and thinly sliced
5 dried red chilies (Indonesian: cabe merah kering), seeded
4 tablespoon salted soy beans (Indonesian: tauco)
1/2 teaspoon salt
1/4 teaspoon ground pepper
1/2 teaspoon sugar
2 tablespoon Indonesian sweet soy sauce (Indonesian: kecap manis)
1/2 cup water (or chicken stock)
Instructions
Place chicken breast in a pot, then pour enough water to cover by one inch. Boil over medium high heat, then lower the heat to simmer for 10 minutes.
Remove chicken from the pot, and shred into small pieces with two forks. You can use your hands to to tear the meat, but please wait until the chicken is cool enough to handle.
Heat oil in a frying pan over medium high heat. Sauté shallot, garlic, Indonesian bay leaves, and galangal until the shallot looks wilted.
Add all the chilies and cook for 30 seconds, then add salted soy beans, shredded chicken, salt, ground pepper, and sugar. Mix well.
Add Indonesian sweet soy sauce and water, and mix well. Cook until all the sauce is almost dry.
Turn off the heat, and serve immediately with steamed white rice.