Home / All Recipes / Malaysian / Ayam Tempra
Ayam tempra is Malaysian nyonya chicken dish, braised with onions and dark soy sauce, with a hefty splash of calamansi juice.
Ayam tempra is a Malaysian nyonya dish. The characteristic of this dish is that chicken pieces is cooked with plenty of onion and soy sauce, and brighten with calamansi juice right at the end of the cooking. The ingredients are very minimal, but the taste is exceedingly delicious, making this one of household staple dish in many Malaysian homes.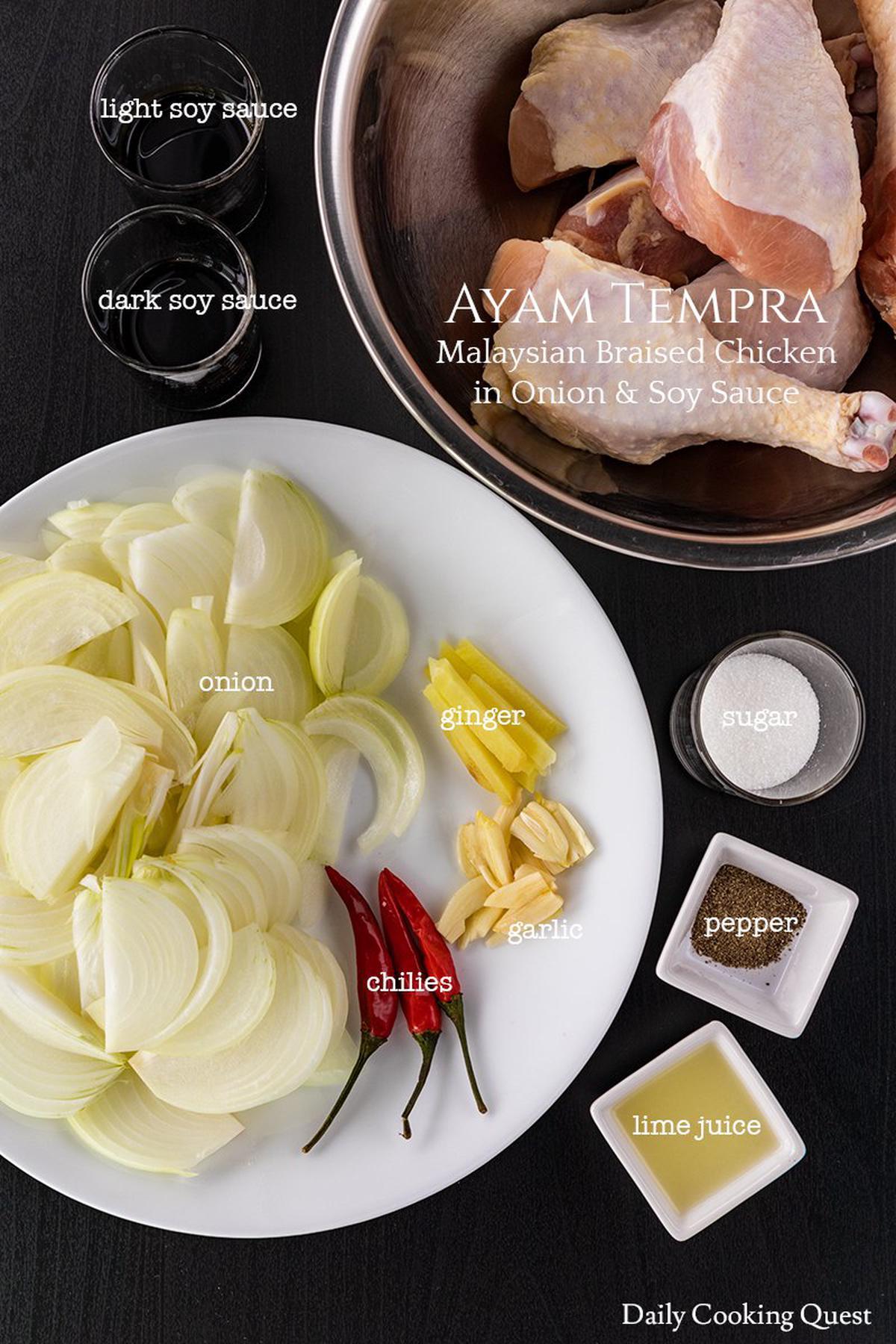 Calamansi (or Calamondin)
I have yet to find calamansi sold in the city where I currently reside. I do see plenty of key limes, and of course, regular limes. I think both are quite acceptable substitution for calamansi. But if you can find calamansi, it is best to use calamansi. Calamansi is quite similar to key limes in term of size, but calamansi has sweeter juice and with orange color flesh (like navel oranges). To me, it's almost like a cross between key limes and kumquat.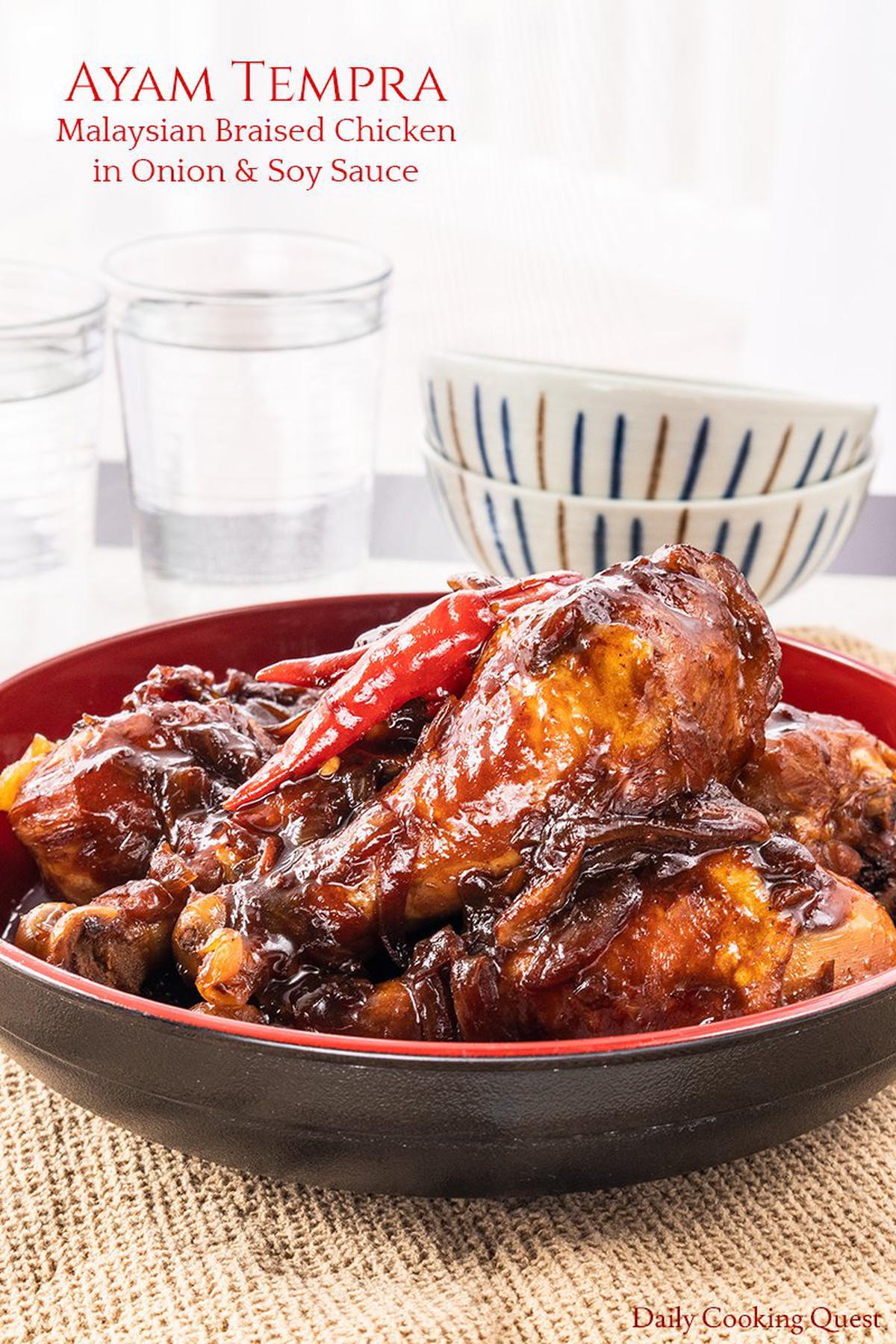 Whole chicken
In Malaysia, most people use half a chicken, cut into pieces to prepare ayam tempra. I don't usually buy a whole chicken here, mostly I stock drumsticks, chicken thighs, chicken quarters, or skinless boneless breasts. So I just wing it and usually grab 5-6 pieces of drumsticks and call it half a chicken. You can use any part of chicken, but do include the skin and bone if you can.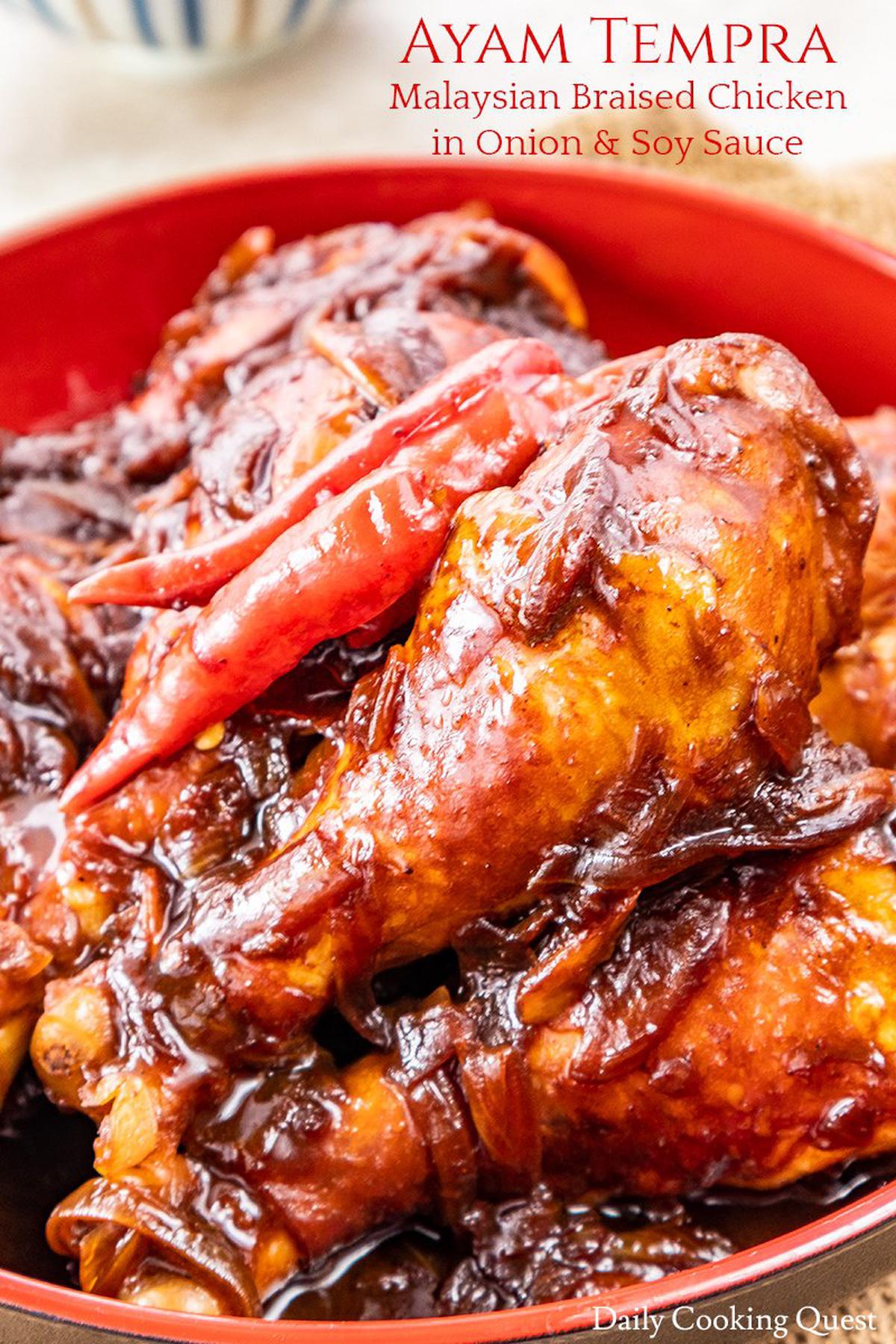 Ayam Tempra
5.0 from 8 reviews
Ingredients
2 tablespoon oil
2 onion, thinly sliced
2 cloves garlic, peeled and crushed
1/2 inch ginger, thinly sliced
5-6 chicken drumsticks (~ 1/2 chicken, cut into pieces)
2 tablespoon dark soy sauce
2 tablespoon light soy sauce (or regular soy sauce)
2 tablespoon sugar
1/4 teaspoon ground pepper
1/2 cup water
3-5 red chilies, seeded and sliced
1 tablespoon calamansi juice (from ~ 3 calamansi) (*)
Instructions
Heat oil in a wok/deep skillet over medium heat. Sauté onion, garlic, and ginger until fragrant, about 3 minutes.
Add in chicken pieces and fry until no longer pink, about 5 minutes.
Add in dark soy sauce, light soy sauce, sugar, pepper, and water. Bring to a boil.
Reduce heat to a simmer, cover wok/skillet with a lid, and cook until chicken is tender, and the sauce is very thick and coats the chicken, about 20 minutes.
Add chili slices and calamansi juice. Stir. Turn off heat and serve immediately.
Notes
(*) Calamansi can be substituted with key lime or regular lime.