Home / All Recipes / Indonesian / Ayam Ungkep - Indonesian Fried Chicken
Ayam Ungkep - Indonesian Fried Chicken
A smart fried chicken dish - the bird is first braised in stock to get flavorful and juicy meat, and deep fried for a short time to get crispy skin.
When Indonesians mention ayam goreng (fried chicken), what we really mean is ayam ungkep, and you can use the term interchangeably.
Ungkep translates to braising, and the name reflects the fact that what we fry is not raw chicken, but chicken that has been braised in a pot of broth filled with spices.
Since the chicken is fully cooked once braised, the deep frying (goreng) is simply to give the chicken a crispy skin and doesn't take long at all.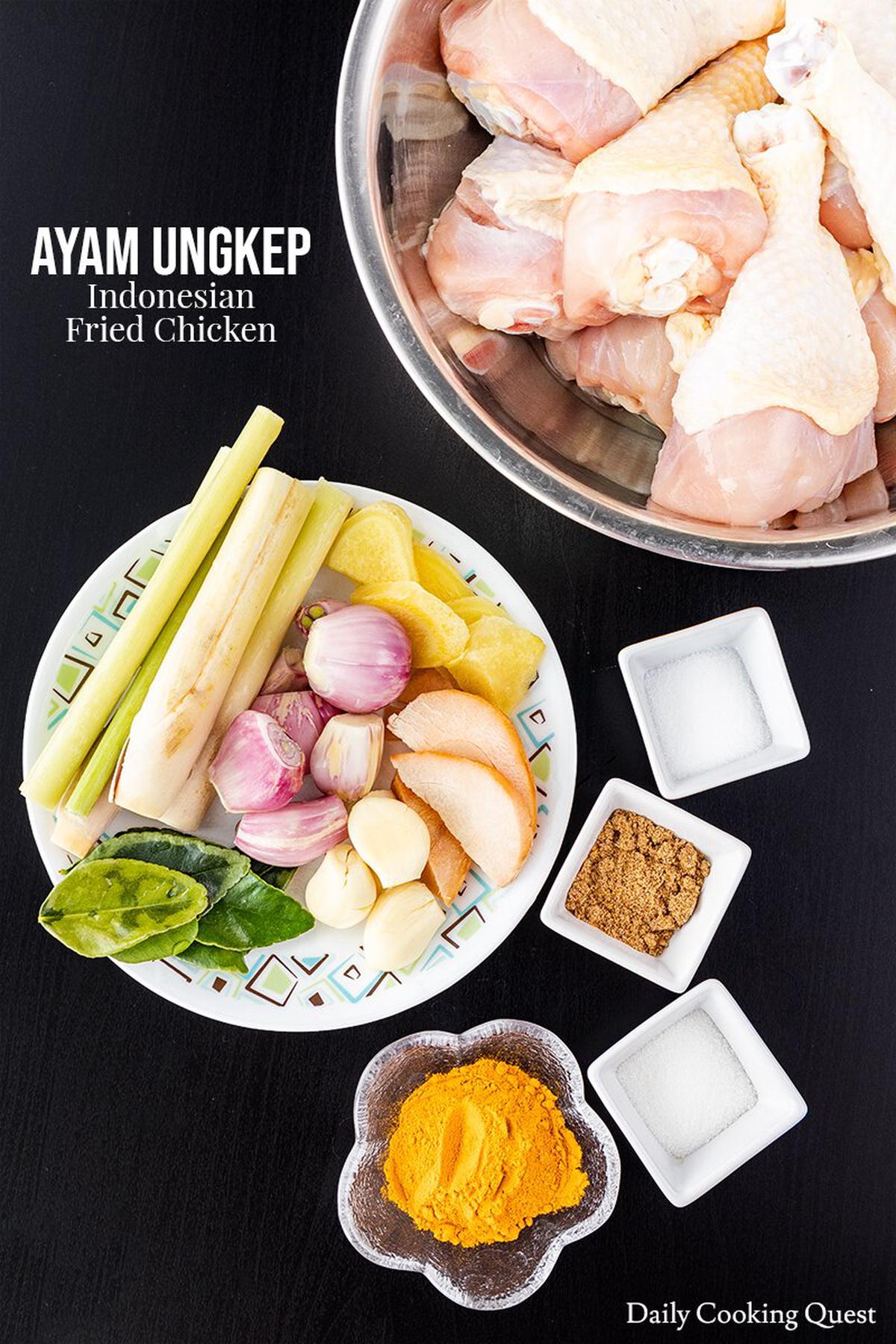 Perfect fried chicken dish for busy people
Many Indonesians prepare ayam ungkep in really large batches during the ungkep (braising) process.
My Mom used to braise multiple birds in the biggest stock pot she owns, then she will strain the cooked chicken, and portion them into separate freezer bags. Over the course of several weeks, she will regularly thaw one bag at a time, deep fry, and serve us some fried chicken. Don't you think this is such a smart thing to do?
Of course, if you want to follow her and prepare multiple batches, please be sure to scale up all the ingredients.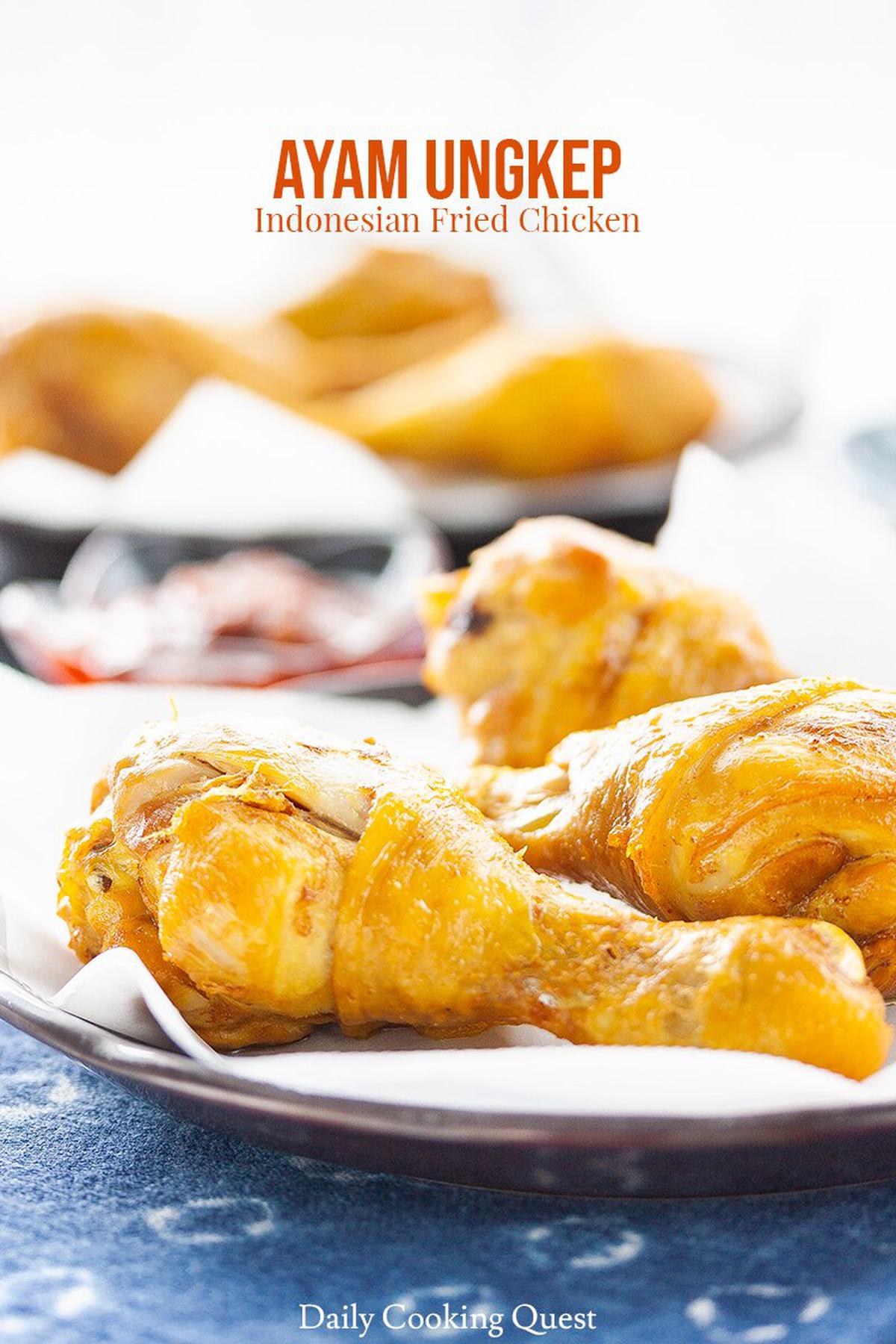 Save the flavorful broth for your bubur ayam
Every time I cook ayam ungkep (Indonesian fried chicken), I will be left with a pot of very flavorful spiced broth. What I do is I strain this to get a clear broth, and save it to serve with my bubur ayam.
I especially like this approach when I get a rotisserie chicken from the grocery, so I simply need to prepare some plain congee (bubur), ladle the flavorful chicken broth over the plain congee, and top with shredded rotisserie chicken.
Or, if you are somehow sick of eating fried chicken (Is this even possible?), you can serve the braised chicken and the flavorful broth with a bowl plain congee too!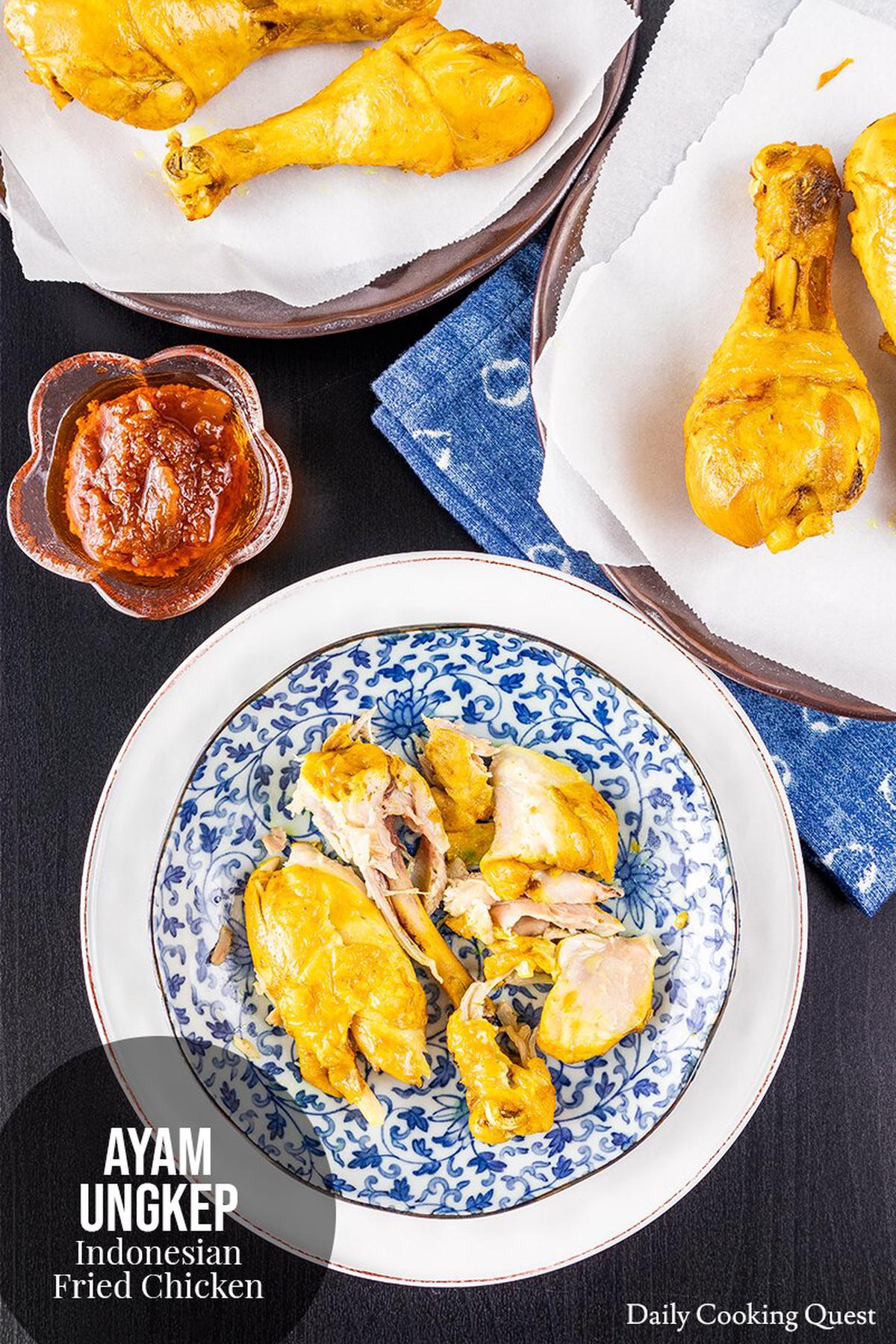 What can I serve with ayam ungkep?
Although the most common way is to enjoy ayam ungkep for lunch/dinner with a plate of steamed white rice and a side of sambal terasi/sambal bajak, this Indonesian fried chicken shows up as one of the side dishes in many Indonesian rice dishes, such as:
Ayam Ungkep - Indonesian Fried Chicken
5.0 from 20 reviews
Ingredients
1 chicken (about 1 kg), cut into 8 pieces
3 lemongrass, bruised
500 ml (2 cups) coconut water
Grind the following into spice paste
100 gram shallot
5 cloves garlic
1 inch ginger
1 inch galangal
1 tablespoon turmeric powder
1 teaspoon coriander powder
1 teaspoon salt
1 teaspoon sugar
Instructions
Place chicken, lemongrass, kaffir lime leaf, spice paste, and coconut water into a pot. Bring to a boil. Cover the pot and simmer for 30 minutes until chicken pieces are well cooked. Drain the chicken pieces so they are dry to prepare for deep frying.
[Make aheead]: If you want to store the chicken and serve them some other time, store them now. They keep well for several days in the fridge or can be frozen for up to 1 month. If frozen, please thaw the chicken first before deep frying.
[Save the broth]: You can strain the braising broth and serve it with bubur ayam (chicken congee).
Heat enough oil in a pot for deep frying. Add chicken pieces and fry until the skin is crispy and golden brown, about 3 minutes is enough since the chicken is already cooked.