Home / All Recipes / Chinese / Azuki and Sticky Rice Porridge
Azuki and Sticky Rice Porridge
Growing up, Mom used to make us all kind of sweet porridge for our breakfast or just tea time snack. This ranges from the more typical mung beans, sticky rice, red beans, azuki, pearl barley, and sometimes even to a more elaborate ones with dried bean curd and ginkgo nuts. Azuki and sticky rice porridge, similar to other sweet soup or porridge, can be cooked either with dried tangerine peel or pandan leaves, and always sweetened with rock sugar. As far as combination goes, it is pretty much pick whatever you have at homes and make your very own sweet porridge combo.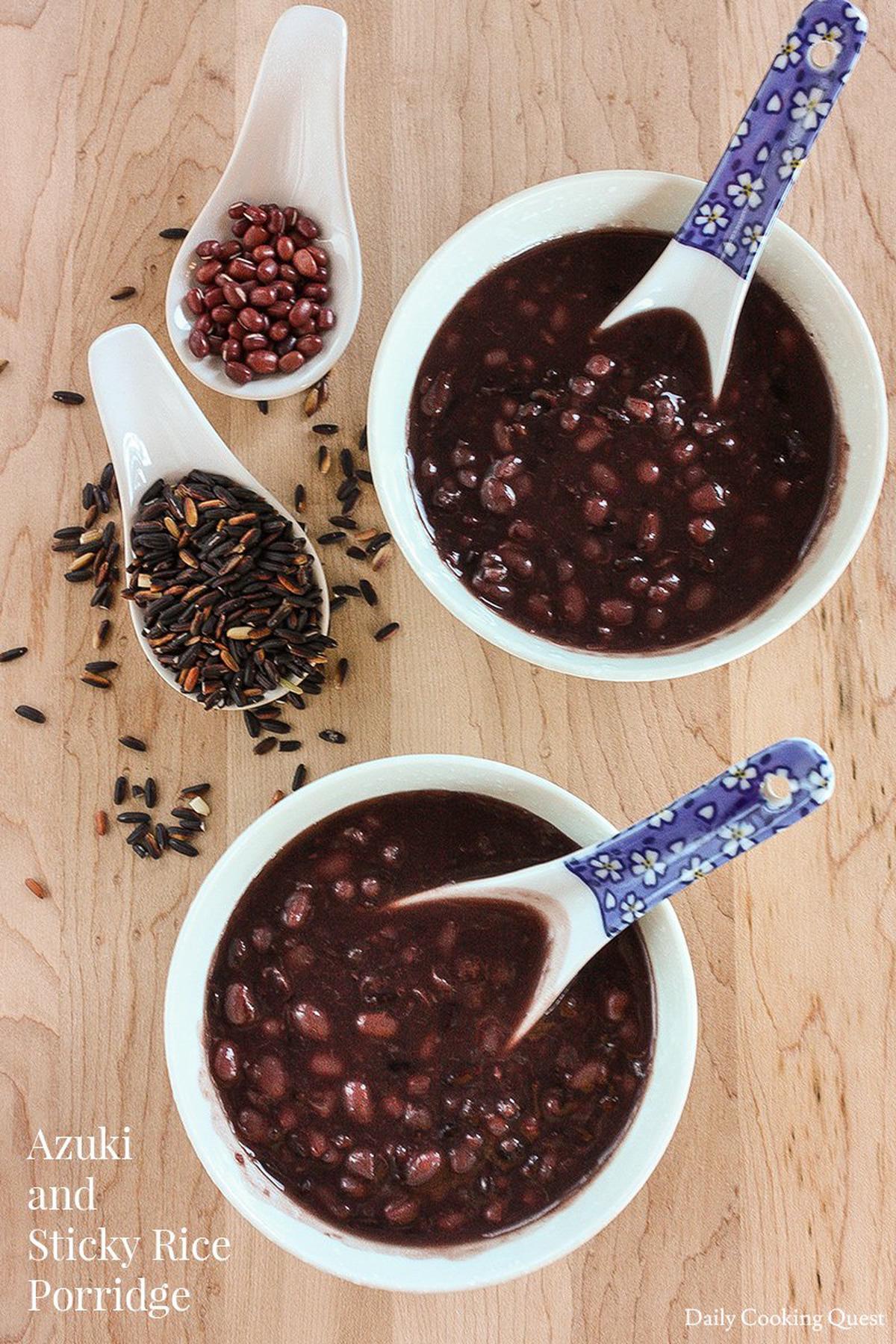 The great thing about this kind of sweet porridge is that cooking is very simple, basically just throw everything into the pot, minus sugar, and cook until thick and tender, the aim is really to get a good porridge like texture and consistency, then add sugar and cook until completely dissolves. I love it when the soup is really hot, but some prefer it cold or at room temperature. Oh, it is okay to make a big batch and store in the fridge, the soup should be good if consumed within a week.
Azuki and Sticky Rice Porridge
Ingredients
250 gram azuki bean, soaked in water overnight, then drained
100 gram black sticky (glutinous) rice, soaked in water overnight, then drained
3 pandan leaves, knotted
8 cups (2 liter) water
150 gram rock sugar
1/2 teaspoon salt
Instructions
Place azuki bean, black sticky rice, pandan leaves, and water in a pot. Bring to a boil, then reduce heat to a simmer, cover the pot and cook for 2 hours, or until the beans and rice are split open.
Remove the cover, then turn the heat to medium high. Cook for 10-15 minutes to release more starch from the rice to thicken the porridge.
Once the porridge is thick and the consistency is to your liking, add sugar and salt. Once the sugar has completely melted, turn off heat, remove pandan leaves.
The porridge can be served hot, at room temperature, or even chilled.