Home / All Recipes / Chinese / Bakmi Keriting - Pork and Tianjin Preserved Vegetables Noodles
Bakmi Keriting - Pork and Tianjin Preserved Vegetables Noodles
Ground pork and Tianjin preserved vegetables with fresh egg noodles, a.k.a. bakmi keriting in Indonesian, is one of the more ubiquitous noodle dish, especially among the Chinese communities in Indonesia. The great thing with this noodle dish is you can make ahead the ground pork and Tianjin preserved vegetables part and blanch the fresh egg noodles and Chinese mustard green just prior to serving. As you can imagine, if you triple or quadruple the ground pork part and keep in the fridge, you can whip out this noodle dish for breakfast very quickly. ♥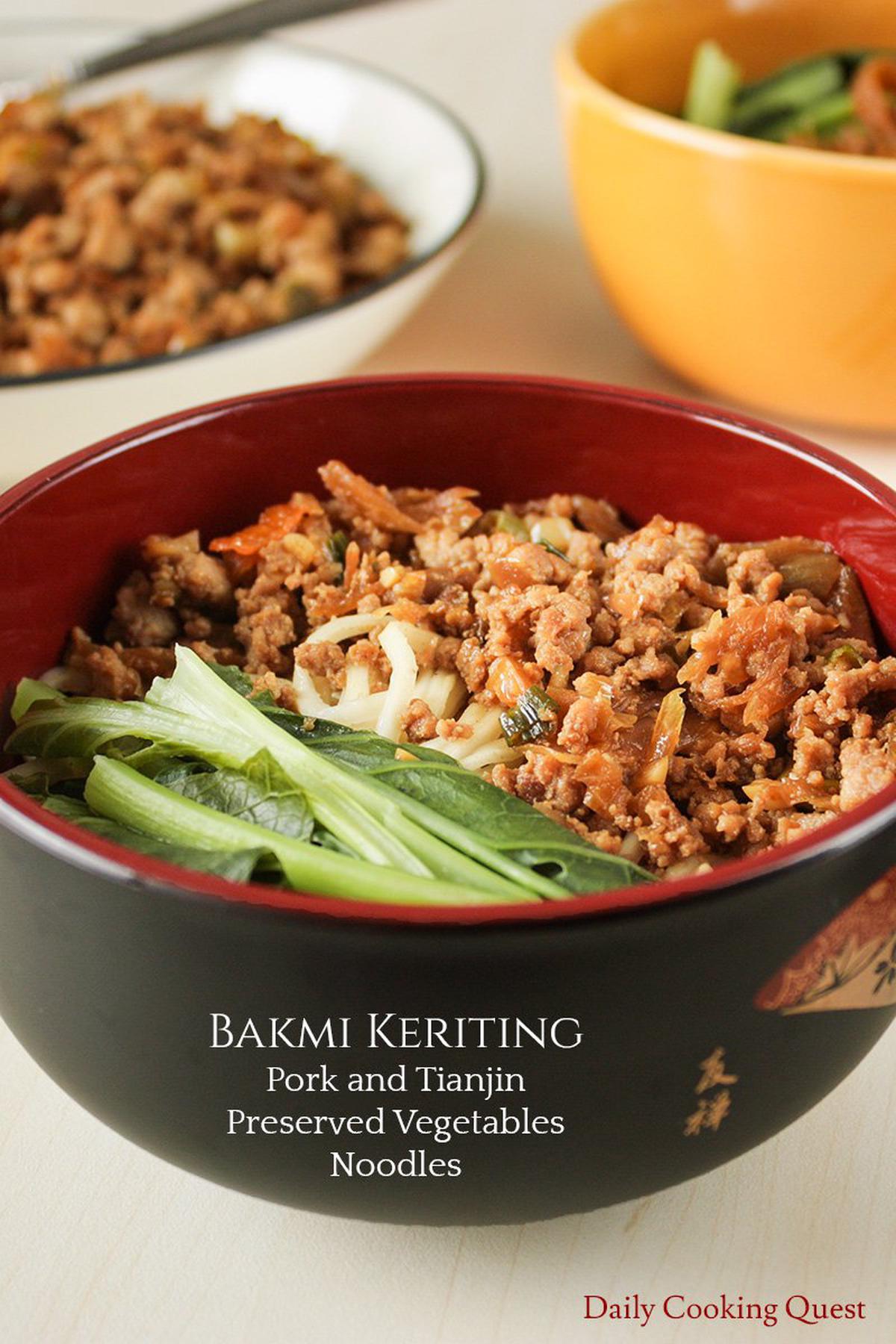 Bakmi Keriting - Pork and Tianjin Preserved Vegetables Noodles
5.0 from 1 reviews
Ingredients
2 tablespoon oil
4 cloves garlic (Indonesian: bawang putih), minced
2 shallots (Indonesian: bawang merah), thinly sliced
2 scallions (Indonesian: daun bawang), thinly sliced
1 to 2 Thai chilies (Indonesian: cabe rawit), seeded and thinly sliced
3 tablespoon Tianjin preserved vegetables, soaked in water
350 gram ground pork
2 tablespoon soy sauce (Indonesian: kecap asin)
2 tablespoon sweet soy sauce (Indonesian: kecap manis)
1 tablespoon sugar
1/2 teaspoon ground white pepper
1/2 teaspoon sesame oil
2 tablespoon water
Accompaniments
4 bundles fresh egg noodles
100 gram Chinese mustard green (Indonesian: caisim), chop into bite sizes
ground white pepper
sesame oil
Instructions
Heat oil in frying pan and sauté garlic, shallots, and scallions until fragrant, about 2 minutes.
Add chilies and Tianjin preserved vegetables and stir for 30 seconds.
Add the ground pork, season with soy sauce, sweet soy sauce, sugar, ground white pepper, and sesame oil. Add the water, keep stirring until the pork is no longer pink and fully cooked. Turn off heat and transfer to a serving bowl, set aside.
Prepare a pot of boiling water and blanch the Chinese mustard green, set aside.
Blanch fresh egg noodles for 1 to 2 minutes. Transfer to individual serving bowls. Top each bowl of noodle with Chinese mustard green, pork and Tianjin preserved vegetable, a dash of ground white pepper and a couple drop of sesame oil.