Home / All Recipes / Indonesian / Bakwan Jagung ala Pancake Korea - Corn Fritters ala Korean Pancake
Bakwan Jagung ala Pancake Korea - Corn Fritters ala Korean Pancake
Bakwan jagung (corn fritters), a popular Indonesian street food, prepared in the fashion of Korean pancake. Serve with sambal kecap tomat.
I love bakwan jagung (Indonesian corn fritters), and every summer when corns are bountiful, I make sure I buy plenty of fresh corns to stave off the cravings.
But summer is not exactly a fun time to deep fry, so I transformed traditional bakwan jagung recipe into Korean pancake.
It tastes absolutely delicious! I hope you will give my bakwan jagung ala pancake Korea - corn fritters ala Korean pancake a try.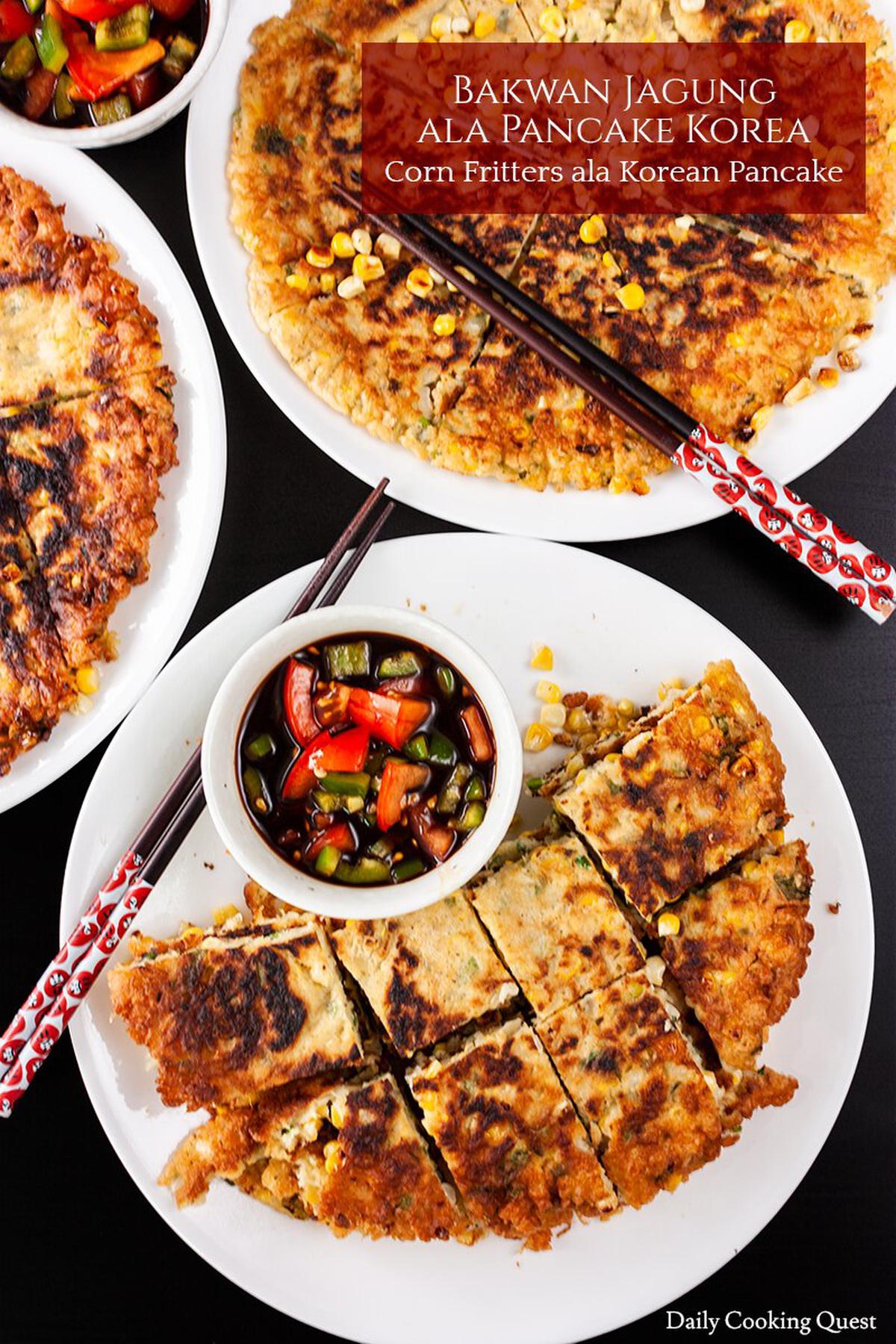 A thicker bakwan jagung batter
This recipe is a cross between my bakwan jagung (corn fritters) recipe and my kimchi pancake recipe.
The bakwan jagung pancake batter is based on the bakwan recipe, while the cooking method is based on the Korean pancake recipe.
I use more corn and less water resulting in a thicker batter which is closer to Korean pancake batter.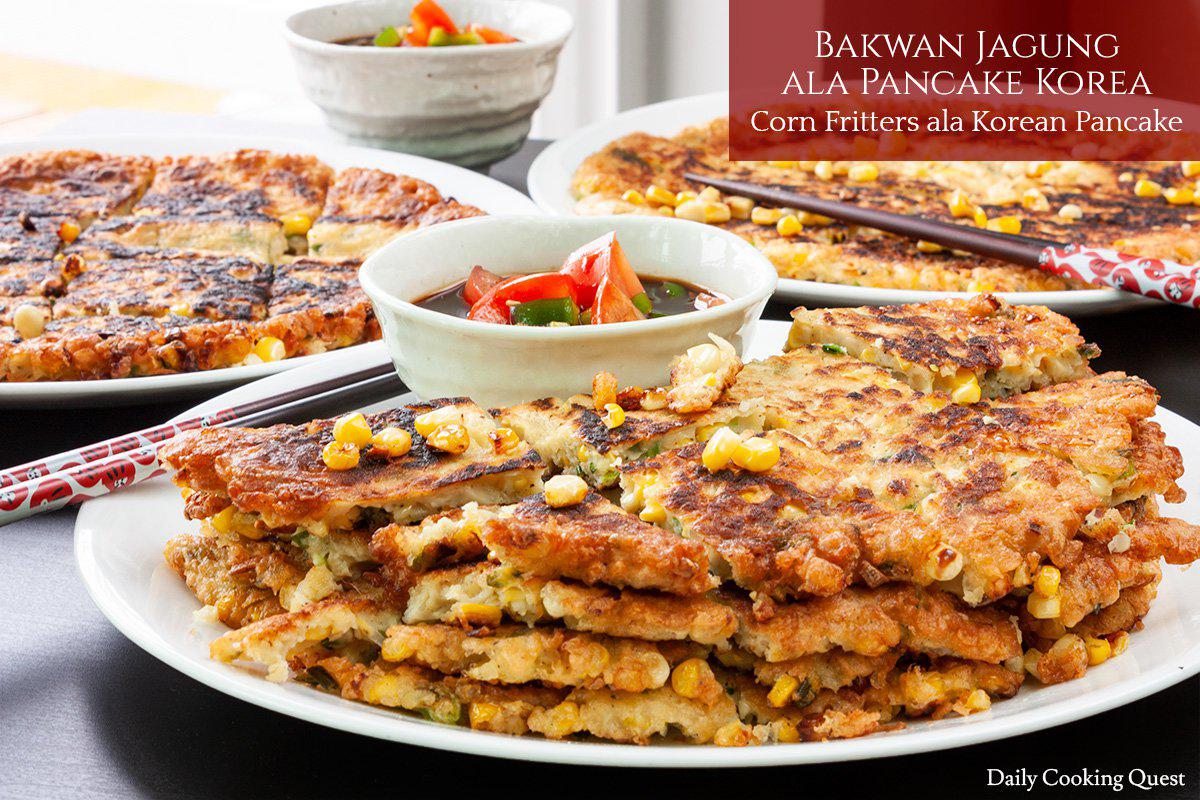 Sambal kecap tomat as dipping sauce
Dipping sauce for Korean pancakes usually consists of soy sauce, rice vinegar, gochugaru, sesame seeds, and sesame oil.
But since this is basically a modified bakwan jagung recipe, I decided to use Indonesian sambal kecap tomat as dipping sauce.
I think it works beautifully, and the taste matches this Indonesian-Korean fusion corn fritters pancake really well.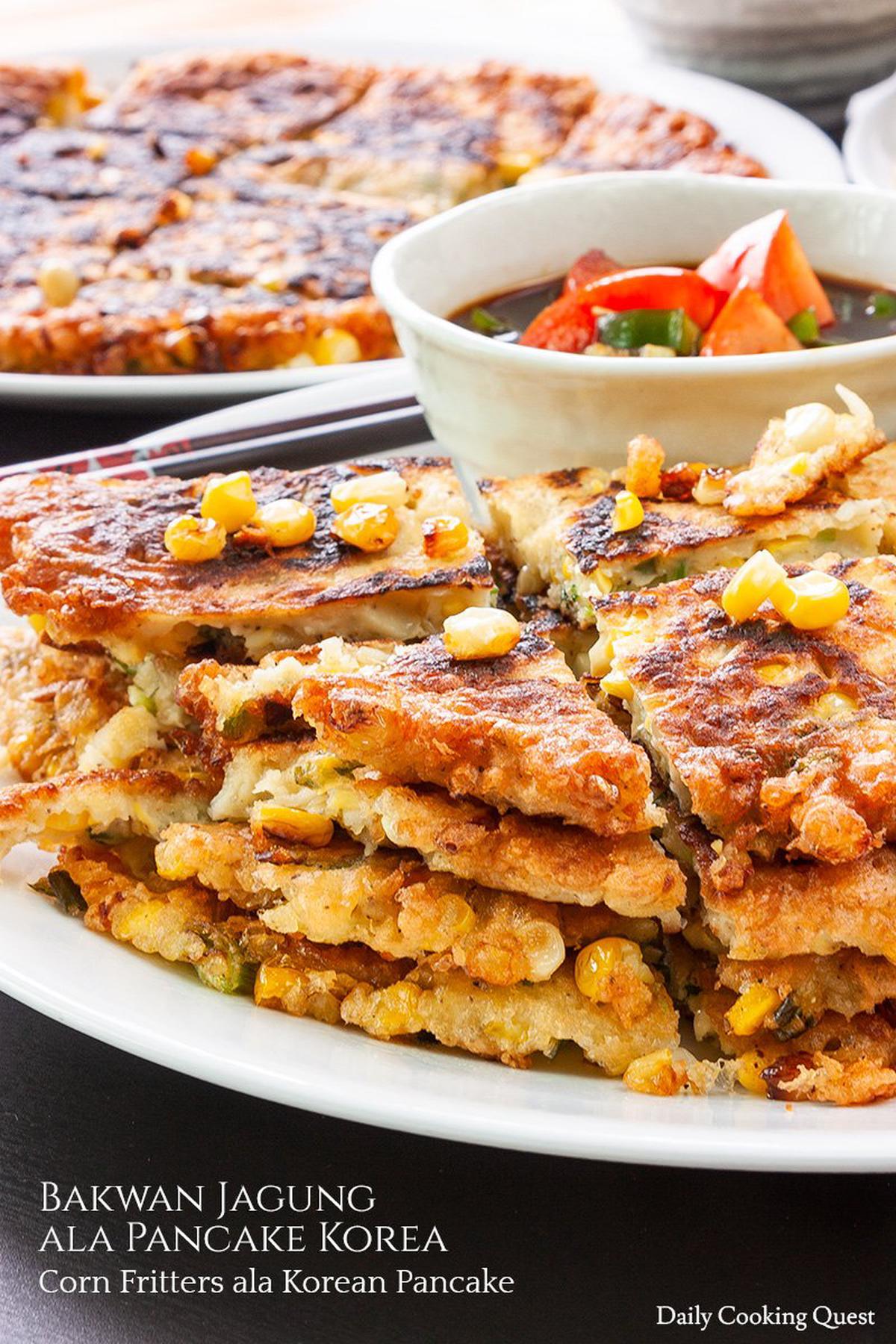 Bakwan Jagung ala Pancake Korea - Corn Fritters ala Korean Pancake
5.0 from 13 reviews
Ingredients
Bakwan Jagung Pancake (Corn Fritters Pancake)
4 ears fresh corn, kernels only (Note 1)
150 gram all-purpose flour
75 gram rice flour
2 stalks Chinese celery, thinly sliced (or sub with 1 stalk regular celery)
2 scallions, thinly sliced
100 gram shallot, thinly sliced
5 cloves garlic, minced
3 eggs
2 teaspoon salt
1 teaspoon ground pepper
250 ml ice-cold water
Sambal Kecap Tomat (Spicy Tomato Dipping Sauce), mix together the following ingredients
1 tomato, diced
1 jalapeno, seeded and diced
juice of 1 lime
Instructions
In a mixing bowl, combine all pancake ingredients together into a thick batter.
Heat 2-3 tablespoon oil in a cast-iron skillet/non-stick frying pan over medium high heat, then once the pan is hot, ladle pancake batter to the pan and spread evenly (about 1/4 of the total batter). After 30 seconds on medium high, reduce heat to medium, and once the edges look cook and more solid, flip the pancake to cook the other side, pressing lightly with a spatula to make the pancake crispy. Remove cooked pancake to a plate, and repeat the process for 3 more pancakes.
Slice the pancakes into bite sizes and serve with the dipping sauce.
Notes
(1) Or use 3 cups of canned/frozen corn kernels.