Home / All Recipes / Indonesian / Bakwan Jagung Panggang - Baked Corn Fritters
Bakwan Jagung Panggang - Baked Corn Fritters
An oven-baked version of bakwan jagung (Indonesian corn fritters) recipe. Easier, quicker, and less oil compared to regular deep-fried version.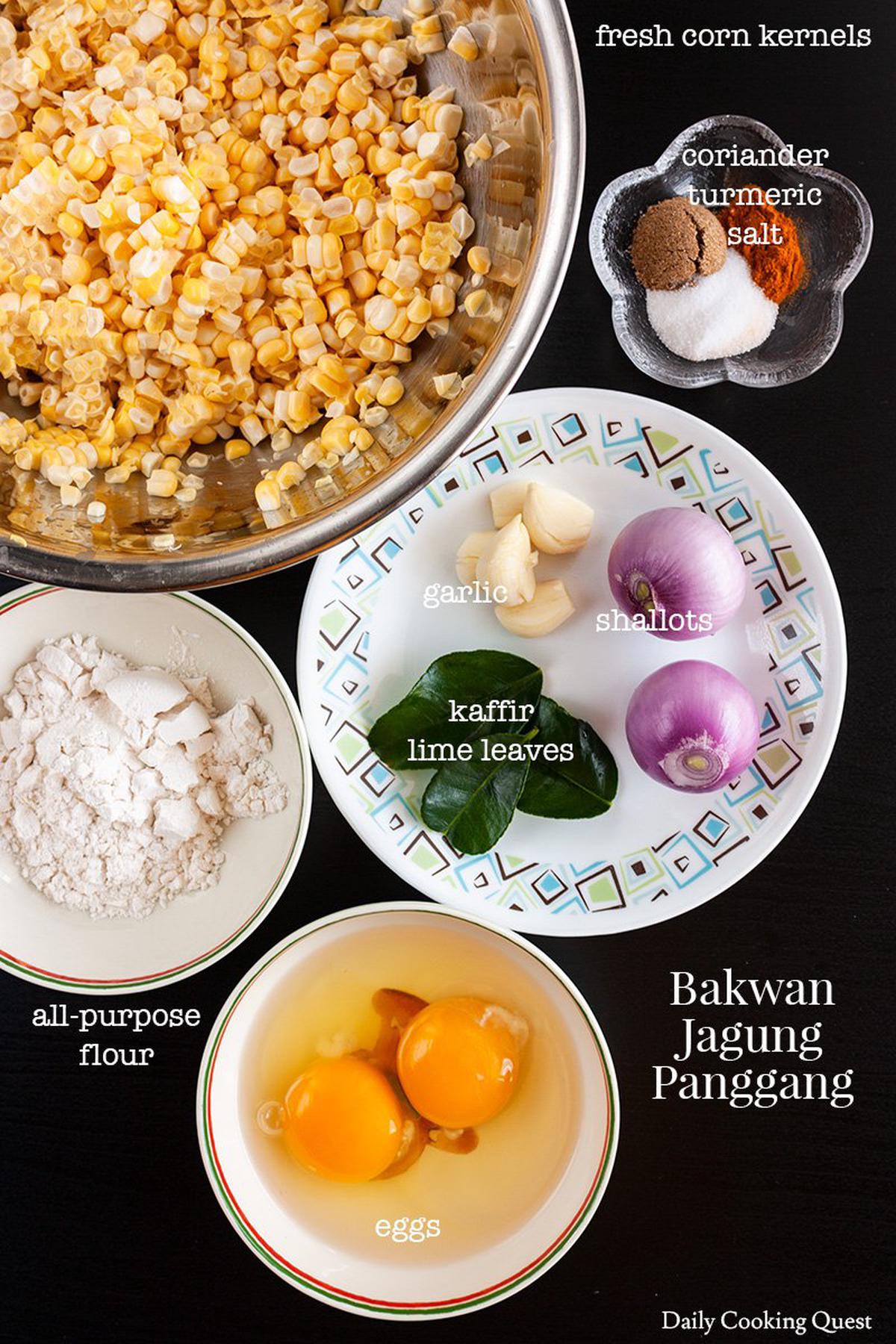 The moment summer comes and fresh corns flood the market is the time I start cooking up batches upon batches of bakwan jagung (Indonesian corn fritters).
I don't mind a bit of deep frying every so and then, but I have received quite a fair amount of requests to create oven-baked version of bakwan jagung.
After a bit of experimentation, I think I can say I have come up with a delicious baked version for bakwang jagung. I hope you will give it a try and let me know what you think.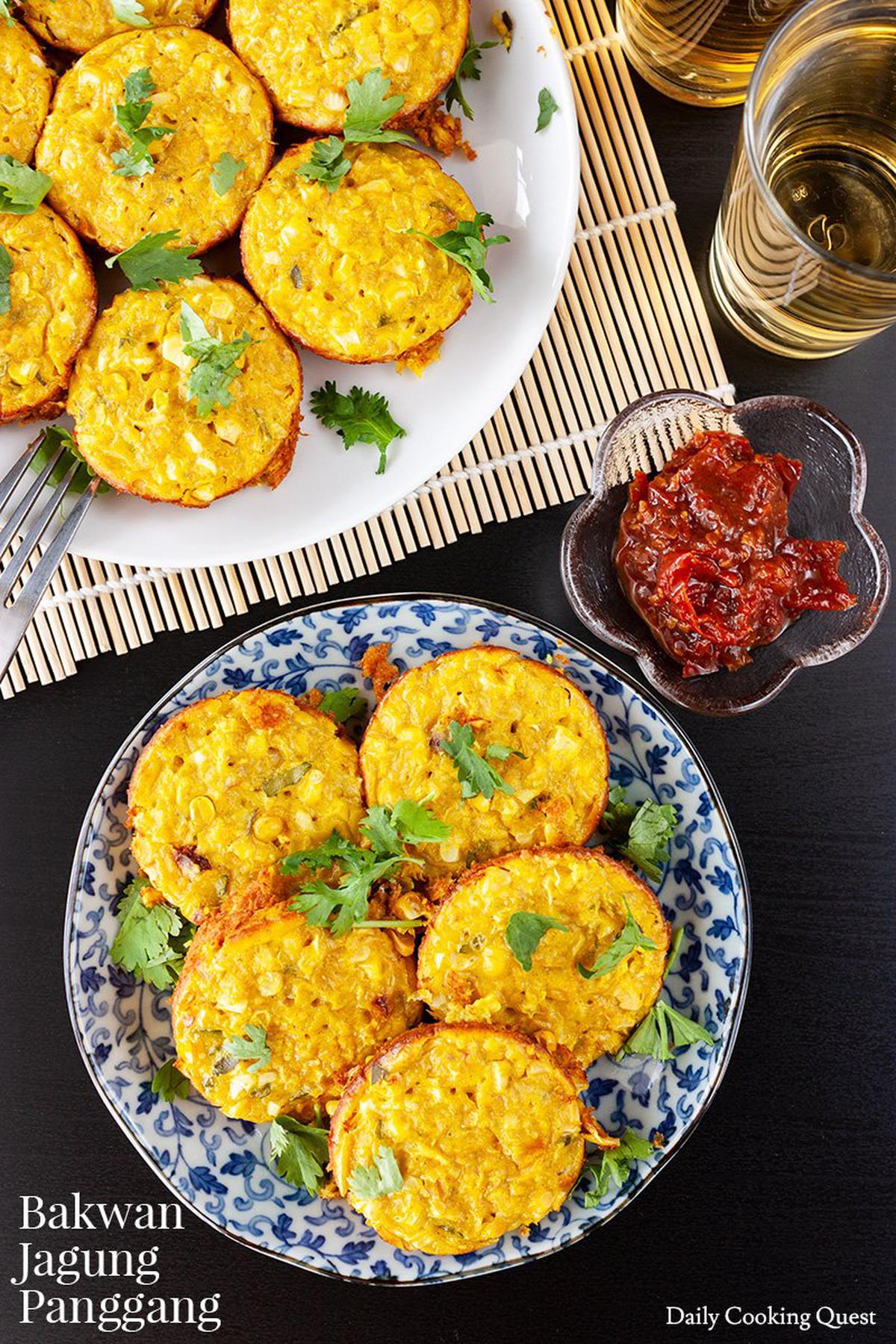 Kaffir lime leaves, coriander, and turmeric
These corn fritters are made with fresh corns, shallots, garlic, kaffir lime leaves, coconut milk, eggs, all-purpose flour, coriander powder, turmeric powder, and salt.
My regular bakwan jagung recipe doesn't use kaffir lime leaves, coriander powder, nor turmeric powder.
If you prefer, you can certainly stick to the more common seasoning, using scallions (Indonesian: daun bawang) and Chinese celery (Indonesian: daun seledri) instead of kaffir lime leaves.
Coriander is such a ubiquitous seasoning in Indonesia, and it is actually very common in regular bakwan jagung too. As for turmeric, I use it mainly to boost the color, plus it is supposed to be good for you!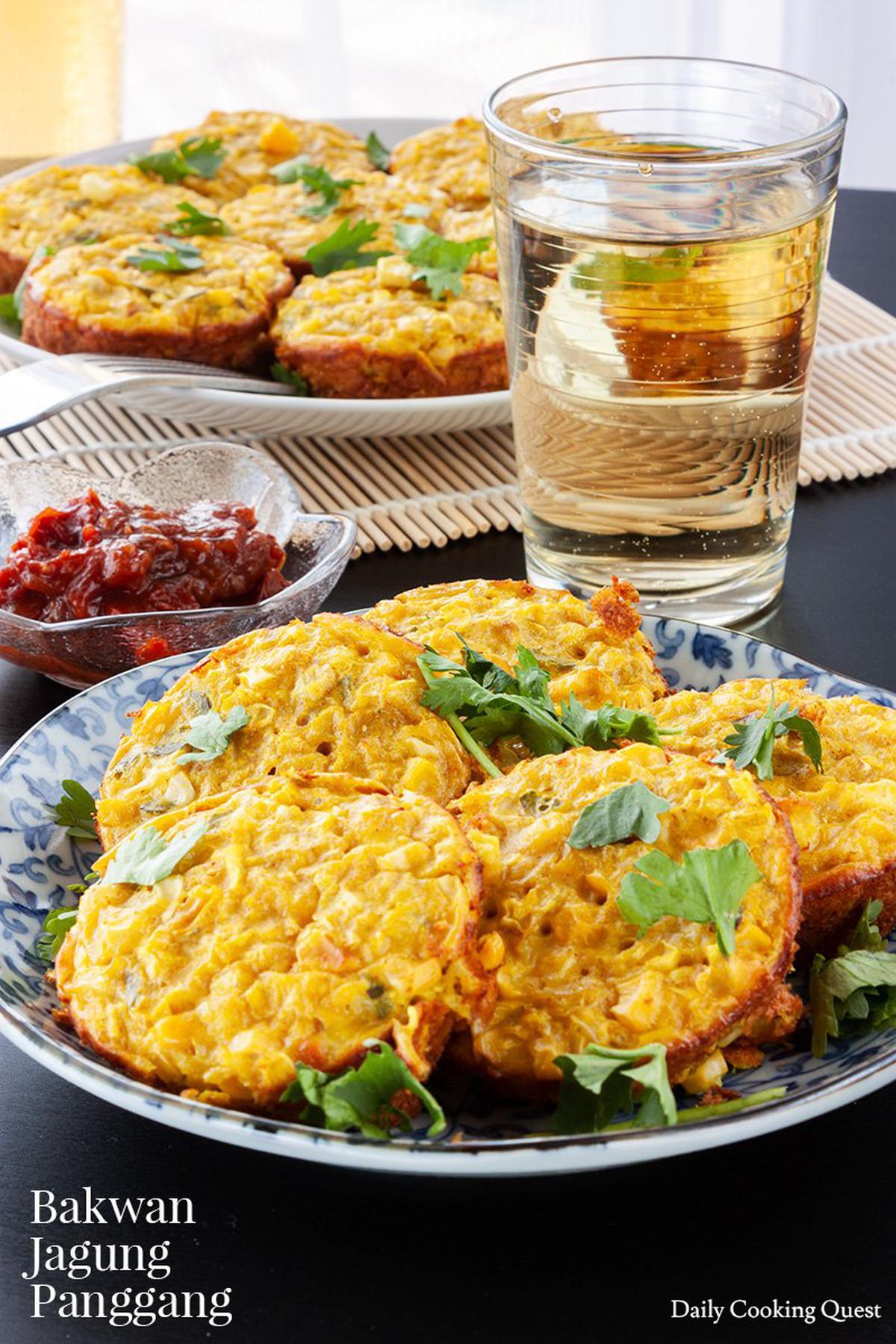 Bake in a standard muffin pan
To emulate the shape of regular bakwan jagung, I opt to bake the bakwan in a standard muffin pans.
You would want to really grease and flour each of the muffin cup to make the fritters easier to release.
Also, since each and every corn differs in size, make sure to cook the fritters until fully cooked and not just purely relying on my baking time. :)
Bakwan Jagung Panggang - Baked Corn Fritters
5.0 from 9 reviews
Ingredients
3 ears fresh corn, kernels only
75 gram shallot
4 cloves garlic
3 kaffir lime leaves, cut away the ribs
1/4 cup coconut milk
2 eggs
1/4 cup all-purpose flour
1 teaspoon coriander powder
1/2 teaspoon turmeric powder
1 teaspoon salt
Instructions
Preheat oven to 365 Fahrenheit (185 Celsius). Lightly grease and flour a standard 12 cup muffin pan.
Puree 1/2 cup of fresh corn kernels, shallot, garlic, and kaffir lime leaves in a food processor.
In a mixing bowl, mix together pureed corn, remaining fresh corn kernels, coconut milk, egg, all-purpose flour, coriander powder, turmeric powder, and salt.
Divide corn mixture equally into muffin pan. Bake in the preheated oven for 20-25 minutes, or until firm and fully cooked.
Remove the pan from oven, and place on a wire rack. After 15 minutes, gently remove the muffin from pan. Serve immediately.