Home / All Recipes / Indonesian / Balado Udang - Shrimps in Spicy Chili Sauce
Balado Udang - Shrimps in Spicy Chili Sauce
A balado dish always makes me salivate even when I have no appetite. I know it's weird, but a plate of balado is probably going to cure me from any sickness faster than a bowl of chicken soup! You can practically turn anything into a balado dish with this sauce. Some of the more popular choices include eggplants, hard boiled eggs, tempe, and dendeng (deep fried thinly sliced beef). This shrimp/potato/stink bean combo is also a popular choice for this dish. If you love spicy food, substitute cayenne chilies with bird eye chilies, which I think is what most restaurants use since their balado dishes are always super hot.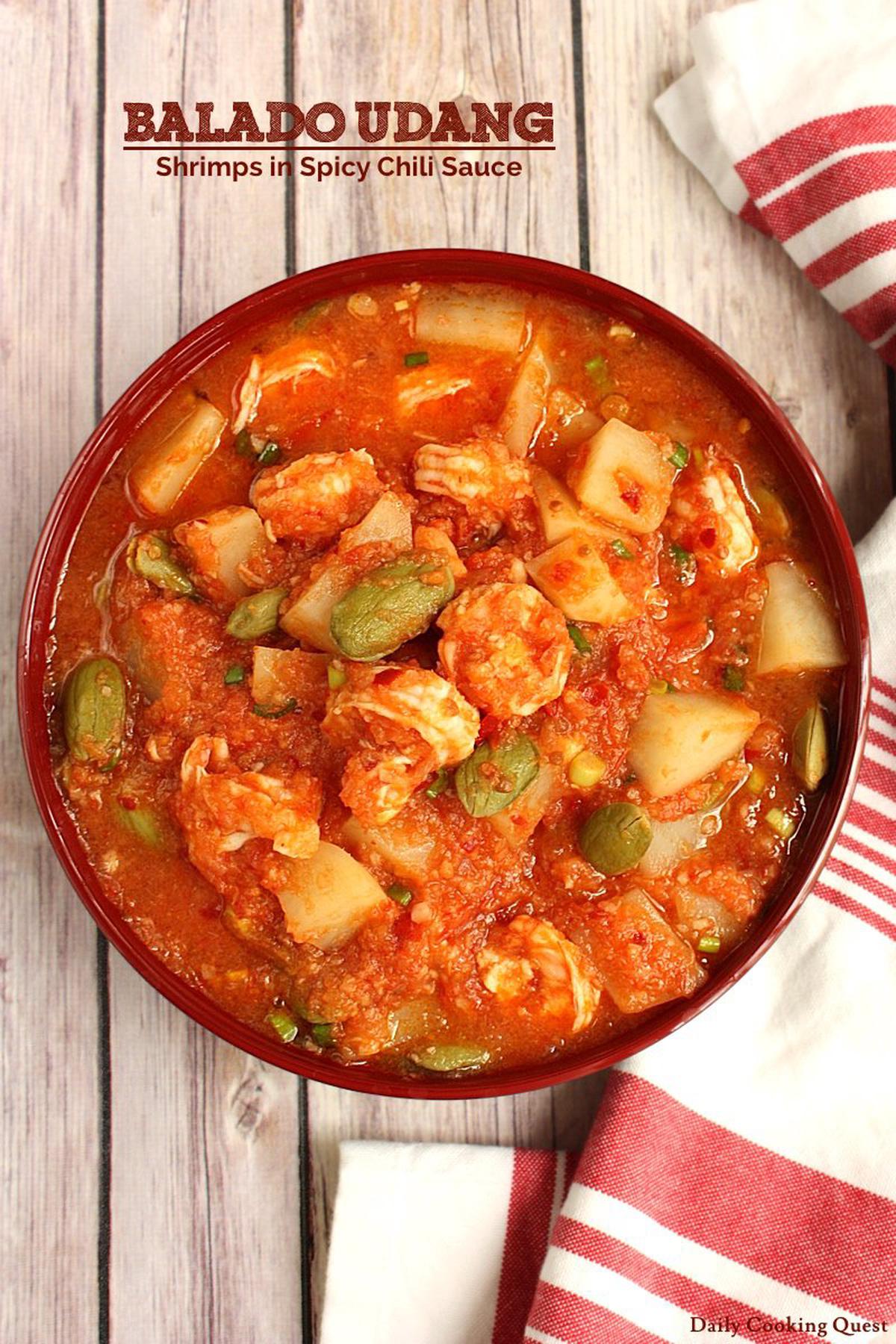 Balado Udang - Shrimps in Spicy Chili Sauce
5.0 from 2 reviews
Ingredients
500 gram shrimps, shelled and deveined
juice of 1 lime
3 tablespoon oil
1 potato, peeled and cut into 1 inch cubes
100 gram stink beans (Indonesian: pete), halve each
2 tablespoon sugar, or to taste
2 teaspoon salt, or to taste
Grind the following together into spice paste
2 tomatoes
5-10 red cayenne chilies (Indonesian: cabe merah keriting)
6 asian shallots (Indonesian: bawang merah), about 75 gram
6 cloves garlic
Garnish (optional)
1 scallion, thinly sliced
Instructions
In a mixing bowl, marinate shrimps and lime together for 15 minutes. Wash in cold water, drain, and set aside.
Heat oil in a wok, fry potatoes and stink beans until the potatoes are half way cooked, about 3 minutes.
Add spice paste into the wok, and bring to a boil.
Season with salt and sugar, adjust the amount to suit your taste. Since the acidity and sweetness of tomatoes may varies, the amount of salt and sugar you need may be slightly different.
Once the sauce starts to thicken and the potatoes are fully cooked, add shrimps into the wok. Stir and cook until the shrimps turn pink, about 30 seconds to 1 minute.
Turn off heat, transfer to a serving plate and garnish with scallion. Serve immediately with steamed white rice.