Home / All Recipes / Indonesian / Bingka Labu - Kabocha Pumpkin and Coconut Milk Cake
Bingka Labu - Kabocha Pumpkin and Coconut Milk Cake
Learn to bake Indonesian bingka labu (a kabocha pumpkin cake), where one batter splits into a softer custard filling and a firm outer crust, an instant pie.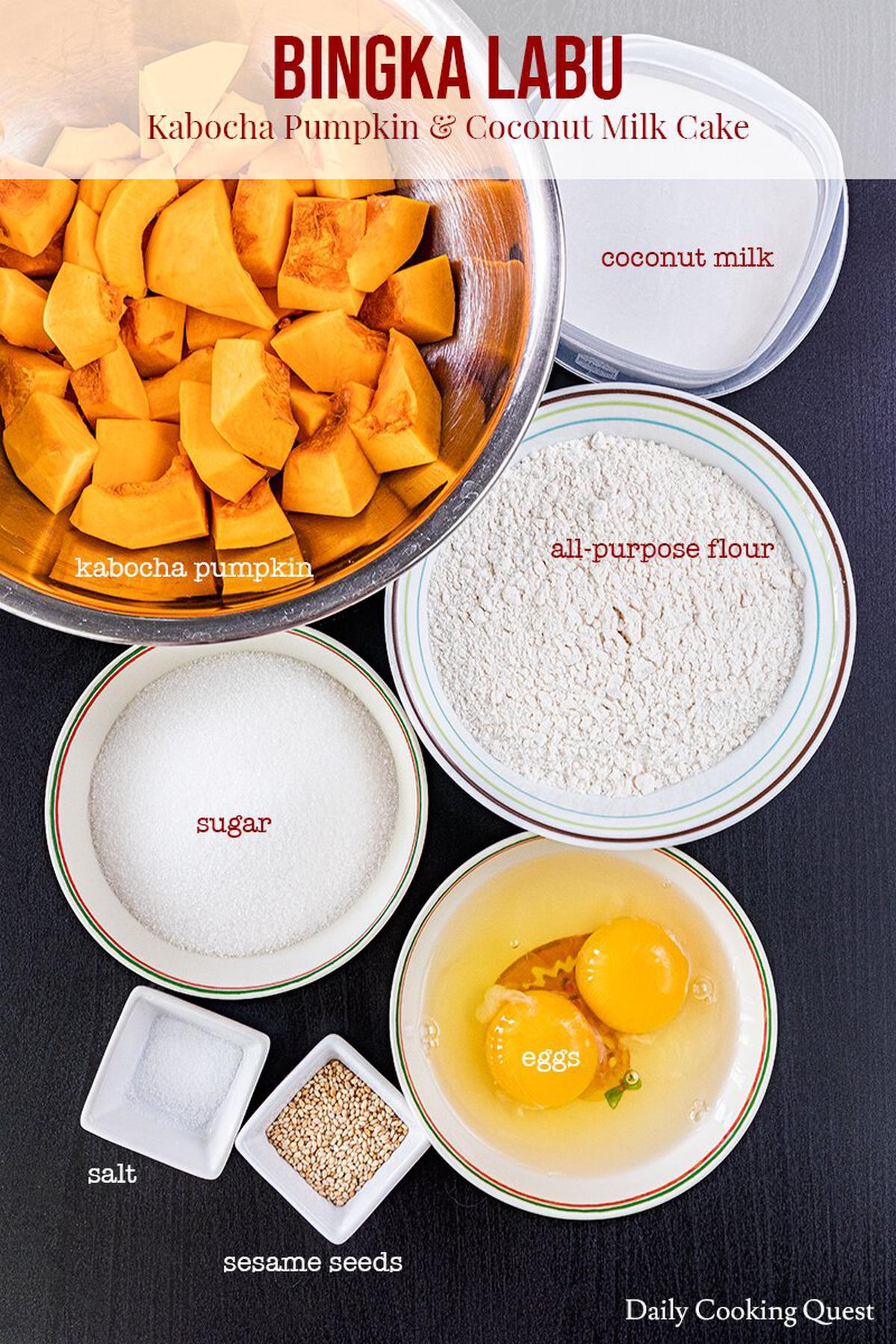 Indonesian bingka is a magical cake where the cake batter transforms itself during baking into two parts, an outer crust, and an inner custardy portion.
Imagine a pie, if you will, with no need to separately prepare the pie dough, and the pie filling. With one bingka batter, you will get the pie filling and the pie dough in one go!
And just like pie, bingka comes in many variations: sweet potato, cassava, potato, pumpkin, and so on. Since I have some kabocha pumpkins that needs to be used up, let's bake some bingka labu (Indonesian kabocha pumpkin and coconut milk cake)!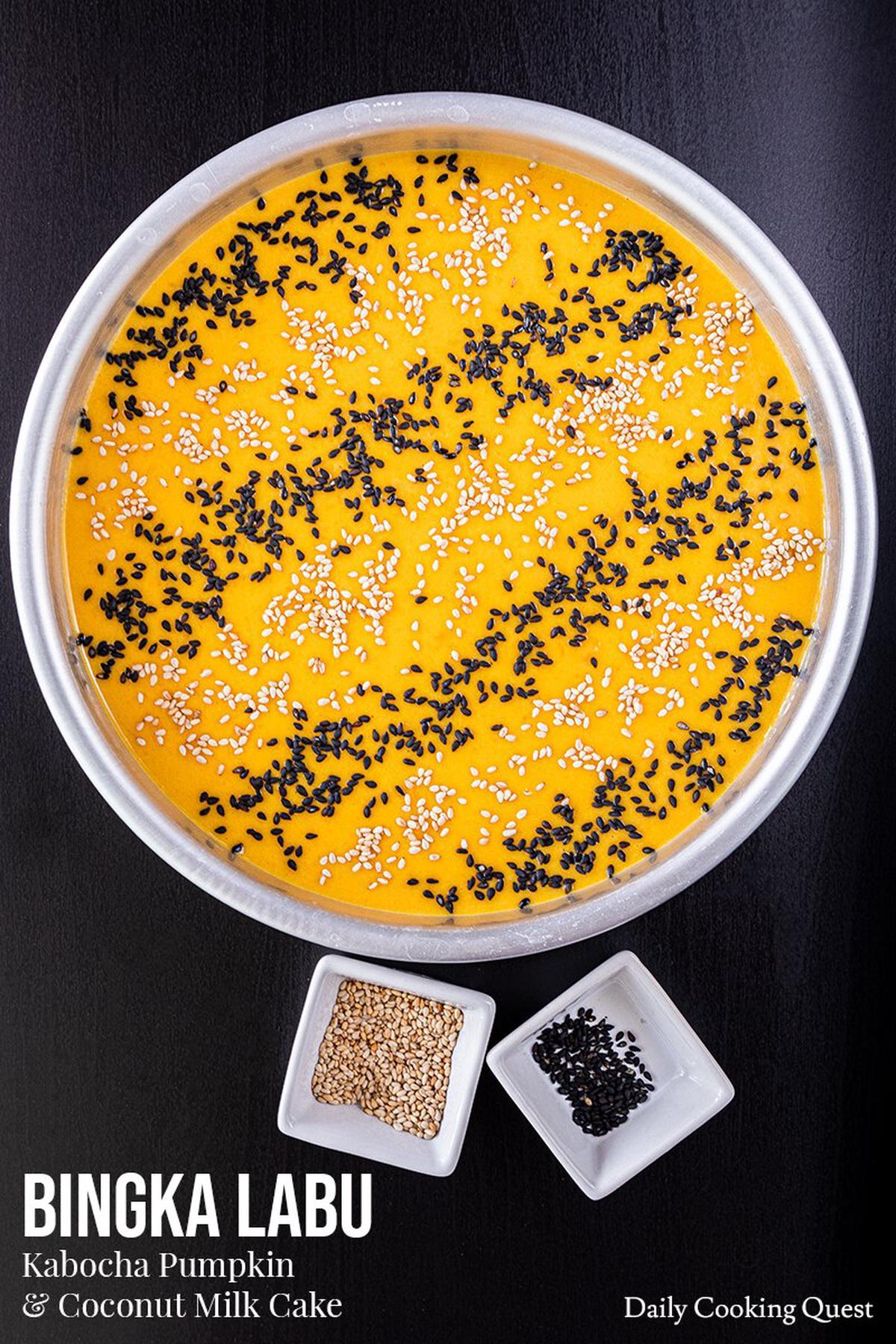 What you need to prepare bingka labu
A bingka cake does't require a lot of ingredients. You only need:
kabocha pumpkin flesh, to be steamed and mashed
all-purpose flour
coconut milk
coconut oil (or melted unsalted butter)
eggs
sugar
salt
toasted black and white sesame seeds, for garnish and totally optional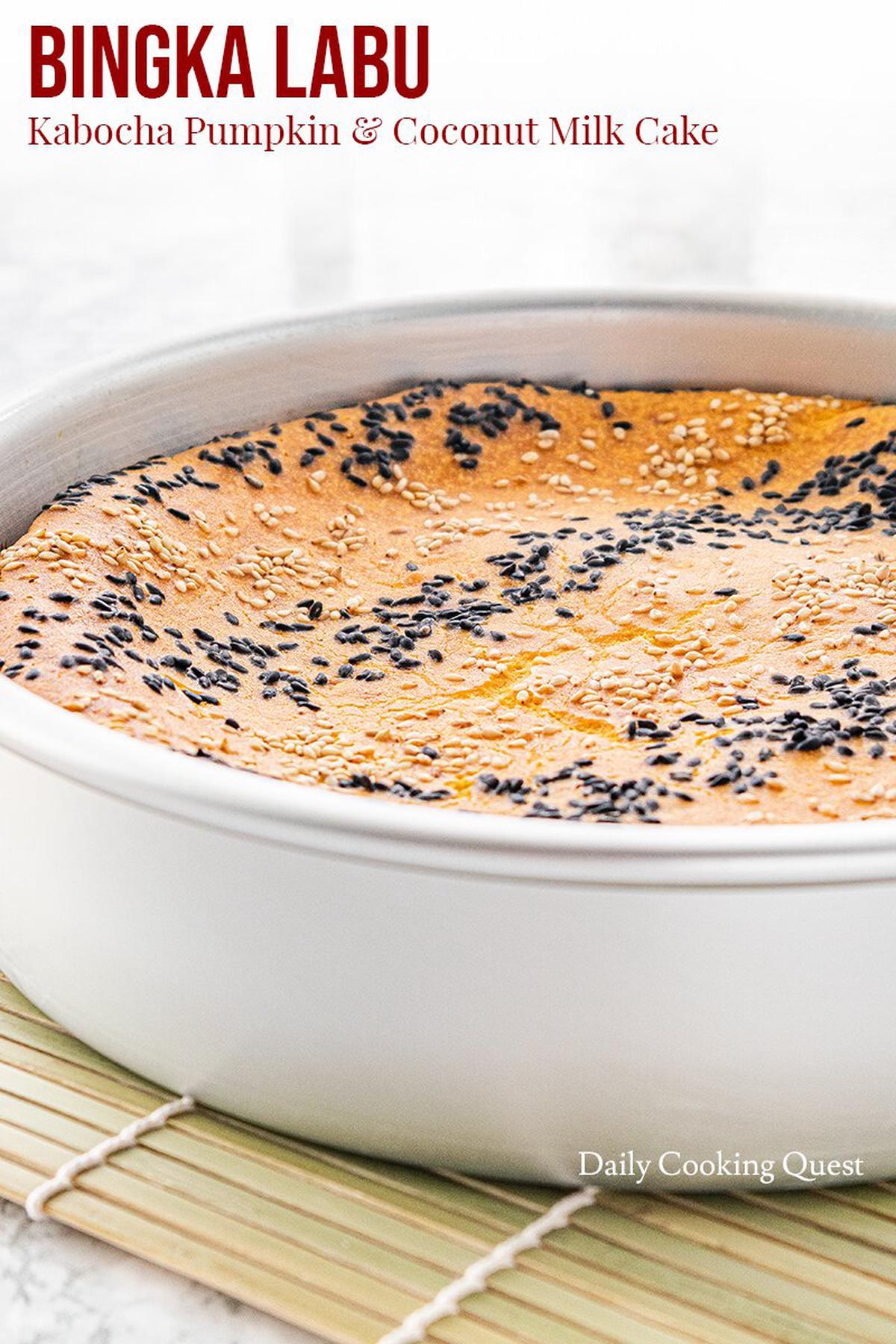 Which pan size to choose
For this recipe, I choose to use an 8-inch round cake pan. For this bingka labu recipe, you can choose from four different cake pans, so hopefully you already have one of these at home:
a 7-inch square cake pan
an 8-inch round cake pan
an 8-inch square cake pan
a 9-inch round cake pan
If you choose option 1 or 2, your baking time is 60-75 minutes, or exactly as written in the recipe.
For option 3 or 4, your baking time is only 45-60 minutes, but your will end up with a shorter cake.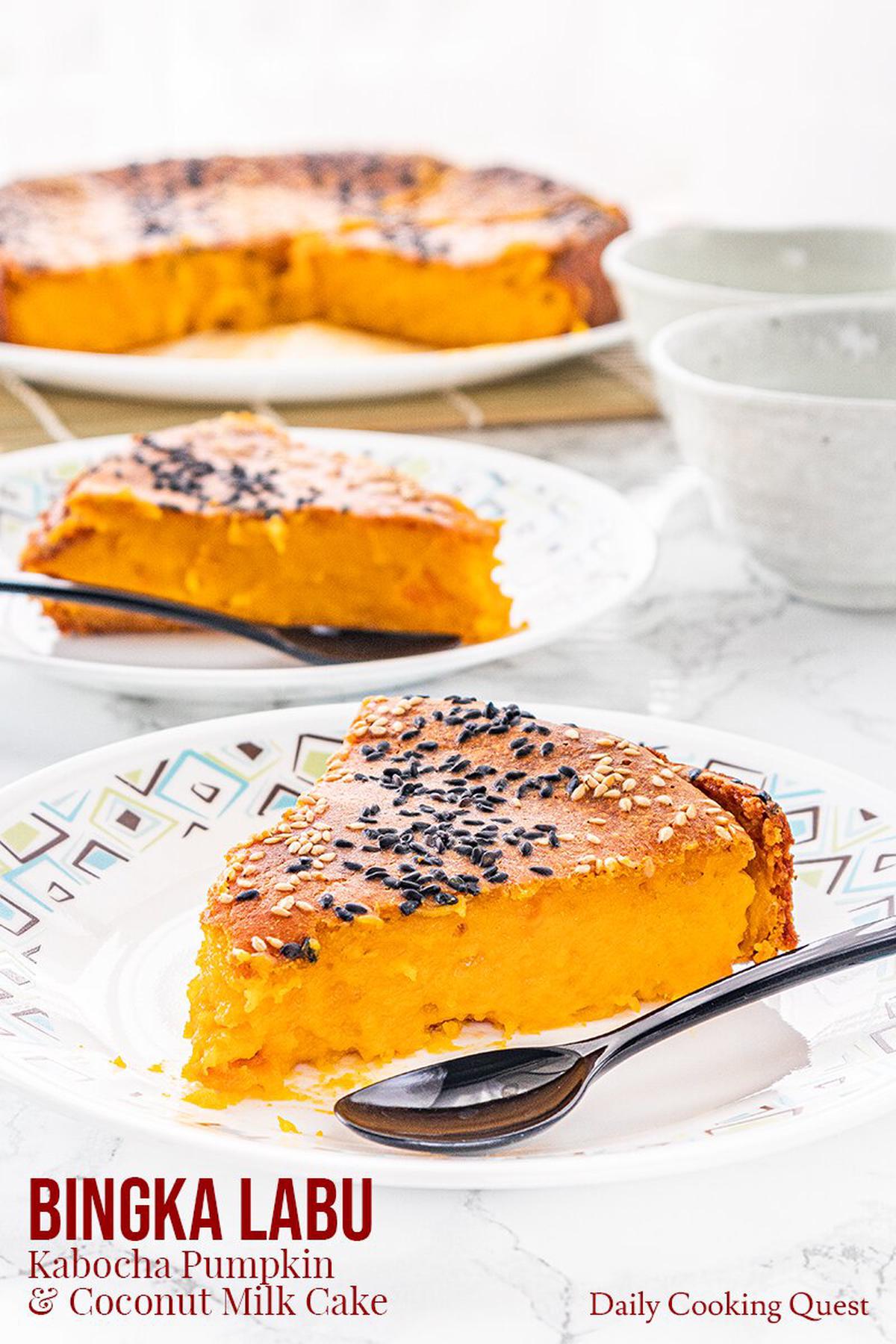 Wait until the bingka is completely cool before cutting and serving
The only visual indication you get that your bingka is properly baked is from the crust that has developed while baking. Once you see that a uniform crust has developed and the color of that crust is golden brown, your bingka is probably done.
The center of the cake will remain very soft and custardy when the cake is hot, especially so when it is just out from the oven, so you need to be patient and let the cake cool completely in the pan.
Once the cake is at room temperature, gently remove the cake from the pan, and cut into serving slices. You should notice that the kabocha pumpkin center is firm, or very close to firm, with no leak.
Bingka Labu - Kabocha Pumpkin and Coconut Milk Cake
5.0 from 20 reviews
Ingredients
450 gram (1 lb) kabocha pumpkin flesh, cut into cubes
200 gram (1 1/3 cup) all-purpose flour
150 gram (3/4 cup) sugar
200 ml (half can) coconut milk
2 eggs
50 gram (1.75 oz) coconut oil, plus extra to grease the cake pan
1/4 teaspoon salt
black and white sesame seeds, for garnish (optional)
Instructions
Steam kabocha pumpkin flesh until soft enough to mash. Remove from steamer and mash into puree with a fork. You can puree kabocha pumpkin with a food processor or a blender too if you wish.
Preheat oven to 180 Celsius (350 Fahrenheit). Line an 8-inch round cake pan with parchment paper and grease with coconut oil. (*)
In a mixing bowl, mix together kabocha pumpkin puree, all-purpose flour, sugar, coconut milk, eggs, coconut oil, and salt. I use an electric mixer, but you can simply use a hand whisk too.
Pour the batter into the prepared cake pan, garnish with black and white sesame seeds if you wish.
Bake in the preheated oven for 60-75 minutes, or until the top crust is firm and golden brown. Note that the inner portion of the cake will stay quite soft (custardy) while the cake is hot, so your cake tester should not come out clean.
Remove the cake from the oven, and let the cake cool completely until room temperature. As the cake cools, the inner portion should firm up on its own.
Once the cake is completely cool, you can remove it from the cake pan, and cut into serving slices.
Notes
(*) You can use an 8" square pan or a 9" round pan to bake this. It will take about 45-60 minutes to bake in the same temperature.