Home / All Recipes / Indonesian / Bingka Singkong - Cassava Cake
Bingka Singkong - Cassava Cake
Bingka singkong (or bingka ubi kayu) is a very easy cake to make at home, especially if you buy frozen grated cassava instead of making your own grated cassava. This cake texture is very dense, not like your typical cake made with flour, so we usually serve this cakes in smaller pieces. If a regular 8"x8" cake yields about 9-16 servings, make this double that at least. Also, make sure to let the cake cool completely before cutting into serving sizes. I usually let the cake chill in the fridge overnight before cutting. If you have a plastic knife, for example disposable plastic knife from restaurant take out, you can use it to cut the cake and it will be less sticky compared to using regular stainless steel knife.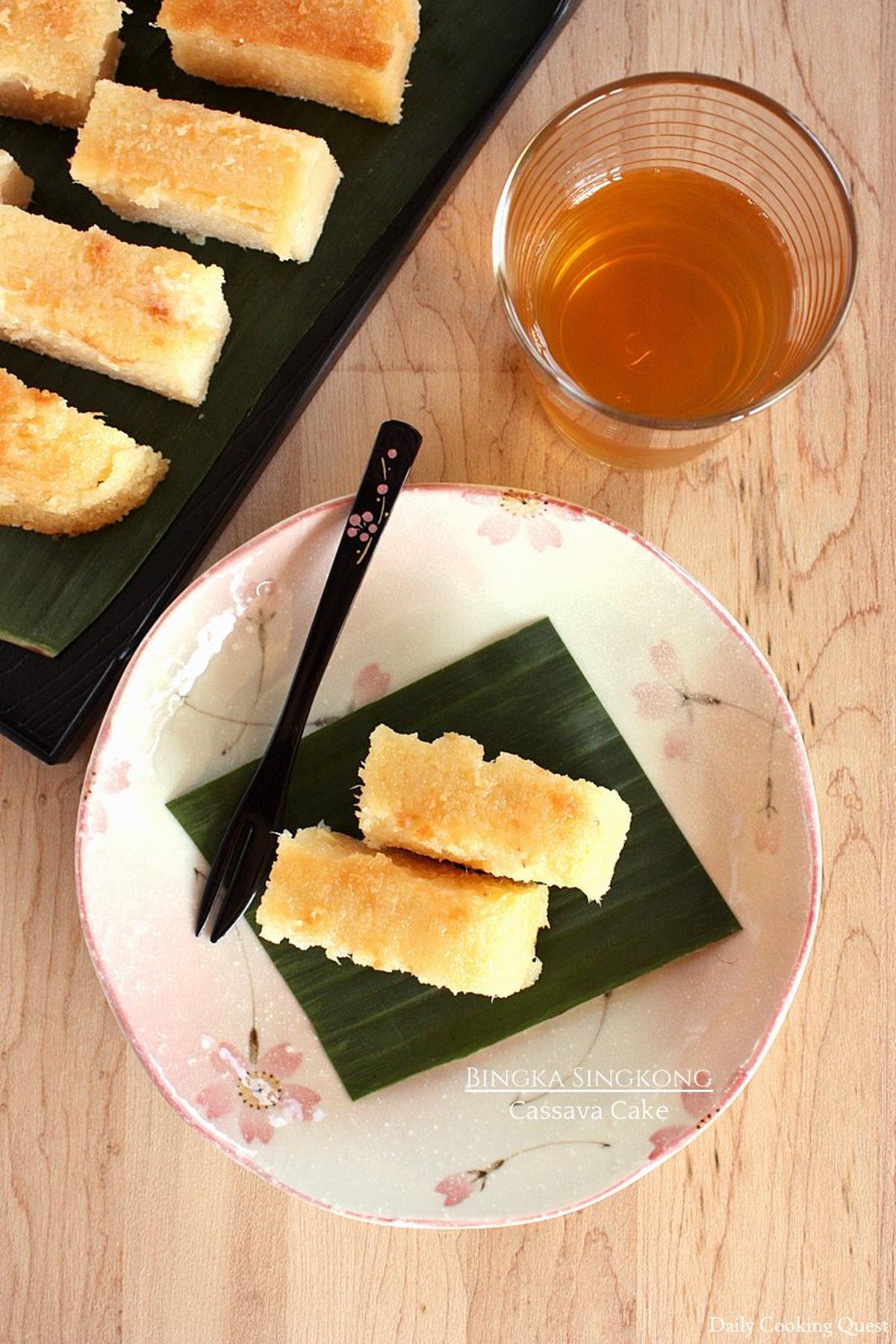 Bingka Singkong - Cassava Cake
4.0 from 1 reviews
Ingredients
2 eggs
200 ml coconut milk
1 teaspoon vanilla essence
1 cup (250 ml) water
200 gram sugar
40 gram butter
2 packet (2 lb/900 gram) frozen grated cassava, thawed
Instructions
Preheat oven to 180 Celcius (350 Fahrenheit). Grease a 8"x8" pan, I use coconut oil but you can use butter too. Set aside.
In a mixing bowl, lightly beat the eggs with a fork, then add coconut milk and vanilla essence. Mix well, set aside.
In a small pot, boil water and sugar until the sugar has completely dissolved. Turn off heat. Add butter into the pot, stir until the butter has melted. Transfer to a mixing bowl and let it cool slightly until you can touch it without burning your finger.
Once the sugar/water/butter mixture has cooled, add grated cassava, mix well. Add egg/coconut milk/vanilla mixture, mix well. Pour the batter into prepared pan.
Bake for about 1 hour, or until a cake tester comes out clean.
Let the cake cool completely before cutting into serving pieces.