Home / All Recipes / Indonesian / Bingka Telur - Egg and Coconut Milk Cake
Bingka Telur - Egg and Coconut Milk Cake
I once posted a recipe for bingka ubi jalar, this recipe is quite similar but using only eggs, hence we call it bingka telur. Just like bingka ubi jalar, baking bingka telur is just as easy. In Indonesia, we use a special flower shape baking pan to bake bingka, but here in the States, I usually just use a standard 9" round cake pan to make this. It works, just not as pretty. Again, like bingka ubi jalar, this cake will rise quite dramatically while it is being baked in the oven. Once it is taken out from the oven though, it will quickly deflate. I usually wait for the cake to deflate and cool slightly before taking it out from the pan and cut to serving sizes.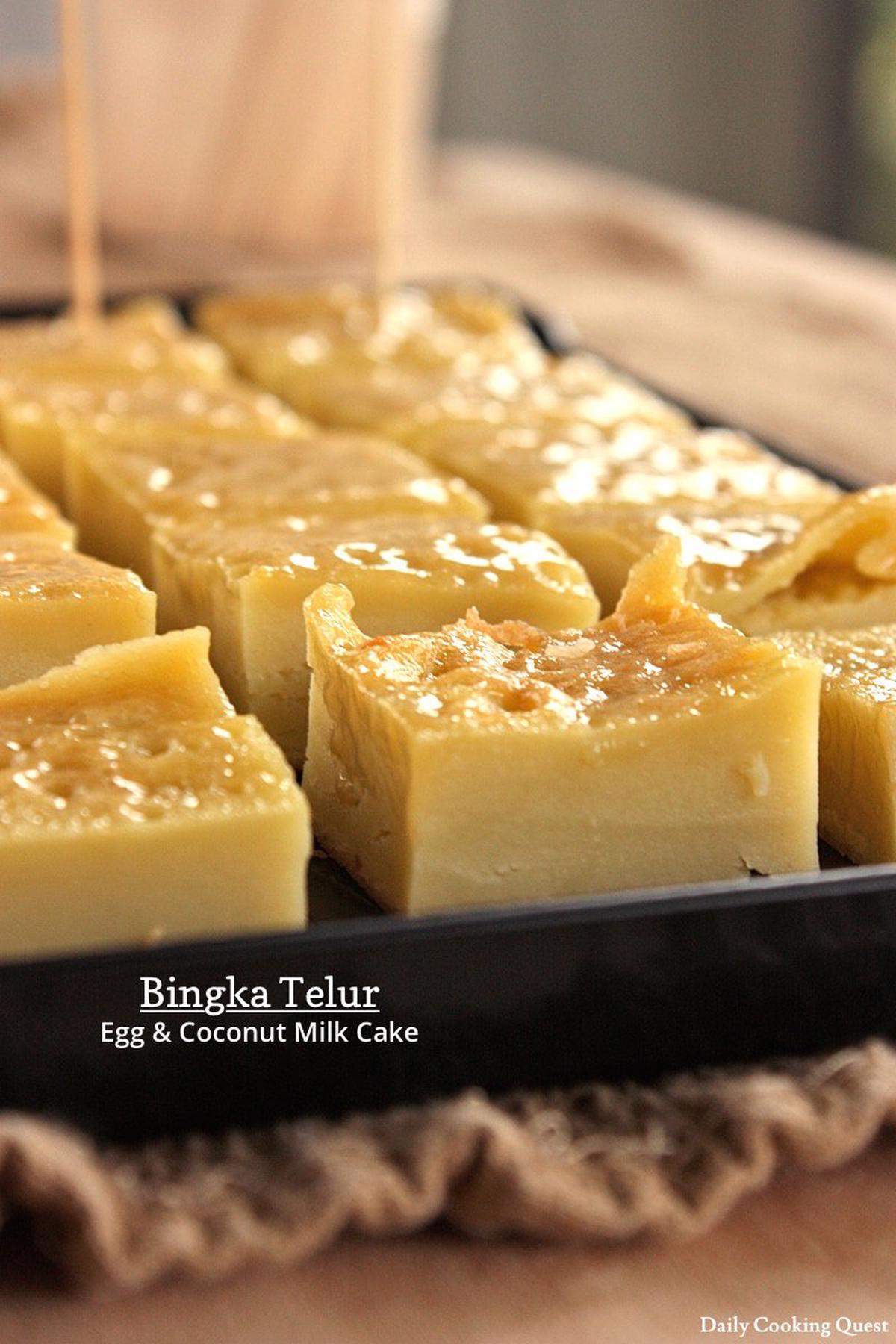 Bingka Telur - Egg and Coconut Milk Cake
4.9 from 7 reviews
Ingredients
6 eggs
150 gram sugar
75 gram all purpose flour
200 ml coconut milk (I use canned coconut milk)
1 teaspoon vanilla essence
1/2 teaspoon salt
Instructions
Preheat oven to 320 Fahrenheit (160 Celsius). Grease and flour a 9" round cake pan.
In a mixing bowl, beat together eggs and sugar until the sugar has dissolved.
Beat in flour, coconut milk, vanilla essence, and salt, one at a time, making sure each is completely well mixed before adding the next ingredient.
Pour the batter to the prepared pan and bake for 50 minutes, or until a cake tester came out clean.
Once the cake is cooled to room temperature, cut into slices and served.