Home / All Recipes / Indonesian / Bistik - Indonesian Beef Steak
Bistik - Indonesian Beef Steak
Some dish is a classic for a reason. This old-fashioned Indonesian beefsteak (bistik) is very juicy, has bold flavors, and comes with an amazing spicy gravy.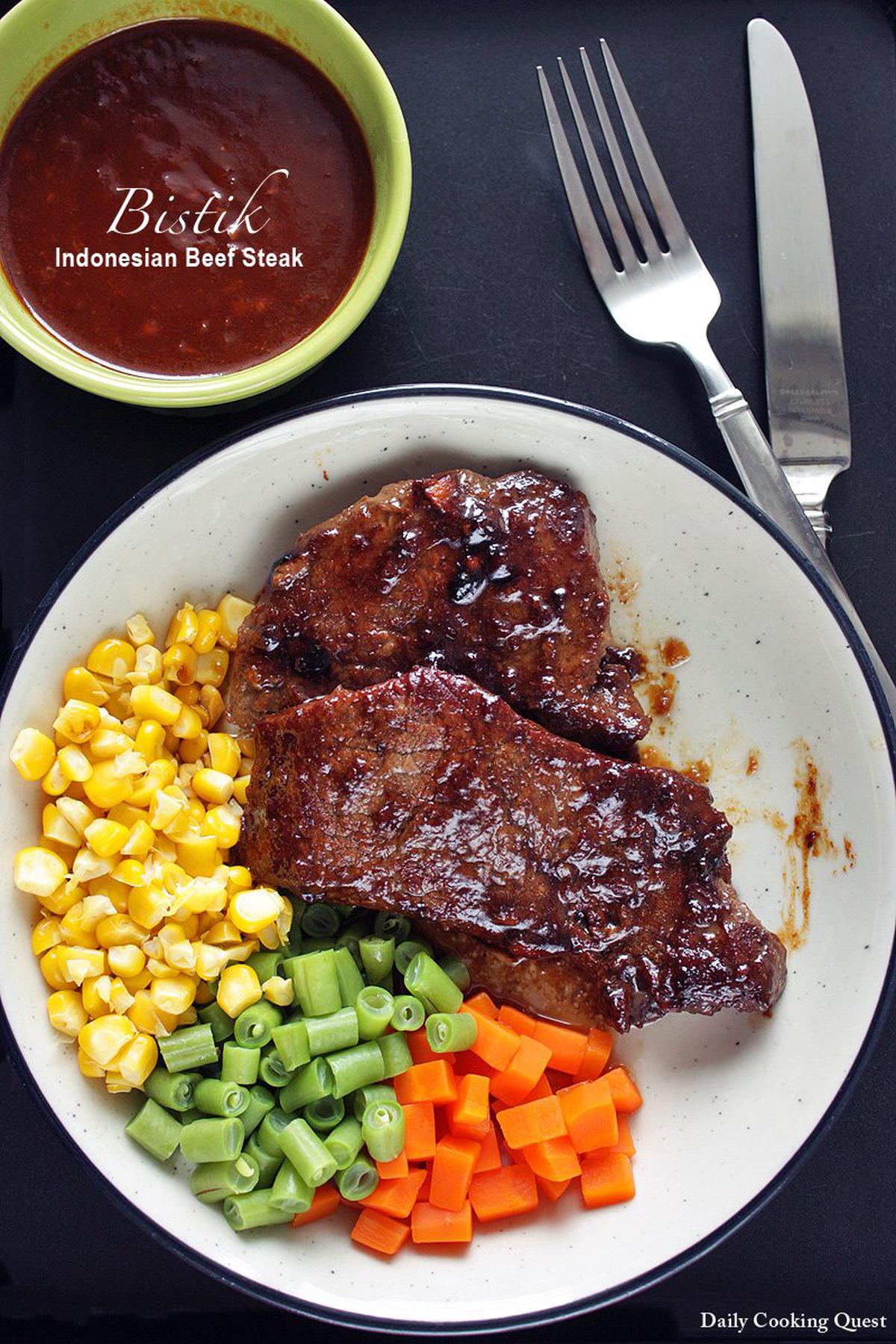 I love traditional dishes, such as this old-fashioned Indonesian beef steak (bistik) that has been around for as long as I can remember.
The way a bistik is served in a restaurant would be on a hot plate (a cast-iron serving-sized skillet), sizzling hot, with a side of gravy, and interestingly always accompanied with boiled carrot, green beans, and corn.
What is bistik?
Bistik (read "bees" + "stick") is basically Indonesian beef steak. It is originally a very popular dish in Solo, a city in Central Java, along with selat Solo (Solo salad). The name most likely evolves from Dutch biefstuk, and becomes bistik overtime. It also sounds like beefsteak, isn't it? 😊
The dish itself is almost certainly a Dutch origin, given the long history of Dutch colonization of Indonesia. But if you go through the list of ingredients, you can tell that the flavor of this dish is completely Indonesian.
It is interesting to note that for Indonesians, bistik is not limited to beef steak. Any steak, from beef, chicken, fish, is called bistik. So a chicken steak is called bistik ayam and a fish steak is called bistik ikan. For beef, it's just bistik, or bistik sapi.
Bistik - Indonesian Beef Steak
5.0 from 5 reviews
Ingredients
750 gram rump steak, cut into 6 portions
oil
Marinating sauce
4 shallots (Indonesian: bawang merah)
2 cloves garlic (Indonesian: bawang putih)
1 inch ginger (Indonesian: jahe)
1 tablespoon sugar
2 teaspoon ground black pepper
2 tablespoon tamarind juice (2 teaspoon tamarind + 2 tablespoon water), remove pulp and pits
3 tablespoon dark soy sauce (Indonesian: kecap manis)
1 tablespoon oyster sauce (Indonesian: saus tiram)
Gravy
1/3 cup water
2 tablespoon tomato sauce
1/2 tablespoon chili sauce
juice of 1 lime
Sides
boiled diced carrots
boiled chopped green beans
boiled corn kernels
Instructions
Grind together shallot, garlic, and ginger. Then mix this with the remaining of the marinating sauce ingredients. Pour the marinating sauce over the beef, mix well, and let marinate for at least 2 hours (overnight is best) in the fridge.
Heat oil in a grilling pan (regular frying pan works too) on medium high. Scrape the marinade from the beef, and cook for 5 minutes on each side, or as you prefer. 5 minutes on each side should get you a well done steak. Transfer the cooked steak to serving plates.
To make the gravy, pour the marinating sauce and all the gravy ingredients to the grilling pan that was used to cook the steak. Once it boils, reduce the heat and simmer for 5 minutes to slightly reduce the sauce. Turn off heat and transfer to a serving bowl (or a gravy boat if you have one).
Arrange steak and sides of carrot, green bean, and corn in serving plates. Serve with the gravy.