Home / All Recipes / Chinese / Bitter Melon Egg Frittata
Bitter Melon Egg Frittata
Fluffy and flavorful bitter melon and egg frittata. This recipe is a very nice introduction to prepare and enjoy bitter melon.
Have you ever tried bitter melon before? If you are new to bitter melon and need a gentle introduction on how to prepare one, this easy bitter melon egg frittata may be the perfect recipe to try.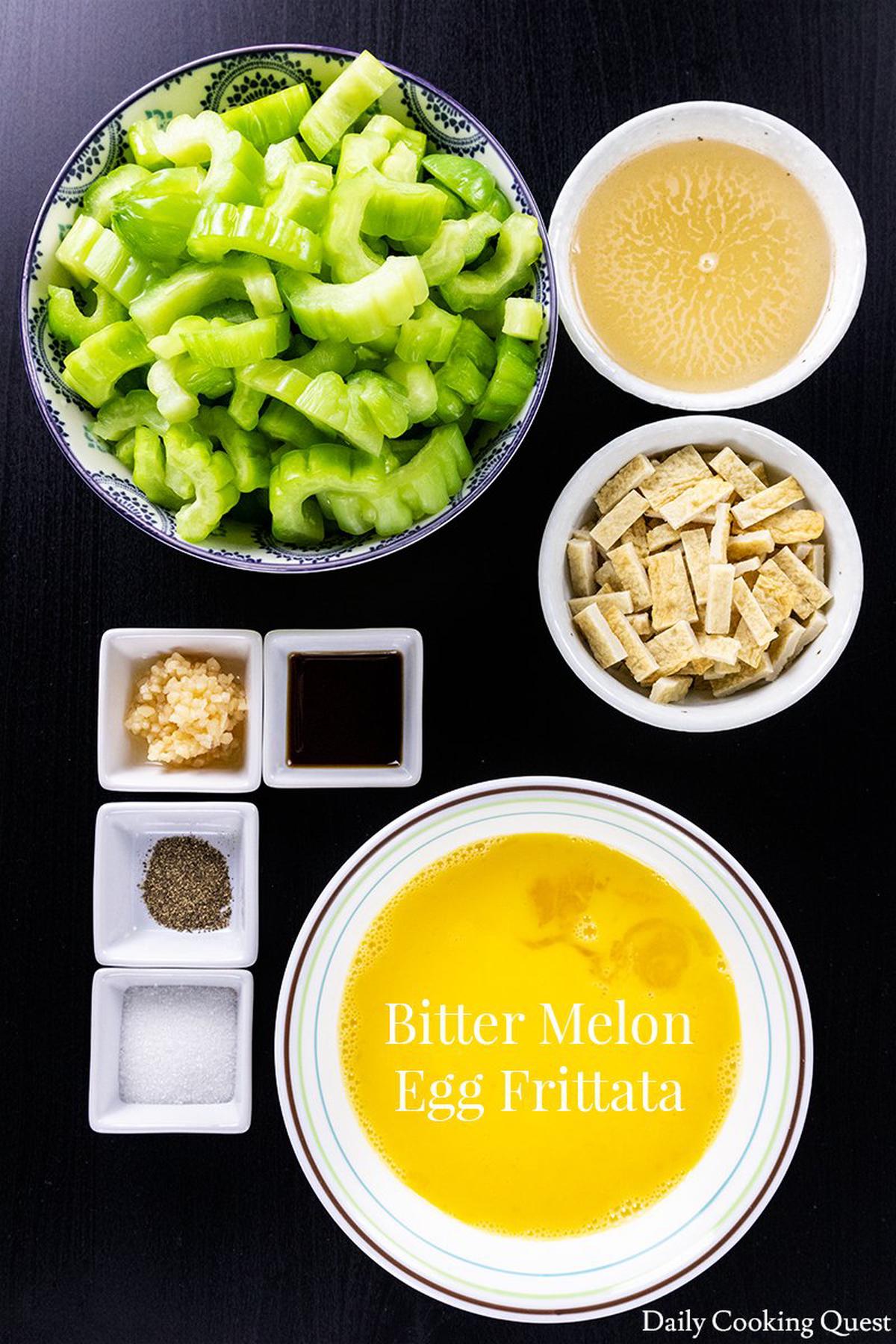 Salt is key to remove bitterness
Bitter melon, as its name implies, is bitter. So how do you prepare them so they taste delicious? The key is salt, and here is how to prepare your bitter melon.
Cut the bitter melon into two halves along its length (not width).
Use a spoon to scoop out all the seeds and fibrous part of the melon.
Cut into 1/2 inch pieces.
Place the bitter melon pieces in a mixing bowl + 1 teaspoon salt. Massage and set aside for 15 minutes.
Wash under cold running water, and drain thoroughly.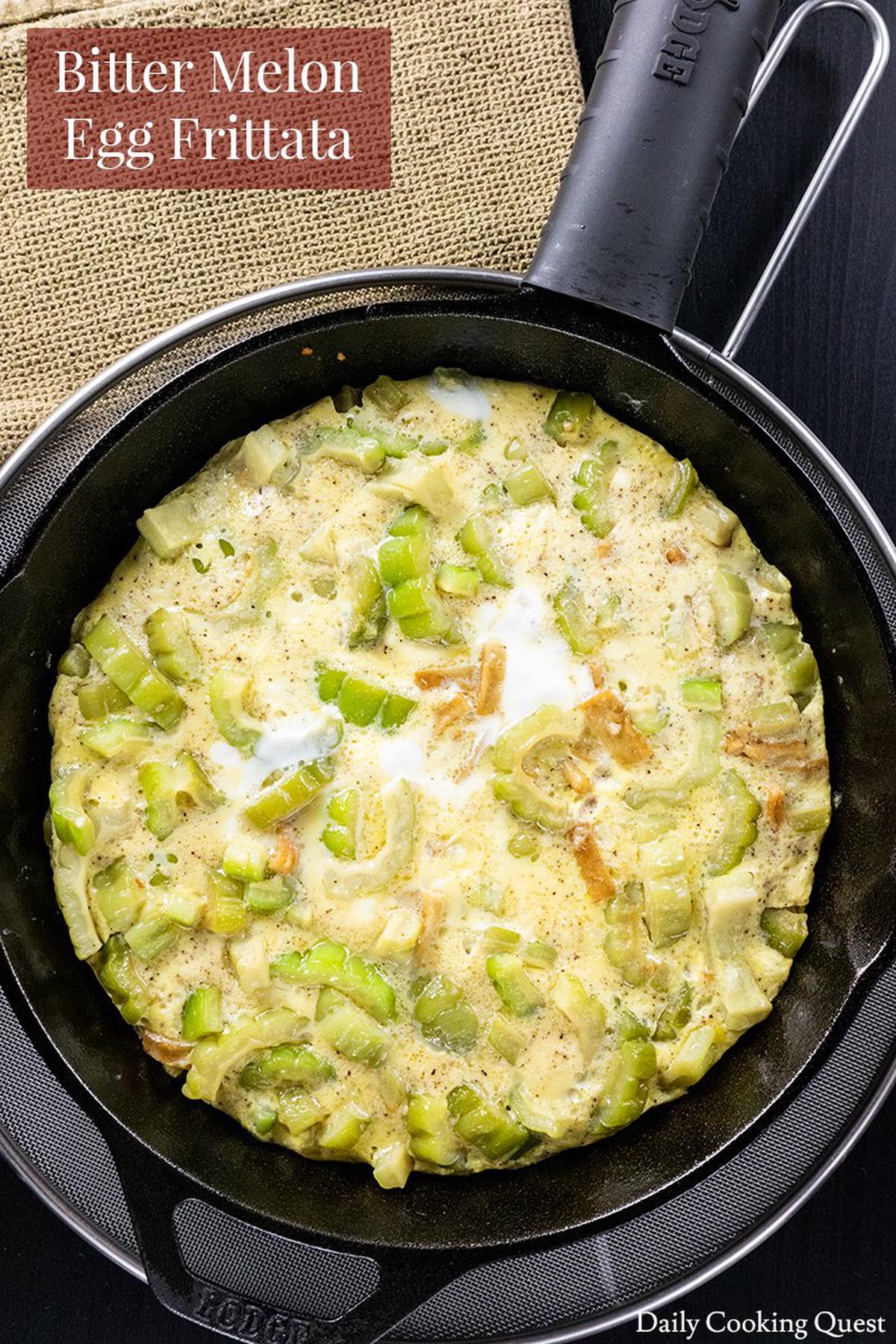 Eggs + stock
The second trick to creating this delicious dish is adding stock to your eggs. You can omit the stock if you wish, but the stock helps create a fluffier frittata. I don't know about you, but I love it when my frittata is fluffy. Plus, the stock adds so much depth to the egg it is just silly not to use it. You can use chicken stock, dashi, mushroom stock, or vegetable stock. If you don't have stock, I would still highly suggest adding the same amount of water instead of just plain egg.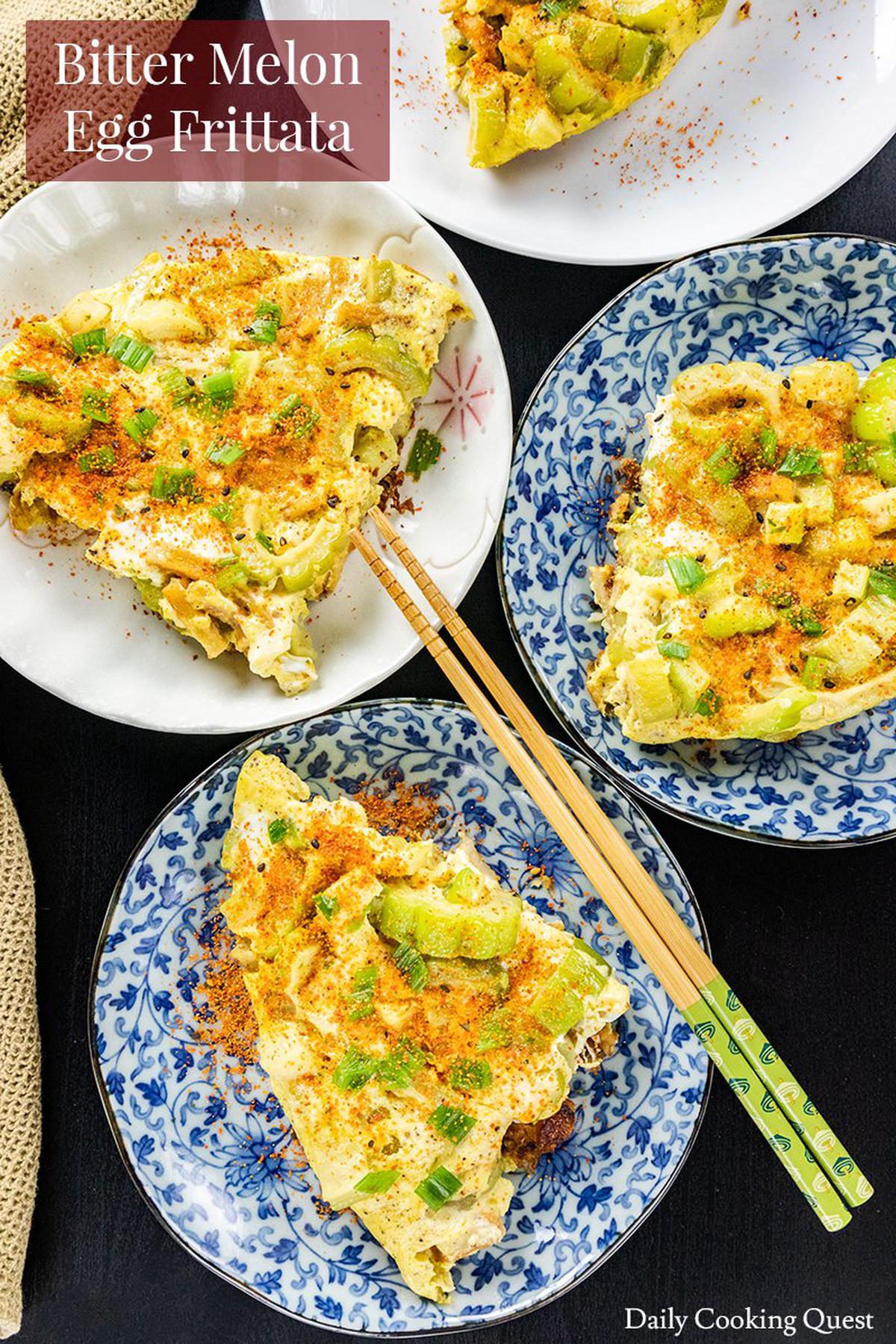 Garnish galore
This frittata is great as is, but you can always add garnishes to push it over the top. My standard garnish for this frittata is thinly sliced scallions and nanami togarashi. If you have them in your pantry, I highly suggest adding furikake and katsuobushi.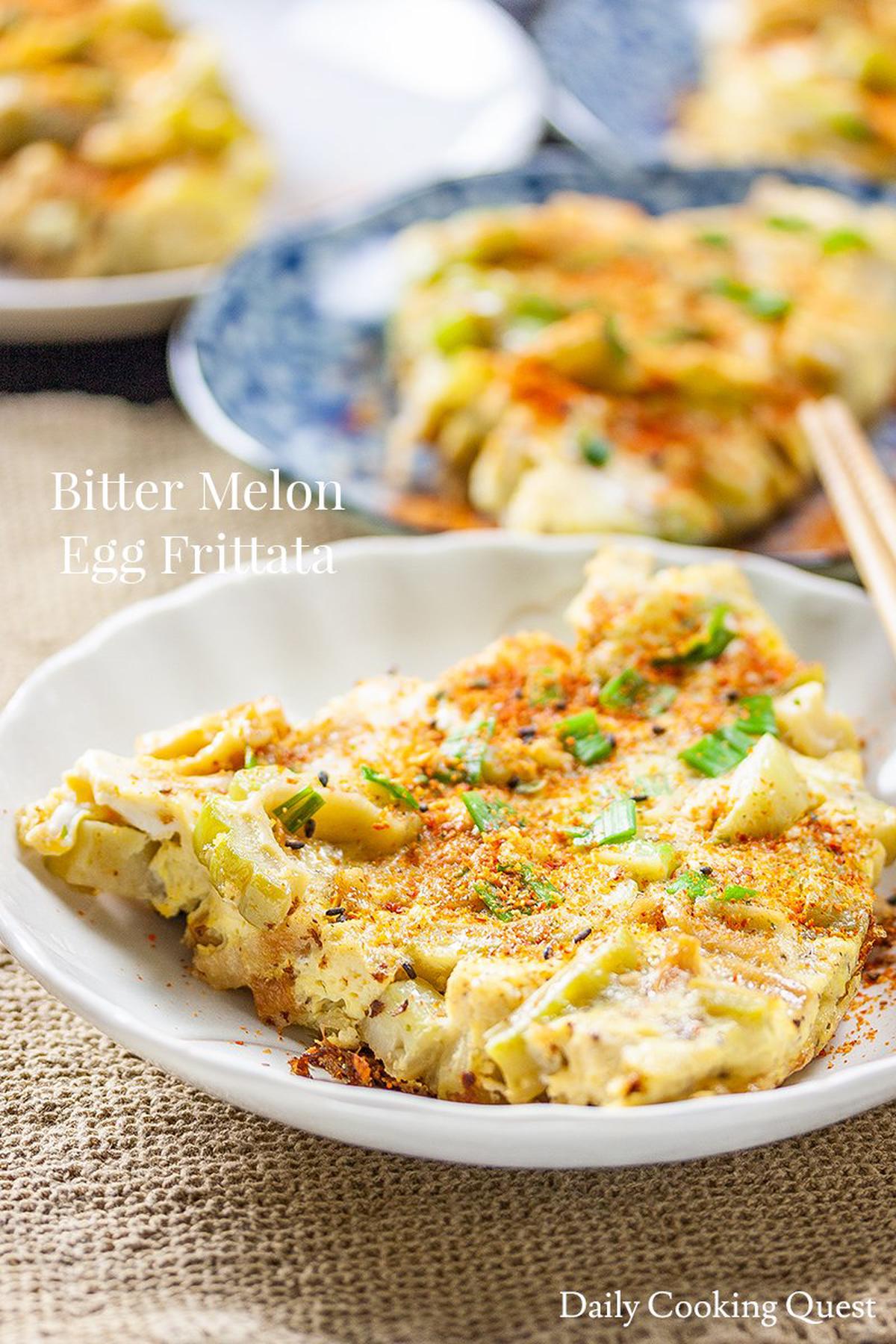 Bitter Melon Egg Frittata
5.0 from 4 reviews
Ingredients
500 gram bitter melon, halved, seeded, cut into 1/2-inch slices
1 teaspoon salt
4 egg, lightly beaten
1/2 cup dashi/chicken stock
2 teaspoon fish sauce
1/2 tablespoon sugar
1/4 teaspoon ground pepper
2 tablespoon oil
2 cloves garlic, minced
1 slice fried fish cake, cut into small pieces (1/4"x1") (*)
1 scallions, thinly sliced
nanami togarashi, to sprinkle (optional)
Instructions
Massage bitter melon slices with the 1 teaspoon salt, set aside for 15 minutes. Rinse under cold running water, and drain thoroughly. Set aside.
Whisk together egg, dashi/stock, fish sauce, sugar, and ground pepper. Set aside.
In a frying pan, heat oil over medium high heat. Sauté garlic until fragrant, then add fried fish cake slices and stir for 1 minute.
Add bitter melon, sauté for 7-8 minutes.
Spread the items in the frying pan into one even layer, gently pour the egg mixture into the pan. Turn the heat to medium low, cover the pan, and cook for 6-7 minutes, or until the egg is fully set.
Turn the heat off. Cut the frittata into 4-8 pieces, garnish with scallion and nanami togarashi. Serve immediately with steamed white rice.
Notes
(*) Can be substituted with 1/2 cup shrimps, diced.
(**) I use 10.25" cast iron pan to make this frittata. You can also use a non-stick pan with equal size.