Home / All Recipes / Chinese / Black Sesame Seeds Bread
Ground toasted black sesame seeds and sugar make the nuttiest bread filling (without nuts!), and the spiral shape of the bread makes it too pretty to eat.
There are endless varieties to Chinese bakery bread, and they come in endless variety of shapes too. In this post, I am sharing another one of my all time favorite, black sesame seeds bread in super pretty spiral shape.
If you are thinking of gifting somebody a baked good, you can be sure the receiver of this black sesame seeds bread will be in awe. Of course, you will want to bake this all the time for your own enjoyment too.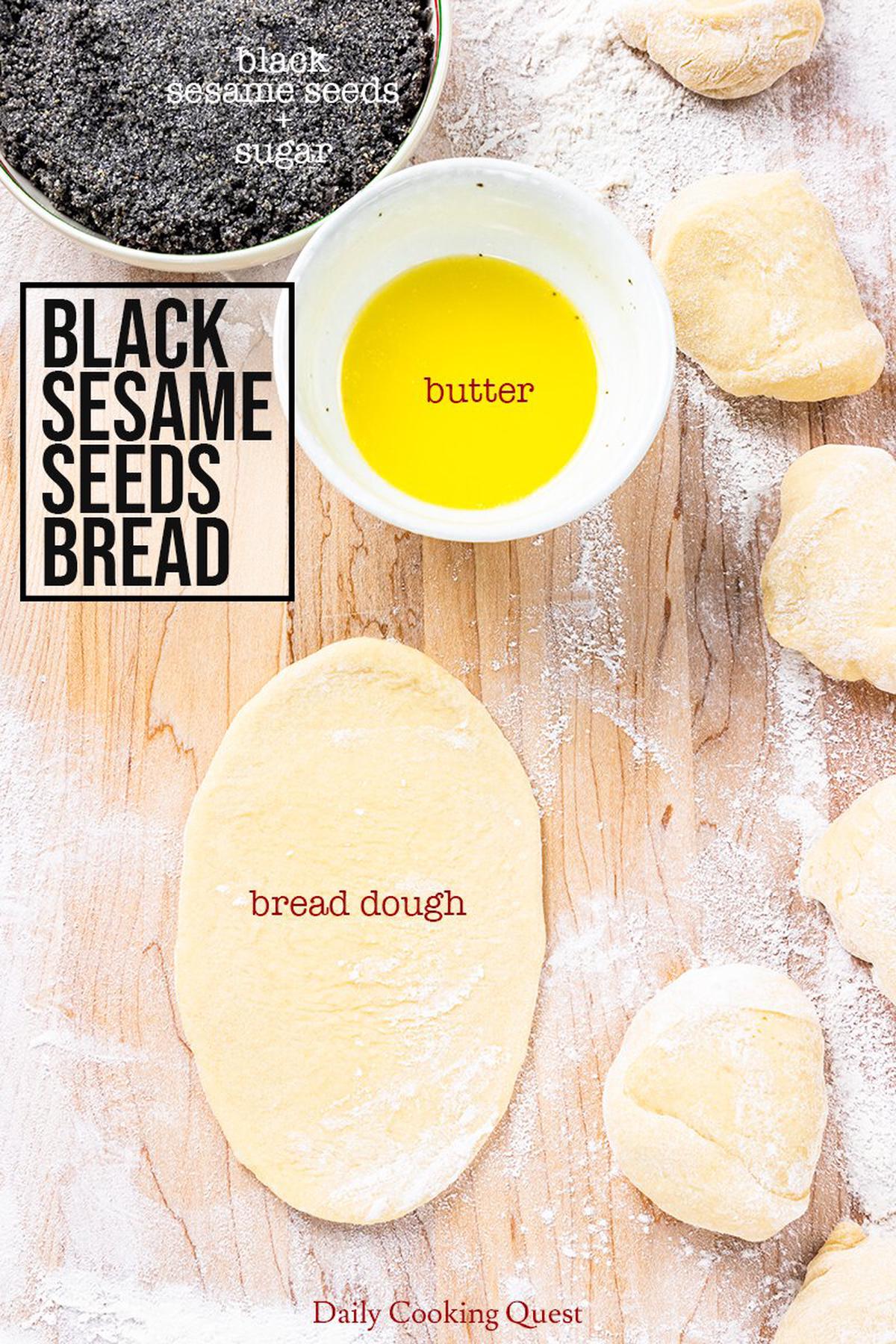 Black sesame seeds filling
To me, black sesame seeds are tastier than regular sesame seeds, especially in desserts and baked good such as bread. And the black sesame seeds filling is one of the easiest filling ever, you only need two ingredients in equal amount:
black sesame seeds, toasted and ground
regular granulated sugar
Typically, I only fill each bread roll with 1 tablespoon of filling. And since this recipe yields 12 rolls, I prepare 12 tablespoon of black sesame seeds, meaning 6 tablespoon black sesame seeds and 6 tablespoon sugar.
If you want your bread to be bursting with black sesame seeds goodness, feel free to increase the amount of filling as needed.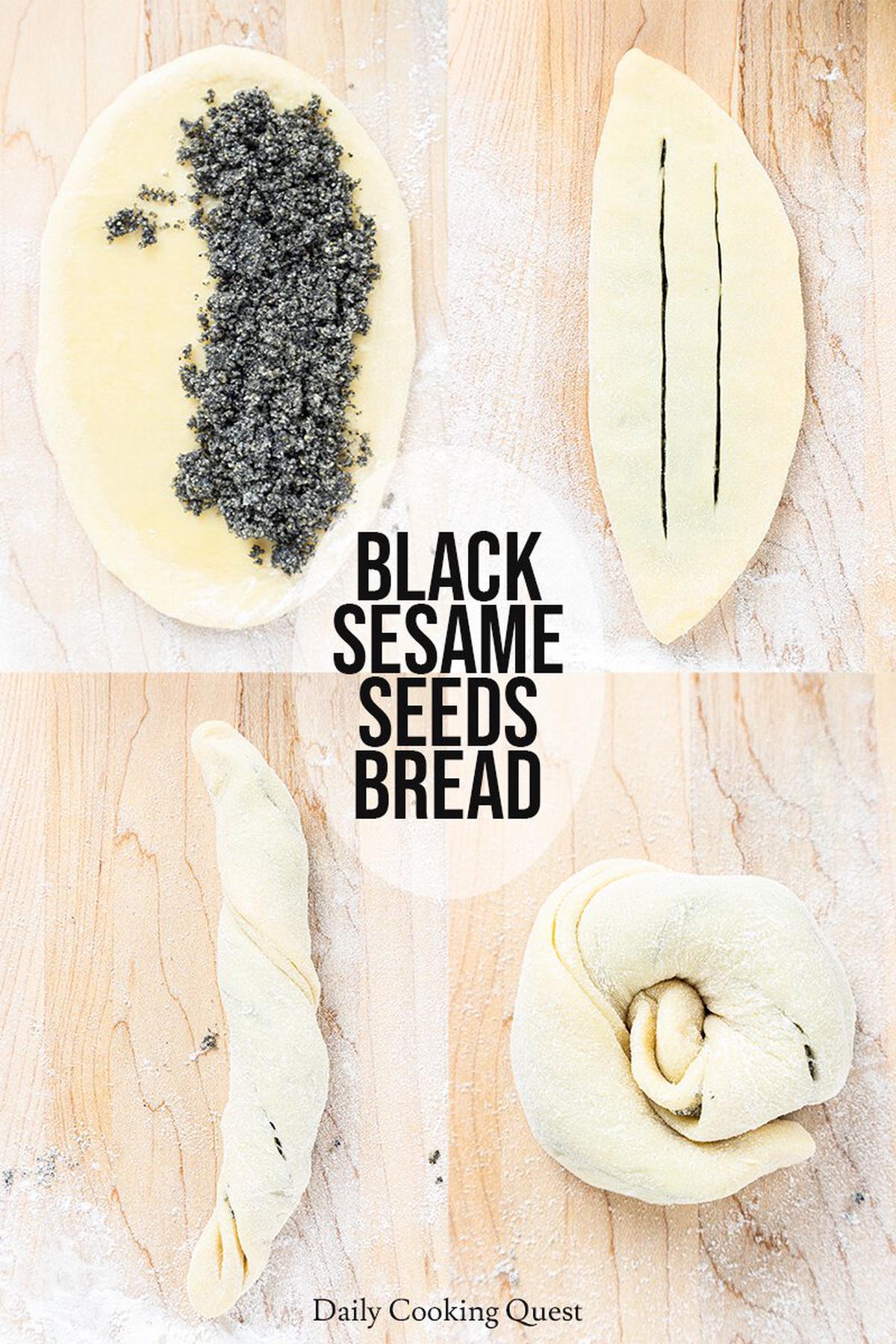 How to shape the bread into spirals
When I am not lazy, I love shaping my bread into pretty or cute shapes. One of my most favorite shape is the spiral bread roll.
The spiral shape looks super pretty and complicated, but it is actually quite easy to pull of, and here's how to do it.
Roll bread dough into an oblong.
Add filling, in this case, brush with melted butter and about 1 tablespoon of black sesame seeds filling.
Fold in half lengthwise and pinch to fully encase the filling.
Make 2 long slits, then grab the ends with your hands and twirl a couple of time, and connect the two ends to create a spiral shape.
If the written explanation gets you nowhere, I hope the shot by shot photo guide can do a much better job.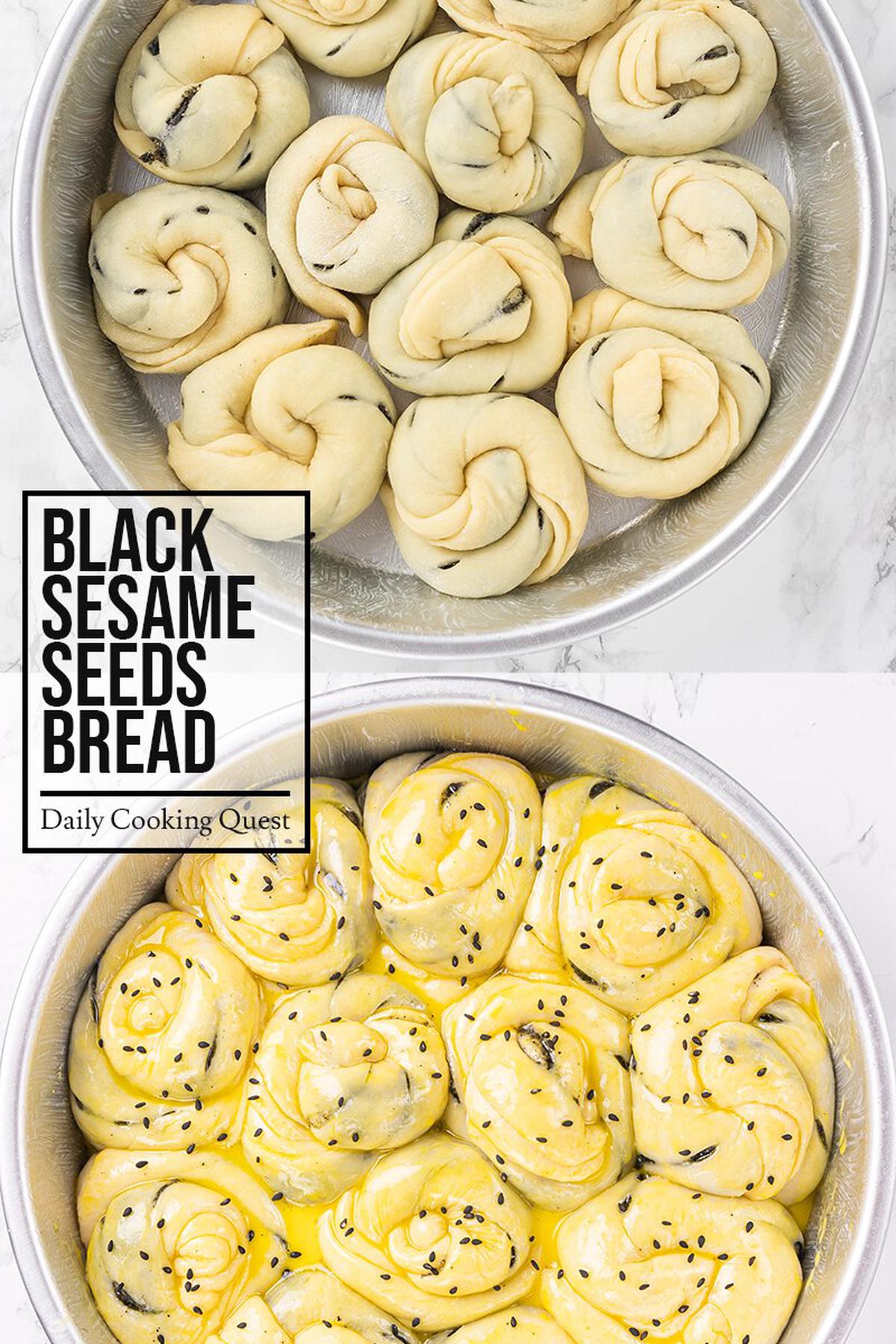 Proofing, egg wash, and black sesame seeds sprinkles
Once you have shaped and arranged the bread rolls in a 9" cake pan, cover this with a wet kitchen towel or a saran wrap.
Let the dough proof until the volume is doubled. You should see that the bread dough completely fills the pan at this stage.
Then apply an egg wash to get that shiny Chinese bakery style look on your bread, and if you wish, you can also add some black sesame seeds sprinkles.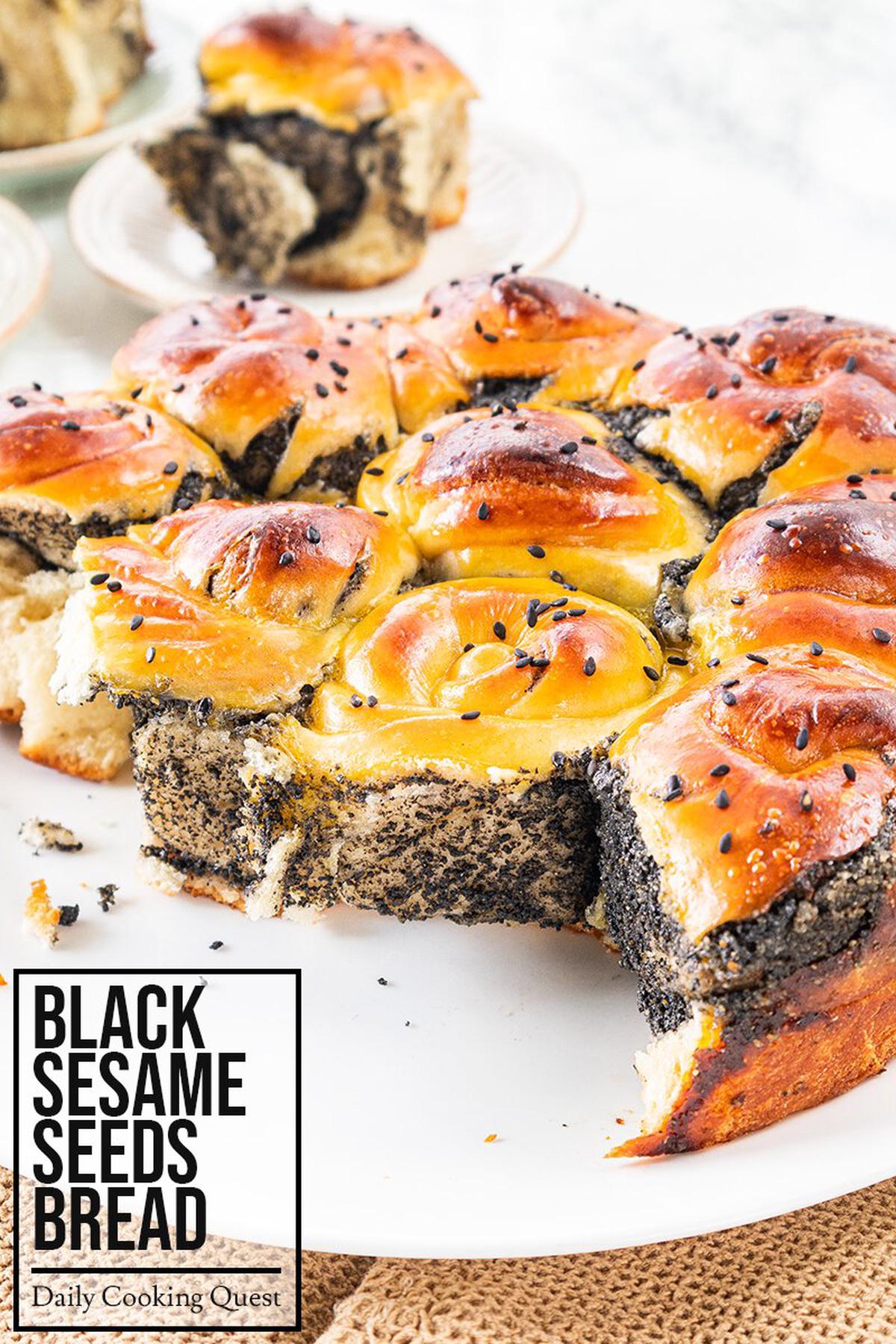 How long does it take to bake the bread
I wish I can give you the exact time you need to bake this bread, or any other bread that I have in my bread recipes collection.
I state in the recipe that it needs about 20-25 minutes, but sometimes, you need 25-30 minutes, and sometimes, you better be damn sure to grab that pan of bread out once it hit 20 minutes.
When it comes to bread, I find that it is better to slightly err on the short cooking time as long as the bread is fully cooked then err on the long cooking time since bread that bakes for too long tends to become hard and dry.
Also, as you learn to understand the quirks of your oven, you will become better and better at judging the time it needs to get that perfect bread. Have fun!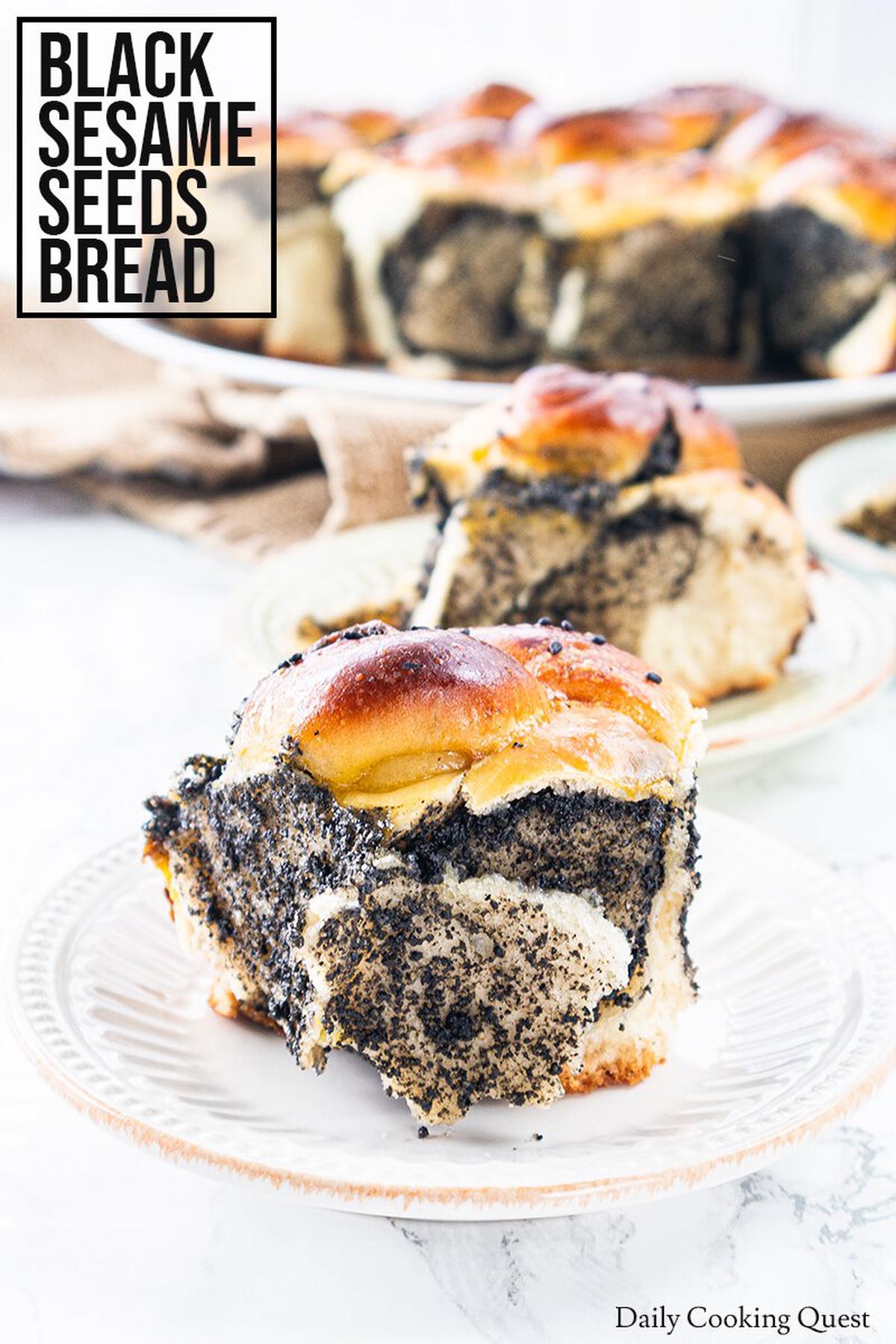 Black Sesame Seeds Bread
5.0 from 13 reviews
Ingredients
Bread dough
7 gram (1 packet, or 2 1/4 teaspoon) active dry yeast
5 gram (~ 1 teaspoon) sugar
200 ml (13.5 tablespoon) milk, lukewarm (38 Celsius/100 Fahrenheit)
320-360 gram (~ 3 cup) all-purpose flour
75 gram (~ 6 tablespoon) sugar
1/8 teaspoon salt
2 egg yolks
35 gram (~ 2.5 tablespoon) unsalted butter, softened
Black sesame seeds filling
3 tablespoon unsalted butter, melted
6 tablespoon black sesame seeds, toasted and ground
6 tablespoon sugar
Egg wash
1 egg yolk
2 teaspoon water
black sesame seeds for decoration, toasted (optional)
Instructions
Mix together active dry yeast, 5 gram sugar, and lukewarm milk. Set aside to bloom, or until foamy and frothy, about 10 minutes.
In a mixing bowl, sift together all-purpose flour, sugar, and salt. Make a well, then add in egg yolks, butter, and yeast solution. Knead until smooth and soft, only adding a bit of flour if necessary. Kneading time is about 20-30 minutes.
Place bread dough in a bowl, cover with a wet kitchen towel/saran plastic. Set aside to proof until volume is almost doubled, about 1 hour in a warm kitchen.
Meanwhile, grease and flour a 9" cake pan. Also, mix together the 1/4 cup ground toasted black sesame seeds and the 1/4 cup sugar. Set these aside.
Once the bread has finished proofing, punch down to remove air bubbles. Then transfer the bread to a lightly floured work surface. Knead for 2 minutes, then divide into 12 portions.
To shape the bread, roll each bread dough portion into an oblong about 3"x5". Brush with melted unsalted butter, spread 1 tablespoon black sesame seeds sugar mixture to half the dough (lengthwise), leaving 0.5" of the edges uncovered, fold the dough to encase the filling, pinching the edges so the filling doesn't leak. Then make 2 slits lengthwise, grab each end with your hands, then gently twirls a couple of times, and connect the two ends to create a spiral shape. Place the shaped dough onto the prepared pan.
Cover the pan with a wet kitchen towel/saran plastic wrap. Let the dough proof until volume is doubled, about 1 hour in a warm kitchen.
Preheat oven to 180 Celsius (350 Fahrenheit). Mix together egg yolk with 2 teaspoon water to make an egg wash and brush the top of the bread liberally with this. If you wish, you can also sprinkle the bread with some toasted black sesame seeds. Bake the bread in the preheated oven for 20-25 minutes.