Home / All Recipes / Chinese / Braised Eggplants with Mince Meat Sauce
Braised Eggplants with Mince Meat Sauce
This Chinese braised eggplant dish is bursting with flavors. The minced meat sauce is so delicious on its own you can even pair it with tofu or mushrooms.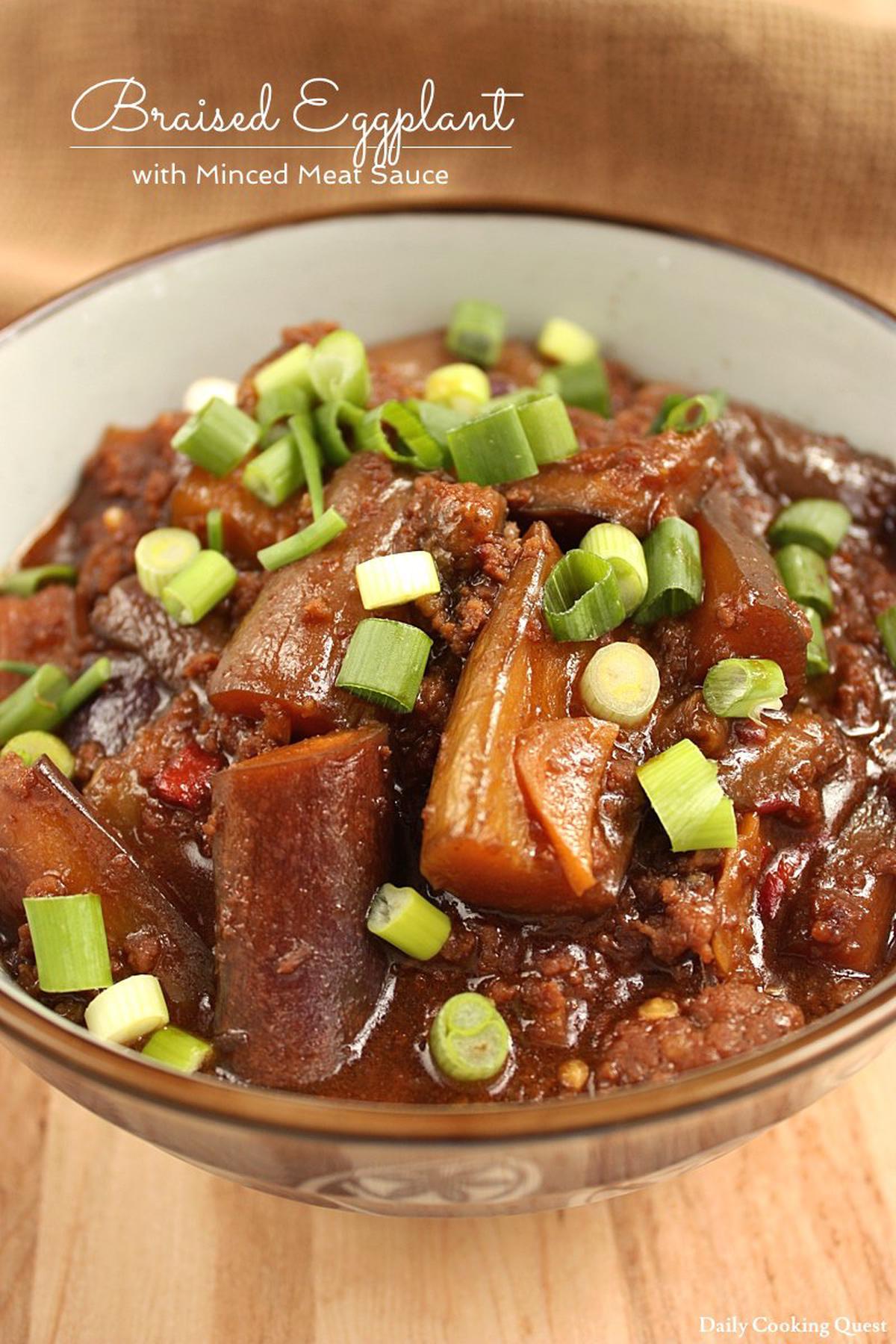 In this simple recipe, the eggplants will become super tender and absorb all the flavor of the sauce by the end of the cooking process.
Although a kilogram of eggplants sounds like a lot, it actually isn't since they do shrink quite a bit.
I use the Chinese variety for the eggplant, which is longer and slenderer compared to U.S. eggplants, but if you cannot find the Chinese variety, feel free to use U.S. eggplant.
What goes into the meat sauce
There are two parts to the beef sauce, the beef and its marinating sauce, and the super versatile braising sauce.
For the beef and its marinade, you will need minced beef, light soy sauce, Shaoxing wine, sesame oil, ground white pepper, and cornstarch.
For the braising sauce, you will need chili bean sauce (dou ban jiang), hoisin sauce, oyster sauce, dark soy sauce, Shaoxing wine, sugar, and water.
Then, there're the aromatics, which is a simple mix of garlic, cayenne chilies, and ginger.
Can I use other vegetables aside from eggplants?
If eggplant is not your favorite vegetable, you can try daikon or napa cabbage.
You can even use tofu, preferably the firm or extra-firm varieties. You can use either plain tofu or deep-fried tofu cubes. All of these will work well with the same meat sauce.
Another idea is to use mushrooms. My favorite includes shiitake mushrooms, oyster mushrooms, and shimeji mushrooms.
Braised Eggplants with Mince Meat Sauce
5.0 from 5 reviews
Ingredients
3 tablespoon oil
5 cloves garlic, minced
5 red cayenne chilies (or bird eye chilies for a spicier dish), thinly sliced
1 inch ginger, thinly sliced
1 kilogram Chinese eggplants, cut into quarters lengthwise, then cut into 2 inch sections
Beef and marinade
500 gram minced beef
2 tablespoon light soy sauce
2 tablespoon Shaoxing
1 teaspoon sesame oil
1/4 teaspoon ground white pepper
2 tablespoon corn starch
Braising sauce
1 tablespoon chili bean sauce (dou ban jiang)
2 tablespoon hoisin sauce
2 tablespoon oyster sauce
2 tablespoon dark soy sauce
1 tablespoon Shaoxing
3 tablespoon sugar
1 cup water
Garnish
2 scallions, thinly sliced
Instructions
Marinade beef. Mix together minced beef with light soy sauce, Shaoxing, sesame oil, ground white pepper, and corn starch. Set aside for 15 minutes.
Fry aromatics. Heat oil in a wok on high heat, sauté garlic, chilies, and ginger until fragrant, about 3 minutes.
Fry beef. Add the minced beef, stir and break up the clumps, keep cooking until no longer pink, about 3 minutes.
Braising sauce. Add chili bean sauce, hoisin sauce, oyster sauce, dark soy sauce, Shaoxing, sugar, and water. Bring to a boil.
Cook eggplants. Add the eggplants, mix well, reduce heat, cover, and simmer until the eggplants have become wilted, tender, and have absorbed most of the sauce. Stir every so often.
Garnish and serve. Turn off heat, add the scallions, mix well, transfer to a serving bowl and serve with steamed white rice.