Home / All Recipes / Chinese / Braised Tofu and Mushrooms
Braised Tofu and Mushrooms
This is a pretty fast stir fry/braising recipe, a great dish to prepare when short on time. You can use silken tofu if that is what you have, though I personally prefer firm tofu for this. Cubed skinless boneless chicken breast would also be a great choice for a non vegetarian dish. I use wood ear and oyster mushrooms, but they can be easily substituted with fresh shiitake, rehydrated dried shiitake, enoki, or shimeji just to name a few. ♥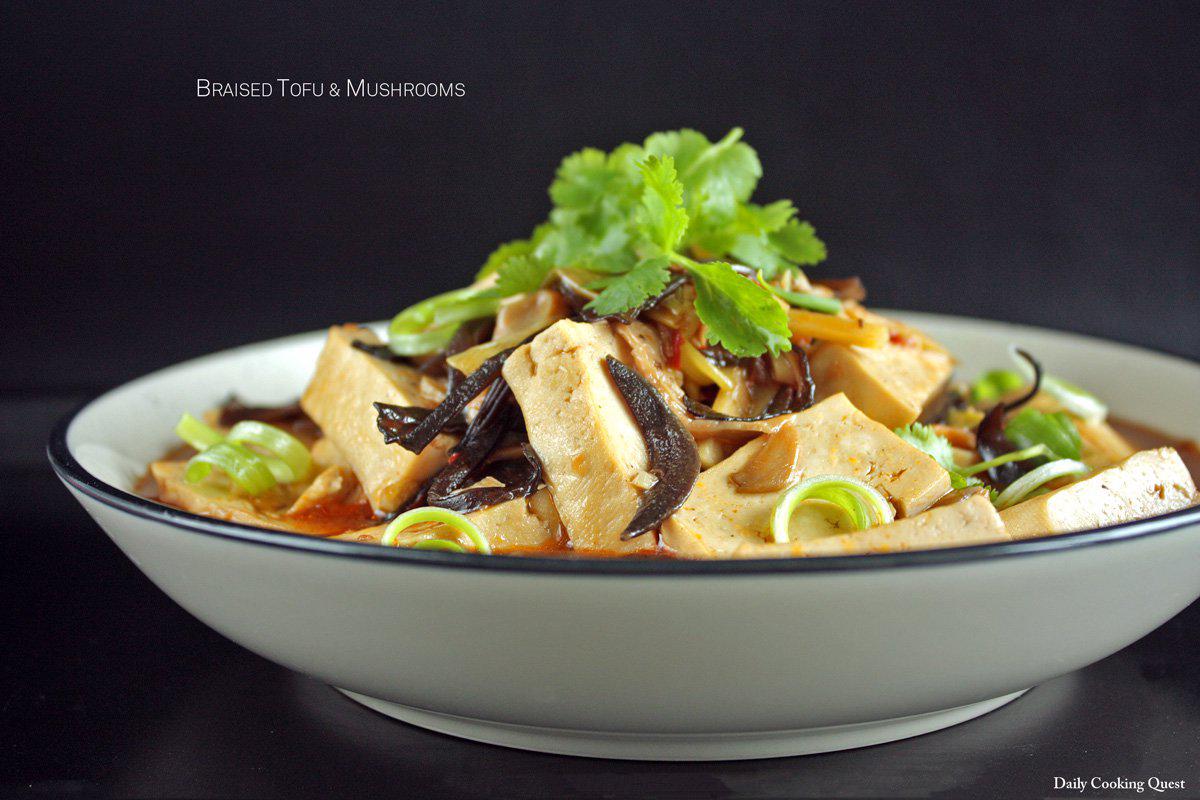 Shaoxing wine is quite commonly used in Chinese dishes, very much like how sake is for Japanese dishes. Some of my readers have had trouble finding this wine. My suggestion would be to try using other Chinese wine, like Chinese yellow wine or Chinese white wine. And please don't use the one with vinegar in it, like Chinese rice vinegar, since the taste will be completely off. If you really cannot find Shaoxing or any of the suggested substitute. For stir frying/braising dishes such as this, it is best to just skip it altogether.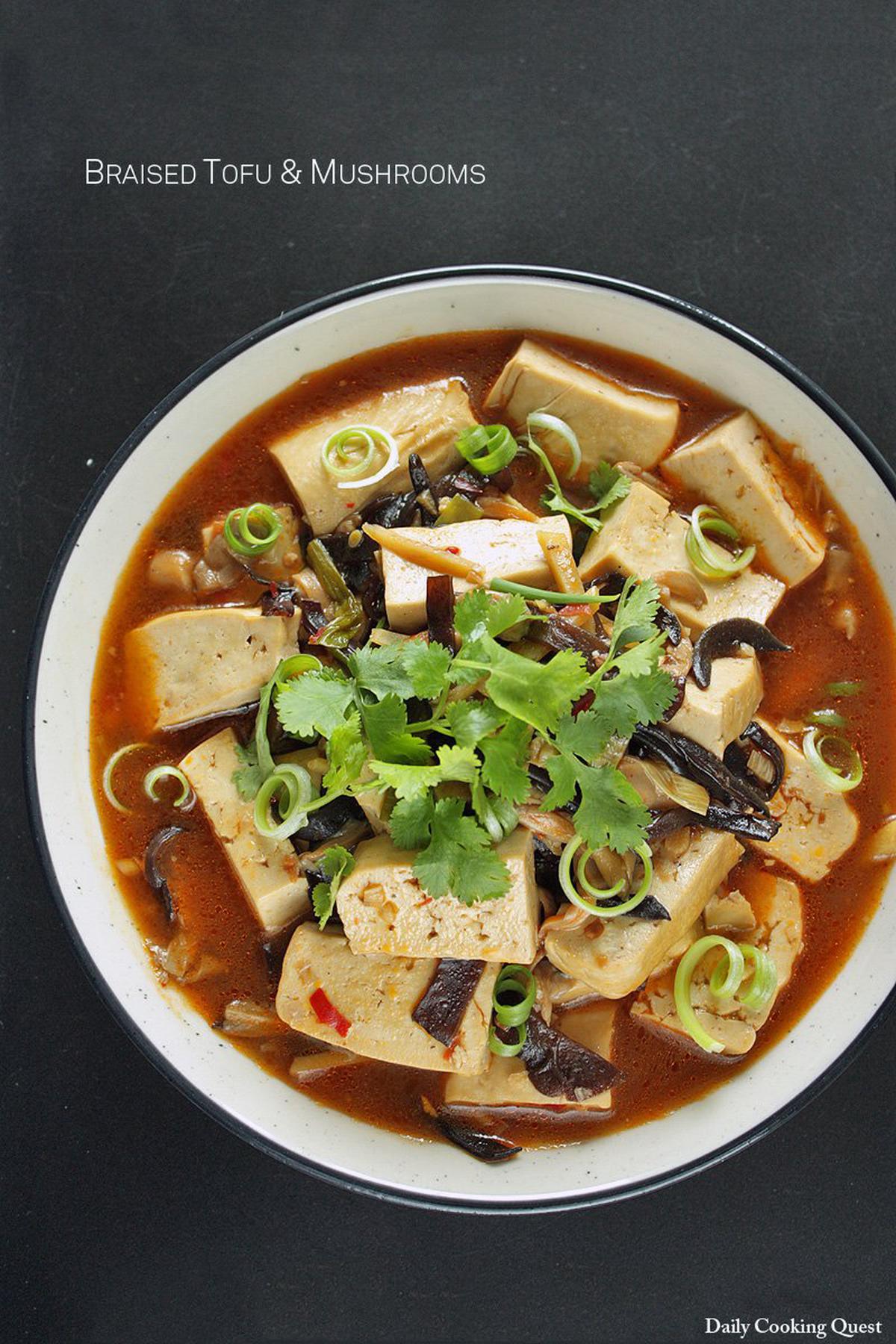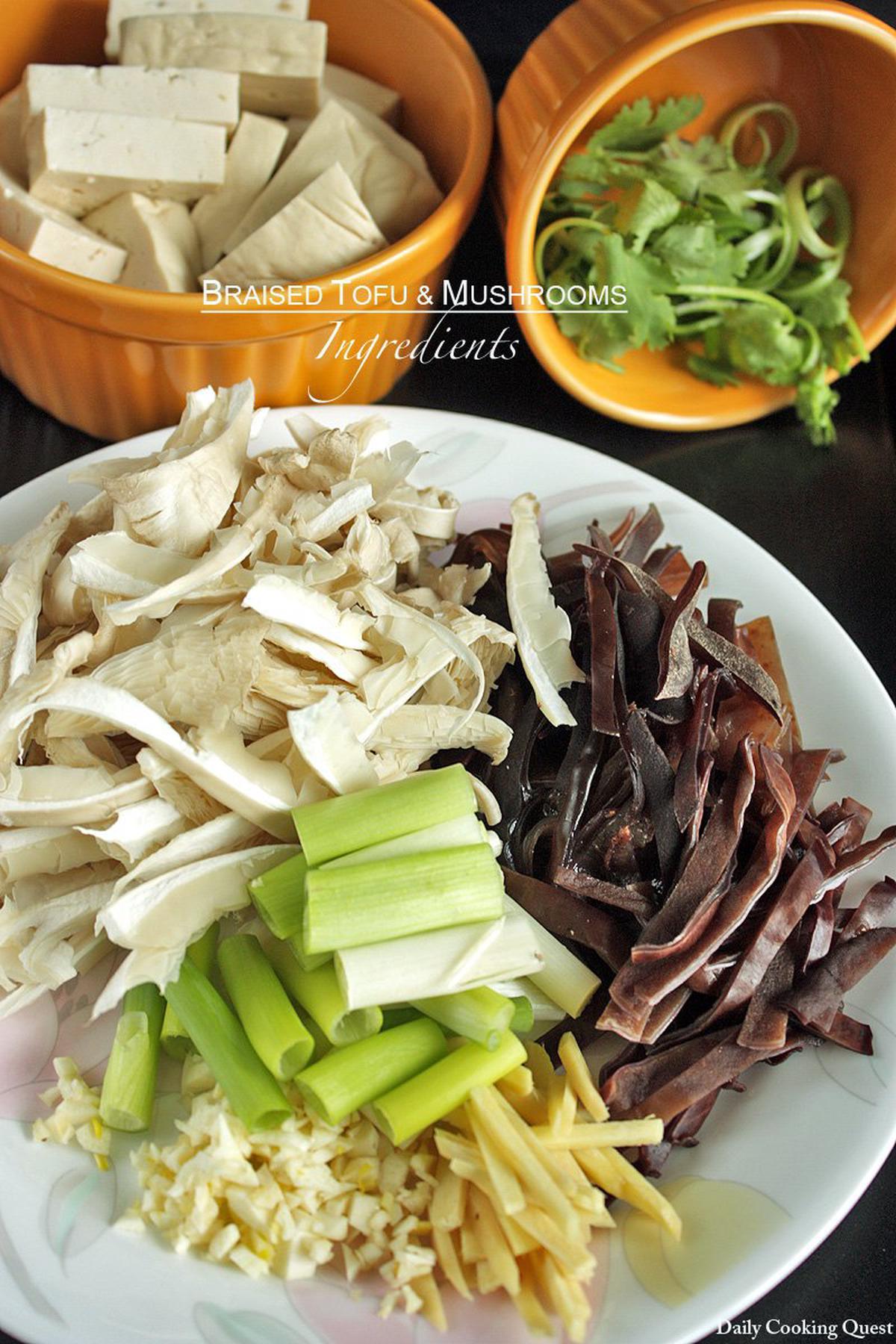 Braised Tofu and Mushrooms
5.0 from 1 reviews
Ingredients
2 tablespoon oil
2 inch ginger (Indonesian: jahe), peeled and cut into matchsticks
3 cloves garlic (Indonesian: bawang putih), minced
2 scallions (Indonesian: daun bawang), cut into 1 inch sections
1 tablespoon chili bean sauce (Chinese: dou ban jiang)
1 block of firm tofu (about 300 gram), cut into bite size pieces
100 gram wood ear mushroom (Indonesian: jamur kuping), thinly sliced
100 gram oyster mushroom (Indonesian: jamur tiram), tear into small pieces
2 tablespoon soy sauce
2 tablespoon Shaoxing wine
1 teaspoon salt
1 teaspoon sugar
1/2 teaspoon ground white pepper
1/2 cup water
1/2 tablespoon corn starch + 1 tablespoon water
Garnish
scallion ribbons (Indonesian: daun bawang)
coriander leaves (Indonesian: daun ketumbar)
Instructions
Heat oil in a frying pan and sauté ginger, garlic, and scallion until fragrant. About 3 minutes.
Add chili bean sauce into the pan, stir for another minute.
Add tofu, wood ear mushroom, and oyster mushroom into the pan. Season with Shaoxing wine, soy sauce, salt, sugar, and ground white pepper. Stir until everything is mixed well.
Pour water, stir, and bring to a boil. Reduce heat and simmer for 5 minutes. Thicken the sauce with corn starch liquid.
Turn off heat, transfer to a serving plate and garnish with scallion ribbons and coriander leaves. Serve immediately with steamed white rice.