Home / All Recipes / Chinese / Broccoli and Mushroom Stir Fry in Oyster Sauce
Broccoli and Mushroom Stir Fry in Oyster Sauce
Try this stir-fried broccoli and oyster mushrooms with garlic and oyster sauce. This is so good you will want to cook it with other vegetables/mushrooms.
Stir-fried Chinese greens in garlic and oyster sauce is a super classic Chinese dish, one that I make so often in my house that it will be a surprise if this menu is missing from our dinner table. Today, I am sharing how to use this classic sauce to prepare broccoli with oyster mushrooms, but this is such a wonderfully versatile sauce that you can pair with so many Chinese greens, mushrooms, even tofu. If you are on a plant-based diet or just want to enjoy a variety of vegetables in your meal, do give this recipe a try. I'm certain you will love it as much as I do.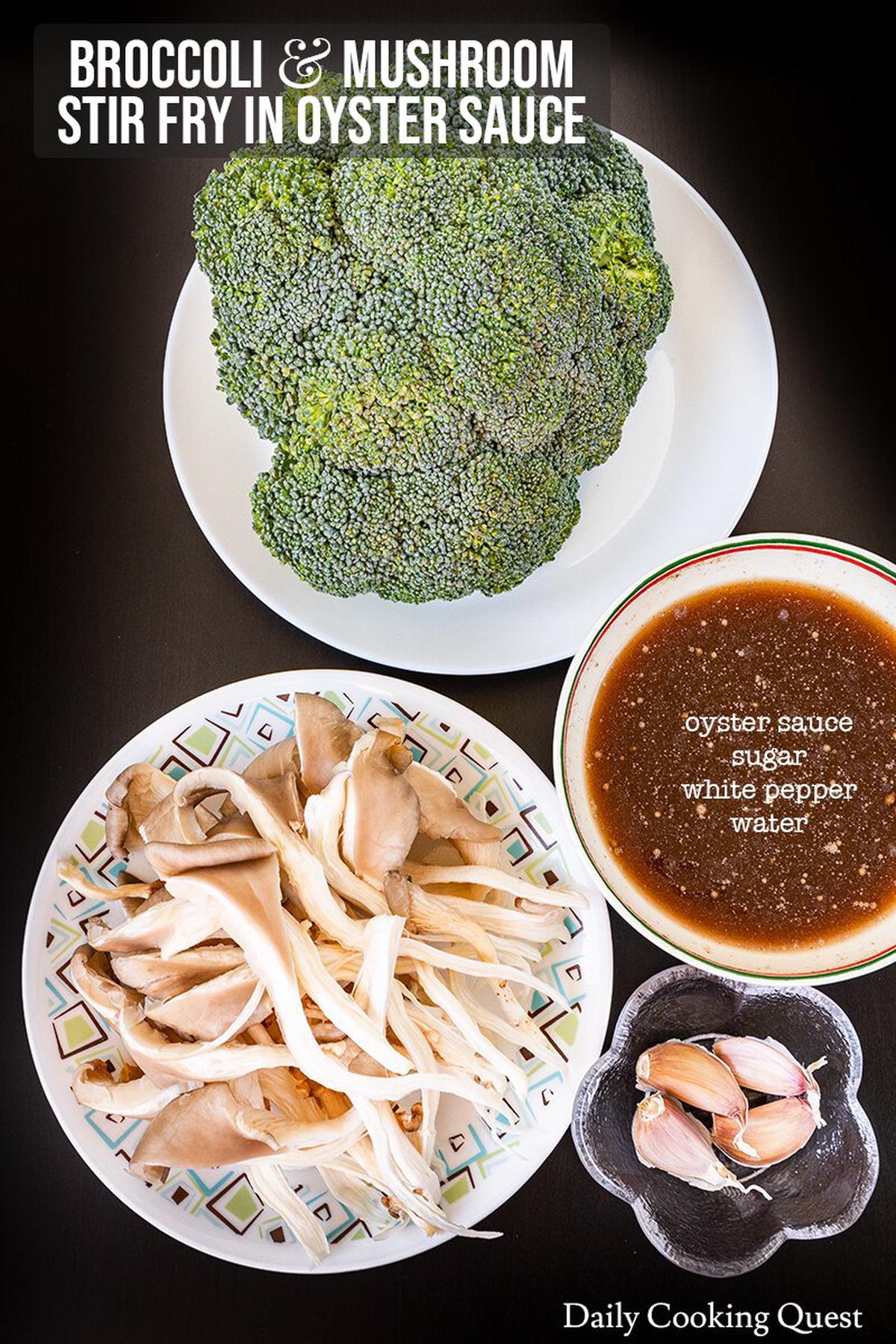 Can I use other vegetables or mushrooms?
Certainly! I do it all the time myself. I get it that not everyone like broccoli, or not every day the market is stocked with fresh broccoli. You may want to try preparing this recipe with these vegetables instead:
gai lan (芥兰)/Chinse broccoli/Chinese kale
choy sum (菜心), looks almost the same as gai lan but has yellow flowers
bok choy (小白菜)
napa cabbage (大白菜)
broccolini
green beans
kale
As for the mushrooms, I choose to use oyster mushrooms in this recipe. But feel free to change it to some of these instead:
fresh shiitake mushrooms
white/brown shimeji/beech mushrooms
king oyster mushrooms
wood ear mushrooms
white/brown button mushrooms
baby bella mushrooms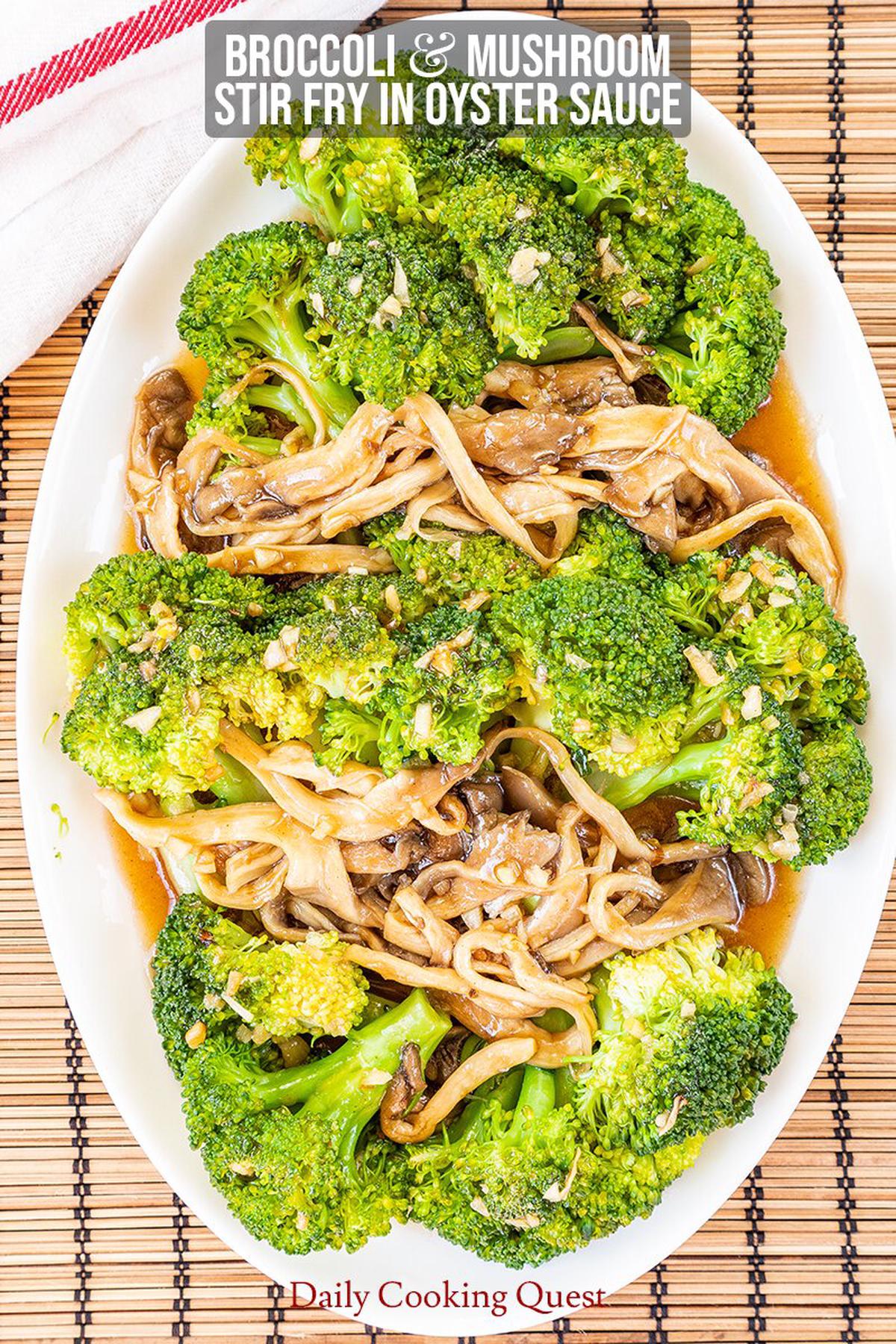 How to cook broccoli and mushrooms in garlic and oyster sauce?
This dish is super simple. Aside from broccoli and oyster mushrooms, you will only need a handful of ingredients:
garlic
oyster sauce, if you want a vegan/vegetarian dish, use mushroom sauce instead
sugar
ground white pepper, feel free to use ground black pepper
Here are the steps to prepare this broccoli and mushroom:
Prepare the vegetables. Chop the broccoli into florets and stalks. Peel the outer layer of the stalks, then chop into bite-size pieces. Blanch the florets and stalks in a pot of boiling water and salt generously. They should be tender but still firm (a.ka. crisp tender) after 3-4 minutes, so drain the vegetables, then arrange on a serving platter.
Stir fry garlic and mushrooms. Heat some oil in a frying pan/wok, sauté garlic until fragrant, then add mushrooms and fry for another minute.
Add the sauce ingredients. Into the frying pan/wok, add oyster sauce, water, sugar, and ground white pepper. Mix and bring to a boil. The sauce is done once it bubbles.
Pour over the vegetables. Immediately pour the mushrooms and oyster sauce over the arranged vegetables.
And our dish is done! That wasn't too hard, right? Now you know how to prepare this classic dish in your own home.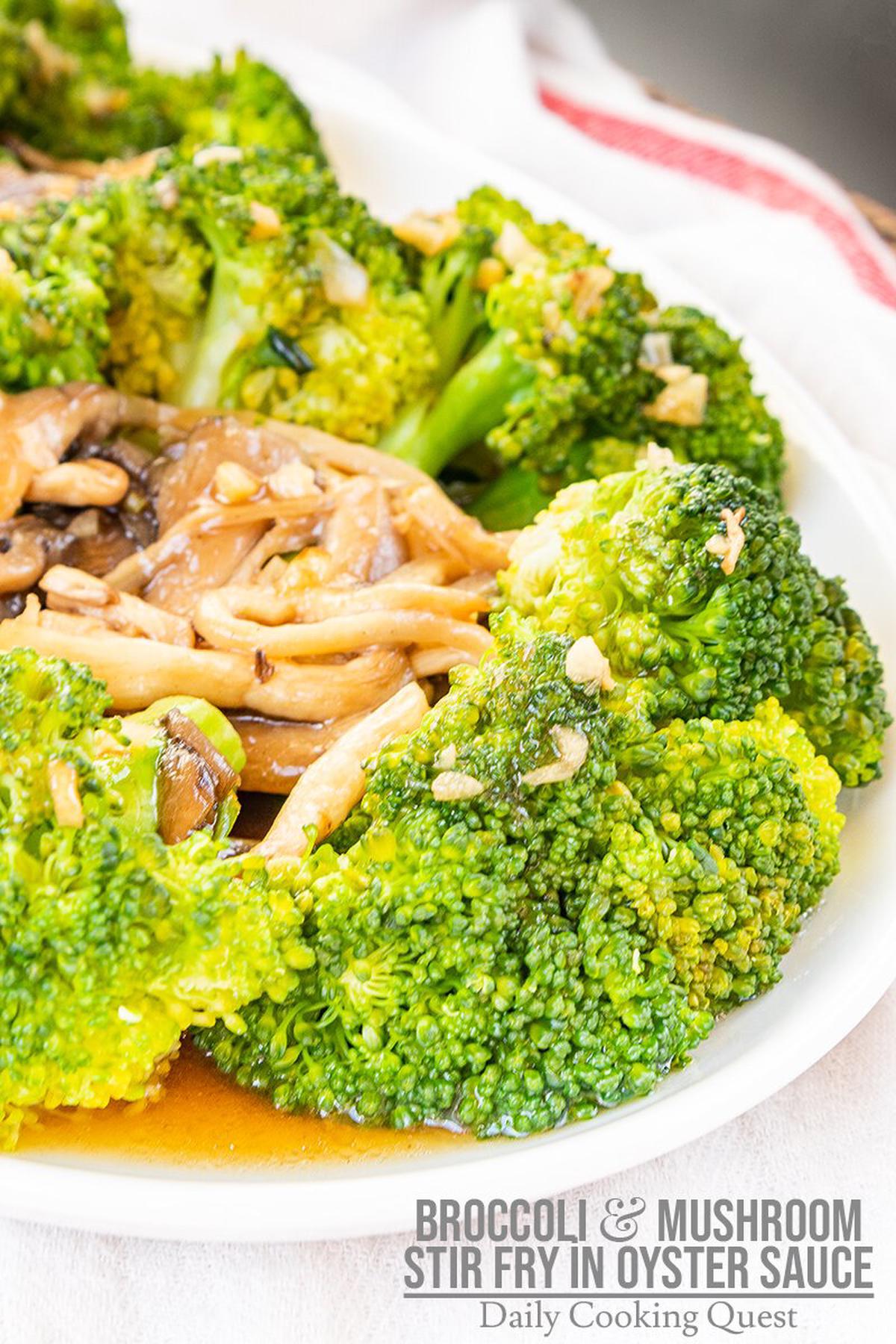 Broccoli and Mushroom Stir Fry in Oyster Sauce
5.0 from 8 reviews
Ingredients
1 broccoli, about 300 gram
2 tablespoon oil
3 cloves garlic, minced
100 gram oyster mushrooms (Indonesian: jamur tiram), tear into small bite size pieces
3 tablespoon oyster sauce (Indonesian: saus tiram)
3 tablespoon water
1 1/2 teaspoon sugar
3 dashes of ground white pepper
thinly sliced scallions/green onions for garnish (optional)
Instructions
Separate the broccoli florets from the stalk. Peel the outer layer of the stalk and chop the inner part into small bite-size pieces.
Bring a pot of water to a boil and salt generously. Blanch the broccoli florets and chopped stalks in the boiling water until tender. About 3 to 4 minutes. Drain and set aside in a serving plate. You can arrange the broccoli florets in a circle and the stalks at the center of the circle.
Heat 2 tablespoons of oil in a frying pan/wok on a medium-high heat, sauté minced garlic until fragrant, about 2 minutes. Add the oyster mushrooms and stir for another minute.
Add the oyster sauce, water, sugar, and ground white pepper into the pan/wok. Mix well and bring to a boil. Once the sauce bubbles, turn off the heat and pour the entire thing into the plate with the broccoli. Garnish with scallions/green onions (optional) and serve immediately with steamed white rice.