Home / All Recipes / Japanese / Broccolini Sesame Dressing
Broccolini Sesame Dressing
What is your favorite dressing? Mine is Japanese sesame dressing (胡麻和え - goma ae). This super easy dressing makes the most humble greens shine through.
I make this dressing all the time and pair it everything from spinach, broccoli, watercress, yu choi, and of course, broccolini.
Despite this broccolini sesame dressing recipe uses broccolini, feel free to pair this lovely goma ae with all sort of greens.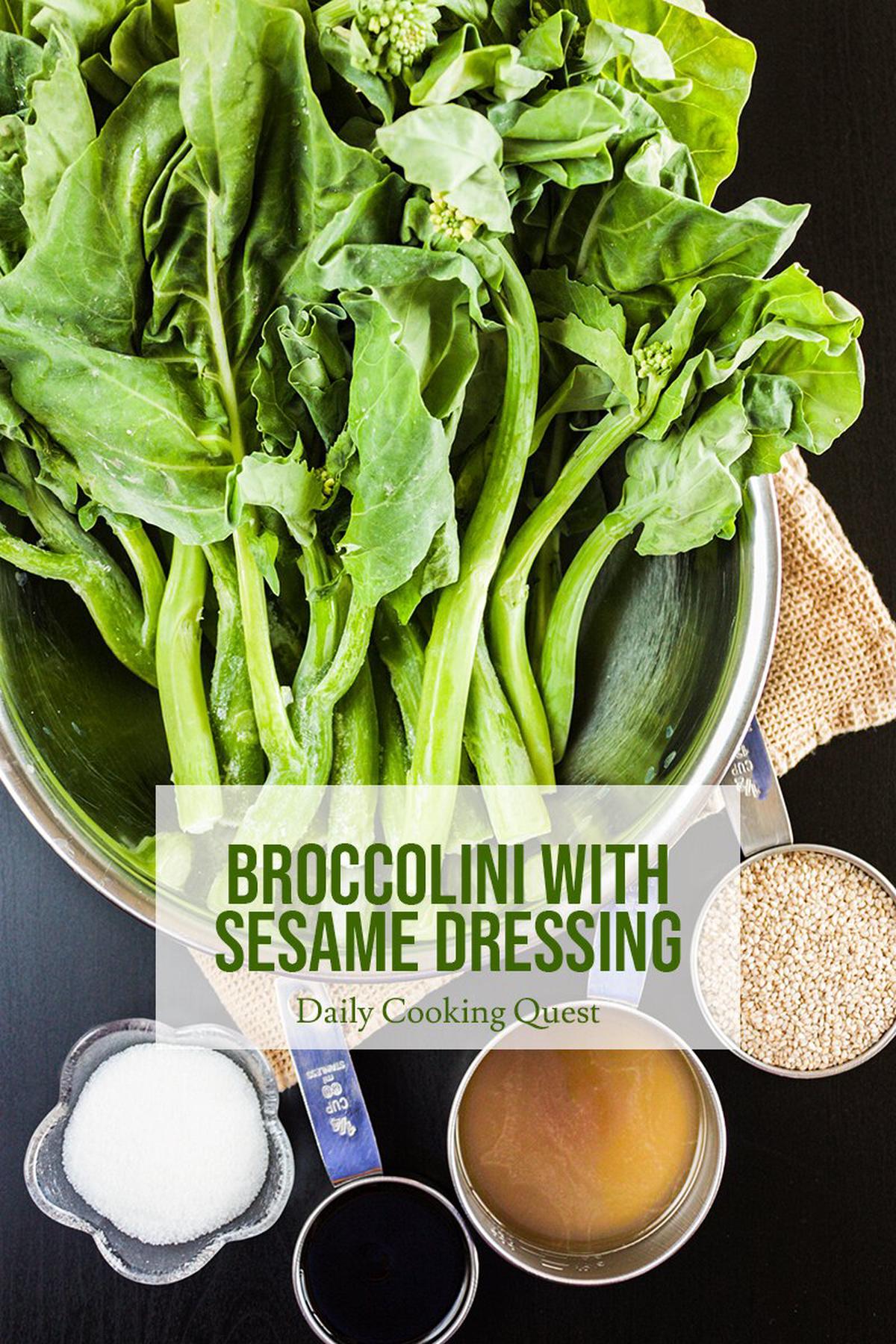 Goma Ae (Sesame Dressing)
The amount of dressing works for any one pound of vegetables.
You will need 1/2 cup toasted sesame seeds, 1/4 cup soy sauce, 2 tablespoon sugar, and 100 ml (6 tablespoon + 1 teaspoon) dashi stock.
Don't worry if you cannot find sesame seeds that are pre-roasted. You can easily toast them on a frying pan (as is, without any oil) over medium heat until fragrant and golden brown.
I have a slight intolerant to peanuts and all sort of nuts, so this sesame dressing is a God send to me :) It is super nutty just like nuts, but completely nut-free!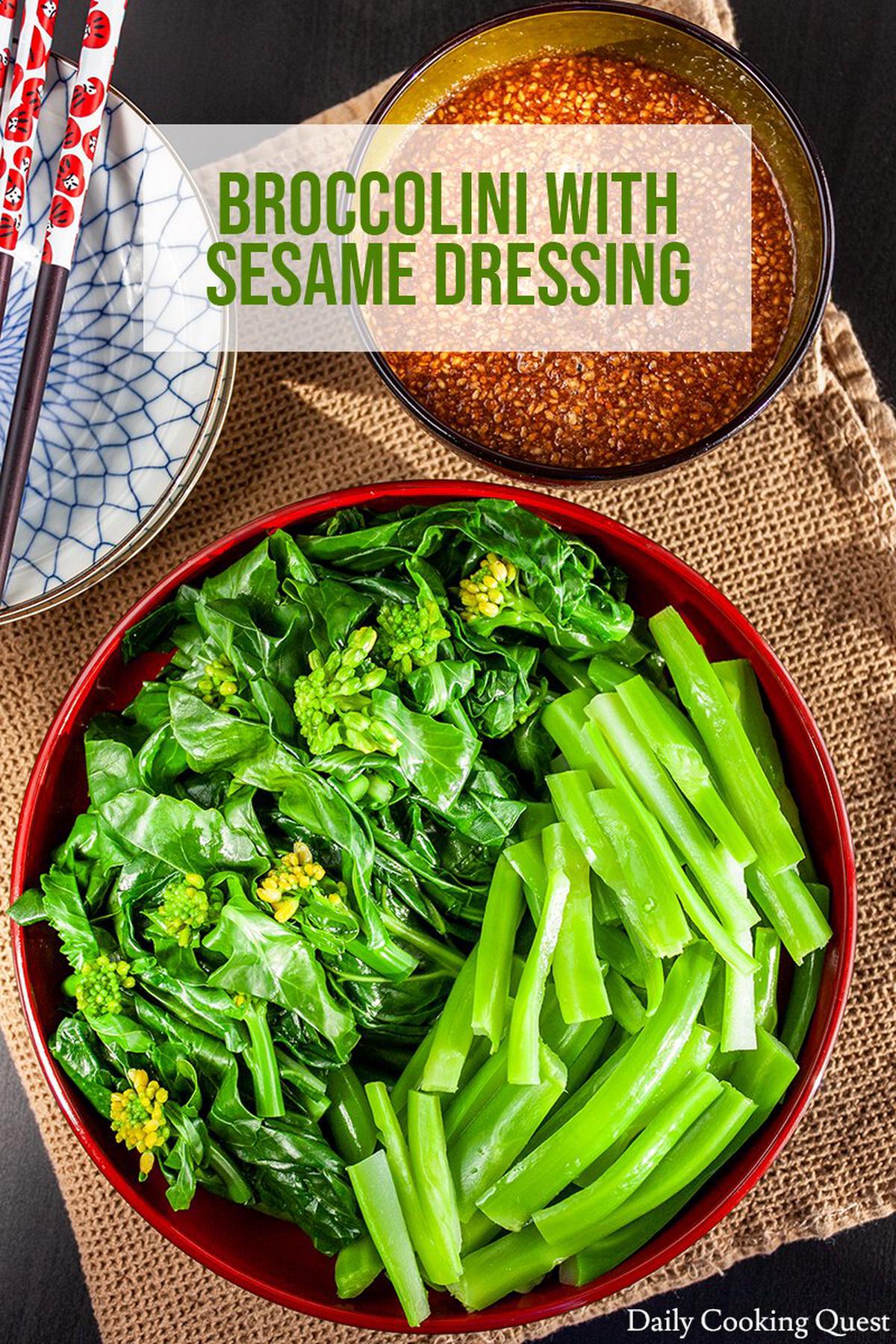 Preparing broccolini
Most of the times, broccolini comes with green tops and stalk bottoms. It is best if you can separate the greens from the stalks. I usually half or even quarter the stalks depending on how thick they are.
Not much needs to be done to the broccolini. Just boil a large pot of lightly salted water, then blanch for 2 minutes.
To retain the lovely green color of your vegetables, you must rinse in ample cold water and even soak in a large mixing bowl of cold water with ice cubes.
Once completely cool, gently squeeze and cut into bite sizes. Arrange the vegetables in a nice platter, and serve with the goma-ae.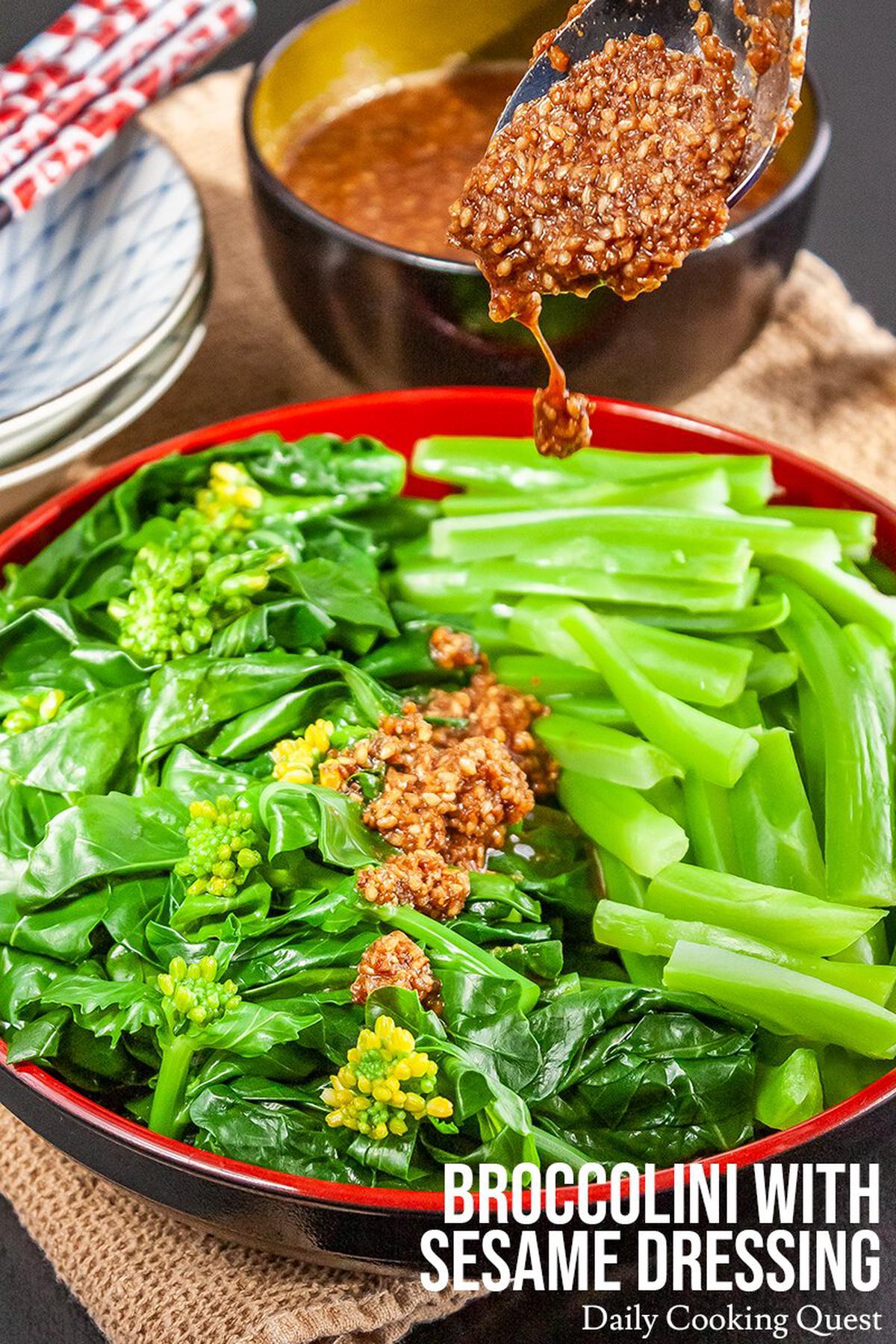 Asian Salad Feast
This post is part of collaboration with other talented food bloggers to celebrate the spring season with plenty of Asian salad dishes! A shout out to our lovely host JinJoo of Kimchimari, and also Christine of Vermillion Roots for organizing :)
Broccolini Sesame Dressing
5.0 from 8 reviews
Ingredients
450 gram (1 lb.) broccolini
Goma ae (Sesame dressing)
1/2 cup sesame seeds, toasted
1/4 cup soy sauce
2 tablespoon sugar
100 ml (6 tablespoon + 1 teaspoon) dashi stock
Instructions
Separate the green part of the broccolini from the bottom stalks. If the stalk is not too thick, half them lengthwise. If the stalk is rather thick, quarter them lengthwise. Wash and drain the greens and the stalks.
Bring a large pot of lightly salted water to a rolling boil. Add in the greens and the stalks, blanch for 2 minutes. Remove the greens first, if the stalks seems tough, feel free to cook for another 2 minutes.
Rinse the greens and stalks in cold water, and soak in a large mixing bowl filled with ice cubes and cold water for 10 minutes.
Gently squeeze the vegetables and cut into bite size pieces. Arrange in a plate.
To make the dressing, coarsely grind toasted sesame seeds. Transfer to a bowl and mix with soy sauce, sugar, and dashi stock.
Serve broccolini with the sesame dressing