Home / All Recipes / Indonesian / Buncis Tumis Tauco - Stir Fry Green Beans with Salted Soy Beans
Buncis Tumis Tauco - Stir Fry Green Beans with Salted Soy Beans
Stir frying vegetables are pretty common in Indonesia, and sometime we love adding a bit of tauco to our stir fries. If you have never had tauco stir fry, do give it a try. ♥ It is actually more typical to use kangkung (water spinach) in Indonesia, but from my past experience living abroad, kangkung can be pretty hard to come by. Some Asian markets do carry them, but not always, and not always fresh, so I decided to use green beans instead. Another pretty popular stir fry dish that use tauco is tofu and shrimp, so if you want to experiment, just substitute the green beans with 1 block of firm tofu and 150 gram of shrimps (shelled and deveined).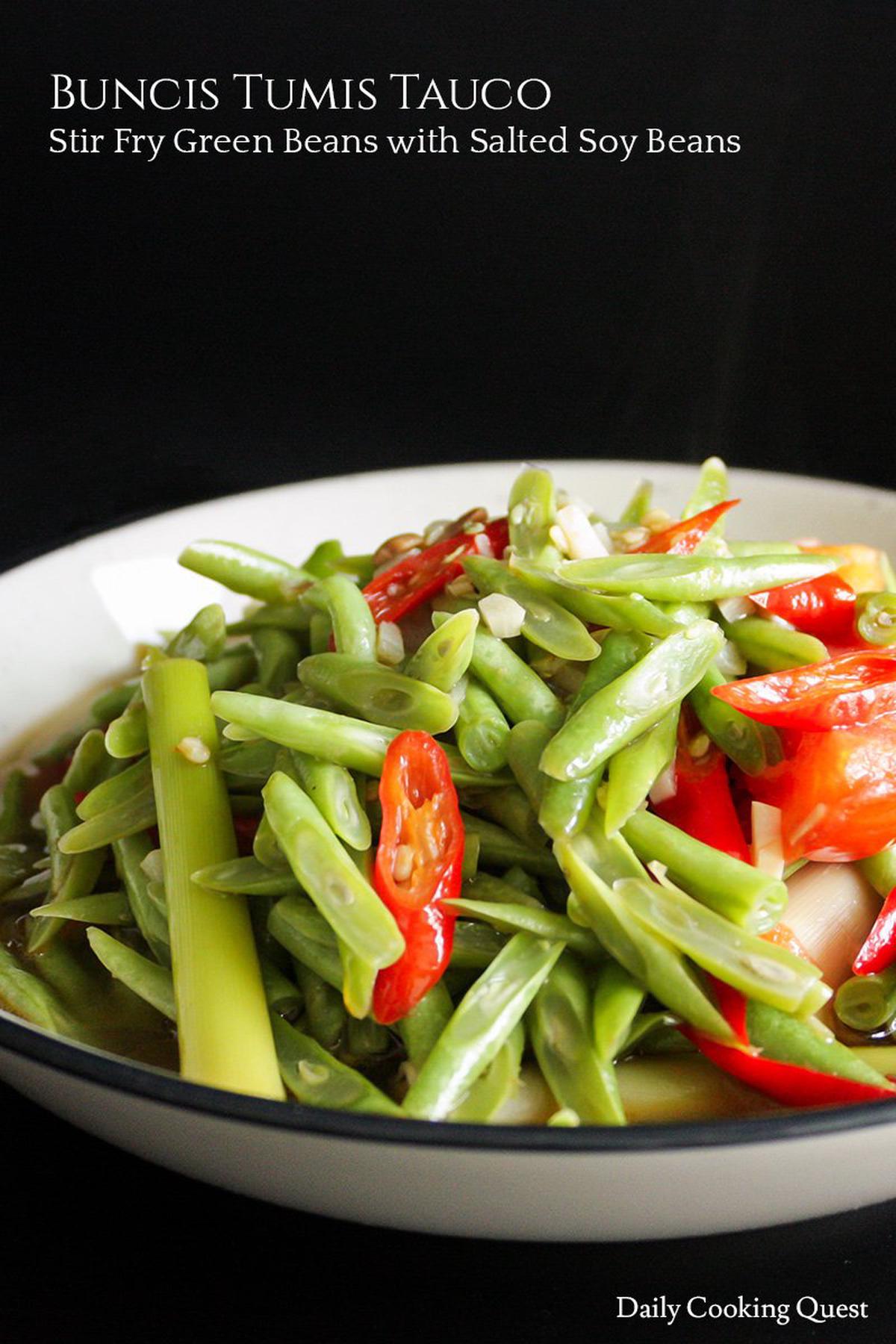 Buncis Tumis Tauco - Stir Fry Green Beans with Salted Soy Beans
5.0 from 1 reviews
Ingredients
3 tablespoon cooking oil
3 shallots, thinly sliced
3 cloves garlic, thinly sliced
1 teaspoon salted soy beans (Indonesian: tauco)
1 tablespoon sugar
1 tomato, cored and quartered
5 red chilies, sliced diagonally
2 lemongrass, remove outer layer and cut into 2 inch lengths
4 bay leaves (Indonesian: daun salam)
250 gram green beans, remove ends and sliced diagonally
1 cup hot water
1/2 tablespoon soy sauce
Instructions
Heat cooking oil in a wok or frying pan on high heat. Stir fry shallots and garlic until fragrant, about 2 minutes.
Add tauco and sugar and cook for another 30 seconds to 1 minute.
Add tomato, chilies, lemongrass, and bay leaves and cook for another 1 minute.
Add green beans, mix well so that green beans are fully coated with the rest of the ingredients.
Pour water and soy sauce and boil for 1 to 2 minutes.
Turn off heat and serve immediately with steamed white rice.