Home / All Recipes / American / Calamansi Yoghurt Cake in Rice Cooker
Calamansi Yoghurt Cake in Rice Cooker
Try baking a calamansi yoghurt cake in a rice cooker! The texture is exactly like a properly baked sponge cake, and you can use lemon instead of calamansi.
Lemon cui or calamansi is used pretty much like how we use a lime or lemon. Since I still have quite a lot of calamansi left after making calamansi juice, I decided to make a lemon yoghurt cake with calamansi juice instead of lemon juice. The verdict, moist and lovely, pretty much like a lemon yoghurt cake. I might end up sticking with calamansi in the future when making this cake seeing how it is so much cheaper compared to lemon, at least in Indonesia. ♥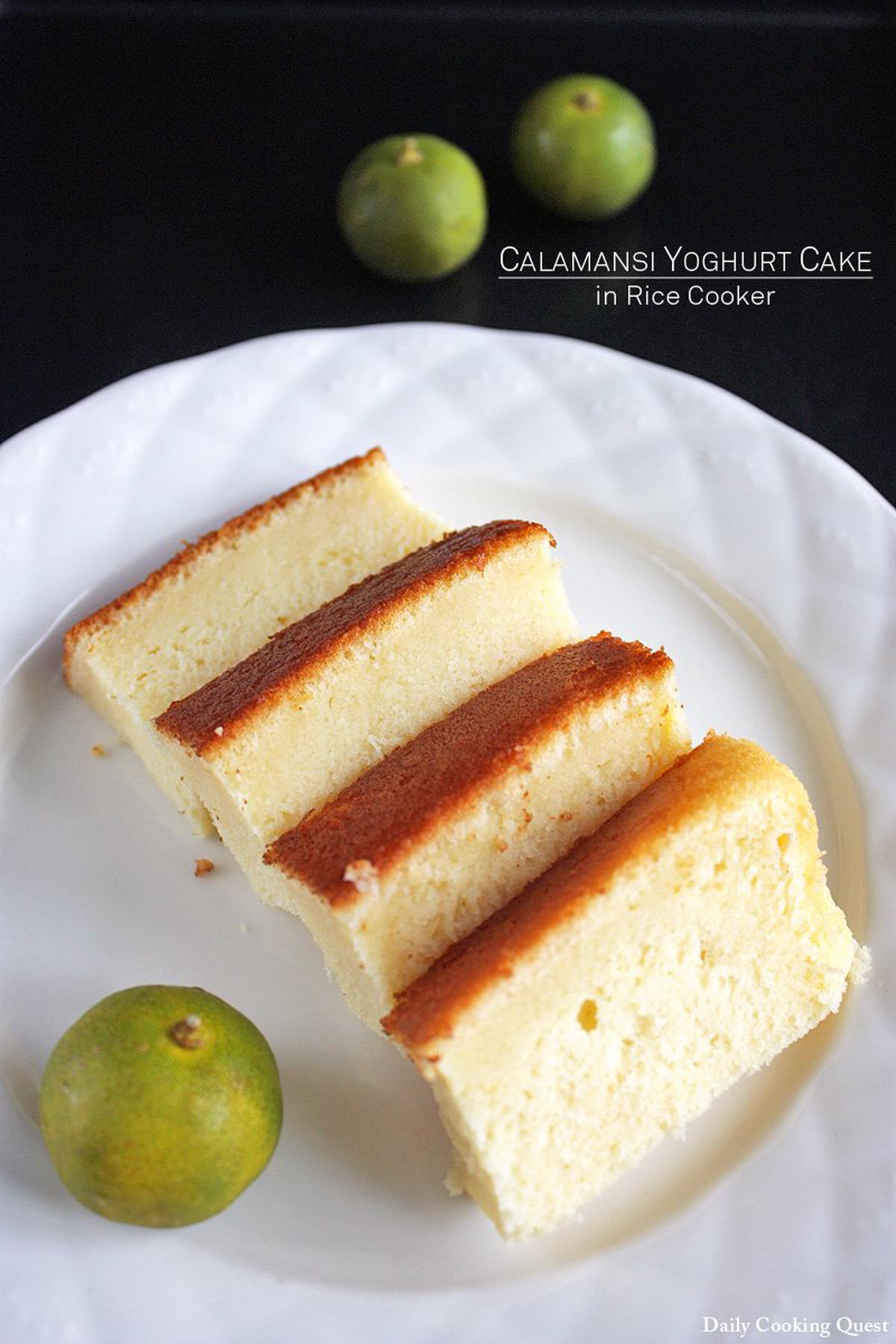 Calamansi Yoghurt Cake in Rice Cooker
5.0 from 3 reviews
Ingredients
4 eggs, separate egg whites from egg yolks
1/2 cup sugar
150 gram plain yoghurt
1/3 cup canola oil
3 tablespoon calamansi juice (about 6 calamansis)
Dry ingredients
1 cup all purpose flour, sifted
1 teaspoon baking powder
1/8 teaspoon salt
Tools
1 whisk
1 rice cooker (mine is a basic 10 cup capacity rice cooker with teflon coating pot)
Instructions
In a mixing bowl, whisk egg whites until medium peak while adding the sugar in batches, I usually do this in three batches. Then add egg yolks, and mix well.
In a separate bowl, whisk together yoghurt and canola oil until creamy. Add this mixture to the eggs and mix well.
Fold the dry ingredients with the wet ingredients with a spatula. Do not overdo this part or all that effort to aerate the egg whites will be wasted, just make sure that everything is well combined.
Last, add the calamansi juice and mix well.
(Optional) Brush the rice cooker pot with some melted butter or oil so the finished cake can be easily unmolded from the pot. If your pot has a teflon coating, you can skip this step.
Pour the batter into the rice cooker pot. Place the rice cooker pot into the rice cooker and press the "cook" button. Once it turns to "warm", wait for 10 minutes. Repeat the "cook" and "warm" process another 3 times for a total of 4 "cook" and "warm" cycles.
Open the rice cooker lid, and test if the cake is done by inserting a toothpick into the cake. If the toothpick comes out clean, it is done. If not, repeat the "cook" and "warm" cycle again until the cake is done.
Remove the rice cooker pot, cover the pot with a plate wider than the pot opening, flip upside down and the cake should drop onto the plate. Let it cool for a bit on a wire rack, then serve the cake at room temperature.