Home / All Recipes / Chinese / Chicken and Shrimp Meatball Soup
Chicken and Shrimp Meatball Soup
I am always amazed at how much meatball costs, especially those made with fish, shrimp, or cuttlefish. Plus, I always wonder how fresh and how much actual meat are those made from. It is an open secret that most of the meatballs sold are not 100% meat, at least here in Indonesia, but with added filler such as tapioca flour, so you almost never gonna get pure meatballs in the market. For meatball lovers, the best meatballs are home made ones. It is not too hard to make, delicious, and you can rest assured of what actually goes into your meatballs. Psst, if you are feeling crafty, you can use this meatball recipe to make wonton or steamed siu mai. ♥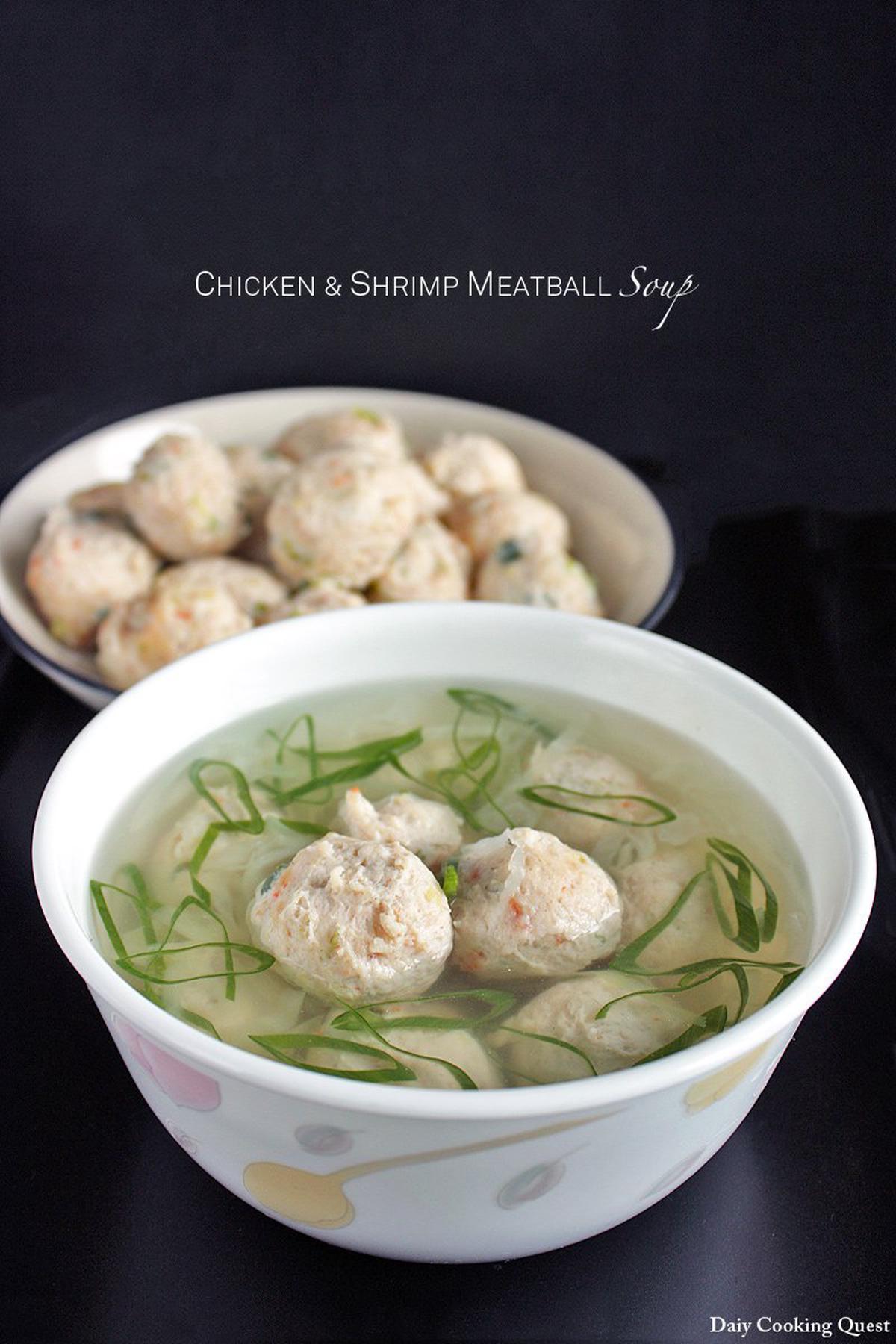 Chicken and Shrimp Meatball Soup
Ingredients
Meatball
300 gram shrimp, minced
600 gram ground chicken
2 scallions, thinly sliced
1 inch ginger, minced
1 egg
1 tablespoon corn starch
6 tablespoon water
2 teaspoon salt
1 teaspoon sugar
1/2 teaspoon ground white pepper
1 teaspoon sesame oil
Soup
300 gram shredded cabbage
2 teaspoon salt
1 teaspoon sugar
1/2 teaspoon ground white pepper
1 scallion, thinly sliced
Instructions
Meatball

In a mixing bowl, combine shrimp, chicken, scallions, ginger, egg, and cornstarch. Mix well.
Add the water and stir until water is fully incorporated by the meat mixture.
Season with salt, sugar, ground white pepper, and sesame oil. Mix well.
Bring a pot of water (about 6 cups) to a rolling boil. Drop tablespoonful of meatball mixture (you can shape with the help of two tablespoons, or you can use your hands) into the boiling water and cook until meatball floats. Once it floats, let cook for another 2 minutes. Scoop cooked meatballs and set aside. Repeat with the rest of the mixture.

Soup

Boil the water that was used to cook meatballs and add shredded cabbage. Season with salt, sugar, and ground white pepper, and adjust seasoning as needed. Cook for 5 minutes.
Return the cooked meatballs to the soup to reheat the meatballs. Cook for 1 or 2 minutes.
Turn off heat and serve hot garnished with sliced scallions.