Home / All Recipes / Japanese / Chicken and Tofu Meatball
Chicken and Tofu Meatball
Do you know that if you add tofu to ground meat and made patties or meatballs out of said blend, you are guaranteed to end up with a juicier result than if you don't? This is one of the little tricks I learned along the way, I think way back from one of my earlier Japanese cookbooks. I owned so… many cookbooks along the way, and since I moved constantly, I always ended up losing some of them, so sad :(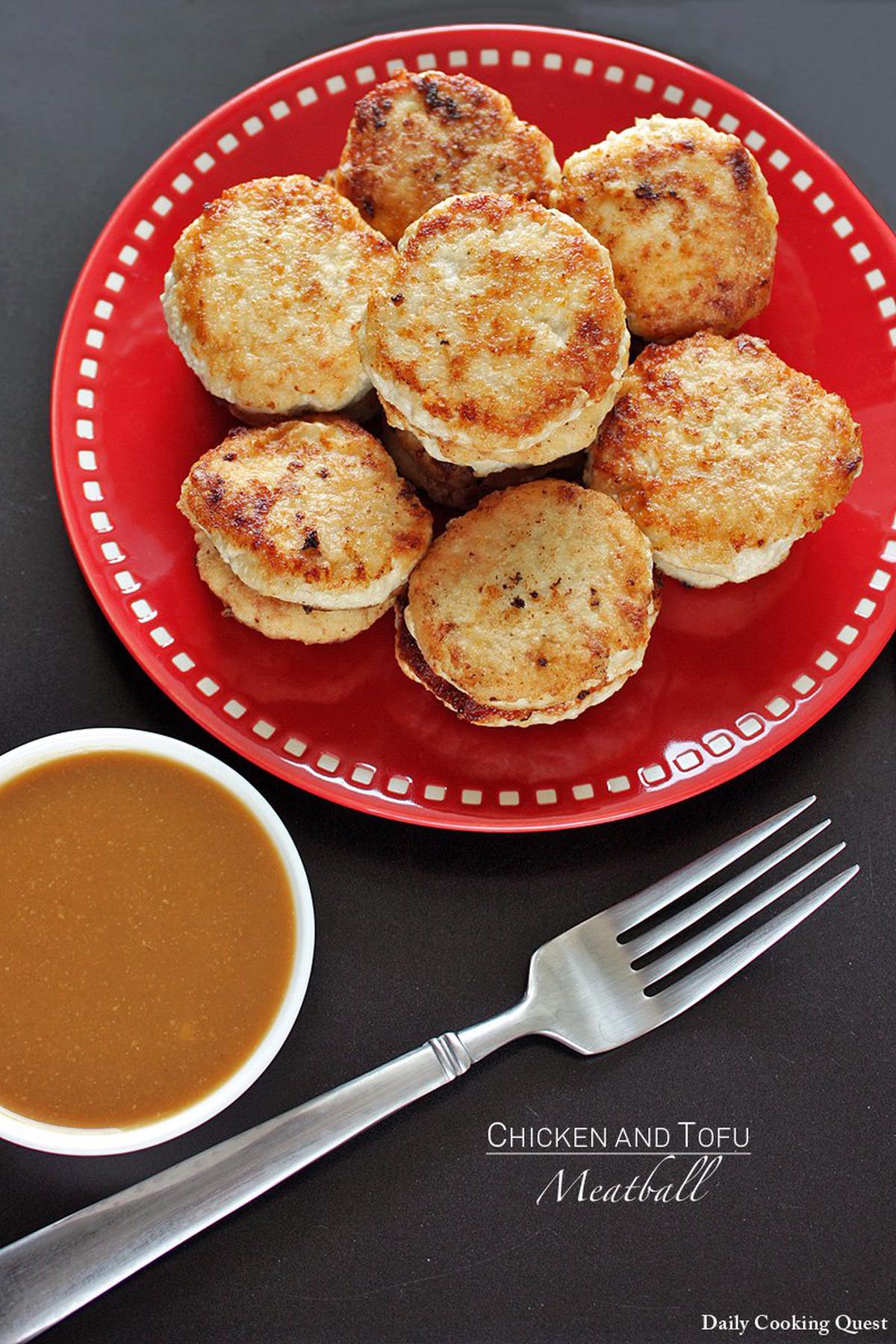 Anyway, let's talk about this meatball, or patty, or whatever you want to call it since this same meat tofu mixture can be used for a lot of thing, like burger, or stuff it inside hollowed vegetables like bell peppers, and so on. Here, I just simply shape it into patties, dust with some corn flour, then pan fried until golden brown, exactly like how you would make a pan fried burger patty. Then, I make a simple miso based dipping sauce, but you can just use plain old tomato sauce and any chili sauce of your choice. ♥
Chicken and Tofu Meatball
Ingredients
Chicken and tofu meatball
450 gram ground chicken
250 gram silken tofu
1 tablespoon miso paste
1 teaspoon grated ginger
1 teaspoon corn starch
1 teaspoon sake
corn starch, for dusting
oil for pan frying
Miso based dipping sauce
2 tablespoon water
1 tablespoon miso paste
1 teaspoon soy sauce
1 teaspoon mirin
Instructions
Chicken and tofu meatball

Mix together ground chicken, silken tofu, miso paste, grated ginger, corn starch, and sake in a mixing bowl.
Shape the mixture into round balls, then flatten slightly with your palm into disc shapes (or patties). Dust with some corn starch and set aside. Repeat until all meat mixture is used up.
Heat some oil in a frying pan, then place 3 to 4 patties to the pan (try not to over crowd the pan). Cook until the side touching the pan is golden brown, about 4 to 5 minutes. Flip and cook again until golden brown, another 4 to 5 minutes. Set aside. Repeat until all the patties are cooked.

Miso based dipping sauce

Add all dipping sauce ingredients in a small sauce pan. Whisk/stir until miso paste is completely mixed with the rest of the ingredients.
Turn on the heat and cook until the sauce is boiling. Turn off heat and pour the sauce in a small bowl.