Home / All Recipes / Chinese / Chicken Floss
If you are Chinese, or have ever stepped into a Chinese bakery, you probably know what meat floss is. This stuff looks fluffy and smells wonderful, and often sold in big plastic jars in the grocery stores.
Meat floss can be made from chicken, pork, and even fish!
They are delicious eaten as is, or as a companion to congee (my favorite!), or stuffed into sandwiches, and in fact, a lot of Chinese bakeries sell meat floss bread. I've even spotted meat floss sponge cake recently.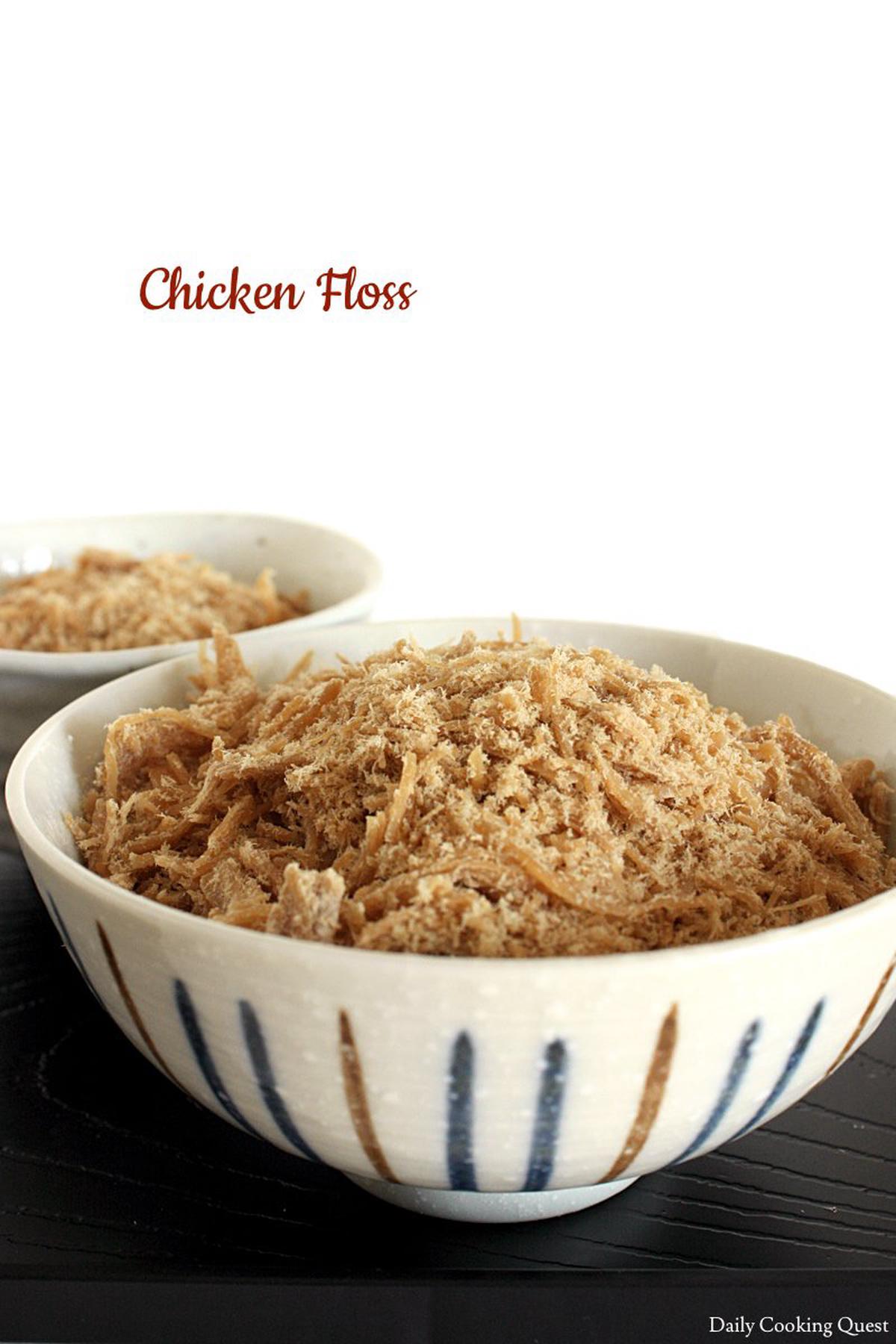 When I was younger, we only eat this with porridge, but around my college years, I think starting with Bread Talk (a very popular bakery chain in Asia), meat floss bread has been cropping up everywhere I turn and now it is unthinkable that once upon a time it wasn't the case.
Anyway, you don't have to make your own meat floss since it is not a difficult item to find in Asian grocery stores. But I am a worry wart and I don't like seeing meat stuff with crazy long expiration date, so I try to make them myself.
Chicken Floss
Ingredients
a pair boneless skinless chicken breast, about 650-700 gram
3 scallions, knotted
1 inch ginger, cut into thin slices
2 tablespoon soy sauce
2 tablespoon Shaoxing wine
4 cups water
3 tablespoon soy sauce
2 tablespoon fish sauce
1/2 tablespoon oyster sauce
4 tablespoon sugar
1/2 tablespoon brown sugar
1/2 teaspoon ground white pepper
Instructions
Place chicken breast, scallions, ginger, soy sauce, Shaoxing wine, and water in a pot. Bring to a boil. Reduce to a simmer, cover the pot, and cook for 30 minutes. Turn off heat, remove the chicken from the pot and set aside to cool.
Once the chicken is cool enough to handle, tear the meat into thin shreds. I use my hands, but you can use two forks.
In a mixing bowl, mix the shredded chicken meat with soy sauce, fish sauce, oyster sauce, sugar, brown sugar, and ground white pepper.
Heat 3 tablespoon oil in a wok/frying pan on medium heat. Add the chicken into the pan. Stir until dry, about 10-15 minutes. Then turn the heat to low, keep stirring and tossing until fully dry and even slightly toasty, about 45 minutes.