Home / All Recipes / Indonesian / Chicken Satay with Chili Soy Sauce
Chicken Satay with Chili Soy Sauce
To me, chicken stay (or any satay) conjures up images of street side hawker seller patiently fan a charcoal grill to cook the satay to perfection. The smell of satay grilling away is sure to lure hungry passerby. One can of course find satay sold in restaurants and food courts, but somehow not quite as memorable as those sold by the hawkers. Apparently, seeing them made is half the fun. ♥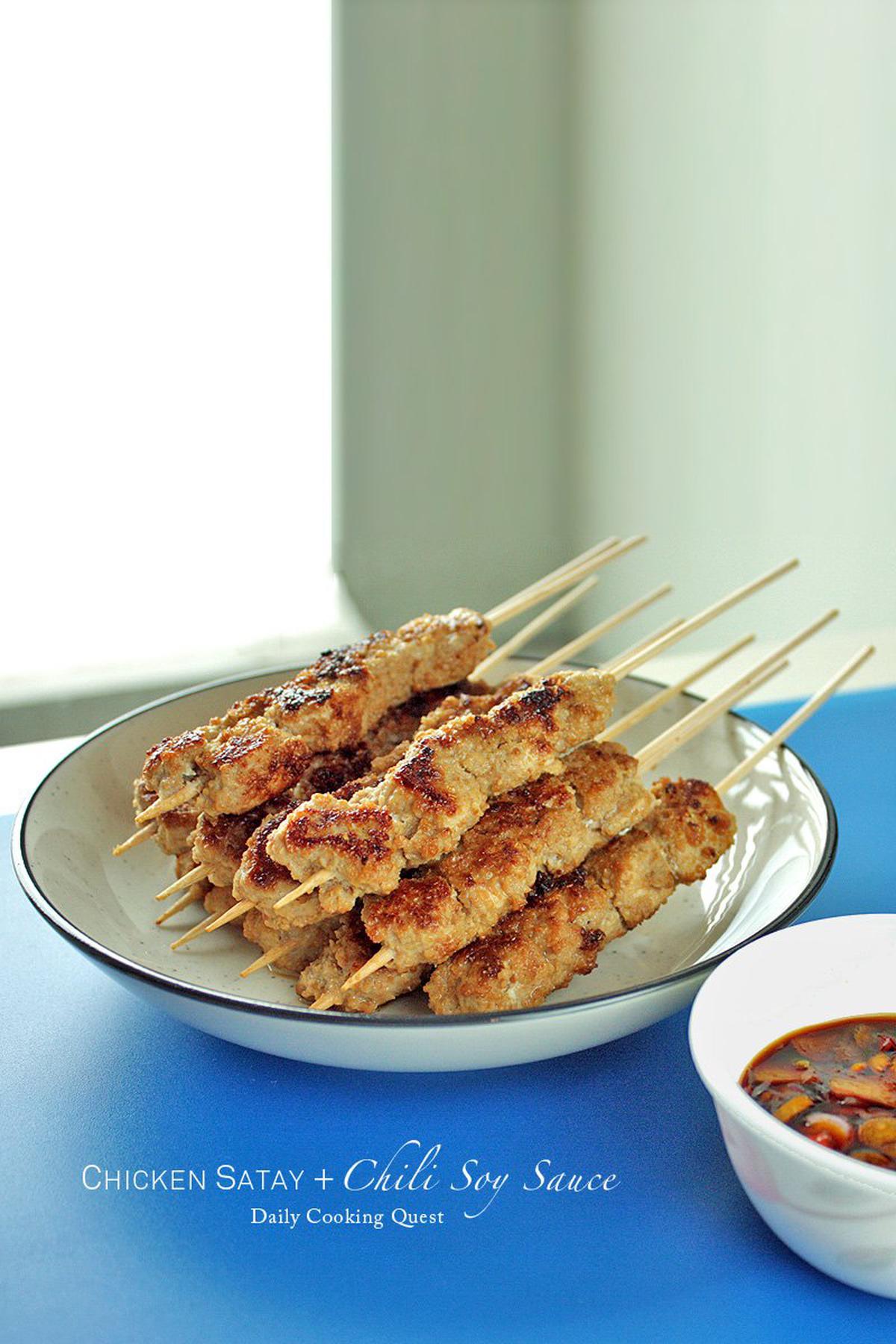 You can cook satay at home even without a grill as long as you have a frying pan big enough so the satay can lay flat while cooking. To prepare a great tasting satay, marinating the meat is a must. Either chicken breast or chicken thigh can be used in this recipe. First, cut the chicken into small 1 inch cubes and marinate in spices for 30 minutes to 2 hours (the longer you marinate, the better) in refrigerator. Skewer the marinated chicken on bamboo skewers, 4 pieces to a skewer. The satay is now ready to be cooked.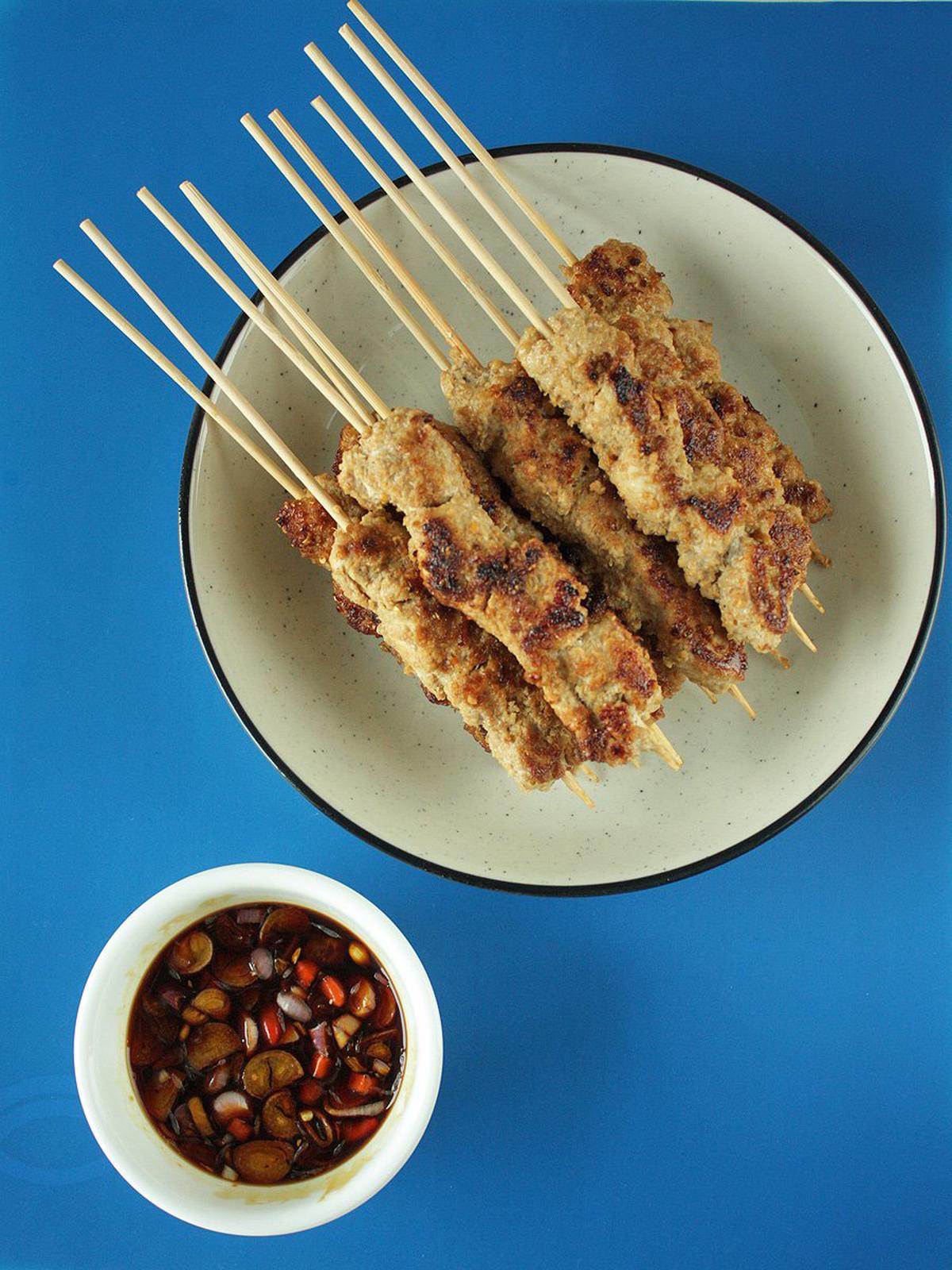 For the dipping sauce, I prepare a simple sambal using chili, shallot, lime juice, and sweet soy sauce. I love this sauce and it is so fast to make. Some people will insist that chicken satay needs to be accompanied with a peanut sauce, but I digress. Why make a complicated sauce when a simple one like this works like a charm? :)
Chicken Satay with Chili Soy Sauce
Ingredients
Chicken satay
350 gram boneless skinless chicken breast/thigh, cut into 1 inch cubes
6 shallots (Indonesian: bawang merah)
2 cloves garlic (Indonesian: bawang putih)
20 gram coriander seeds (Indonesian: biji ketumbar)
1/2 teaspoon palm sugar (Indonesian: gula Jawa), shaved
1/2 teaspoon salt
1/2 teaspoon tamarind pulp (Indonesian: asam Jawa), soaked in 1/4 cup warm water, remove pits and membranes after soaking
2 tablespoon oil
Chili soy sauce
3 shallots (Indonesian: bawang merah), thinly sliced
2 Thai chili (Indonesian: cabe rawit), seeded and thinly sliced
juice of 1 lime (Indonesian: jeruk nipis)
4 tablespoon sweet soy sauce (Indonesian: kecap manis)
Instructions
Chicken satay

Grind together shallots, garlic, and coriander seeds into a paste. Combine this with palm sugar, salt, and tamarind juice and mix well.
In a bowl, marinate the chicken cubes with the marinating spice. Set aside in a fridge for 30 minutes to 2 hours.
Skewer 4 chicken cubes to a bamboo skewer. Repeat until all chicken cubes are skewered.
Heat 2 tablespoon of oil in a frying pan. Pan fry satay each side for 3 to 4 minutes until cooked and golden brown (a bit of charring is lovely). Cook in batches if your frying pan cannot accommodate all satay at once.
Served immediately with the chili soy sauce.

Chili soy sauce

Mix all ingredients in a bowl and set aside.