Home / All Recipes / Indian / Chicken Tikka Masala
Anyone who has ever eaten in an Indian restaurant will most likely have tried chicken tikka masala. Indian cuisine is hard to come by in Indonesia, but I spent close to two years in Malaysia and that was the first time I had a crash course in Indian cuisine. I remember every dish sounded very alien, yet I had to try every single dish, in multiple occasions of course, I am not a glutton you know :)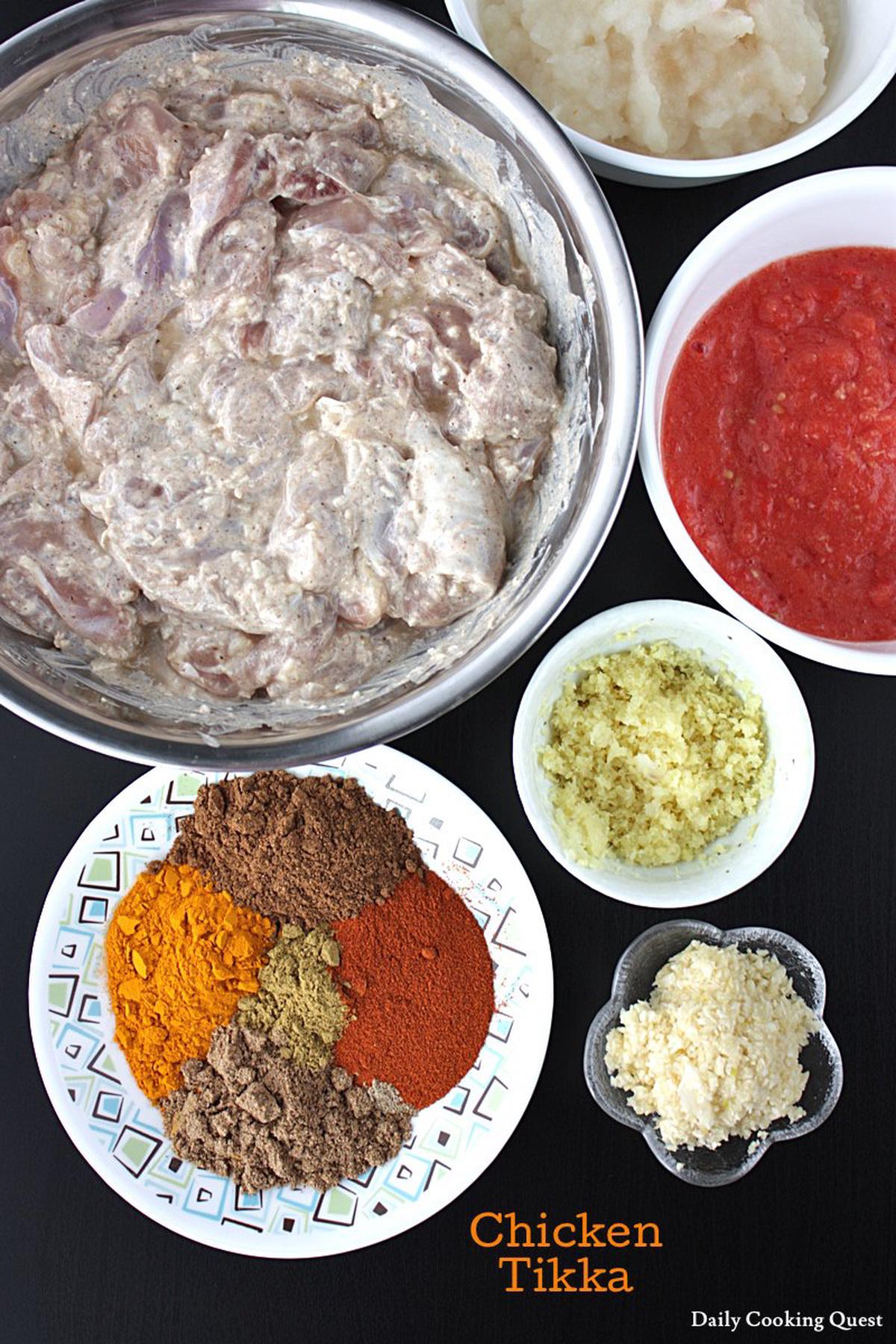 Plenty of spices = bold flavor
The first thing that strikes me when I bought my very first Indian cook book decades ago was every single dish comes with a super long list of ingredients. Even to me who regularly cook Indonesian dishes, the list of spices and herbs involved to create any single Indian dish can feel intimidating. But if you want that signature bold flavor, you simply must persevere and gather all the necessary spices and herbs.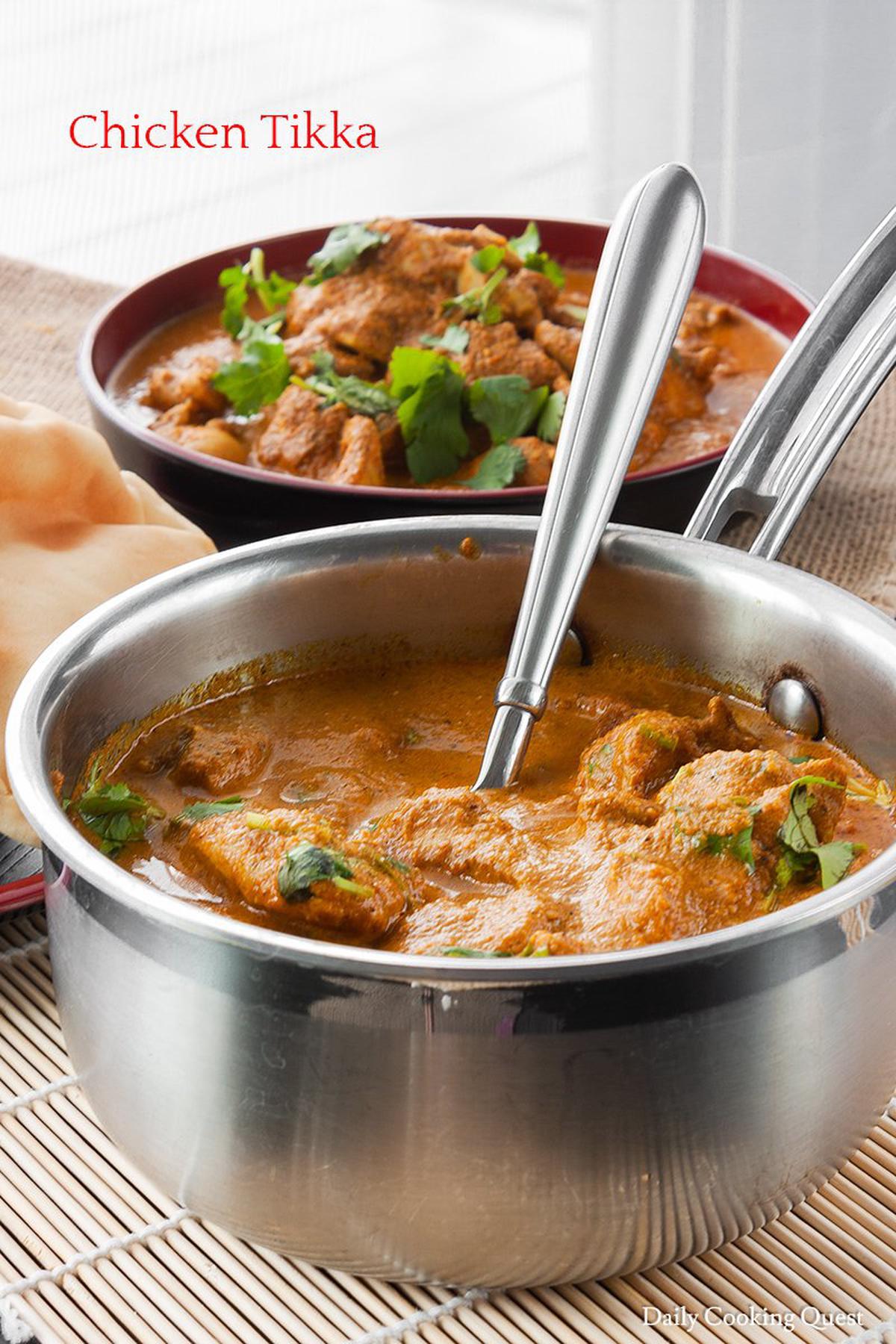 Simple cooking process
Once you manage to look pass the super dizzying list of ingredients and move on to the steps to actually cook the dish, it is actually pretty simple. In fact I would say the prep work took me far longer than the total time I need to spend in front of the stove to actually stir and cook. Great news right? So hop on to the recipe and I hope you will give this dish a try :)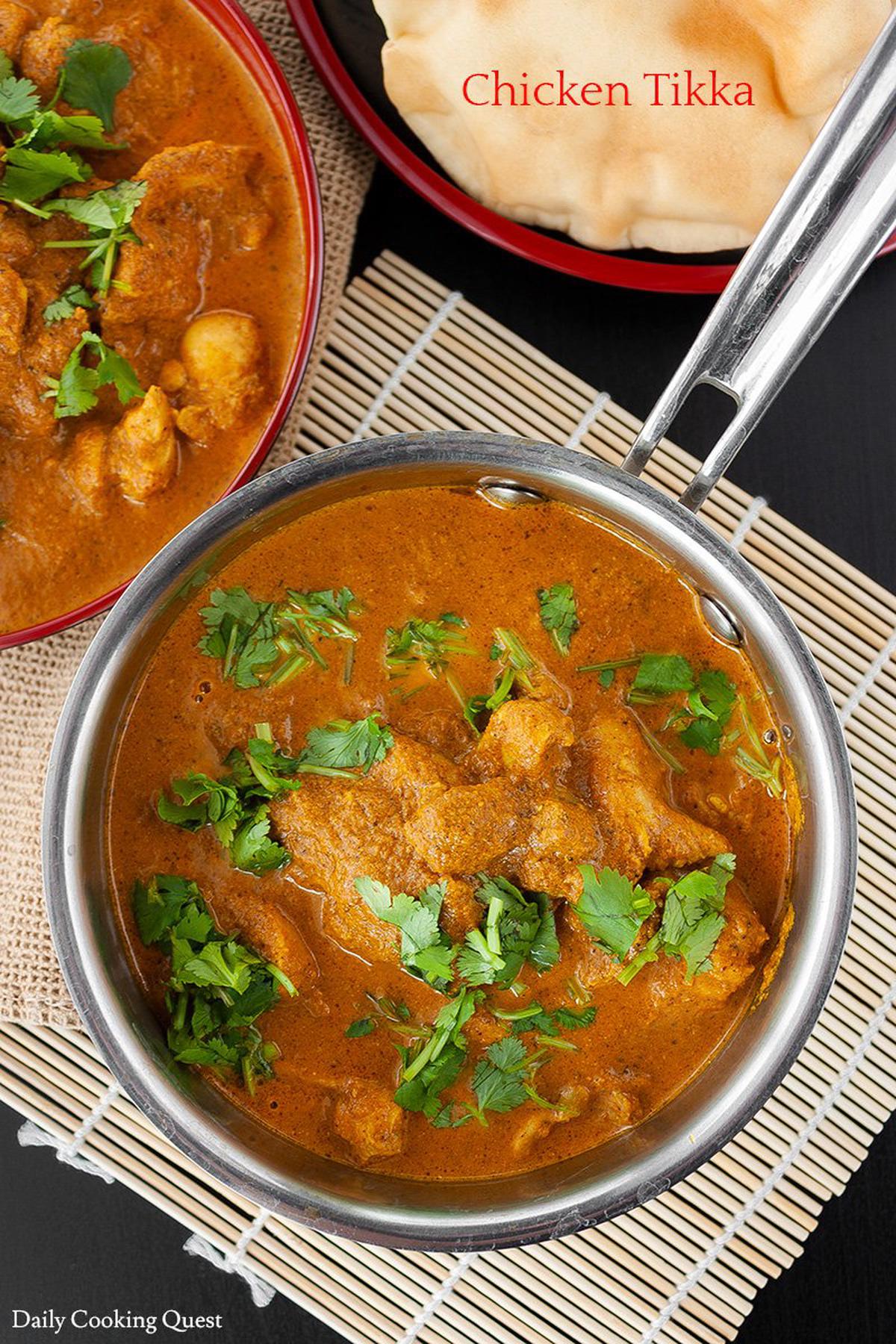 Chicken Tikka Masala
4.7 from 3 reviews
Ingredients
Chicken marinade
1 kilogram chicken thigh meat, cut into cubes
1/2 cup plain yoghurt, preferably greek yoghurt
1 inch ginger, grated
6 cloves garlic, minced
1 teaspoon each salt, cumin, coriander, paprika, and garam masala
1/8 teaspoon chili powder
1 tablespoon vegetable oil
1/8 teaspoon black pepper
2 teaspoon lemon/lime juice
Dry spice
2 tablespoon garam masala
4 teaspoon turmeric
2 tablespoon chili/cayenne powder
4 teaspoon coriander
2 teaspoon cumin
1/4 teaspoon cardamom
Other
8 tablespoon unsalted butter, divided
1 large onion, puree
2 inch ginger, grated
1 tablespoon salt
8 cloves garlic, minced
3 cup tomato puree (~ 7-8 fresh tomato)
3 cup water
1/3 cup plain yoghurt, preferably greek yoghurt
1/3 cup milk
1 tablespoon sugar
Garnish (optional)
1/4-1/2 cup freshly chopped cilantro leaves
Instructions
Mix chicken with all the marinating sauce in a large mixing bowl, then marinate for at least 4 hours, preferably overnight.
Heat 2 tablespoon oil in a large skillet (mine is 3.5 quart, you don't want anything smaller than this!) over high heat. Once it is hot and a bit of smoky, add chicken pieces (in batches!), sear both sides until slightly charred, about 2 minutes per side. Set the chicken aside, and don't worry if they are not fully cooked.
By the end of searing the chicken, you should see some fat rendered from the chicken. If not, add a bit of oil (about 2-4 tablespoon), along with 4 tablespoon of butter and reduce heat to medium-high.
Once the butter melts, add onion and ginger. Cook for 5 minutes.
Reduce heat to medium, then add salt and garlic. Cook for 2 minutes.
Add all the dry spice, and cook for another 2 minutes.
Add tomato puree and water. Stir to mix, and bring to a boil. Reduce heat to a simmer, cover the pan with a lid. Simmer over low heat for 15 minutes.
Turn off heat. Transfer the sauce to a blender and puree until smooth. You may want to do this in batches. Then, transfer the pureed sauce back to the skillet. If you have an immersion blender, you can blend the sauce straight in the skillet!
Turn the heat on again to medium-low, and add the remaining 4 tablespoon of butter, yoghurt, milk, and sugar. Stir until butter melts and the yoghurt is completely incorporated.
Return the seared chicken to the skillet and stir. Simmer for about 5 minutes, or just until the chicken is completely cooked.
Turn the heat off, transfer to a serving bowl/platter, and garnish with cilantro leaves. Serve with naan, or steamed white rice, preferably basmati.