Home / All Recipes / Chinese / Chinese Chicken Herbal Soup
Chinese Chicken Herbal Soup
Chinese chicken herbal soup recipe handed down from Grandma to Mom and finally to me, with guides to help you get the necessary herbs for this classic herbal soup.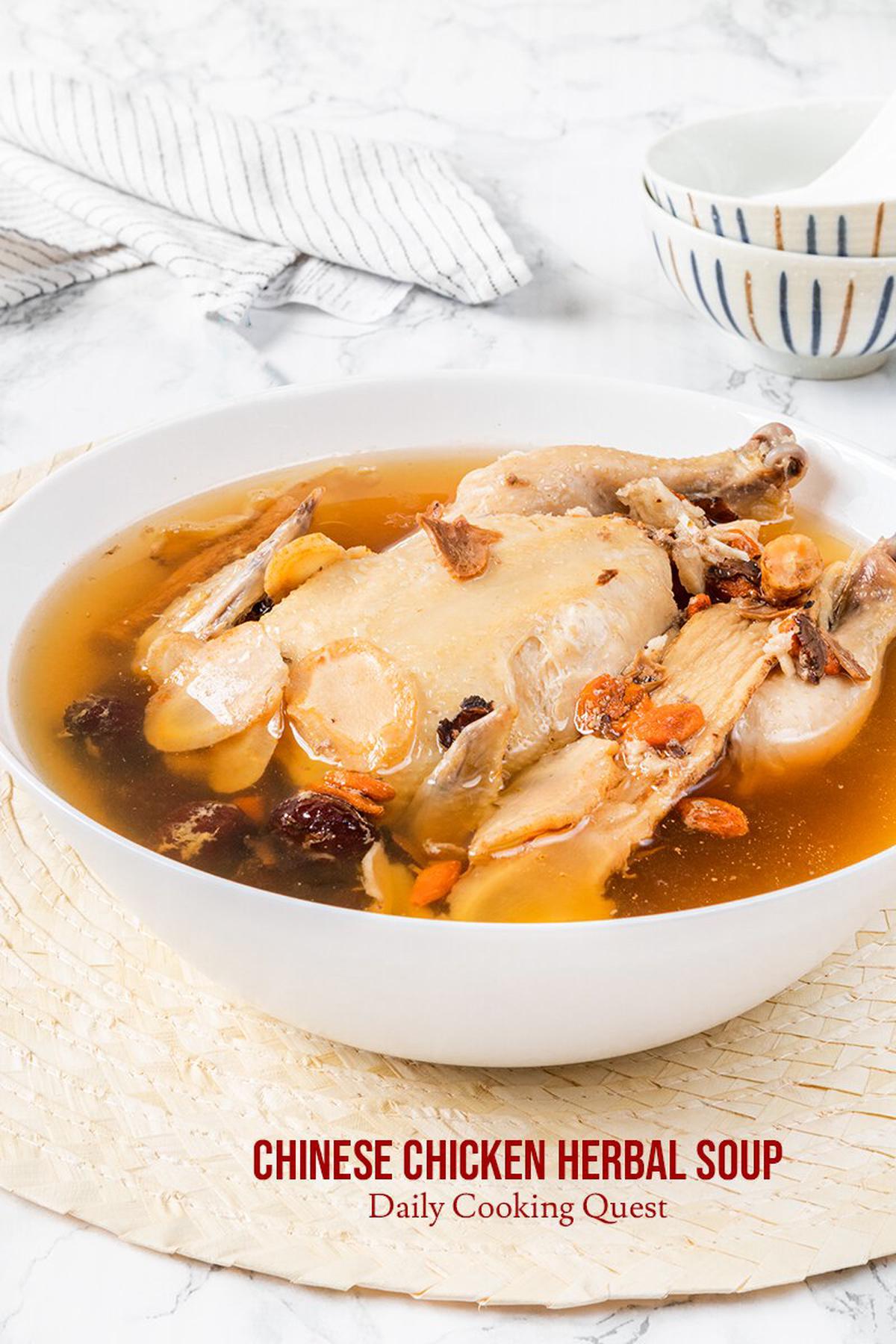 My Mom insists that we drink a bowl of Chinese herbal soup once a week, no more and no less.
Each week she diligently prepares a different herbal soup for us. This ritual is something that I truly miss once I live apart from my family, and I wish I had shown more appreciation of how special and meaningful this has been in my upbringing.
Among the many Chinese soup recipes that my Mom prepares, I would pick this Chinese chicken herbal soup as THE ultimate herbal soup.
The smell that fills the house whenever this soup is slowly simmering away on a stove reminds me of a Chinese herbal store, really nostalgic and somehow just feels the healthiest.
Chinese herbs for the herbal soup
Each family has a different mix of Chinese herbs to prepare this soup, but these are the ingredients that I learn from my Mom, and she from my Grandma: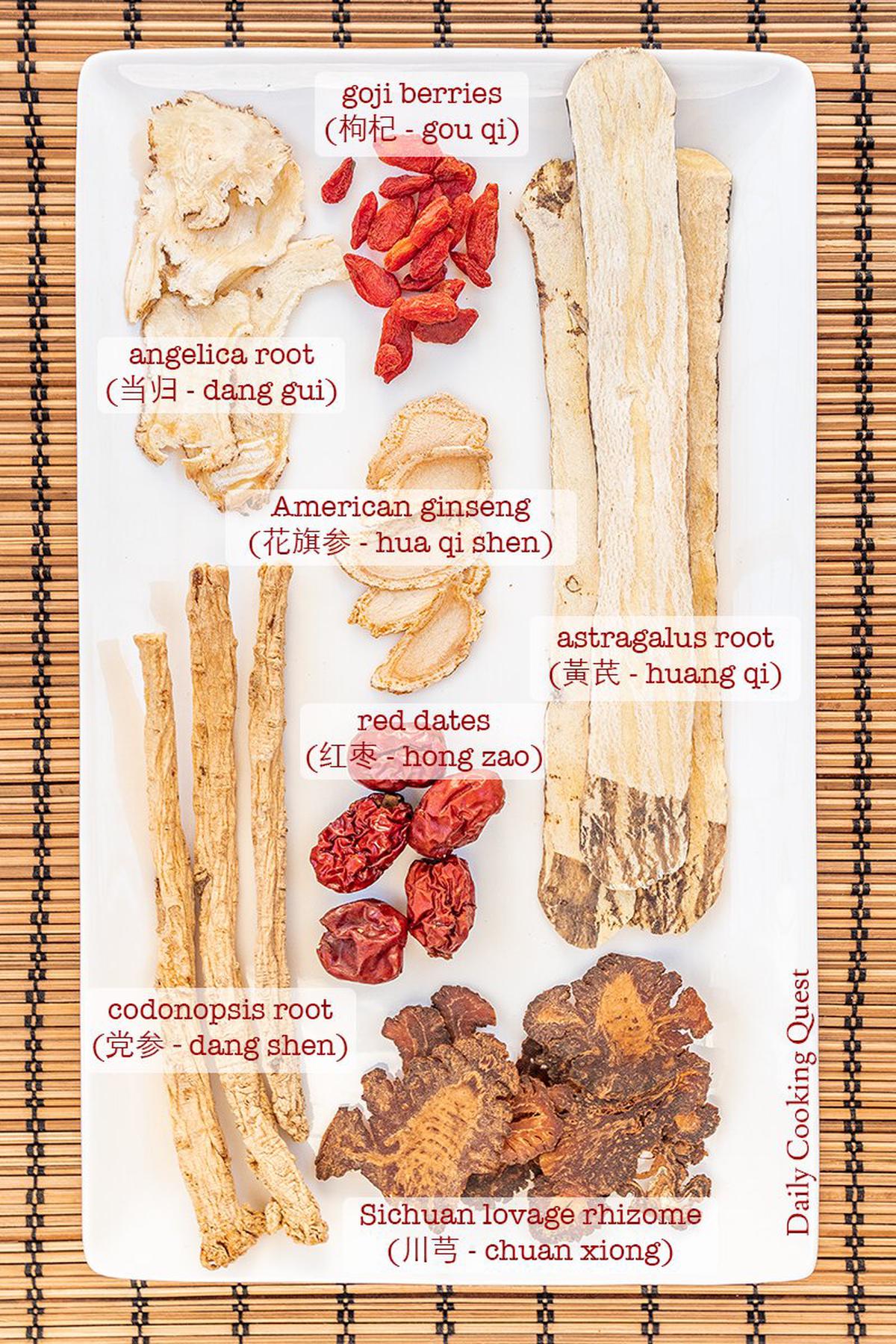 I admit it can be really hard to gather all these different Chinese herbs unless you live in a city where you have easy access to Chinatown, or bigger Chinese groceries the likes of 99 Ranch or Marina on the West Coast.
There are several photos in this post with a clear shot on the individual ingredient. Hopefully, they can help you find the necessary herbs. You can always show the photos to a store helper in Chinatown or a Chinese grocery store and get them to help you locate the herbs.
I also provide Amazon links to each ingredient in case buying online is the easiest option.
The recipe from my Mom has two types of ginseng: American (yellow) ginseng and Korean (red) ginseng. It is not necessary to use both ginsengs in the soup. You can use 100% American ginseng or 100% Korean ginseng, but please increase the amount when you do so.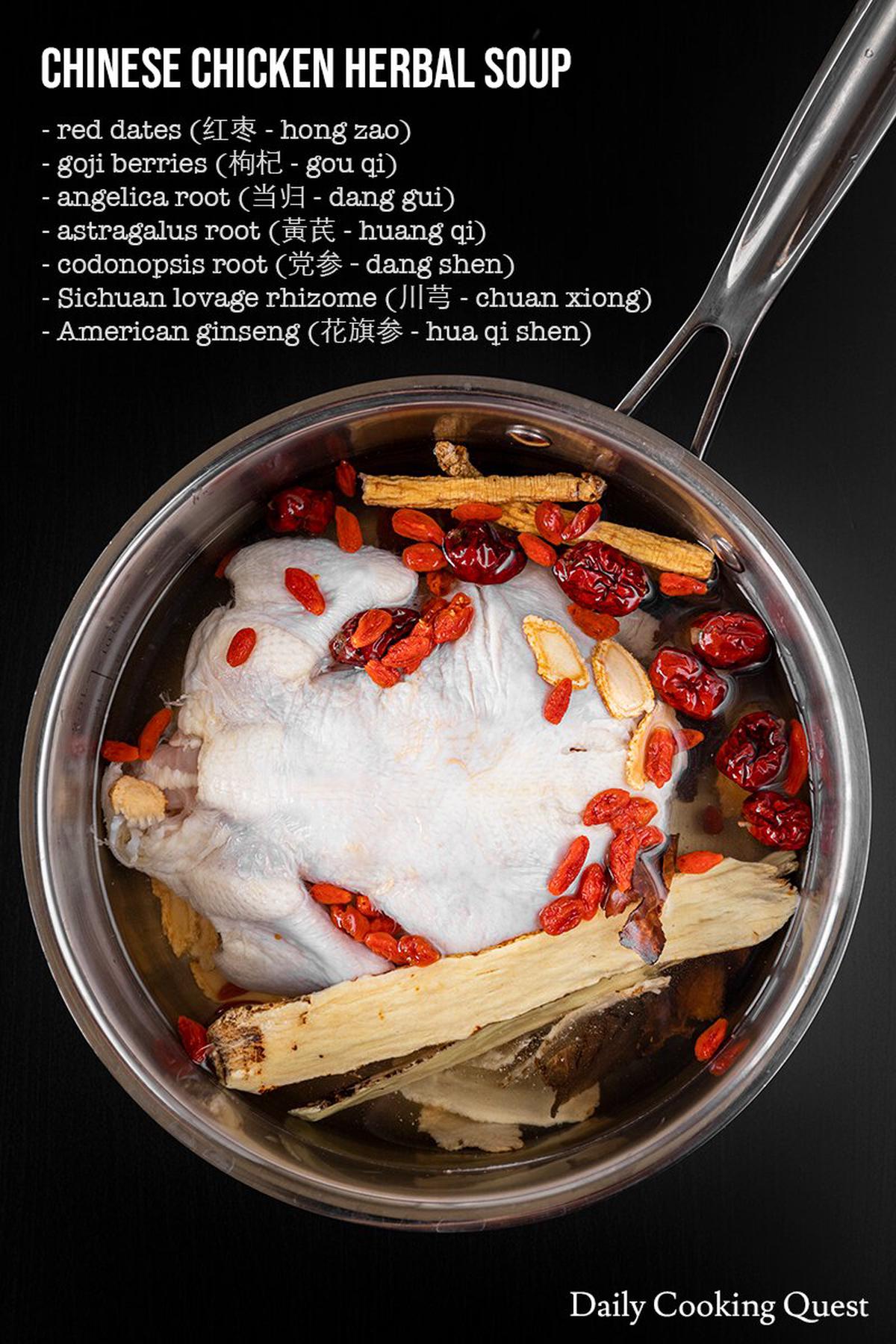 Is there an easy prepackaged version for this chicken soup herb mix?
I've searched high and low for a prepackaged herbal mix that contains the exact herbs my family has been using, and I haven't been able to do that. The closest that I have found so far is this chicken soup mix base. This particular mix has:
red dates
goji berries
angelica root/dang gui
astragalus/huang qi
codonopsis root/dang shen
Chinese yam
shiitake
So the first 5 out of 7 listed ingredients are the same as my first 5 out of 8 ingredients. Instead of Sichuan lovage/chuan xiong and ginseng, this particular package includes Chinese yam and shiitake mushroom instead.
You will still end up with a great soup even using this convenient prepackaged mix, but it just won't be the same as my herbal mix. :)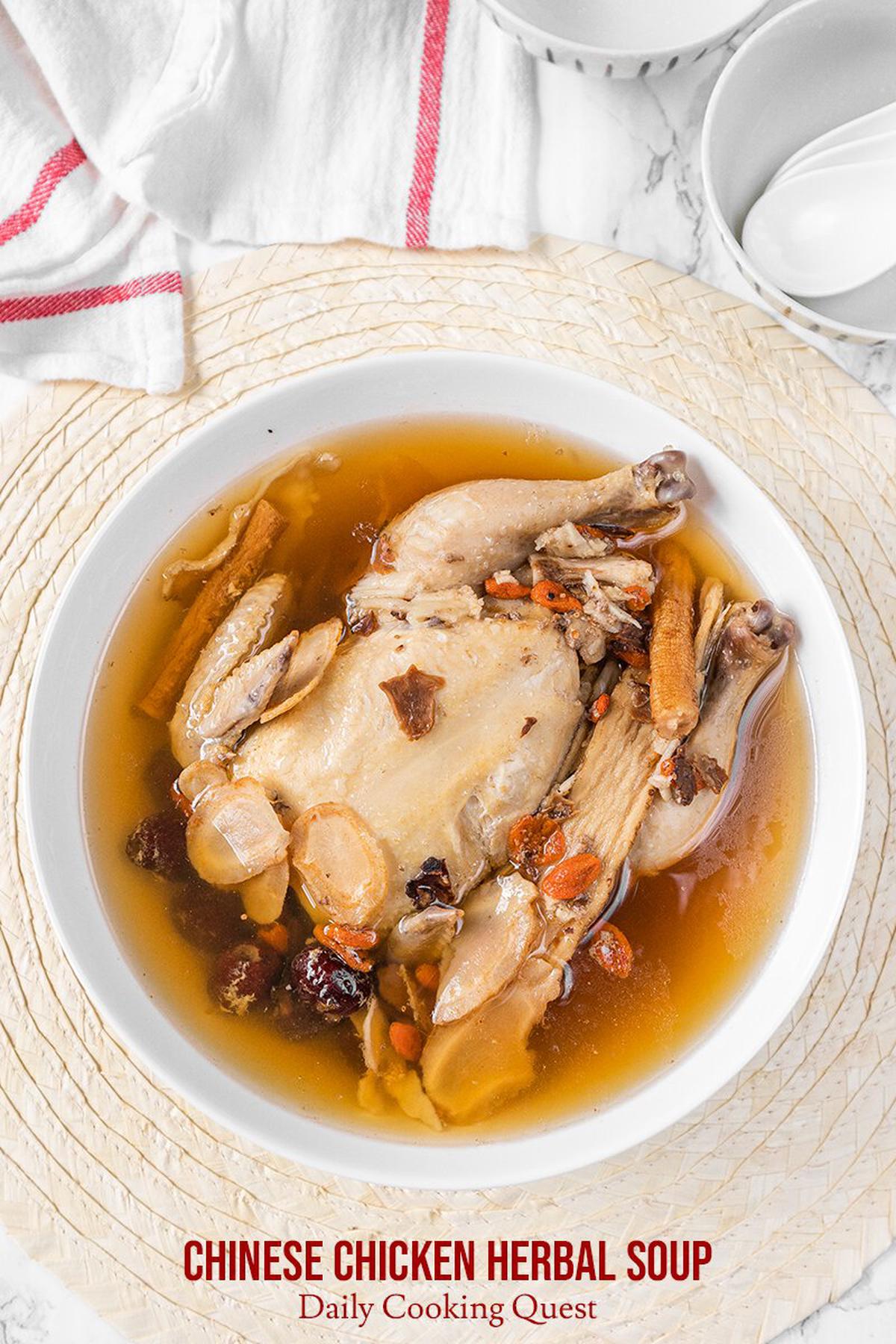 Which chicken is suitable for Chinese soup
In Indonesia, Malaysia, and Singapore, we love using ayam kampung (free-range chicken) to prepare Chinese chicken soup.
And for special occasions, like for Chinese New Year, my Mom would sometimes use black silkie chicken. You may see silkie chicken sold in your Asian market, they have black skin, and black meat, though if you have ever seen a life silkie chicken, they look very fluffy and super cute. :)
Another chicken variety that I have tried is Cornish chicken, which is also a good choice to prepare all kinds of Chinese chicken soup.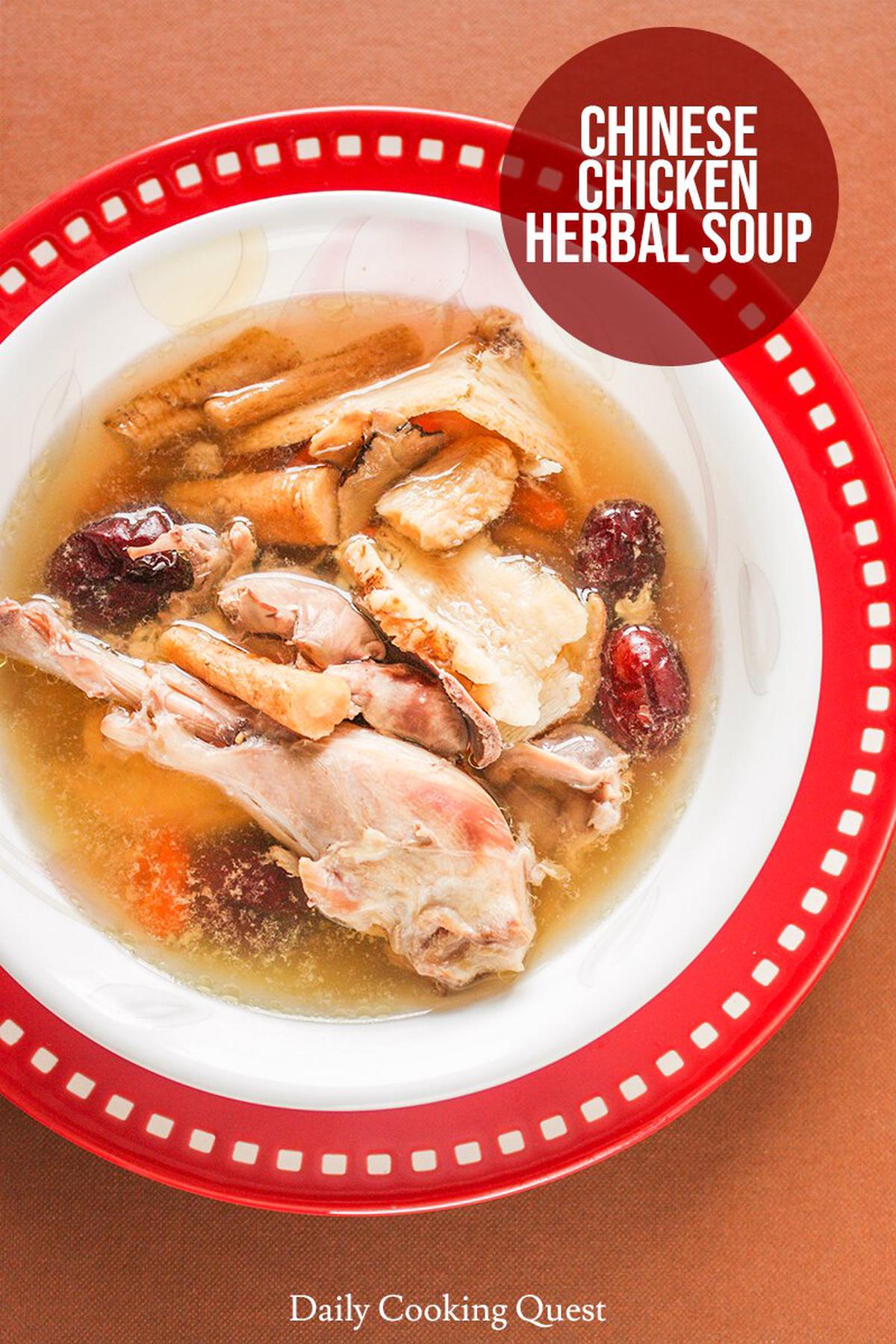 Chinese Chicken Herbal Soup
5.0 from 11 reviews
Ingredients
Instructions
Rinse and drain all the dried herbs to remove dust and dirt.
Place all ingredients in a soup pot and bring to a boil. Reduce heat and simmer for 1 hour or until chicken is tender and fully cooked. Remove from heat and serve warm.