Home / All Recipes / Chinese / Chinese Spareribs with Shallots
Chinese Spareribs with Shallots
Finger-licking good Chinese spareribs, with sticky sweet and savory glaze. You won't be able to stop until the very last piece and the plate is clean!
Finger licking spareribs with minimum effort! These Chinese spareribs with shallots is seriously one of the easiest and most delicious dishes I can imagine, precisely how comfort food should be. Plus, the recipe is so easy it is almost impossible to mess up. There are simply so many pluses to this dish that I am going to keep making this from time to time :)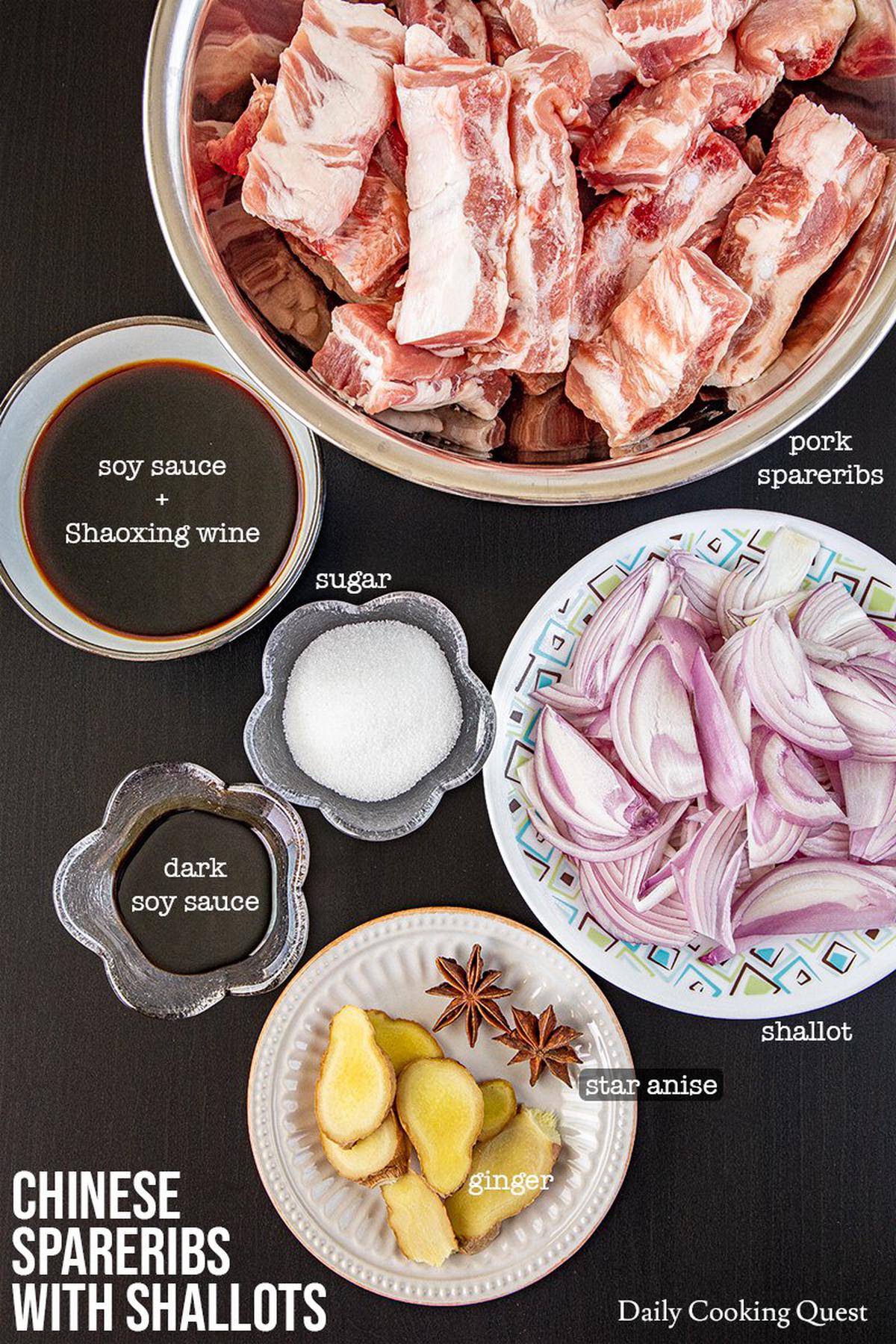 What you will need to prepare this dish
As long as your kitchen is stocked with common Chinese pantry ingredients, you should have no problem gathering all that you need to make this dish.
Asides from the pork spareribs and shallots, you will need:
light soy sauce, or sub with a reduced-sodium regular soy sauce (some people find that using regular soy sauce may be a bit too salty)
Shaoxing wine
star anise
ginger
rock sugar, or regular granulated sugar
salt
The first two ingredients are needed to marinate the pork spareribs, and the rest along with the marinating sauce is needed to prepare the sauce.
Good substitutes for Shaoxing wine
Whenever possible, please use Shaoxing wine that is meant for drinking, which is the one with 0% salt content. Otherwise, you can also use cooking Shaoxing wine, which is the one with salt content. Some other good substitutes that I have tried include:
mi jiu (Chinese rice cooking wine), the one with clear color
sake (Japanese rice wine), again, drinking grade is preferable to cooking grade
Please don't substitute Shaoxing wine with rice wine vinegar as the taste is very different.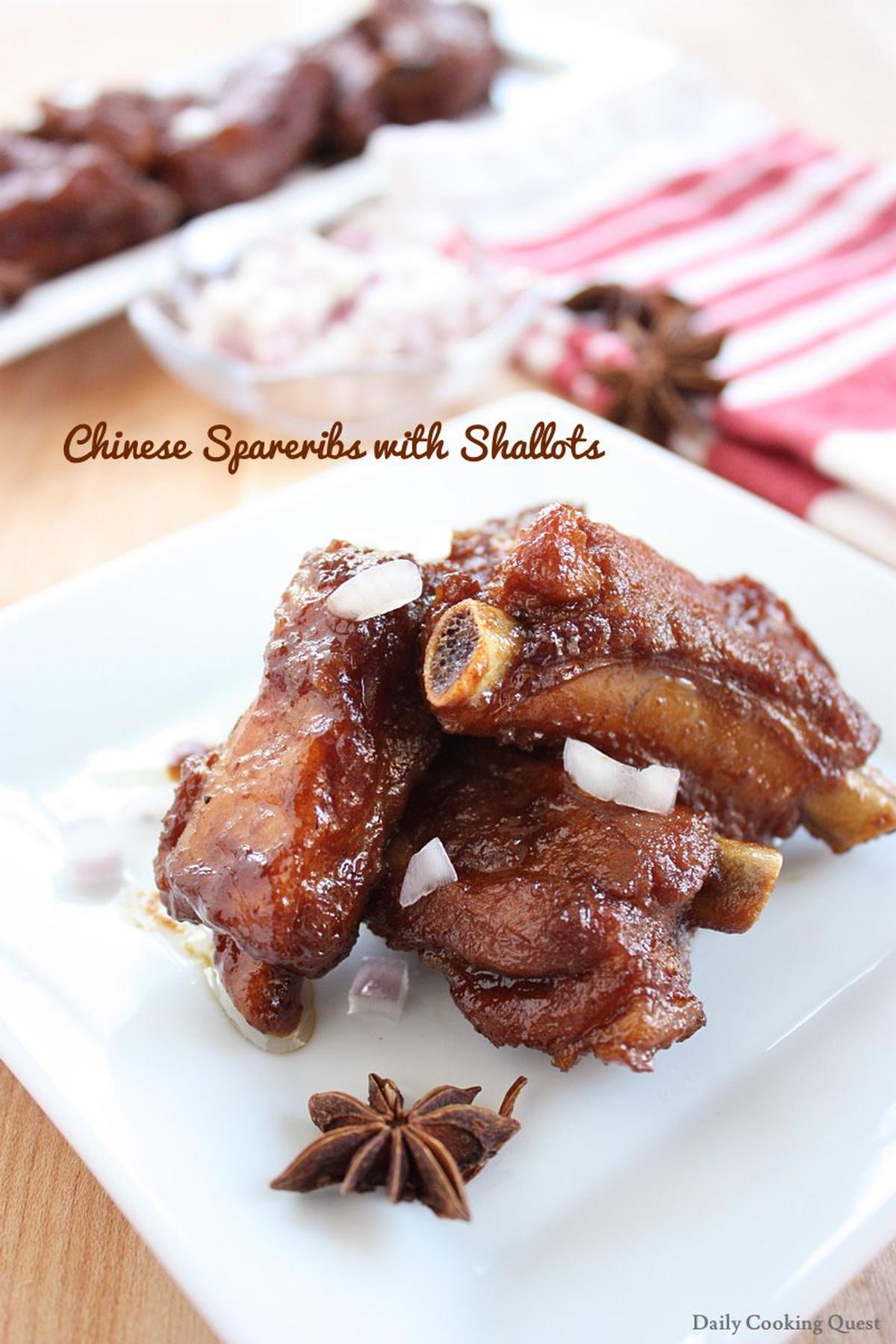 Chinese Spareribs with Shallots
5.0 from 8 reviews
Ingredients
1 kilogram pork spareribs
1/3 cup light soy sauce, or use regular soy sauce, preferably the reduced sodium version
1 tablespoon Shaoxing wine
3 tablespoon oil
150 gram shallot, peeled and sliced
2 star anise
1 inch ginger, peeled and sliced
1 tablespoon dark soy sauce
2 cup water
2 tablespoon rock sugar, or to taste
salt, to taste
Garnish
chopped shallots
Instructions
In a mixing bowl, marinate spareribs with soy sauce and Shaoxing wine. Cover with a saran wrap, and refrigerate for at least 2 hours (overnight is okay too).
Heat oil in a frying pan, and sauté shallot until brown and fragrant.
Add the spare ribs, reserve the marinating sauce, and fry until both sides are golden brown.
Add the reserved marinating sauce, star anise, ginger, dark soy sauce, and water. Bring to a boil.
Reduce heat, cover with a lid, and simmer for 1 hour, or until the meat is fork tender. Stir every so often.
Add rock sugar. Adjust the taste by adding more rock sugar and/or salt to taste.
Turn the heat to high, then cook until the sauce thickens and glaze the spareribs.
Turn off heat, transfer to a serving plate, and garnish with the chopped shallots. Serve with steamed white rice.