Home / All Recipes / Indonesian / Cilok - Tapioca Dough in Peanut Sauce
Cilok - Tapioca Dough in Peanut Sauce
These savory boiled tapioca dough/balls are sold by street-food sellers throughout Indonesia, and they come with delicious spicy peanut sauce.
Cilok is an Indonesian snack made with a blend of all purpose flour and tapioca flour, ground toasted dried shrimp, thinly sliced scallions, grated garlic, and season with salt, sugar, and ground white pepper. Water is then added to this mixture and kneaded until the point where it can be gathered into a ball. When you reach this point, the dough is ready, and you can start making 1 inch balls from this dough. The balls can be cooked by boiling in a pot of water or by deep frying in hot oil. Both versions are enjoyed with peanut sauce.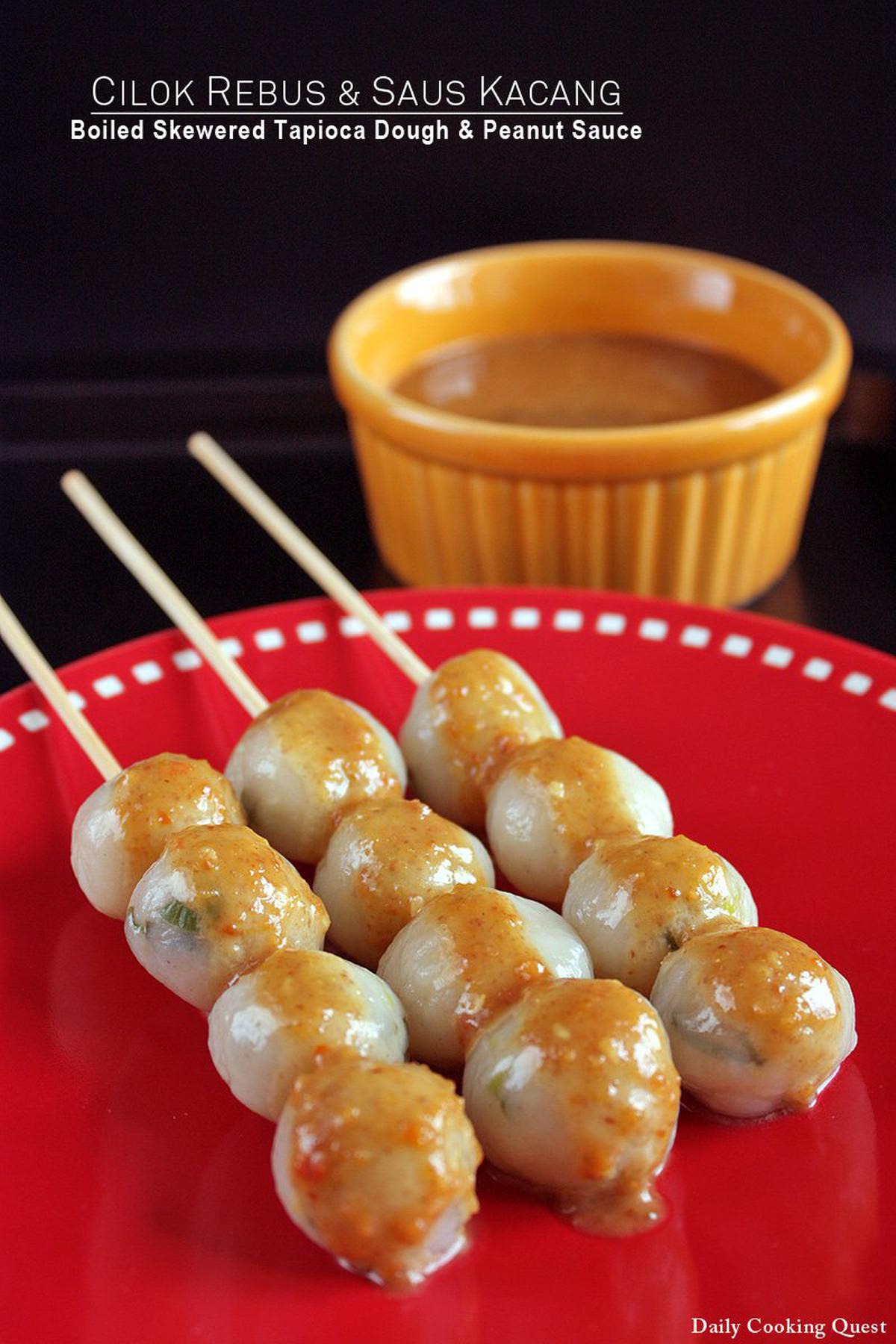 Boiled cilok is more widely known than the fried one. If you are to buy this off the street, it is almost guaranteed you get the boiled version. I think the fried ones are really nice, and they look pretty nice as finger food, no? :)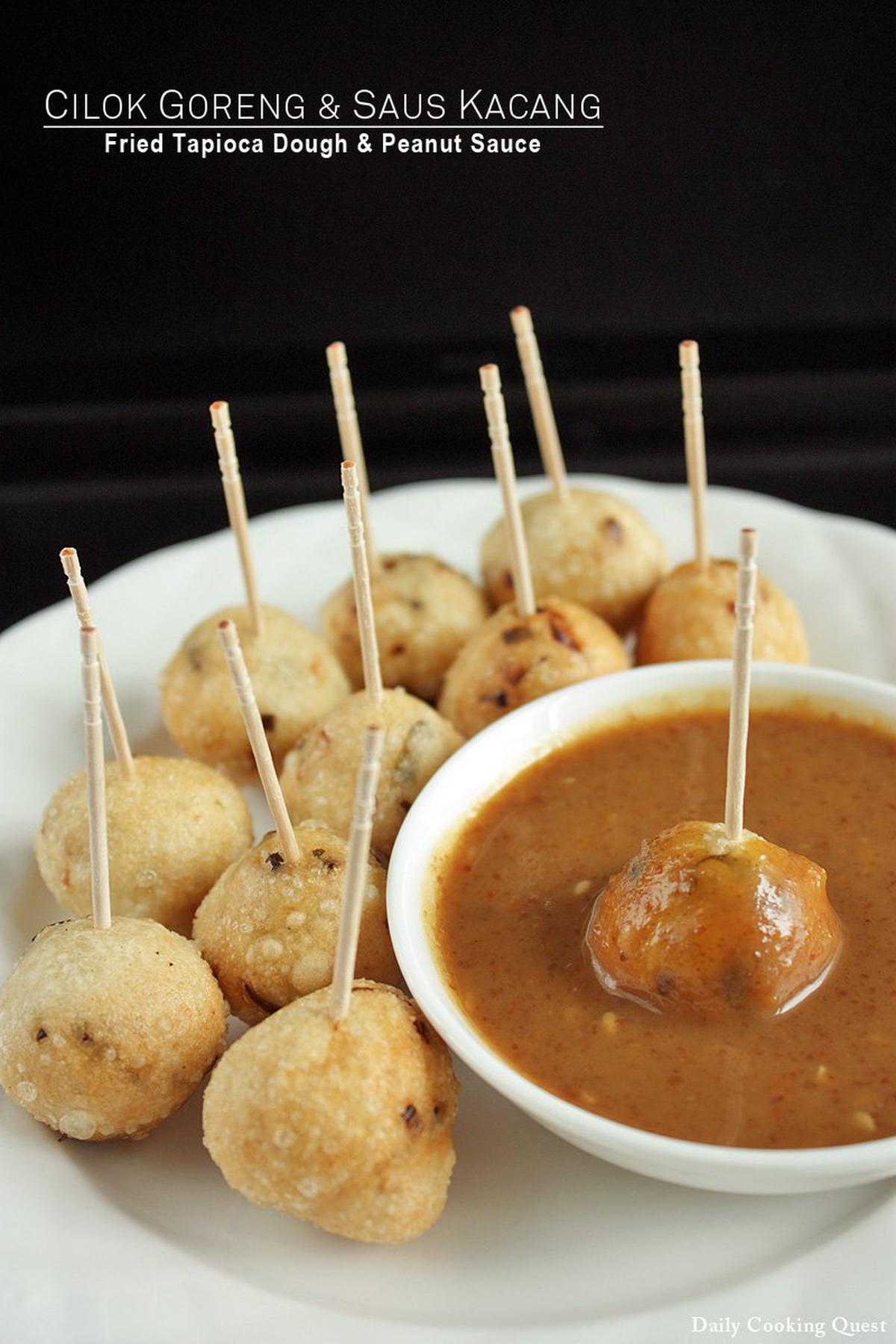 If you look at the ingredients list, there is no denying that cilok is lacking in the nutrition department, but it sure is pretty tasty. One can say that cilok is a poor man version of bakso (meatball), since it is nothing more than cooked spiced dough. Still, this snack with a humble beginning is now part of our rich culinary heritage. ♥
Cilok - Tapioca Dough in Peanut Sauce
5.0 from 2 reviews
Ingredients
Cilok
100 gram all purpose flour (Indonesian: tepung terigu)
100 gram tapioca flour (Indonesian: tepung tapioka)
2-3 scallions (Indonesian: daun bawang), thinly sliced
1.5-2 tablespoon dried shrimps (Indonesian: ebi), toasted and ground
3 cloves garlic (Indonesian: bawang putih), grated
1 teaspoon salt
1 teaspoon sugar
1 teaspoon ground white pepper
200 ml warm water
You may need
bamboo skewers
toothpicks
Peanut sauce
100 gram roasted peanut (Indonesian: kacang tanah sangrai)
1 clove garlic (Indonesian: bawang putih)
3-5 red chilies (Indonesian: cabe merah keriting)
25 gram palm sugar (Indonesian: gula Jawa)
1 teaspoon salt
1 tablespoon sweet soy sauce (Indonesian: kecap manis)
100 ml hot water
Instructions
Cilok

Combine all purpose flour, tapioca flour, scallions, dried shrimps, garlic, salt, sugar, and ground white pepper in a mixing bowl.
Pour water in batches and work into the dough until no longer sticky, you may not need to use all the water. If you end up with a runny dough, you can fix it by adding equal amount of all purpose flour and tapioca flour. Shape into 1 inch balls and set aside.
For boiled cilok: Bring a pot of water to boil. Gently drop the balls into the boiling water and cook until they float to the surface. Remove with a slotted spoon. It is traditional to skewer about 3 to 4 balls per bamboo skewer. Serve immediately with peanut sauce.
For fried cilok: Deep fry the balls in hot oil until crispy and golden brown. Remove from hot oil and serve immediately with peanut sauce.

Peanut sauce

Heat 1 tablespoon of oil in a frying pan and sauté garlic and chilies until fragrant and cooked, about 3 minutes.
In a food processor, grind together peanut, garlic, and chili into a fine paste. Transfer this into a bowl.
Add the rest of the ingredients and mix together to make the peanut sauce.