Home / All Recipes / American / Clementine Chocolate Lava Cake
Clementine Chocolate Lava Cake
Easy chocolate lava cake with fragrant clementine zest that can be done in under 20 minutes from start to finish, perfect for Valentine's Day or any other day.
When I think of Valentine's Day, I immediately think of chocolate. And this easy clementine chocolate lava cake is my kind of dessert; delicious, easy, and I can be in and out of the kitchen in a jiffy to concentrate on, ahem, more important stuff.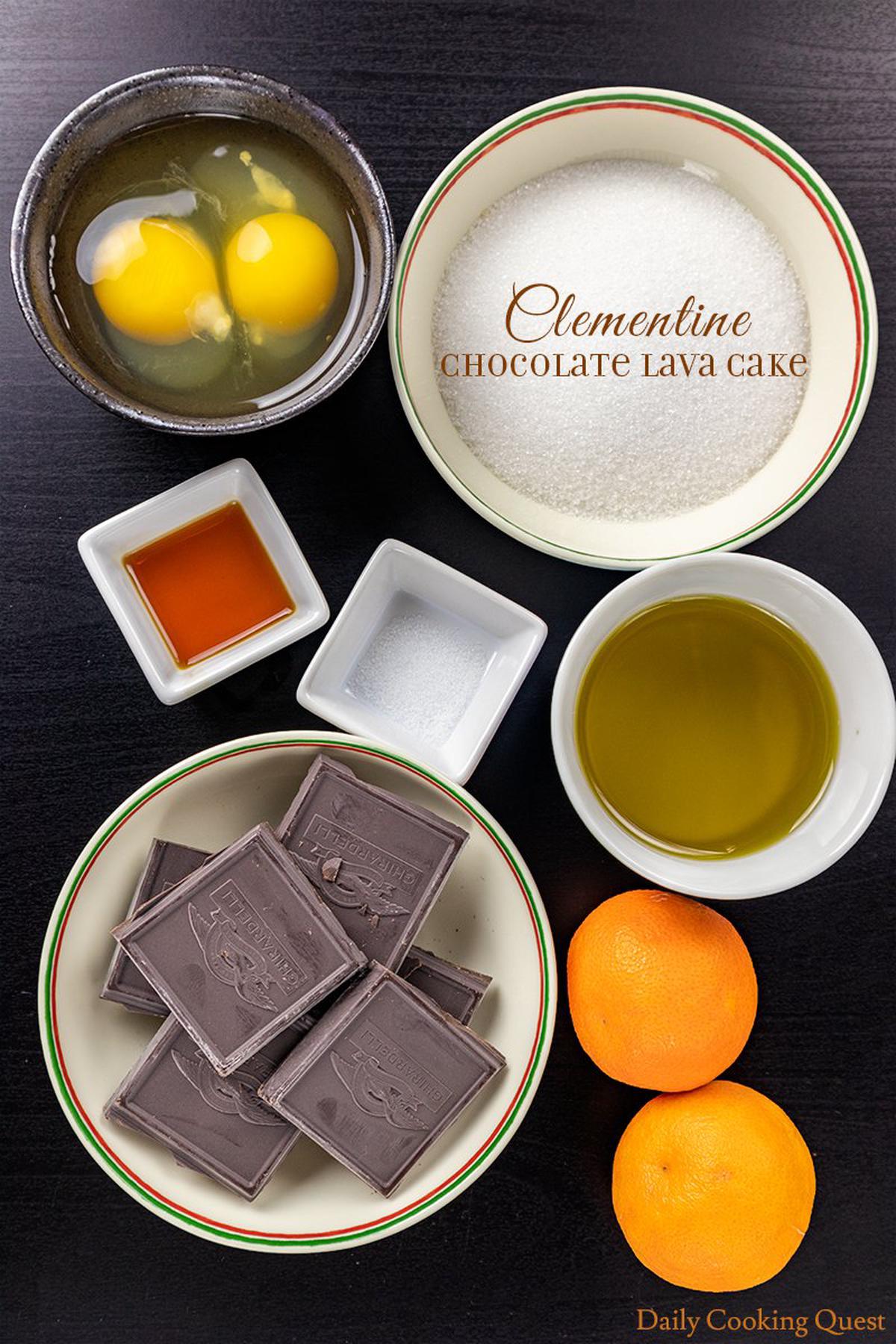 Chocolate + clementines!
I really wanted to do a red wine and chocolate dessert, but my hubby is allergic to anything alcoholic (he can sip maybe a quarter cup of beer but nothing more), so that option is totally out. But, we both love the pairing of chocolate and orange (or any citrus, really). And since clementines are so abundant right now and my grocery store is running a huge sale, it is a no brainer to pair them together. You can also use regular navel orange if that's what you have, in which case just use the zest of one orange. As for the chocolate, use your favorite chocolate bar, the kind that you love to eat as is, which is most likely not something you find in baking aisle. Walk a couple of aisles over to the snack aisle for something much better. Personally, I love anything with at least a 60% cacao.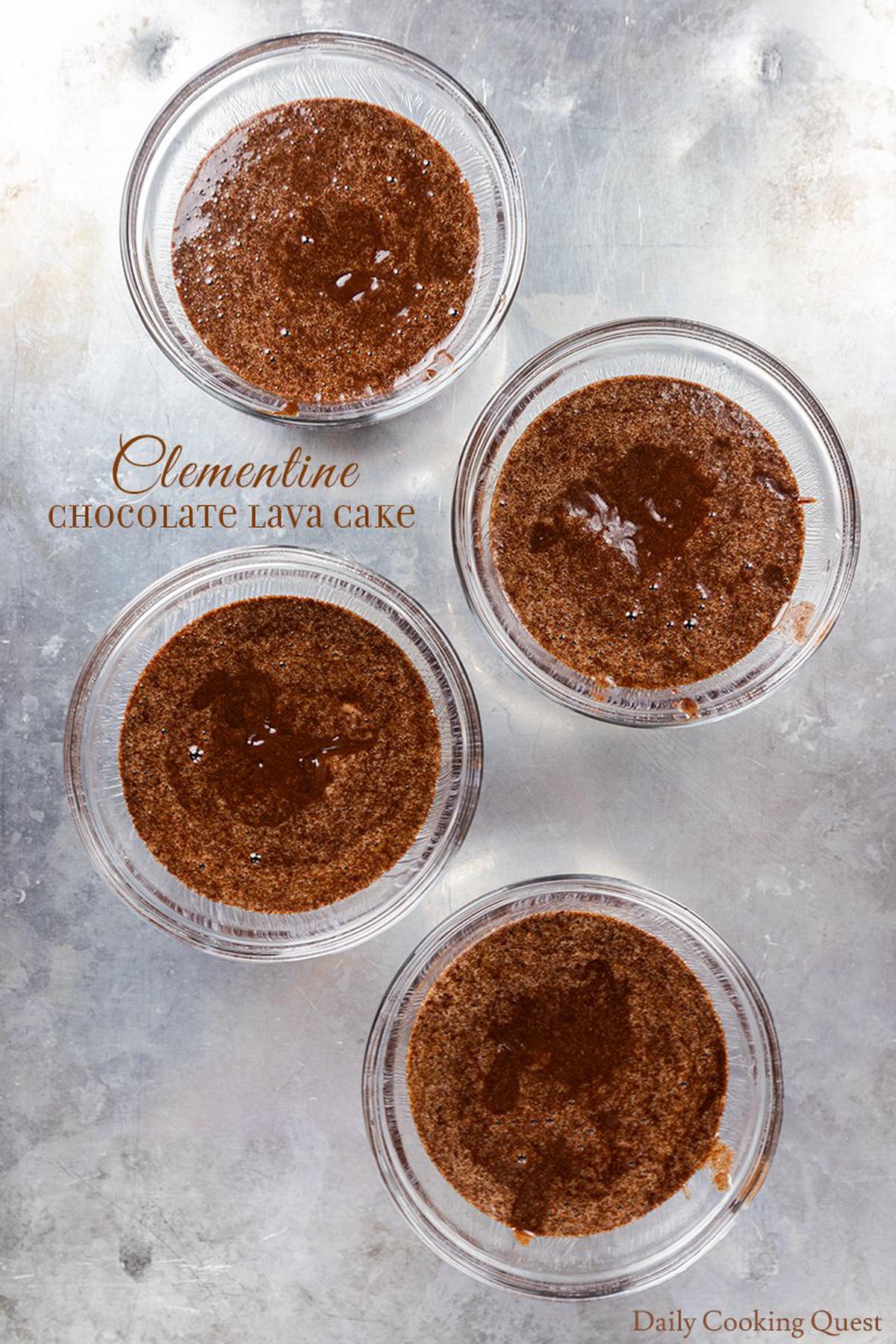 No flour & no butter
What's unique with this chocolate lava cake recipe is it doesn't need butter and flour, so this is actually quite perfect for those who are looking for a gluten-free and dairy-free dessert. It is decidedly less cakey compared to your typical lava cake, but I quite like this version since to me the chocolate comes through so much better.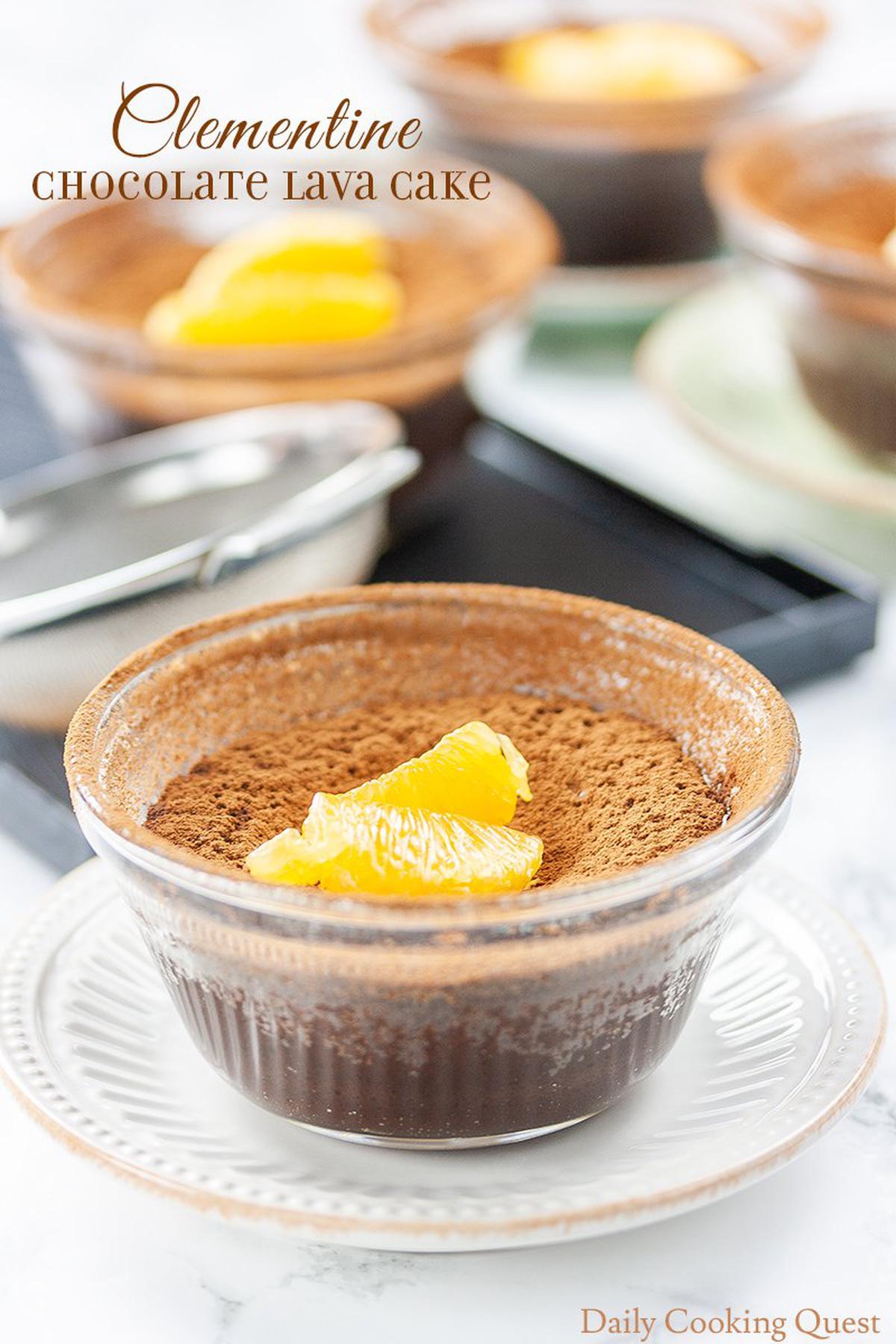 Garnish or plain
If you don't want to dress the cake, these are delicious eaten as is straight out from the oven. But if you are serving these for special occasions, like Valentine's Day, you can dress them a bit. Here I simply sprinkle the top with some cocoa powder (because you can never have enough chocolate!) and a couple of clementine sections. You can also do the more conventional pairing or hot chocolate lava cake with a scoop of ice cream and topped with your favorite berries. Have fun and have a happy Valentine's day.
Clementine Chocolate Lava Cake
5.0 from 1 reviews
Ingredients
4 ounce chocolate bar (*)
2 egg
100 gram sugar
1/8 teaspoon salt
1 teaspoon vanilla
2 clementine, zest
1/2 cup olive oil
cocoa powder, to sprinkle (optional)
clementine sections, for garnish (optional)
Instructions
Preheat oven to 400 Fahrenheit (200 Celsius). Grease four 6 ounce ramekins and place on a baking pan (I use a half-sheet pan).
Melt chocolate, either in a microwave, or with a double boiler method. Let cool slightly.
Whisk egg, sugar, salt, vanilla, clementine zest, and olive oil until light and fluffy.
With a spatula, fold in the melted chocolate. Once the mixture is uniform, divide into the four ramekins.
Bake in the preheated oven for 10 minutes. The top will look quite dry and you may notice a bit of cracks, but the inside should still be ooey gooey.
To serve, dust with cocoa powder, and top with clementine sections. Alternatively, just enjoy the lava cake as is.
Notes
(*) Try to choose chocolate bar with at least 60% cacao. You can use any of your favorite chocolate bar, not just the one from the baking aisle. Actually it will definitely be better if you choose one from the snack aisle.