Home / All Recipes / Chinese / Codonopsis & Red Dates Pork Ribs
Codonopsis & Red Dates Pork Ribs
Codonopsis (dang shen) and red dates (hong zao) are two of the more commonly used Chinese herbs. Codonopsis is said to help increase appetite and immune system, while red dates are good to maintain healthy blood pressure and full of vitamin C and super perfect when you have cold. Both of these are said to be really good for women during confinement period, a.k.a after pregnancy, so if you are looking for food to prepare during this period, give this a try.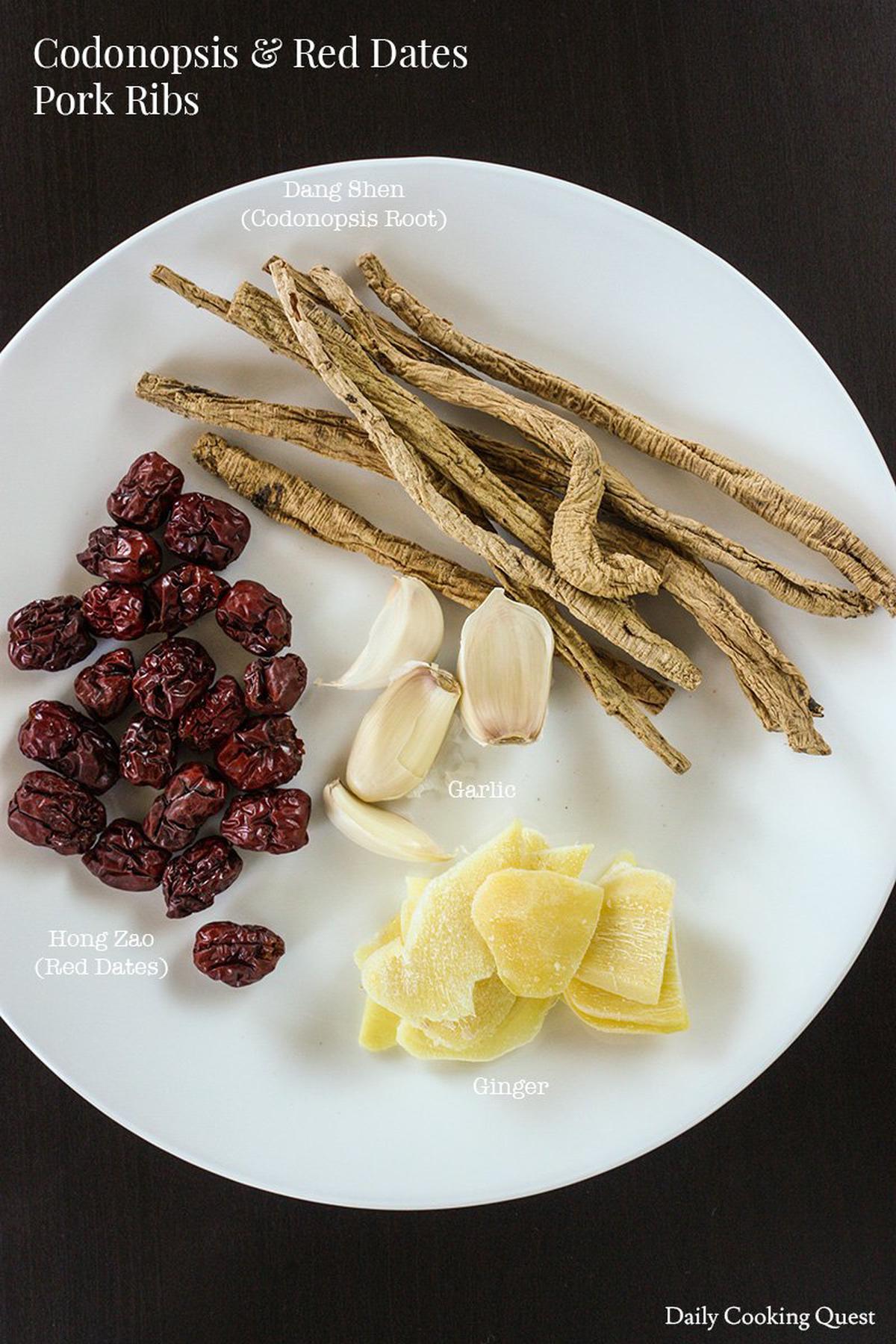 I am going to say it now since there probably will be readers asking about it later. I am not a trained Chinese herbalist, so what I know is just what teeny tiny amount of family wisdom passed down from Grandma to Mom to me, which is not much. If you need a more scientific explanation, please consult a professional ;) Anyway, let's talk a bit about this dish.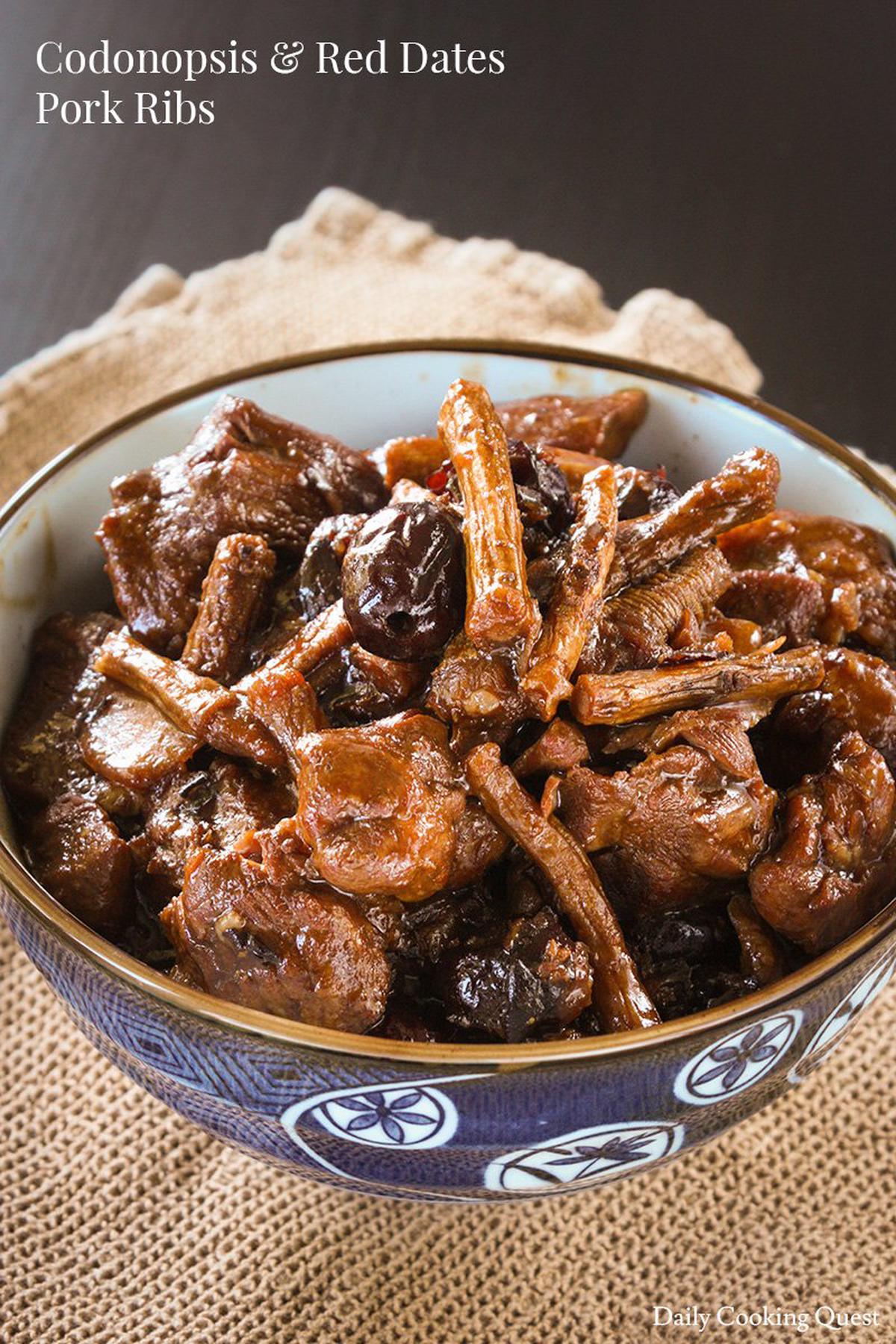 This recipe is super simple, basically it's just dump everything in a wok/pot and let it simmer until soft and tender. Next is just a matter of boiling down the liquid to reduce it into sauce and thicken it with the help of corn starch slurry. This is a very easy food to reheat, so I always make lots and reheat a little throughout the week for lunch or dinner.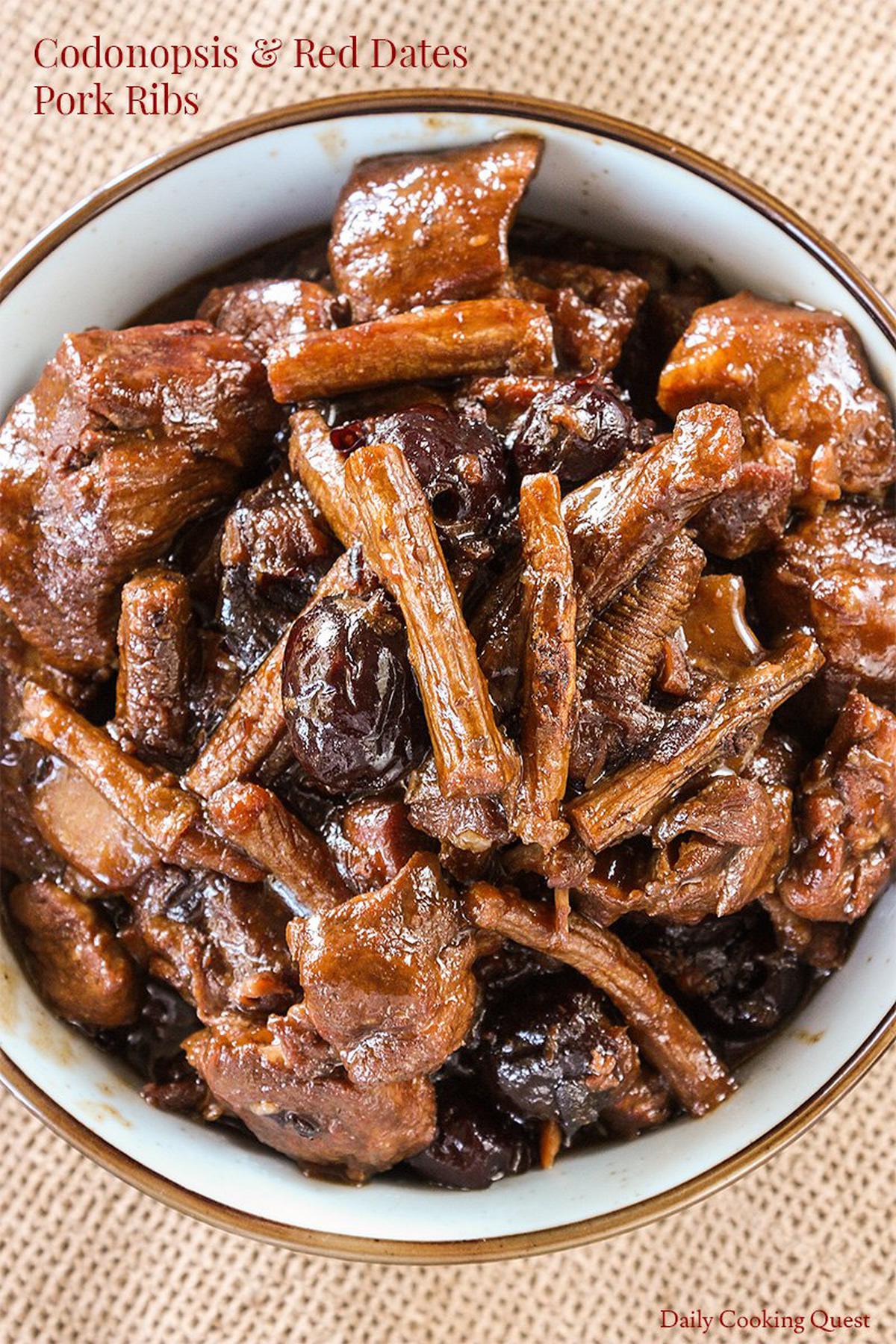 The recipe
Codonopsis & Red Dates Pork Ribs
Ingredients
1 tablespoon oil
4 cloves garlic, bruised
2 inch ginger, peeled and cut into thin slices
1 kilogram shoulder pork ribs, cut into chunks
40 gram codonopsis root (Chinese: dang shen), washed and cut into 2" sections
20 red dates (Chinese: hong zhao), washed and drained
3 cups water (750 ml)
4 tablespoon light soy sauce
2 tablespoon dark soy sauce
2 tablespoon sugar
1 tablespoon corn starch + 2 tablespoon water, mix together
Instructions
Heat oil in a wok over medium high heat and sauté garlic and ginger until fragrant. About 1 minute.
Add pork ribs and cook until no longer pink. Add codonopsis root and red dates into the wok.
Pour enough water to cover all the ingredients (about 2-3 cups).
Add light soy sauce, dark soy sauce, and sugar. Bring to a boil, then cover the wok and simmer for 1 hour, or until the meat is tender.
Remove the lid, turn the heat up and cook until liquid is reduced. Thicken the sauce with cornstarch mixture.
Turn off heat. Serve hot with steamed white rice.