Home / All Recipes / Chinese / Codonopsis, Shiitake, and Red Dates Chicken
Codonopsis, Shiitake, and Red Dates Chicken
If you love dishes with Chinese herbs, you are going to love this simple codonopsis, shiitake, and red dates chicken. It is more traditional to use one whole chicken cut up into pieces, but I like to simply use 8 pieces of drumsticks. Another good option is to use chicken thighs. I honestly think chicken breasts are not a good match for this dish, but you can use that too if you wish.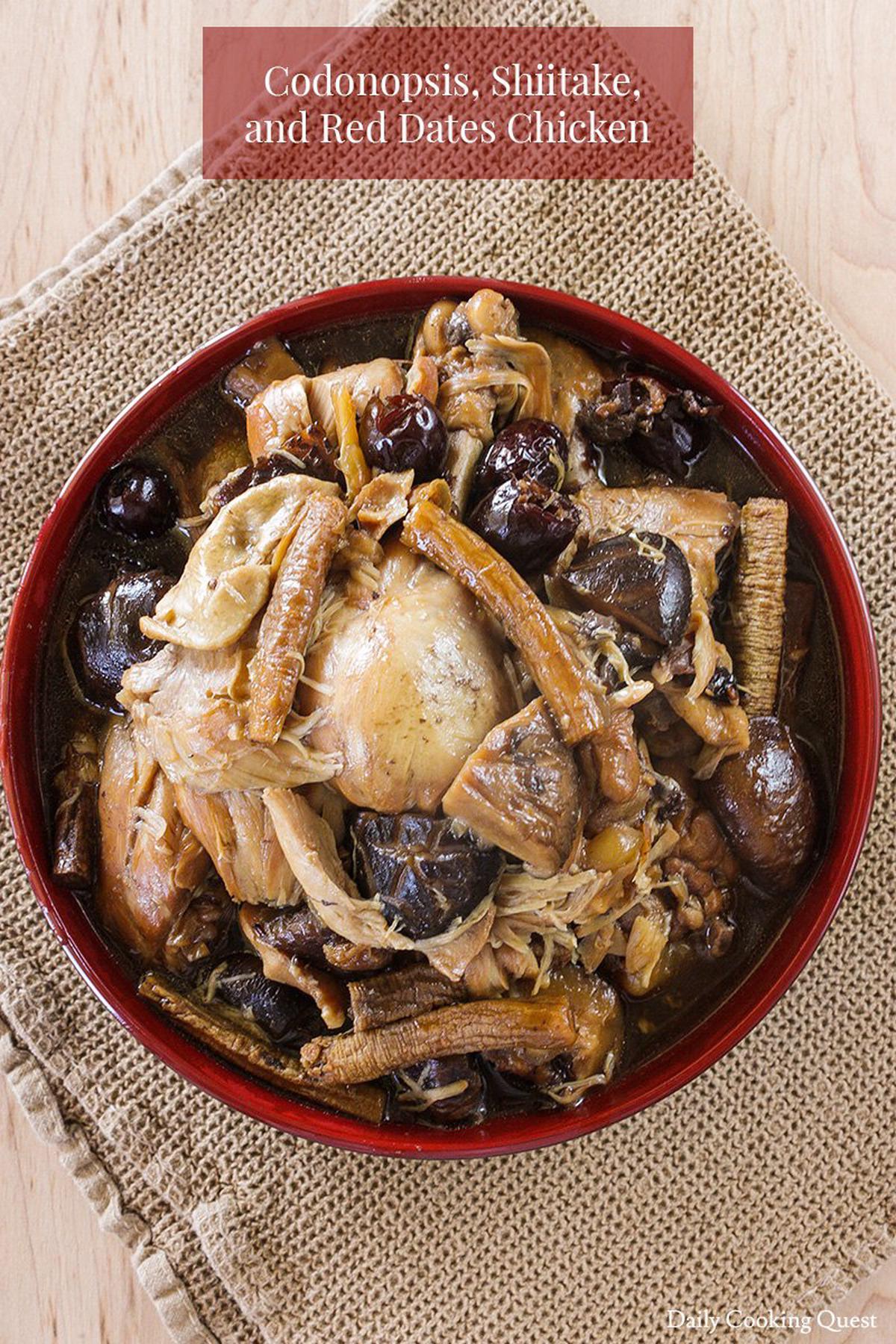 Codonopsis, Shiitake, and Red Dates
Let's take a closer look on the herbs we are using. Codonopsis (党參/黨參/dǎngshēn) is used in many Chinese herbal soup, and is a popular substitute for ginseng. Dried shiitake is super flavorful and very fragrant. They need to be soaked overnight in plenty of water to soften. Don't throw away the soaking water, use it as "water" if the recipe calls for it, or store and use as vegetarian stock. Red dates (红枣 /hóng zǎo) is a very popular Chinese herbs used in soup, dishes, and even made into tea and dessert. It is so common in Chinese dishes that it is almost a guarantee that you will be able to buy them from any big or small Chinese grocery store.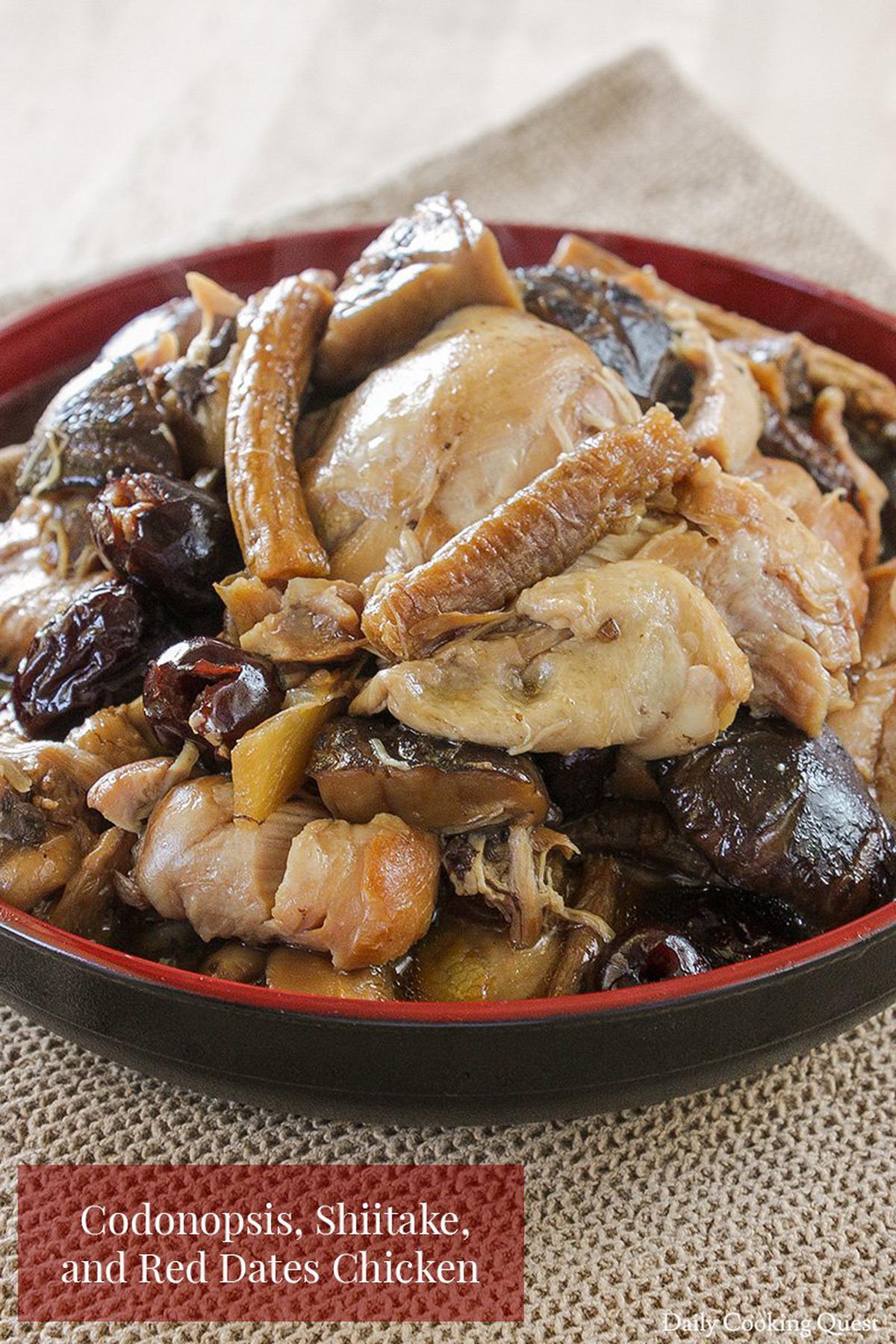 The Dish
The only challenge for this dish lies in gathering all the ingredients. But once you have everything ready, this is basically a simple braising dish, meaning it needs to simmer in low heat for a couple of hours. If you prefer pork dishes, you can also use boneless pork shoulder ribs in place of chicken.
Codonopsis, Shiitake, and Red Dates Chicken
Ingredients
2 tablespoon oil
4 cloves garlic, minced
1 inch ginger, minced
1 chicken, cut into 8 pieces (or use 8 drumsticks)
8 dried shiitake, soak in water to rehydrate until soft, remove stems
25 gram codonopsis, cut into 2" sections
25 gram red dates
3 cups water
2 tablespoon sugar
1/4 cup light soy sauce
2 tablespoon dark soy sauce
corn starch slurry (2 tablespoon corn starch + 2 tablespoon water)
Instructions
Heat oil in a skillet over medium high heat and sauté garlic and ginger until fragrant (about 2 minutes), then add chicken and cook until no longer pink.
Add shiitake, codonopsis and red dates, mix well. Then add water, sugar, soy sauce, and dark soy sauce. Continue cooking until it reaches boiling point, then reduce heat to a simmer, cover the skillet, and cook for about 90 minutes to 2 hour until the meat falls off the bones.
Remove the cover and return to a boil, thicken the sauce by adding corn starch slurry and stir continuously for about 2-3 minutes.
Turn off the heat and serve immediately with steamed white rice.