Home / All Recipes / American / Corn Flakes Chocolate Chips Cookies
Corn Flakes Chocolate Chips Cookies
Try baking corn flakes chocolate chips cookies for Chinese New Year. Though not traditional CNY cookies, we always get compliments from our CNY guests.
If you love corn flakes and chocolate chips cookies, then you are guaranteed to love this easy to bake corn flakes chocolate chips cookies.
These cookies were all the rage back when I was still a little kid in grade school. I have never seen these sold in the States, and even back home in Indonesia, this stuff is next to impossible to buy nowadays.
Luckily they are the easiest thing to bake. If you can bake a batch of chocolate chips cookies, you can definitely bake a batch of corn flakes chocolate chips cookies.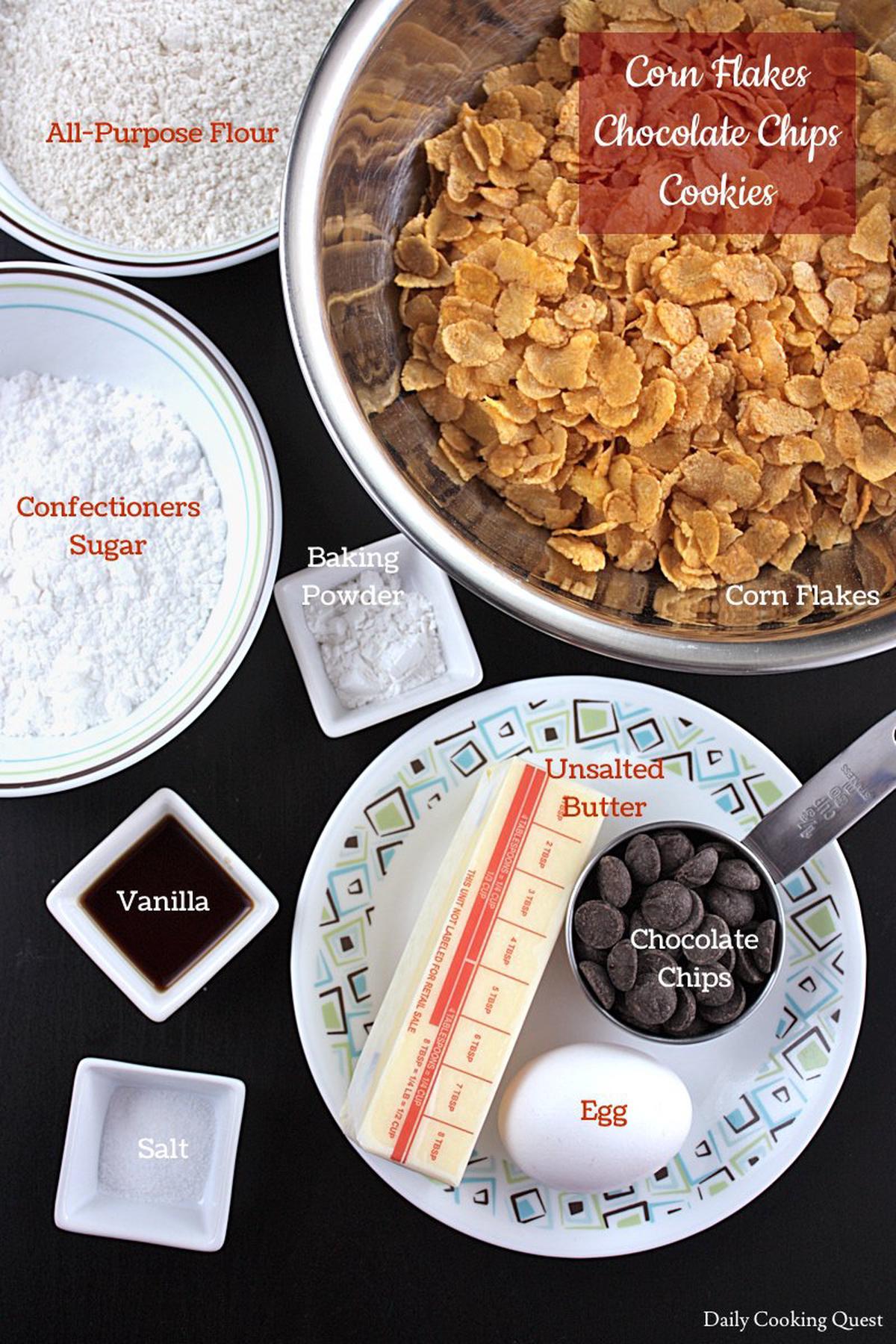 What you need
Those that bake chocolate chips cookies AND eat corn flakes for breakfast regularly will most likely have everything ready to go.
Just from the title, you know you will need corn flakes and chocolate chips.
You will also need all-purpose flour, baking powder, butter, egg, confectioners sugar, vanilla, and salt.
Simple stuff, really.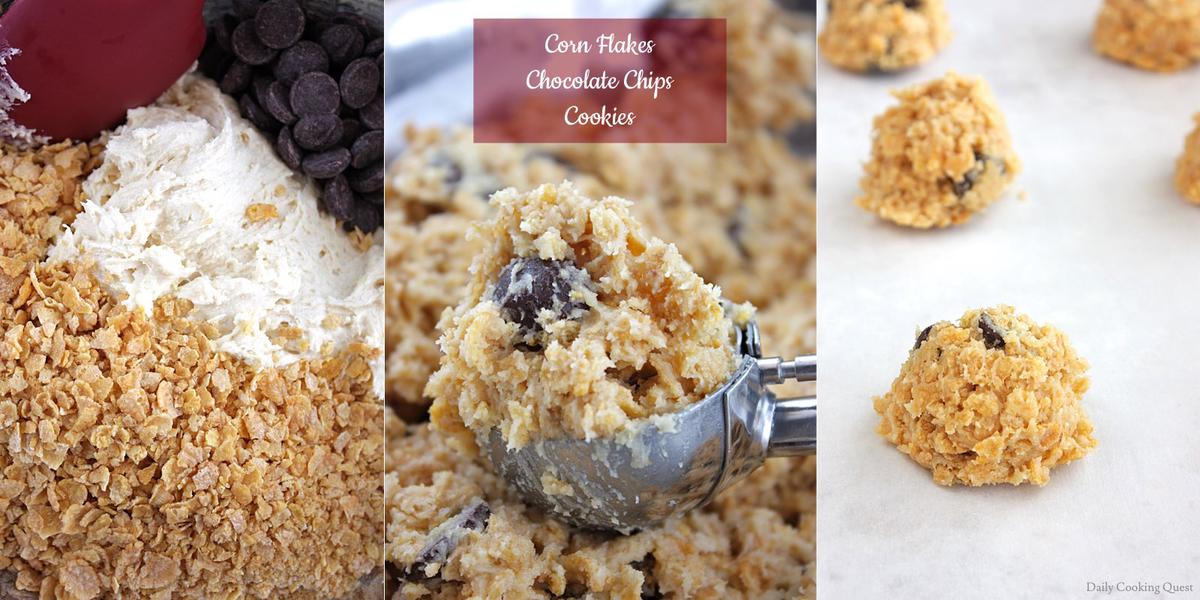 Tools that might help but not a must
If you own an electric mixer and a medium-size cookie scoop, mixing and shaping these cookies will be a breeze. But you can still mix the cookie dough without an electric mixer, in which case a spatula will be your best friend.
You can shape the cookie with nothing but 2 spoons, one to scoop out some cookie dough, and the other to help push the dough on to baking sheet. Your cookies might not be as pretty (or regular) if you use spoons, but they should still taste mighty delicious, which is the whole point of baking these in the first place.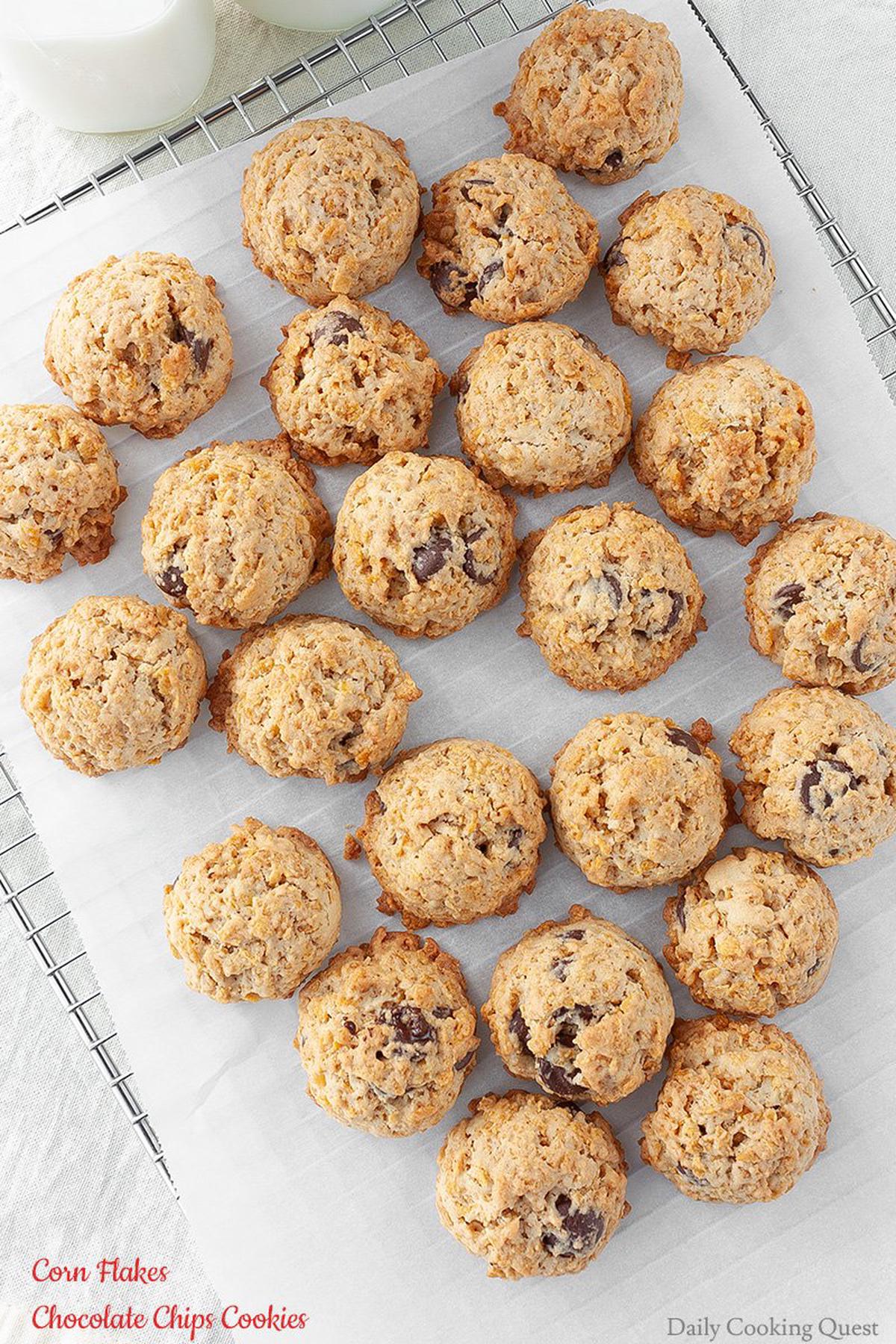 These cookies don't expand during baking
I hate it when cookies recipes don't tell me beforehand whether the cookie dough will expand or not during baking, so I will let you know so you can space your cookies accordingly on your baking sheet.
These cookies don't expand at all. They will retain their shape before and after baking.
If you use a medium-size cookie scoop, you will end up with 24 cookies.
Technically you can bake the whole lot in a half-sheet pan. But I like to bake them in two half-sheet pans to ensure enough heat circulates and my cookies bake evenly. If you want to crowd them in one pan, proceed at your own risk :)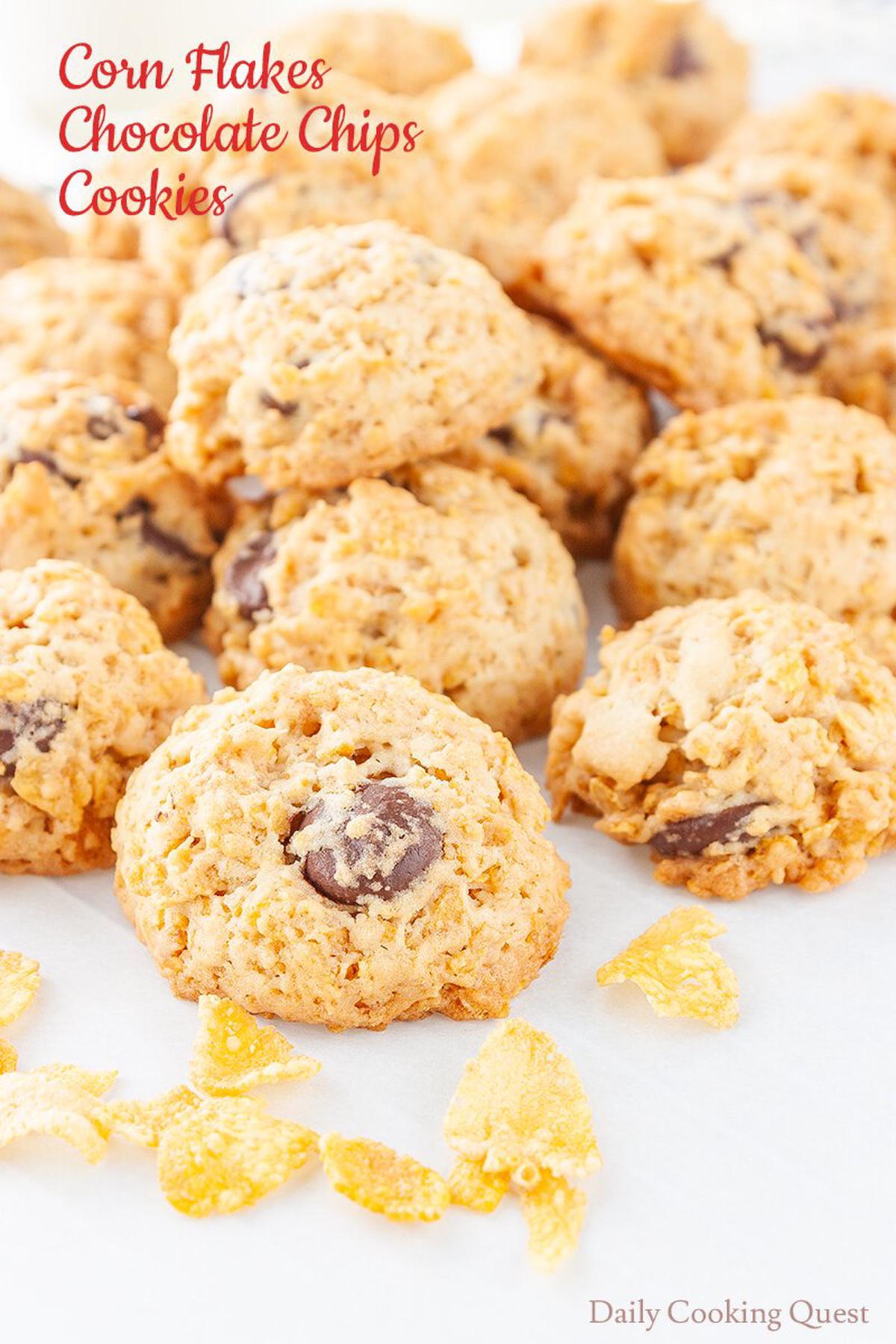 Corn Flakes Chocolate Chips Cookies
5.0 from 17 reviews
Ingredients
8 tablespoon (1 stick) unsalted butter, softened
80 gram (~ 2/3 cup) confectioners sugar
1 large egg
2 teaspoon vanilla extract
150 gram (~ 1 1/4 cup) all-purpose flour
1 teaspoon baking powder
1/4 teaspoon salt
120 gram (~ 4 cup) corn flakes, lightly crushed
65 gram (~ 1/3 cup) chocolate chips
Instructions
Preheat oven to 180 Celsius (350 Fahrenheit). Line 2 half-sheet pans (or cookie sheets) with parchment paper and set aside.
In a mixing bowl, beat together butter and confectioners sugar until pale and fluffy. Add egg and vanilla extract, beat again until well mixed. Add in flour, baking powder, and salt in 2-3 batches and beat until uniform.
With a spatula, fold in corn flakes and chocolate chips until the cookie dough looks uniform.
Use a medium-size cookie scoop (1 1/2 tablespoon), scoop out cookie dough and drop them on prepared baking sheet (or cookie sheet).
Bake in preheated oven for 20 minutes, or until golden brown. Remove from oven and cool completely on a wire rack before storing in an airtight container.