Home / All Recipes / Chinese / Crab, Corn, and Asparagus Egg Drop Soup
Crab, Corn, and Asparagus Egg Drop Soup
This egg drop soup is commonly prepared for special occasions and is especially popular during Chinese New Year. For those who still consume shark fin (please don't though), this is where shark fins are added to make shark fin soup. When my Grandma was still around, she would add a whole shot of X.O. cognac in the finished soup instead of Shaoxing, so if you have a bottle around and have no idea when you are going to finish it, give it a try.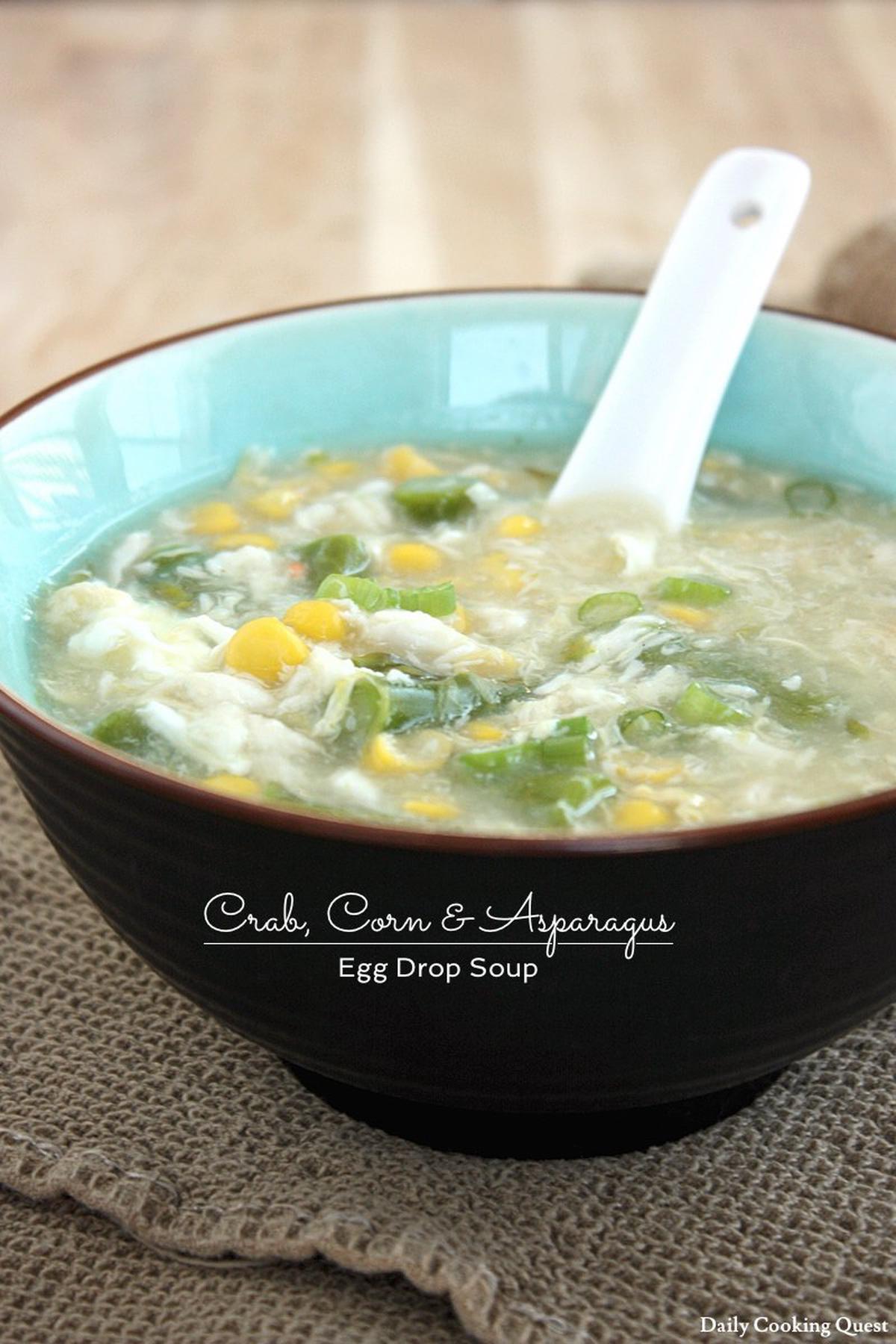 Crab, Corn, and Asparagus Egg Drop Soup
5.0 from 6 reviews
Ingredients
8 cups chicken stock
1 inch ginger, grated
500 gram crab meat
500 gram asparagus, chop into 1/2 inch pieces
500 gram whole corn kernel
4 tablespoon corn starch + 5 tablespoon water
3 tablespoon Shaoxing (or 1 shot of X.O. cognac)
1 teaspoon sesame oil
1 teaspoon salt, or to taste
1/2 teaspoon ground white pepper
2 eggs, lightly beaten
Accompaniments and garnish
chopped scallions
black vinegar (optional)
Instructions
Boil together chicken stock, ginger, crab meat, asparagus, and corn. Lower heat, cover, and simmer for 15 minutes.
Return to a boil, add corn starch solution to thicken the soup, and continue cooking for 3 minutes.
Add Shaoxing, sesame oil, salt, and ground pepper. Mix well and adjust the amount of salt as needed.
Turn off heat, then pour the eggs in a thin stream while stirring in a clockwise direction. Serve hot in soup bowls with chopped scallions and black vinegar.