Home / All Recipes / Japanese / Custard Pudding
Today is Christmas Eve, people. And before I forget, let me wish you all a very happy holiday. I hope you all get to spend some quality time with loved ones. And for those taking a trip this holiday, stay safe and stay warm. I am sure most of you are looking forward to sit down for a dinner with family and friends, I know I can't wait for evening to come. And if, for some reason, you still need a simple dessert recipe, look no further folks. Here is a truly simple dessert recipe, which I am quite certain your pantry (and fridge) will most likely have all the required ingredients: eggs, milk, vanilla, and sugar.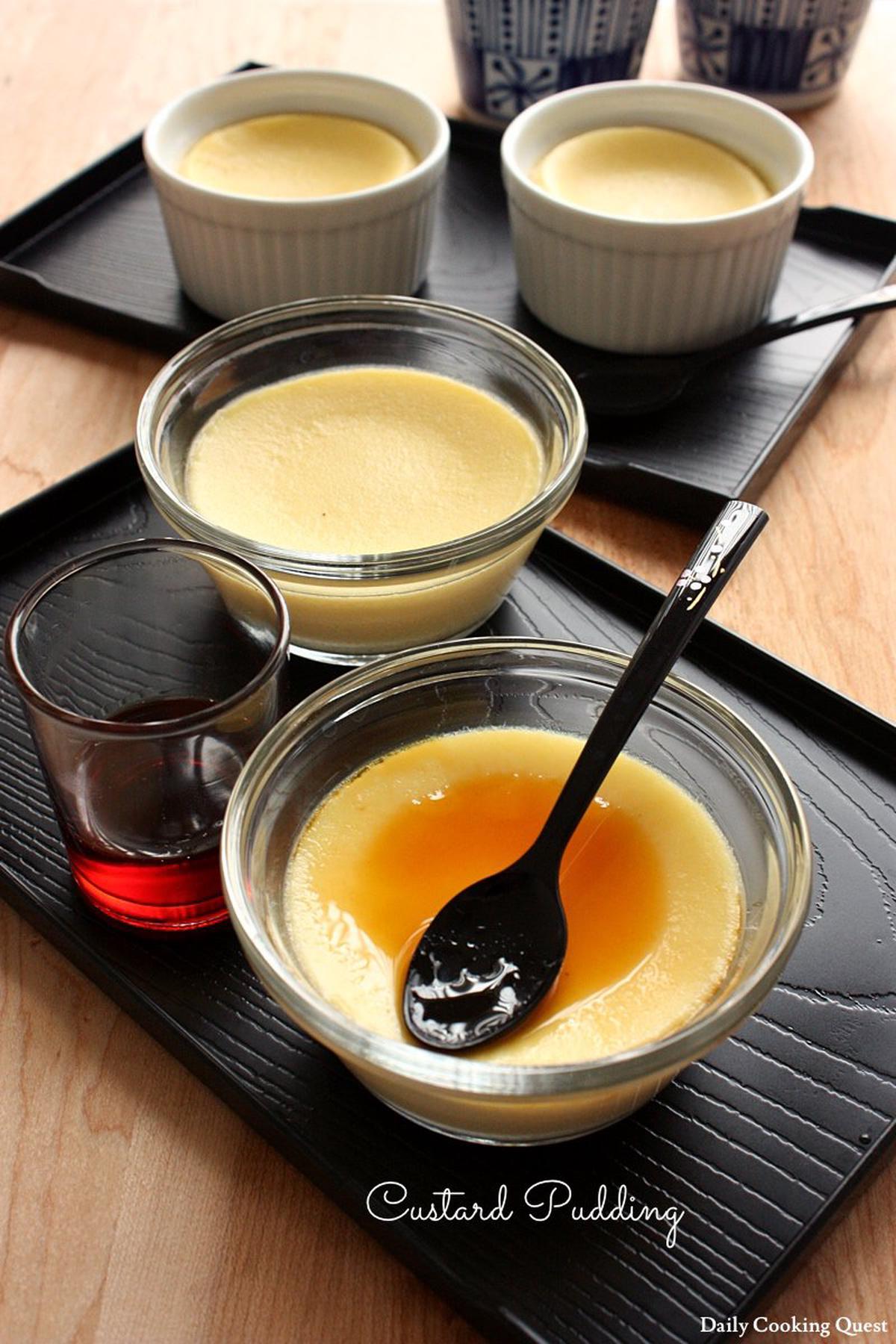 I know its nothing grand like fruit cake, or apple pie, or buche de noel. But we are talking last minute right, plus a good dessert is a good dessert, and custard pudding, in my book, is always a good dessert to have, regardless the event. Plus, this is so easy, you can even enlist the kids' help to make the dessert :)
Custard Pudding
5.0 from 5 reviews
Ingredients
Pudding
1 cup fresh milk
3 eggs
3 tablespoon sugar
1/2 teaspoon vanilla essence
Caramel sauce
3 tablespoon sugar
3 tablespoon water, divided
Instructions
Pudding

Whisk all pudding ingredients together until the sugar has completely melted. Strain into 4 ramekins.
Pour 1 inch of water in a 12" skillet with a lid, and bring to a boil.
Wrap the lid with kitchen towel. (This is to prevent water droplets dripping into the pudding.)
Place the filled ramekins gently into the skillet. Cover with lid. And simmer for 10 minutes.
Turn off the heat, and let the pudding sit in still covered skillet for another 10 minutes.
Remove the lid, gently remove the ramekins and let cool to room temperature. Cover the ramekins with saran plastic, and chill in the fridge until ready to serve.

Caramel sauce

Boil together sugar and 1 1/2 tablespoon water in a small saucepan on medium high until liquid become toffee (golden brown) color.
Remove from heat, then quickly pour the remaining 1 1/2 tablespoon of water. Stir well. Pour the caramel sauce over the custard pudding right before serving.