Home / All Recipes / Chinese / Daikon and Chicken Soup
I love daikon, and with the addition of chicken in this soup, this easily makes for a filling meal when served with a bowl of steamed white rice. Some of you may wonder as to the purpose of boiling and draining daikon before adding them to the final soup with the chicken. Well, daikon can be bitter sometimes (not always) and boiling them separately help remove the bitterness, just to be safe. It is perfectly fine to skip the boiling part and just add the daikon along with the water, salt, and sugar in step 3.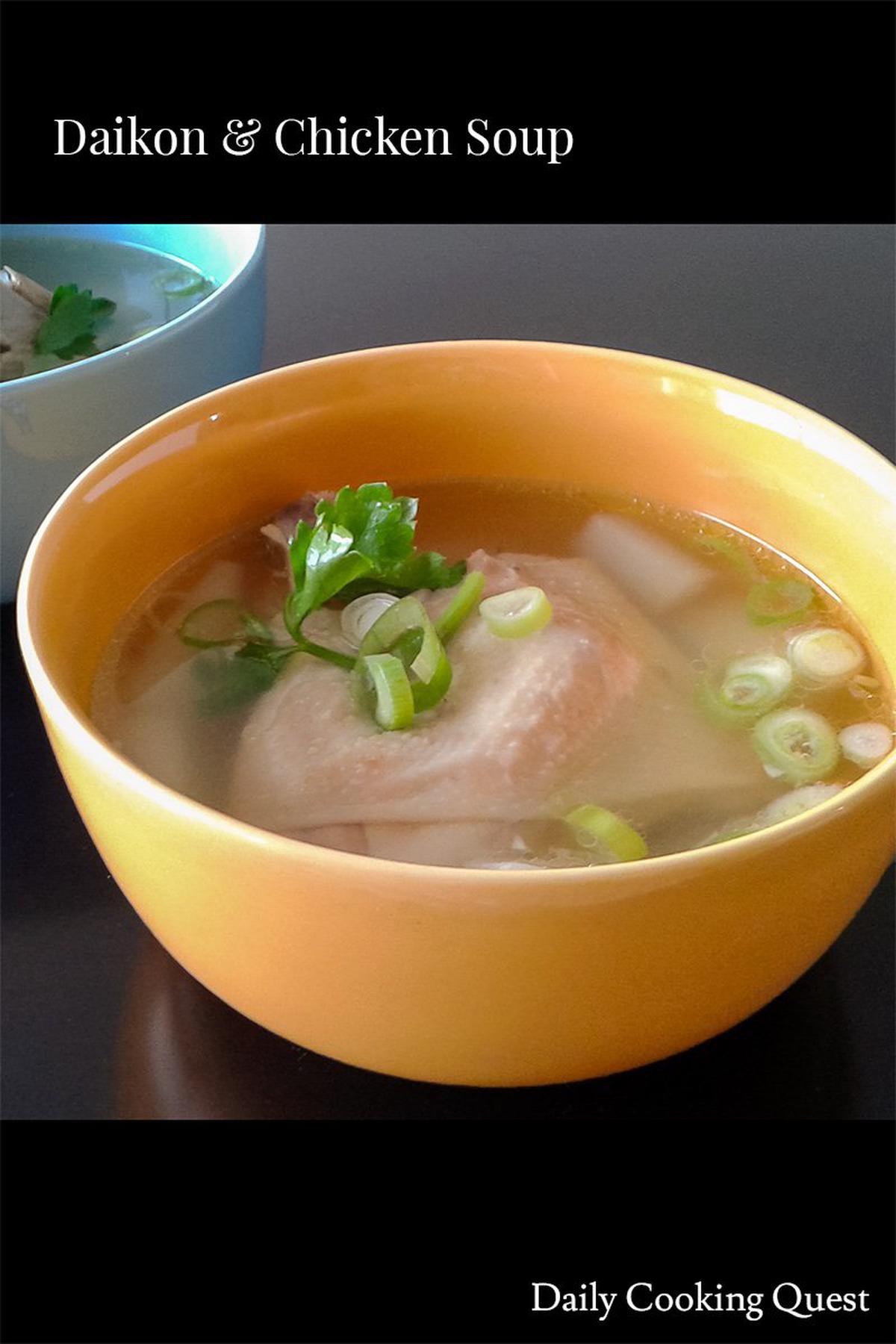 Daikon and Chicken Soup
Ingredients
1 free range chicken (Indonesian: ayam kampung), cut into 4-8 pieces
1 daikon, peeled and cut into sticks
½ onion, finely chopped
3 cloves garlic, minced
2 inches ginger, peeled and bruised
1 liter water
2 teaspoon salt
1 teaspoon sugar
2 stalks scallion, thinly sliced
2 stalks celery, thinly sliced, reserve the leaves for garnish
Instructions
Boil daikon for 10 minutes in a pot, drained and set aside.
Heat 2 tablespoon oil in a pot, fry onion and garlic until fragrant, about 2-3 minutes. Add chicken pieces and garlic and cook until chicken is no longer pink.
Add water, salt. and sugar and bring to a boil. Reduce heat and simmer for 30 minutes, or until chicken pieces are cooked and tender.
Add boiled daikon, scallion and celery and cook for another 3-5 minutes.
Pour into serving bowls and garnish with celery leaves.