Home / All Recipes / Chinese / Dan Hua Tang - Egg Drop Soup with Shrimp, Tofu, and Shiitake
Dan Hua Tang - Egg Drop Soup with Shrimp, Tofu, and Shiitake
There is egg drop soup and then there is another kind of egg drop soup, and I don't consider the cheap, and most of the times, free version of what is served in cheap Chinese restaurants across the States qualifies as one. Yes I see the egg, and yes it is soup, but taste wise, it is just a ghastly version of what I consider a true egg drop soup. It has come to the point that I would rather pass on the soup, even when it is free! My version might not be the best, but this I can eat and enjoy everyday :)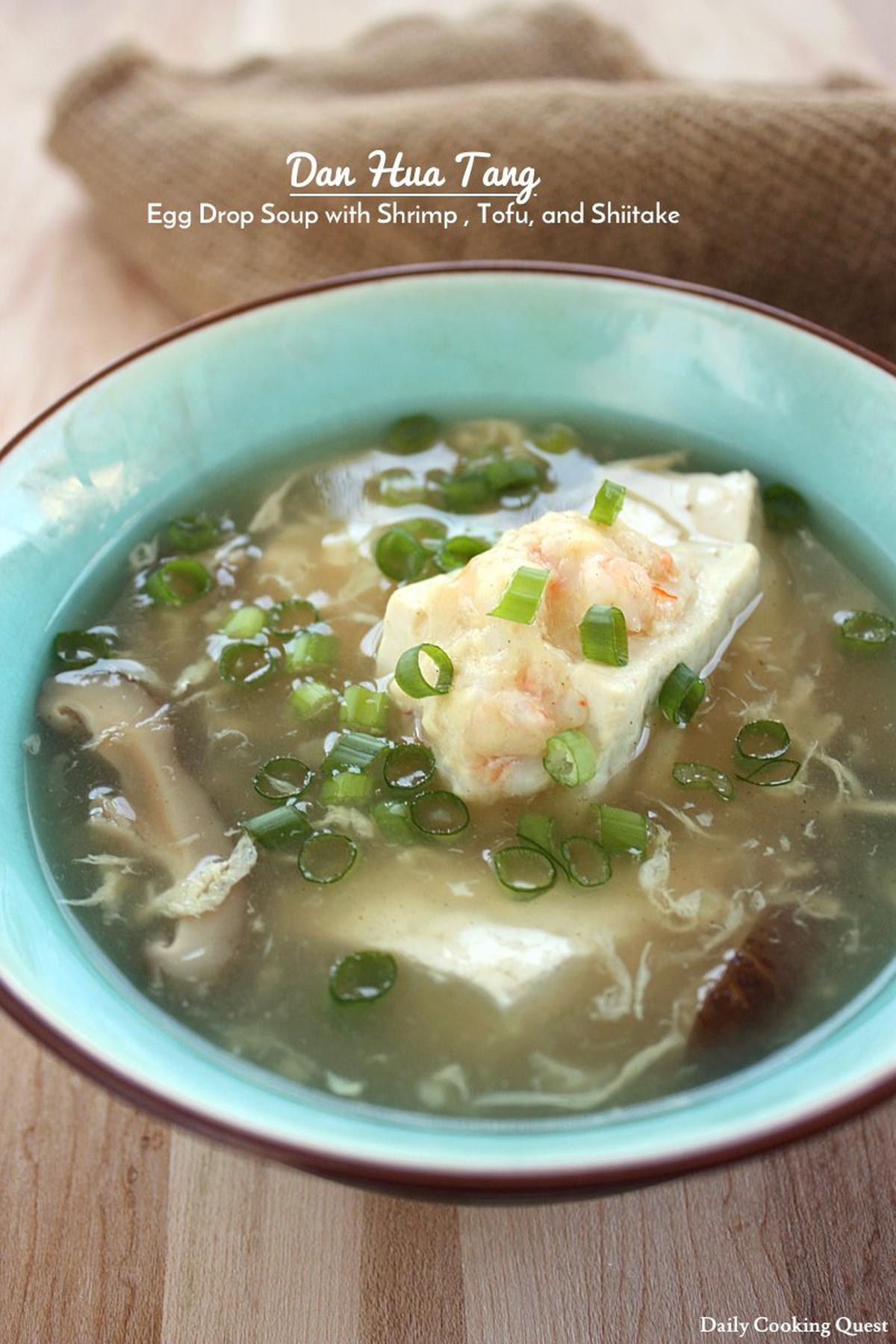 Dan Hua Tang - Egg Drop Soup with Shrimp, Tofu, and Shiitake
5.0 from 1 reviews
Ingredients
Shrimp and Tofu
300 gram firm tofu (about 4 pieces), cut into 12 triangular wedges
300 gram shrimps, peeled and deveined, roughly chopped
2 tablespoon tapioca starch/powder
2 cloves garlic, grated
1 egg, lightly beaten
1 teaspoon salt
1 teaspoon ground white pepper
Egg Drop Soup
2 liter chicken stock
1 tablespoon Shaoxing
1 teaspoon grated ginger
1 teaspoon salt, or to taste
1/2 teaspoon ground white pepper
8 dried shiitake mushroom, rehydrate until soften, thinly sliced
1 egg, lightly beaten
4 tablespoon corn starch + 5 tablespoon water, mix well
Garnish
thinly sliced scallions
Instructions
Shrimp and Tofu

Prepare a steamer and line the steamer insert with parchment paper to prevent from sticking.
Remove a small triangular wedge from each tofu wedge, and mix with chopped shrimp and the rest of the shrimp and tofu ingredients. Stuff the shrimp mixture back to the tofu.
Steam the stuffed tofu for 15 minutes until cooked through. Remove from steamer and set aside.

Egg Drop Soup

Boil together chicken stock, Shaoxing, grated ginger, salt, ground pepper, and shiitake mushroom.
Pour the beaten egg in a thin stream while stirring the soup to get the "egg drop soup" look.
Add the corn starch solution and cook for 3 minutes until the soup thickens, stir often.

To serve

Place 2 to 3 of the steamed stuffed tofu per soup bowl, top with the egg drop soup, and garnish with chopped scallions.