Home / All Recipes / Indonesian / Deep Fried Fish and Shrimp Cutlets
Deep Fried Fish and Shrimp Cutlets
I am at a loss as to what to name this dish, is it bakso, or otak-otak, or pempek? Anyway, this deep fried cutlets is made with spanish mackerel and shrimp, processed into paste like consistency, and then blended with all purpose flour, grated garlic, egg, thinly sliced scallions, and seasoned with salt, sugar, and pepper. The blended mixture then shaped into patties, rolled in bread crumbs, and deep fried until golden brown. I am sure you can agree on how delicious this must be, right? But, I am still at a loss as to what to name this, so I just stick with the most unimaginative title for this as can be, deep fried fish and shrimp cutlets, till I can decide on a better name. Oh, you should try eating this with garlic and chili sweet sauce. If you don't have that, any chili sauce that is slightly sweet will do, though not as good.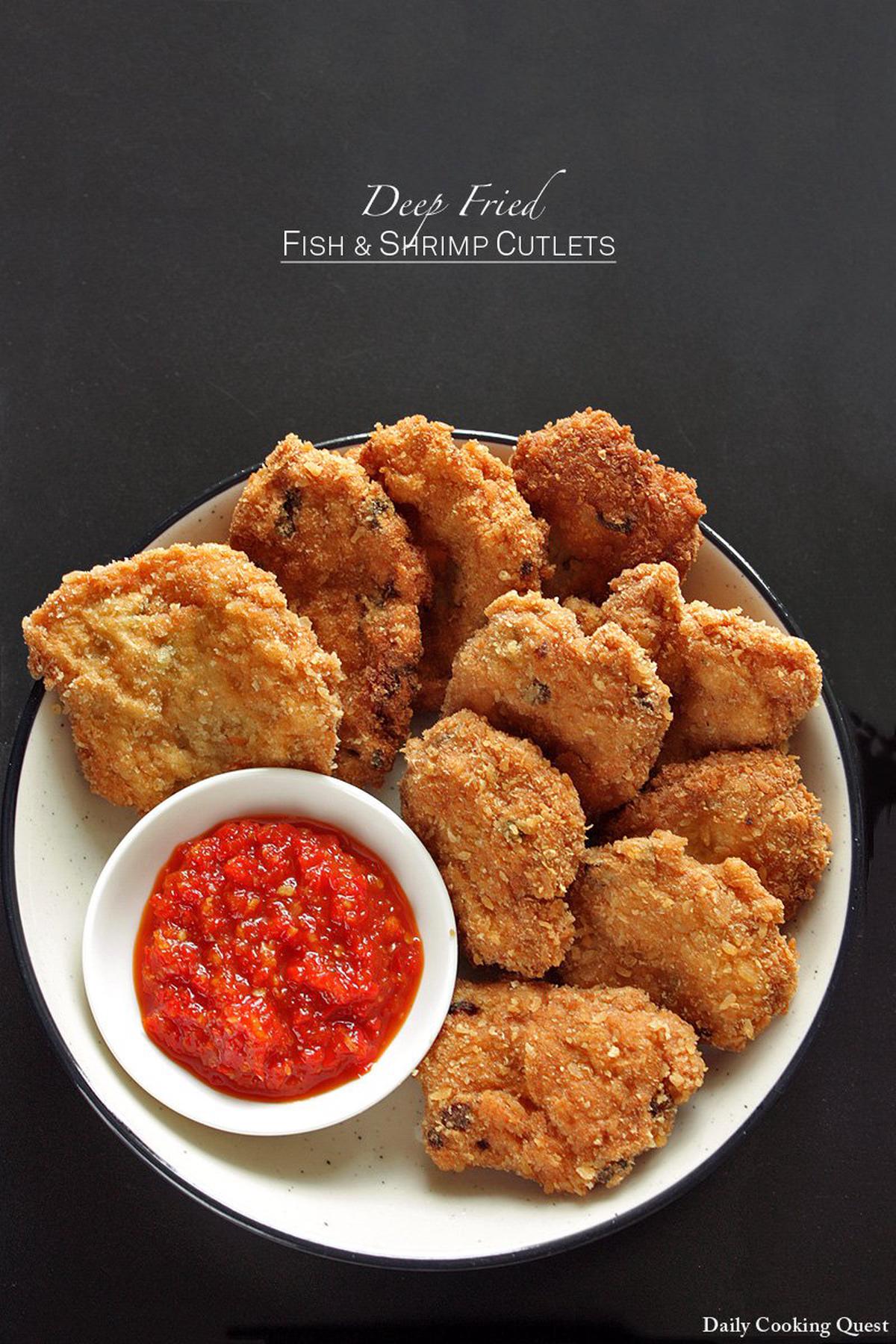 Deep Fried Fish and Shrimp Cutlets
Ingredients
250 spanish mackerel fillet (Indonesian: ikan tenggiri)
250 gram shrimp (Indonesian: udang), peeled and deveined
1 egg (Indonesian: telur ayam)
50 gram all purpose flour (Indonesian: tepung terigu)
2 scallions (Indonesian: daun bawang), thinly sliced
2 cloves garlic (Indonesian: bawang putih), grated
1 teaspoon salt (Indonesian: garam)
1 teaspoon sugar (Indonesian: gula)
1/2 teaspoon ground white pepper (Indonesian: bubuk lada putih)
bread crumbs (Indonesian: tepung roti/panir)
oil for deep frying (Indonesian: minyak goreng)
Instructions
With a food processor, pulse mackerel and shrimp into a paste.
Transfer the paste to a mixing bowl, then add egg, all purpose flour, scallions, garlic, salt, sugar, and pepper. Mix well.
Take about two to three tablespoon of the paste mixture and shape into a patty (or any shape that you like, really) and roll in bread crumbs. Repeat until all the mixture is used up.
Heat enough oil for deep frying, then deep fry the patties until golden brown. Drain on wire rack or paper towel. Serve immediately.