Home / All Recipes / Japanese / Dorayaki
Sundays used to mean waking up early to watch Doraemon series in the television. It is an incredible story about a blue robot cat from the future who can conjure many wondrous gadgets and trinkets from his tiny little pouch to help his friends getting out of troubles. And for those who are fans (like me) would know that Doraemon's favorite food is dorayaki. Back then, I had no idea how it tasted like since nobody was selling them. Nowadays, a lot of bakery and even some specialty stores have sprung up selling just the very thing, you can imagine how happy I was so trying them the first time :D If you have never watch Doraemon series before, I highly recommend it (even if you are an adult, and yes I still love the series even now), and do try some dorayaki :)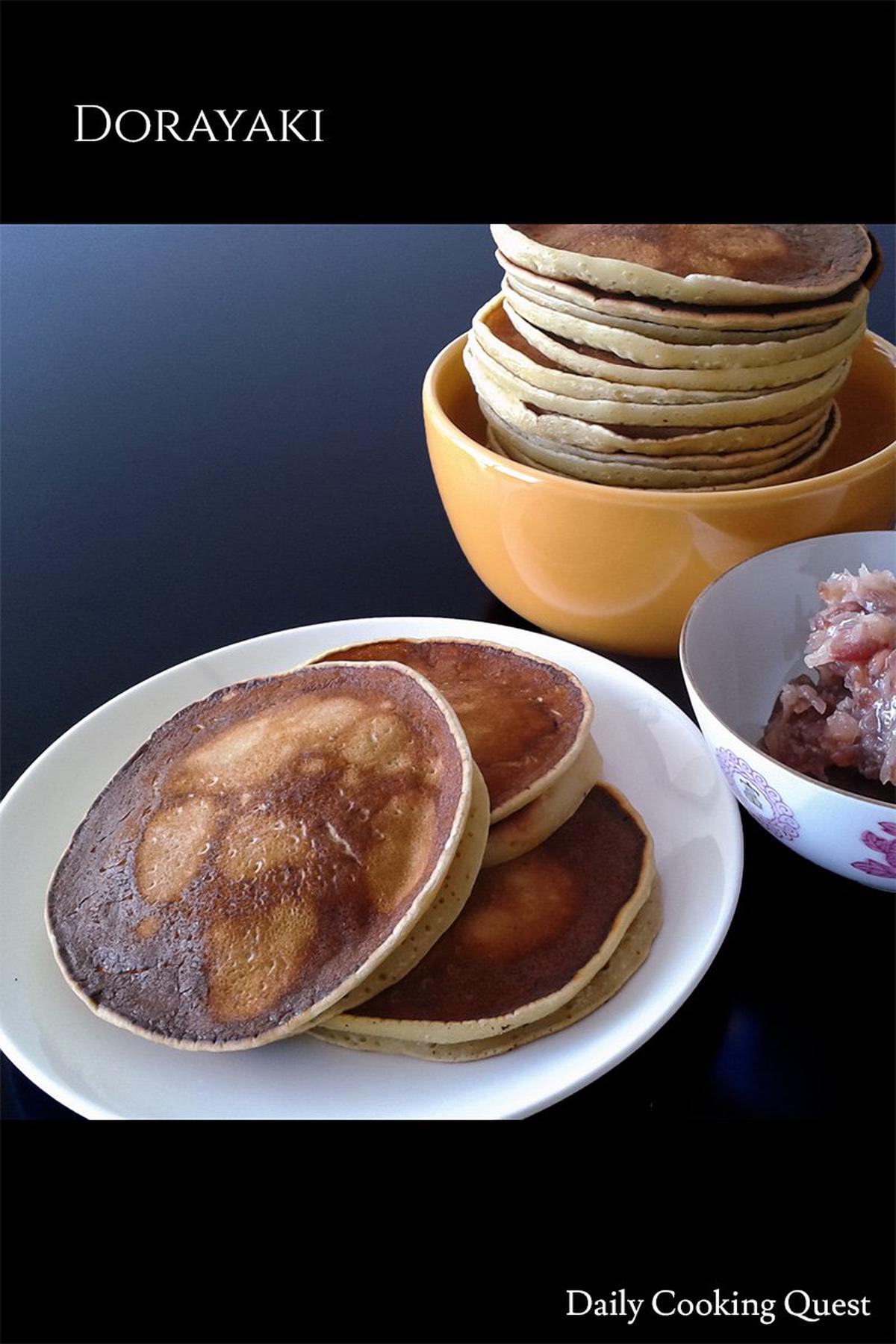 (*) Ready to use sweet red bean paste can be bought from store or you can make it yourself using my sweet red bean paste recipe.
Dorayaki
Ingredients
3 egg
150 gram sugar
½ teaspoon baking soda
400 ml water
200 gram all purpose flour
500 gram sweet red bean paste (*)
cooking oil
Instructions
In a mixing bowl, beat egg with a whisk, add sugar and mix well. Keep beating until mixture is whitish and stringy.
Mix baking soda with 1 teaspoon of water and add this to the egg mixture. Add half of the water (200 ml) and mix well.
Stir in the flour, then gradually add the rest of the water into batter, mix well.
Lightly oil a skillet/girdle, pour 1 ladle of the batter, making round shapes of 4 inches diameter (just like making pancakes).
When the top surface is half dry and you can see bubbles, check if the bottom is golden brown, flip with a spatula and cook until dry. Repeat until all batter is used up.
Sort pancakes into pairs, sandwich 2 tablespoon of red bean paste between a pair of pancakes and press lightly to secure.