Home / All Recipes / Indonesian / Lekker Holland - Dutch Boterkoek
Lekker Holland - Dutch Boterkoek
Dutch boterkoek is more widely known as Lekker Holland in Indonesia, and just as popular, a perennial favorite on festive occasions.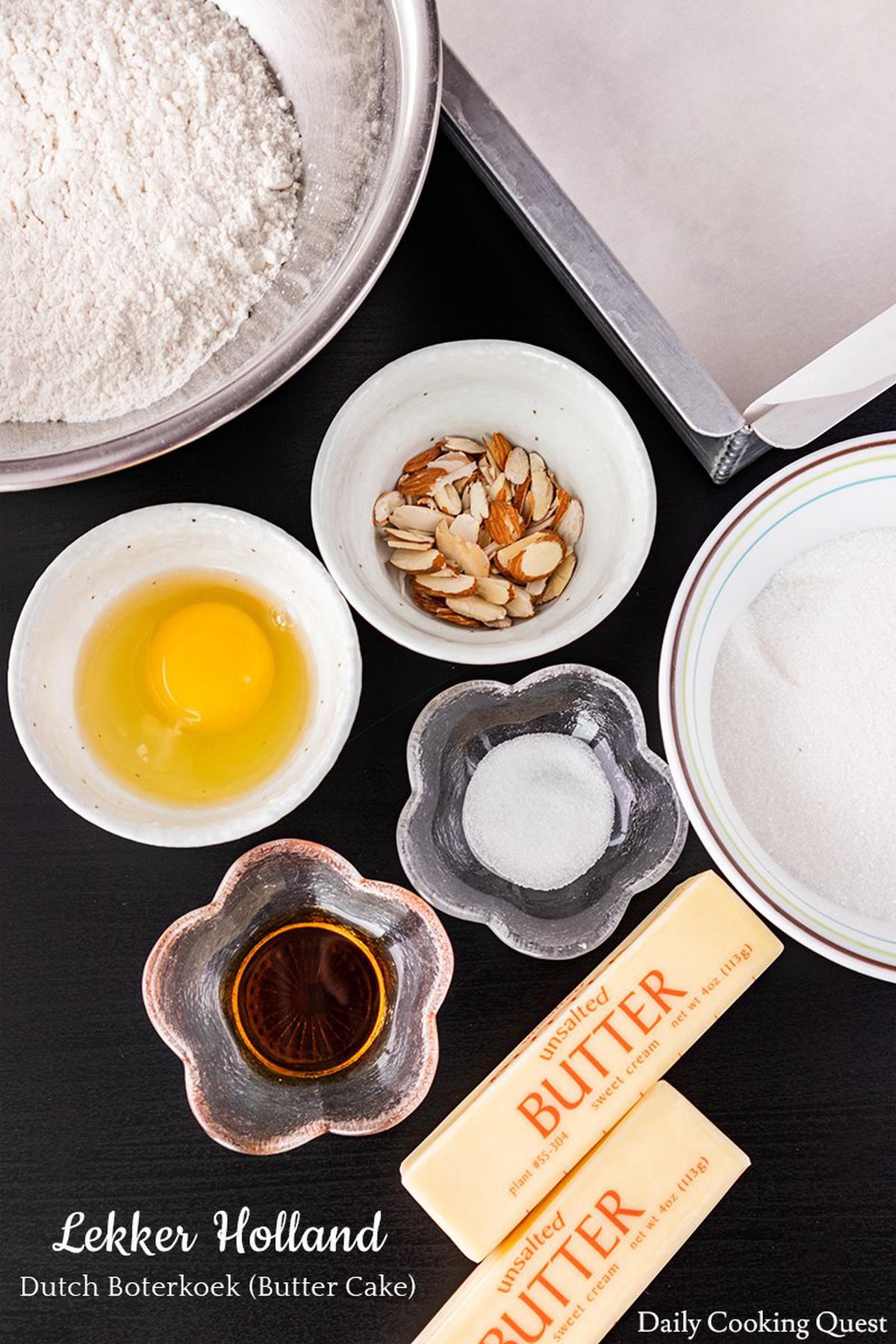 The Dutch East Indies lasted for 350 years in Indonesia and it is inevitable that some Dutch recipes become part of Indonesian culinary tradition. Case in point, the Dutch boterkoek, though most Indonesians know it by another name, Lekker Holland.
I am no culinary historian, so don't ask me how we end up with this name. But I can tell you that this stuff is sinfully delicious. If you still need to bake something for Chinese New Year (or any other festive occasion), then a boterkoek can be a good choice.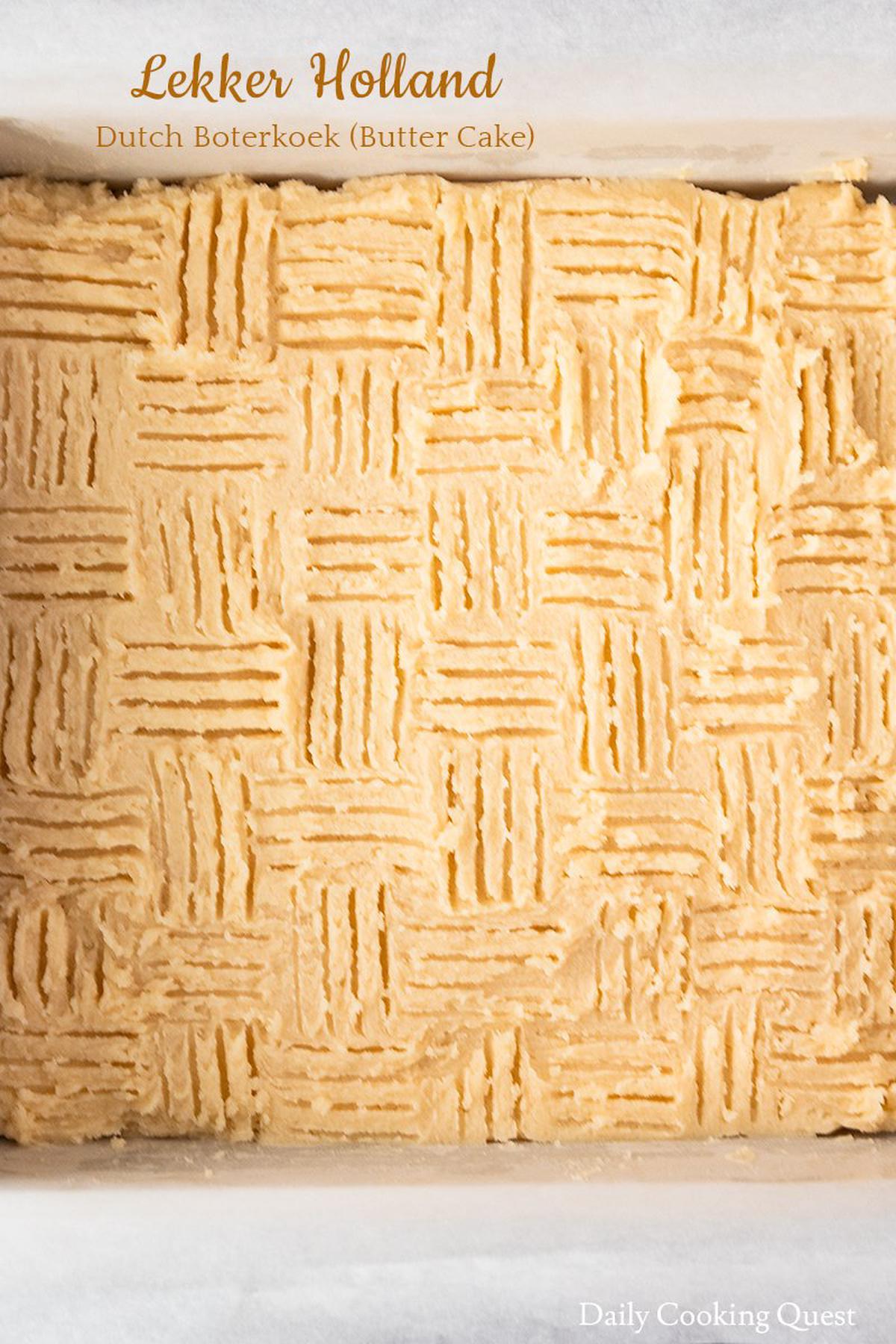 Butter, Flour, Sugar, Egg, Vanilla, and Almond
Those are basically all you need. My recipe has salt, but only because I stock unsalted butter. If you want to stick to tradition, then we usually use Dutch canned butter, in particular Wijsman brand which already has salt in it.
If you live in Indonesia, then you know Wijsman butter is everywhere. You can buy them from Amazon, just search for it, but the sticker price is going to give you a heart attack. So nope, this recipe with regular unsalted butter works just as well.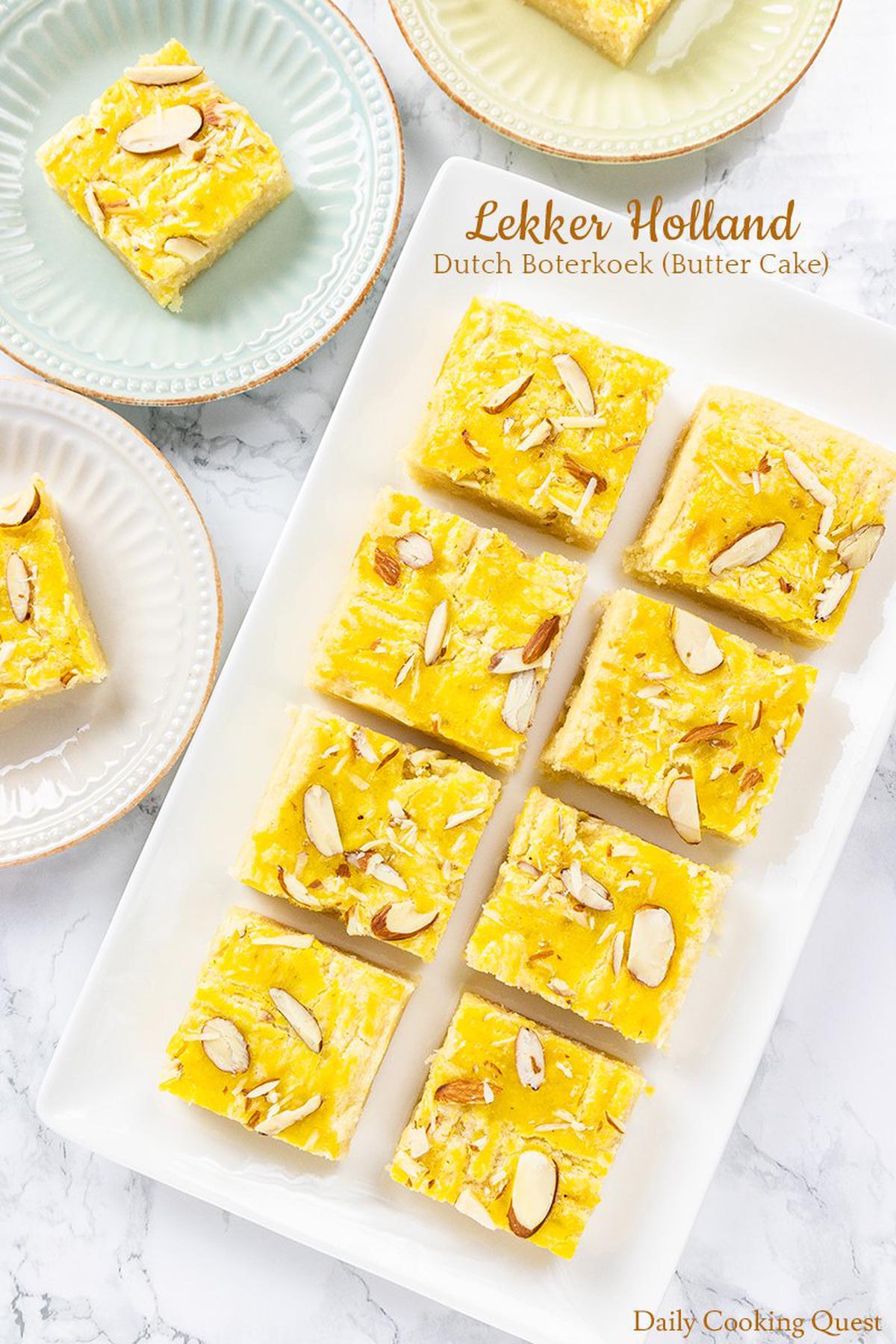 Is this thing really a cake?
If this is the first time you bake/see/eat this cake, it is going to be really hard to fathom how this is called a cake at all.
The batter is stiff, closer to a cookie dough batter. You will need some elbow grease to spread them in your cake pan.
If I must describe a boterkoek, then it is the cookiest cake ever, or you can also think of it as the cakiest cookie ever.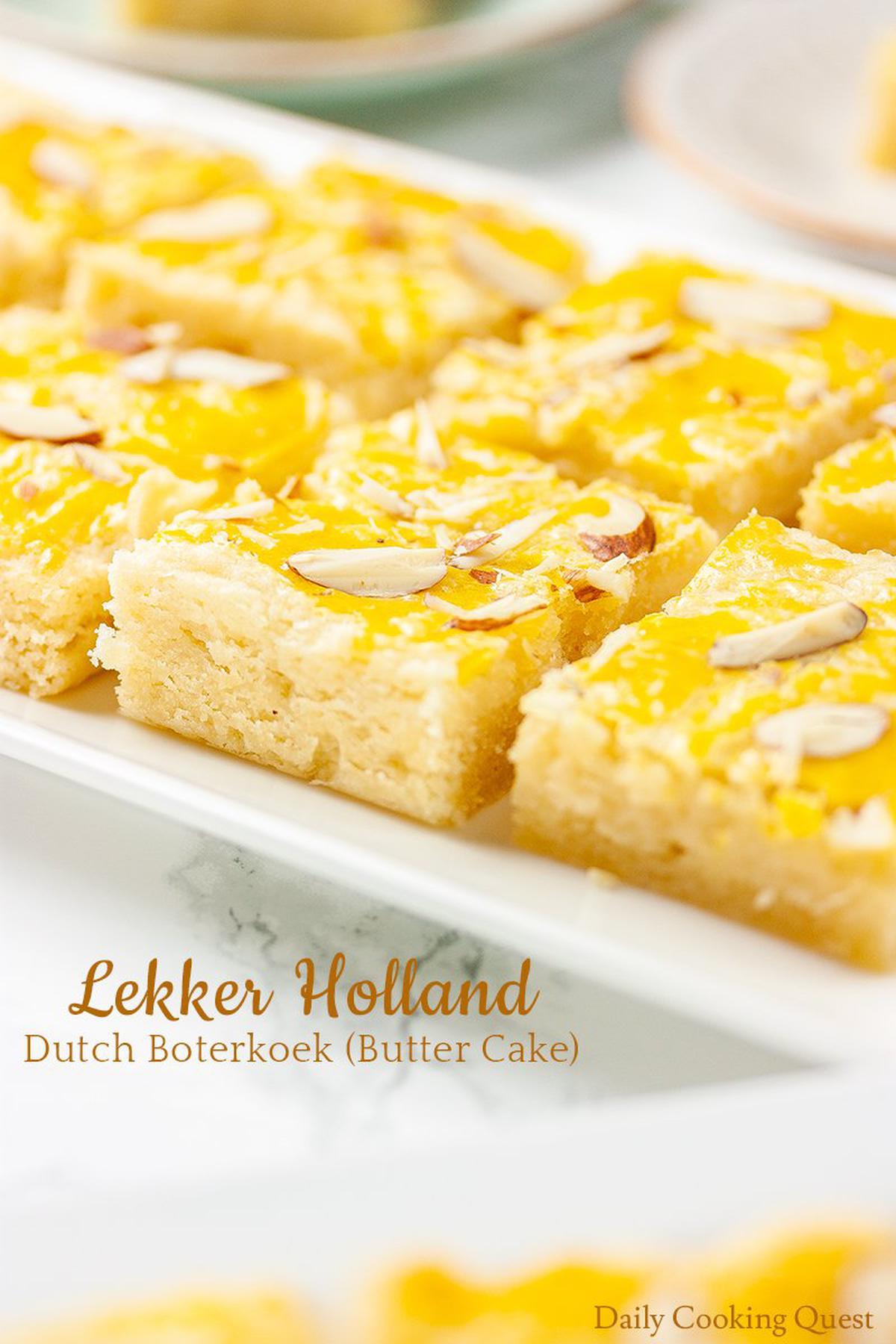 Rich, dense, and very filling
Boterkoek is extremely crumbly when just out from the oven. So you will definitely want to let the cake cool completely before very gently and very carefully remove it from the pan.
This is why I suggest you line your pan with enough parchment paper overhang so you don't accidentaly destroy your cake, which is a very sad thing.
Use a very sharp knife and with one stroke cut the cake into squares. Personally, I love this with a cup of black coffee. This is a good cake to make if you want to share with guests. I would say don't cut it into anything less than 16 squares, you can even try 25 squares if you wish.
Lekker Holland - Dutch Boterkoek
5.0 from 16 reviews
Ingredients
250 gram unsalted butter, room temperature
200 gram sugar (*)
1 egg
1 teaspoon vanilla extract
1/2 teaspoon salt
250 gram all-purpose flour
1 egg yolk (for egg wash)
almond slices (for garnish)
Instructions
Preheat oven to 350 Fahrenheit (180 Celsius). Grease an 8"x8" square cake pan, line with a parchment paper with overhang.
Mix together butter, sugar, egg, vanilla, and salt until pale and fluffy.
Stir in all-purpose flour and fold with a spatula until homogenous. The batter will be stiff, almost like a cookie dough.
Transfer batter/dough into the prepared pan, spread to cover the pan.
Use a fork to make pattern on the top surface, brush with egg wash, and sprinkle with almond slices.
Bake in preheated oven for 30 minutes. Remove from over. Wait until the cake is completely cool before removing from pan and cutting into slices.
Notes
(*) Traditional recipe calls for 250 gram sugar, but I like this slightly sweet version better.